Chrysanthemums and marigolds may be the go-to fall flowers, but once their 15 minutes of fame are over, it's time to get into that festive holiday spirit with some winter favorites. These flowers and plants are perfect for adorning your home in a classic red and green color palette, but with a few colorful surprises too.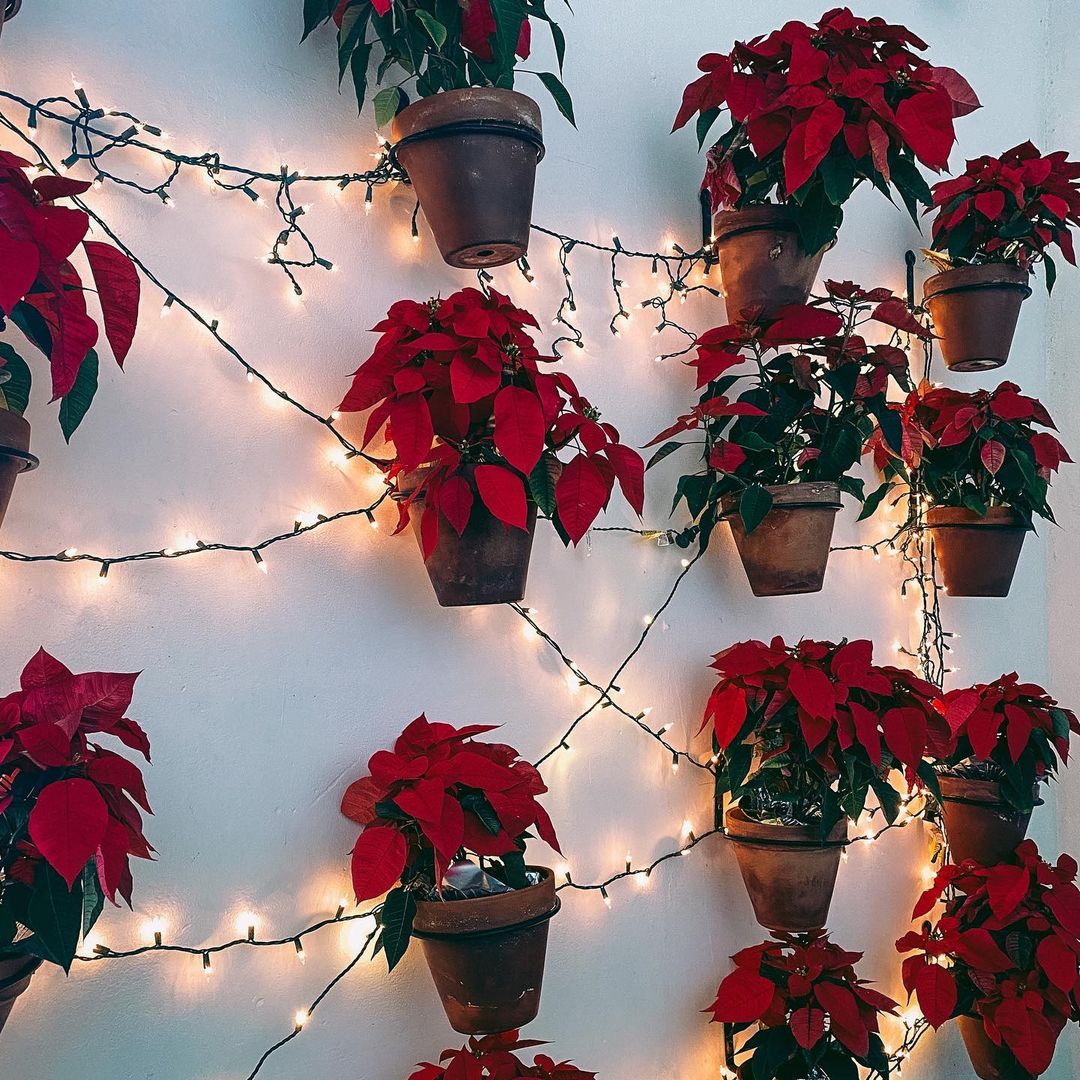 Credits:
@catsandcoffeebycc
Flowers and Plants For a Perfect Christmas
Greenery and flowers are even more necessary around the holidays, adding color, life, and cheer to your home on even the chilliest of days. Their value is often underestimated (especially when compared to more obvious elements like holiday cookies), but make no mistake: Plants are a huge, important part of holiday decorating. That's why we've rounded up 10 flowers and plants for a perfect Christmas for you. Whether you're going all out for the holidays or you like to keep things simple for your festivities, these Christmas plants and flowers are sure to add some extra life to your wintertime decor.
Poinsettias
The poinsettia is one of the most prominent flowers used in many Christmas displays during the winter months. For this reason, this cherry red and deep green beauty is also known as the Christmas Star. While their bright leaves look like flower petals, poinsettias are the most popular potted plant of the season. Thankfully, the rumors of their poisonous nature are not true, other than mildly to your pet! Stick with red or put a twist on tradition with a white poinsettia. Even better, display both red and white together for layers of festive florals.
@paloma_de_plomo
Amaryllis
Amaryllis are tall and graceful with dramatic red blooms and elegant green leaves. A real holiday favorite. This flowering plant adds vibrant color and a sweet, delicate scent to any space. It's perfect by the fireplace, on the dining table as a statement centerpiece, or in your office.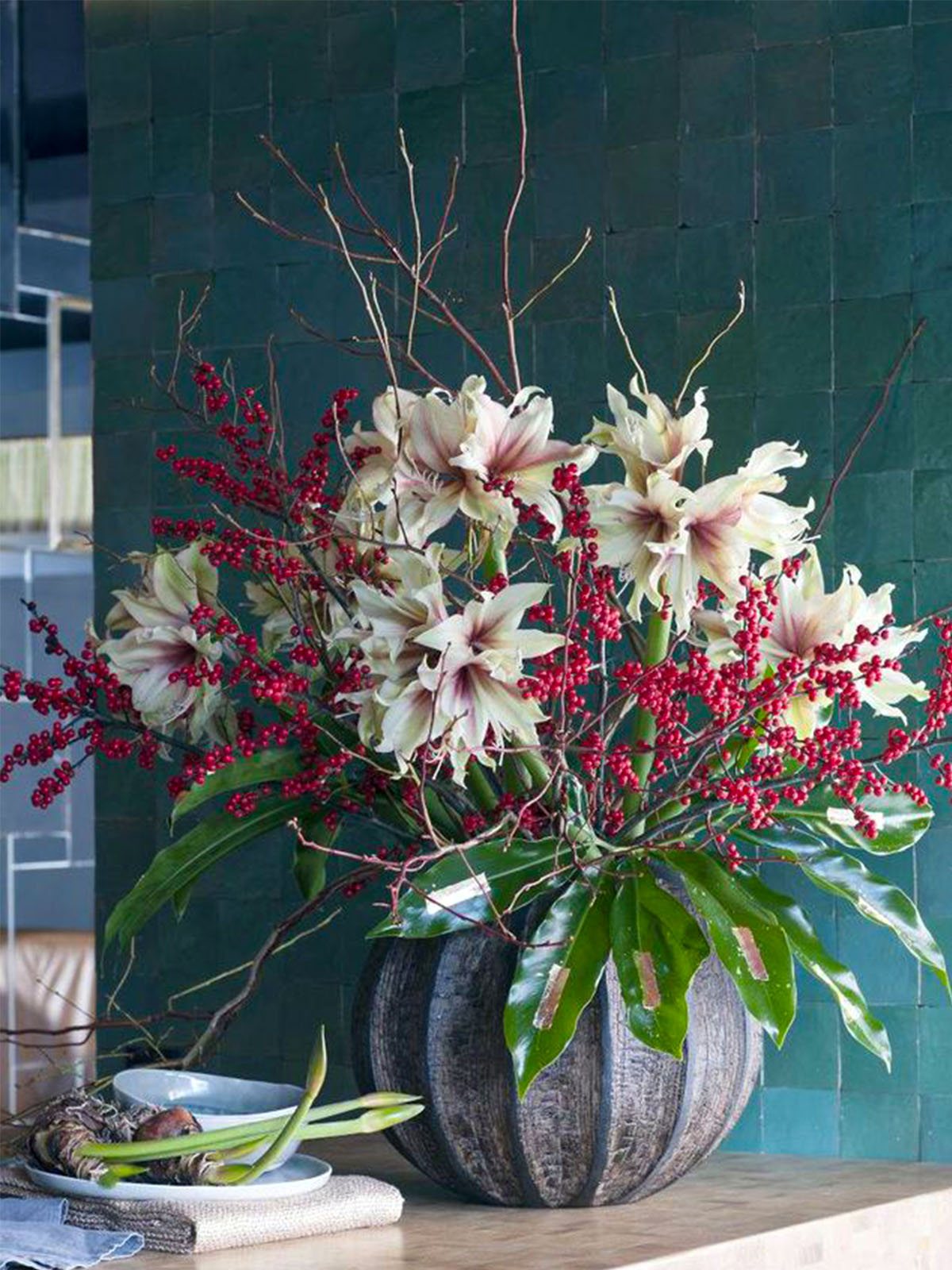 Red and White Roses
Red roses might not immediately come to mind when you think of Christmas, but they are very festive flowers that will brighten the holiday season. The red rose traditionally means love, but some believe it represents the blood of Christ during the Christmas season. Red roses paired with pinecones and ribbons give off a chic and rustic vibe. White roses symbolize purity and peace, adding a gentle touch of winter elegance to your holiday decor. With light blue hydrangea, other white flowers, and sparkling accents, florists use white roses to create winter wonderland inspired arrangements.
@estodiosevia
(red Rose) /
@hanabycelsia
White Lilies
These enchanted blooms are a brilliant white, embodying a peaceful, hopeful and spirited holiday season. Traditionally, lilies are symbolic of the Virgin Mary. Aesthetically, they add a timeless look to any winter bouquet. Plus, their fresh scent complements the traditional evergreen and earthy pine fragrances of Christmas.
Phalaenopsis Orchid
These delicate-looking plants are not as fragile as they appear and will bloom for months with little care, says Pollak—maybe even into the spring.
Christmas Cactus
Christmas cacti are so pretty, they just might rival the beauty of the ornaments on your tree. "These are one of the hardier holiday plants and can last for years and years," says Pollak. Different species bloom at different times of year including Thanksgiving and Easter.
Rosemary
This plant often is sheared into a topiary or pyramidal shape to mimic a Christmas tree. Its fresh piney scent is invigorating in the middle of a dreary winter and is a savory addition to stews and roasts.
Norfolk Pine
This long-lasting plant is native to the South Pacific so it cannot be planted outdoors in most of the country, says Pollak. With soft, Christmassy, fringed needles, it looks like a prop straight out of a Hallmark movie.
Holly
Growing up to 50 feet tall (!), holly trees don't exactly belong inside. However, little shrubs or wreaths can pep up your home. Either way, only female varieties will produce the bright red berries.
Christmas Tree
O Tannenbaum, indeed! Christmas trees are the most iconic Christmas plant, and you can get them cut or potted. Whether you're cutting down your own evergreen or selecting a pre-cut spruce, pine, or fir, you'll want to check for insects and pests as well as any damage, such as broken branches.Test the freshness of a pre-cut tree by pulling on a branch. They should be sturdy enough to hold ornaments, and the needles should be flexible and not shed. Use your other senses: Does it have a nice green (not brown) color? How does it smell? (Of course, a living tree will be fresh.) Take the height of your room into consideration, and make sure you have a way to water it.