Come and visit the exhibition and be amazed! At this year's special edition of Fleuramour, Fleur Floral Fashion, talented florists from Belgium, the Netherlands, and neighboring countries will surprise you with amazing show stoppers. We'll already give you a little preview of some promising designs!
You Should Definitely Admire These Flower Jewels at FLEUR FLORAL FASHION This Week
This year's theme is 'A Castle Deserves Art'. And so the castle of Alden Biesen is immersed in unique floral splendor for five days. Expect a beautiful mix of flowers, eye-catching creations, and artistic projects. Here you can dream away with more than 50 extraordinary floral designs.
Fleur Floral Fashion
is a corona-proof event that makes you daydream of the large-scale Fleuramour that will celebrate its 25th anniversary next year. It will be held from 23 to 27 September 2021.
1. Court of Honor
Do you remember the magnificent fairy tale carousel of the Russian
Natalia Zhizhko
at Fleuramour 2017? Or the planet bursting with flowers in 2019? This year, as always, visitors' eyes are focused on the Court of Honour. It will be a special edition, so we will also have a special concept!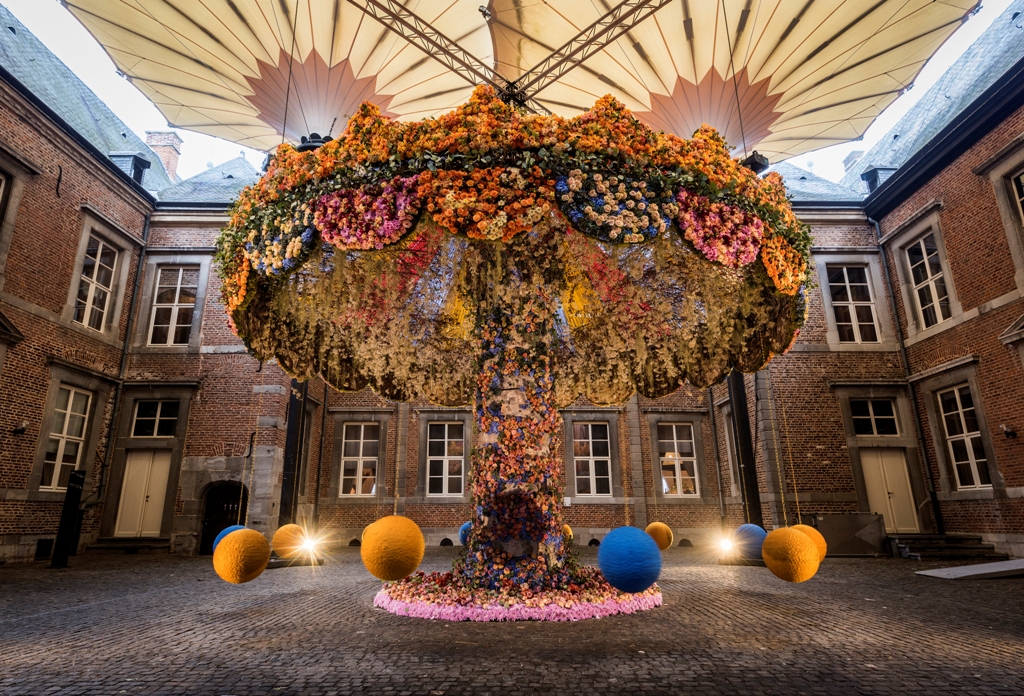 The talented Belgian designers
Viky Vangampelaere
and Mieke Hoflack have been a great team at the Fleuramour flower festival for five years. This year they are once again joining forces and will transform the Court of Honour into a fairytale flower pond.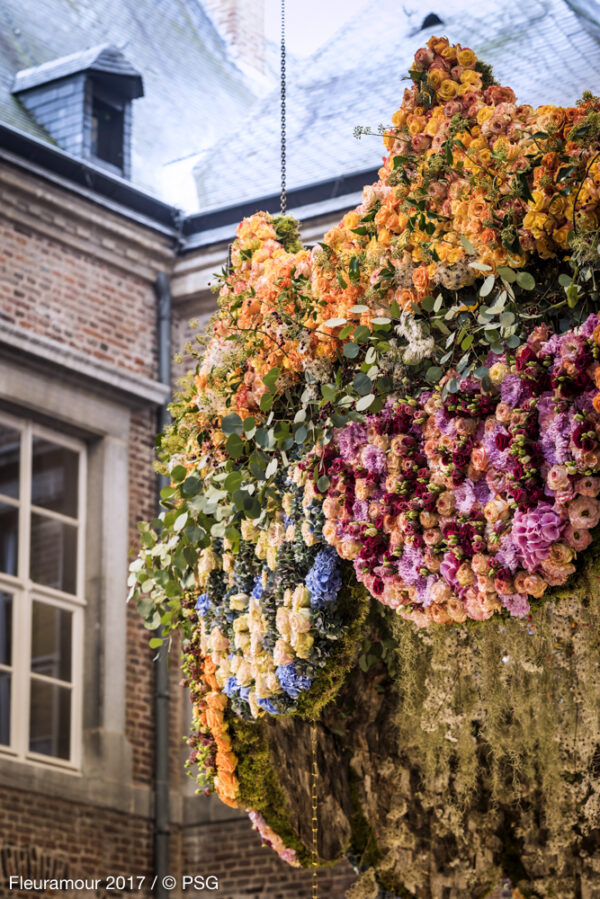 Viky Vangampelaere: "We feel extremely honored to be able to create a floral design for the Courtyard of Honour. It will be a harmonious interplay of water, light, and different types of flowers. Roses, dahlias, chrysanthemums, carnations… Each has a strong character of its own, but together they form a beautiful whole."
2. Flower Bridge to the Castle
The Belgian floral designer
Martijn Schevernels
specializes in very trendy wedding and event floristry. This year he will be showing his talent at Fleur Floral Fashion by decorating the majestic bridge over the water to the castle. He will immerse the visitors in a unique atmosphere of scents and colors, and let you enjoy everything that has to do with flowers!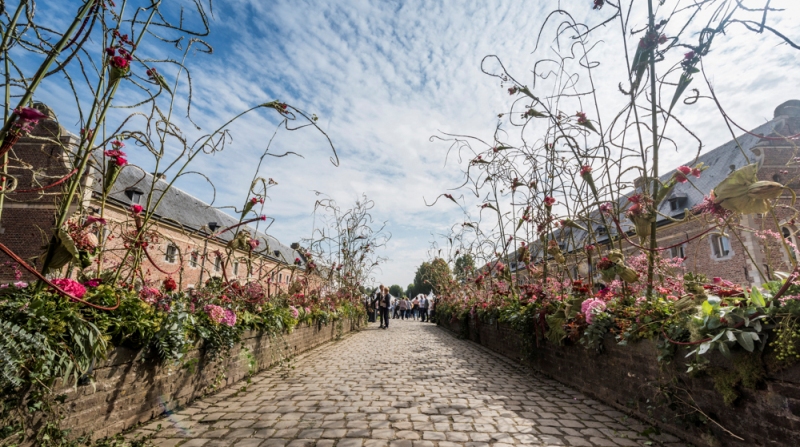 3. Floral Art x Table Art by Max Hurtaud
Max Hurtaud
is a worldwide master florist who expresses all his feelings through flowers. Being a master floral artist means mastering different skills like teaching, demonstrating, making floral events, flower exhibitions,… But the most important is creating. Creating something unique and beautiful for everyone. This year at Fleur Floral Fashion, Max Hurtaud presents a floral decoration inspired by the combination of autumn – his favorite season – and a late summer wedding. 'Flowers are very important for all of us, for every occasion. Flowers feed us with their energies. That's why we like them. This castle deserves art, but flowers too. My floral decoration will be an invitation to take a seat and to enjoy your time analyzing all beauties inside the design', he explains.
4. Floral Art Gallery by the Fleur Créatif Designers
The Fleur Créatif and Fleur@Home designers cannot be missed at the event! They will unleash their creativity on the theme 'A Castle Deserves Art' and will present spectacular floral arrangements that mimic an art exhibition.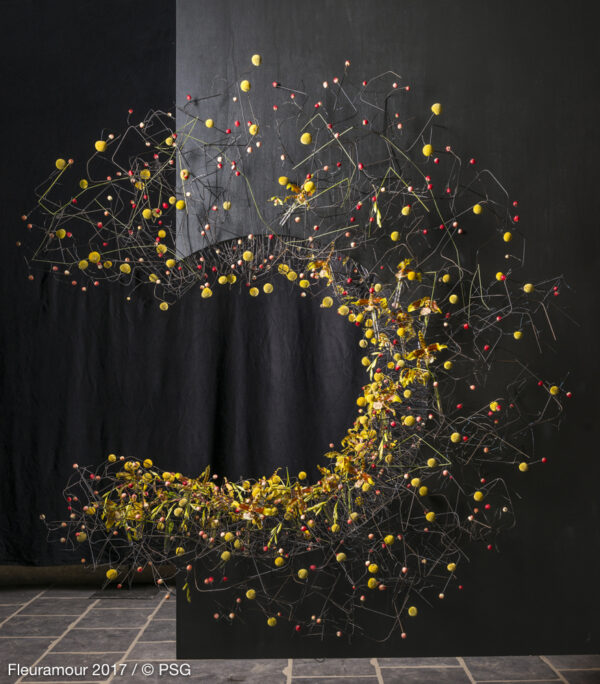 Meet these FLEUR floral designers at Fleur Floral Fashion 2021: Moniek Vanden Berghe, Rita Van Gansbeke, Charlotte Bartholomé, Annick Mertens,
Sören Van Laer
, Aymeric Chaouche, Martine Meeuwssen and Chantal Post. Each of them will work around a specific artist or art movement.
5. Blue Thistles at the Reuschenberg Hall
Several students and educational programs will also be present. The floral art students of
Annick Mosconi
will decorate the Reuschenberg Hall, one of the largest rooms at Fleur Floral Fashion. The sketch of their creation with beautiful blue thistle flowers already makes us enthusiastic! Would you like to see, smell and admire these amazing floral designs in real life? Plan your visit to Fleur Floral Fashion at
www.fleuramour.be
.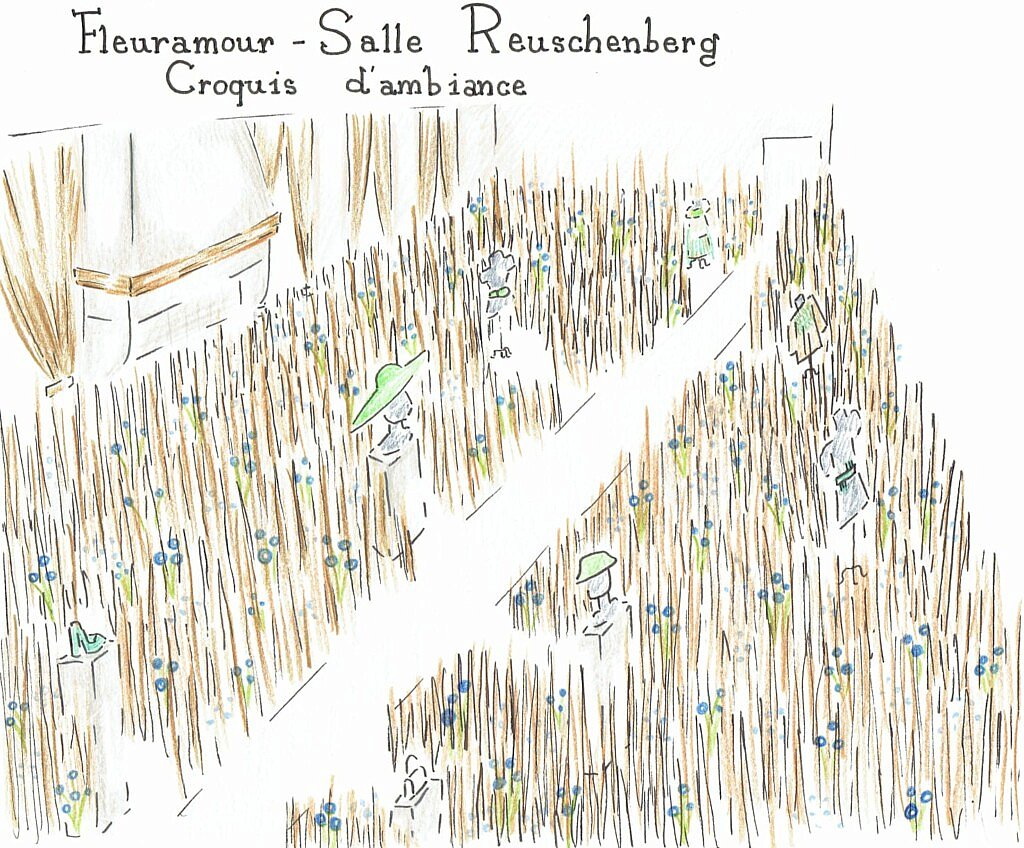 6. Interactive Rainbow Installing
This amazing flower project 'Protect the Future' (on the photo below) was made by
Ioachim Erema
for Fleuramour 2019. One of the best works in that year's theme 'Back to the Future'. So our expectations for 2021 are high!
Ioachim tells us a bit more about this year's design: "The installation will be built on a rectangular, iron frame with a length of 4 meters. From the top part of the structure, lots of strings of wool will be hanging down for the whole 4m length. The strings will be in amazing rainbow colors, just like the flowers. On these wool strings, I will add lots of flower tubes, filled with colored water."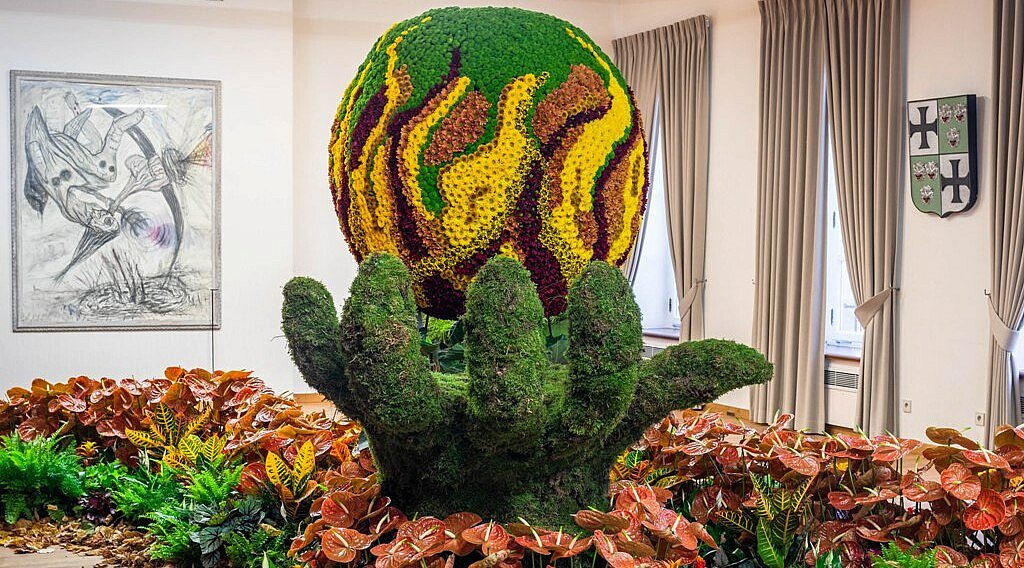 7. The Beauty of Flowers in a Moving Table Decoration
At Fleuramour 2019, floral artist
Kristina Rimiené
surprised the visitors with her fascinating 'Door to the Future': a rotating, circular floral design in front of the castle of Alden Biesen. It was a real eye-catcher at the event! We are happy to announce that we may welcome Kristina Rimiené again this year at our special edition! She gets to work with different varieties of Delphinium and other beautiful greens. With these materials, she will create a moving table decoration that alights with your every sense. Exciting!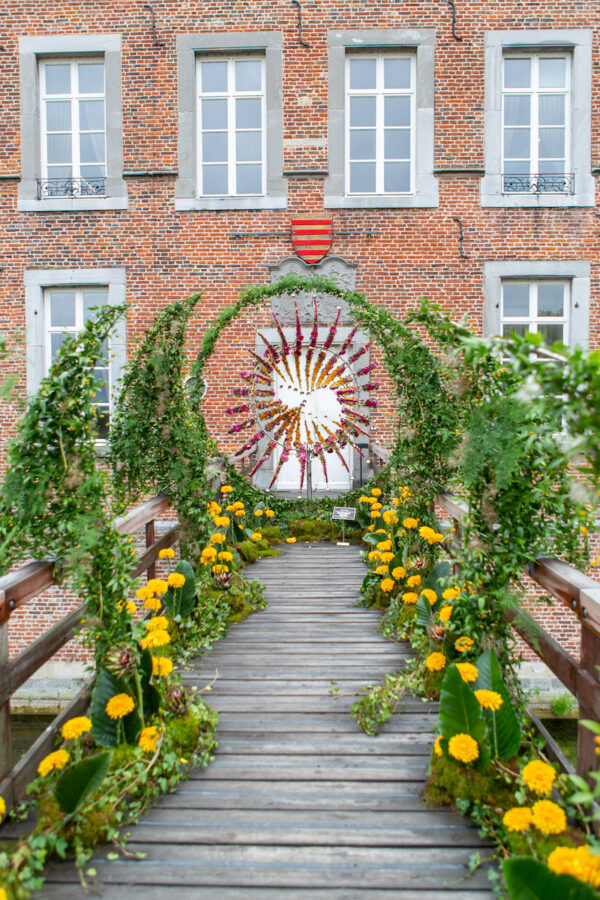 And There is More!
💐 Friday, September 24th is floral hat day at Fleur Floral Fashion. Visitors wear a self-designed floral hat that can be as big, small, or crazy as they want. Everyone with a floral hat is treated to a free glass of cava and has a chance to win great prizes! 💃 There will be delightful belly dance acts on Saturday 25th and Sunday 26th of September. 🌻 You can quietly stroll among the lovely pop-up shops with everything from flowers to fashion. This year, a lot of pop-up shops are located outside the event. So you have enough time to visit them all because the time slots only apply to your visit to the event. 💍 At the same time, the town hall of Bilzen (Belgium) will be colorfully decorated with a floral jewel. Definitely worth a detour!