In the Netherlands, the Floral Championship NK Juniors was held and Esther Weijenberg took the first prize. After four assignments it was Esther that showed her at her best, especially in the surprise assignments that she also really loved to do. In this interview with Esther Weijenberg, we learn all about her ambitions and see some of her skills that won the competition.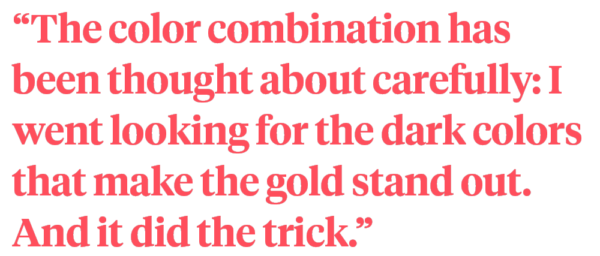 Runner-up was Tiffany van Lenten and the third was Melissa Smedes. Curious about Melissa's dos and don'ts, about her past and future? Read this previous
Floral Interview
with this talented, young, and full of ambition floral designer.
A Floral Interview With Esther Weijenberg
Esther has the luck to work in an awesome place called Fleur Inn. Well known for beautiful floral design she gets to learn while working. And she gets the freedom to develop her skills. From a teenager, she grows into a young woman and a very talented floral designer.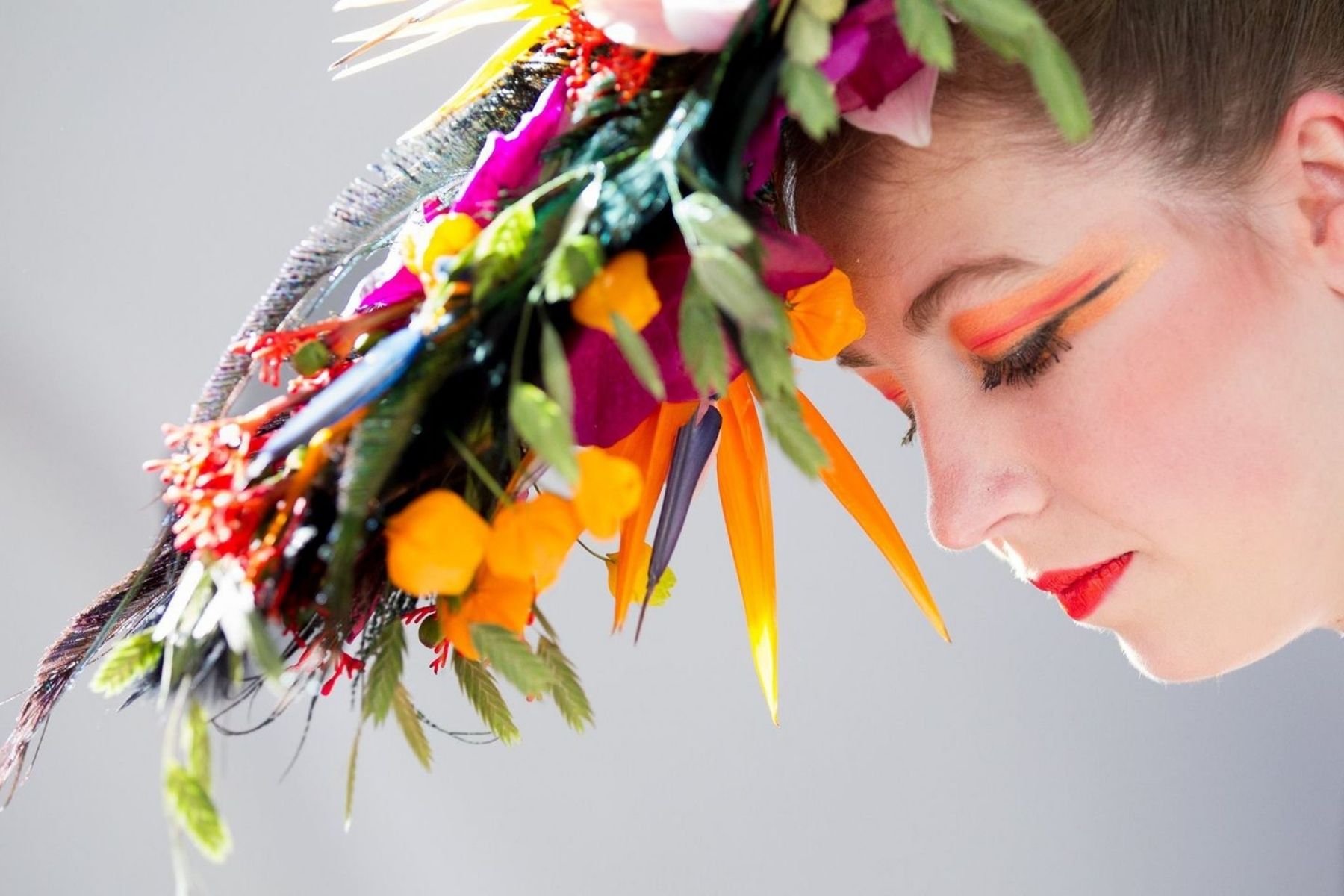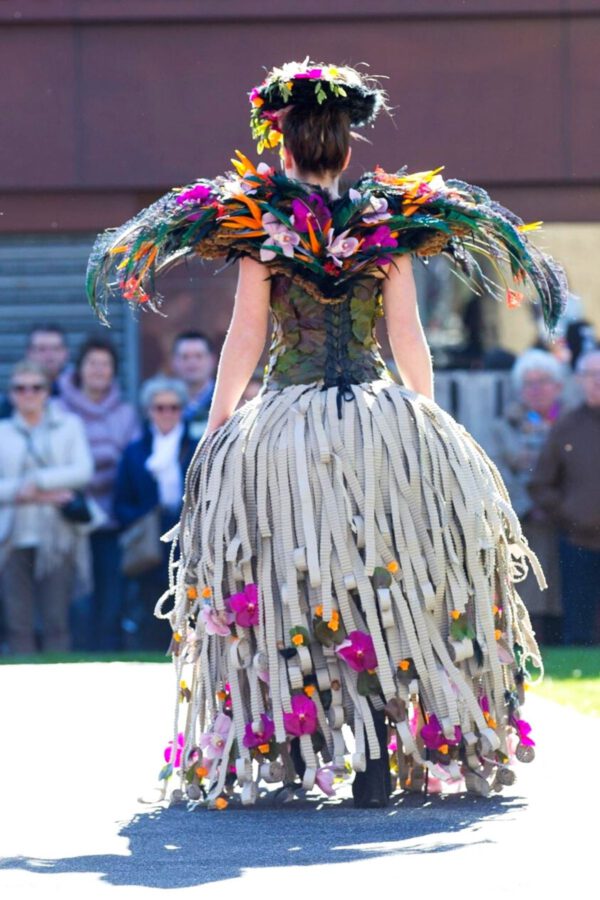 Where were you born, what were your hobbies during your childhood and how did you end up in the flower world?
"I was born in Apeldoorn, grew up in Terwolde and I have been living in Twello for two years with my boyfriend. From an early age, I already have been involved in sports. I first did gymnastics for a while and then I switched to soccer. Today I still play football in the Terwolde Ladies 1 team. Yeah!! After I completed my primary school, I continued my education at the AOC in Twello, in the name of Zone College. I've always liked being creative, which is why I made the choice at the time to do floral design."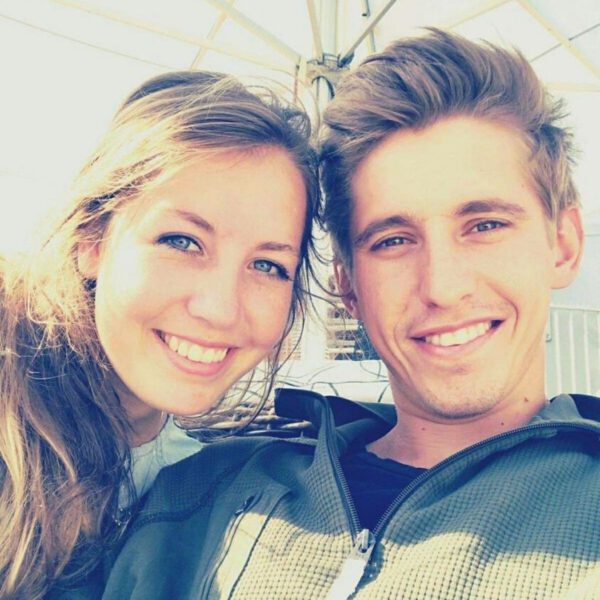 What was the trigger to participate in this championship?
"Well, to be honest, during the skills competitions (MBO competitions) I was asked to participate in the Dutch National Championship, but I didn't feel ready for this yet. Most people who know me well know that I am a fanatic, when I participate in a competition I also want to get the best out of it. The following year, I signed up for the Skills Heroes for the first time. This is a competition where you can become the best in your profession, not only the profession of florist but also gardener, hairdresser, graphic designer, etc.. At this final, I became Dutch champion and - with enough points - was chosen to go to Abu Dhabi. The most beautiful experience I had ever had. You can compare a bit with the ceremony of the Olympics, we had an opening ceremony and a closing ceremony."
"I had to compete against 22 countries after which I managed to take 6th place after a great performance. After this beautiful adventure, I was sure that I wanted to participate in future competitions again. I am also stimulated through my work to participate in competitions, you develop yourself and learn all new techniques, materials, surfaces, and especially knowledge. My colleagues all have competition experiences themselves and like to think along. So when the Dutch National Championships for juniors appeared through the VBW, I wanted to participate right away!"
About your design
What were the assignments? The story behind your designs?
"The assignment that we could prepare at home was to make an organic painting in the theme of g We had to meet certain dimensions and we were also allowed to prepare 1/3 part at home. My thought when I got this assignment was to make a head that comes out of the painting. I also steadfastly adhered to that and found the materials to do so. At first, I thought to make the hair from plexiglass, but it was difficult for me to melt it, after which I quickly came up with an alternative: the copper tubes. They are easy to bend so that you can quickly create a beautiful shape. I made the head from egg cartons."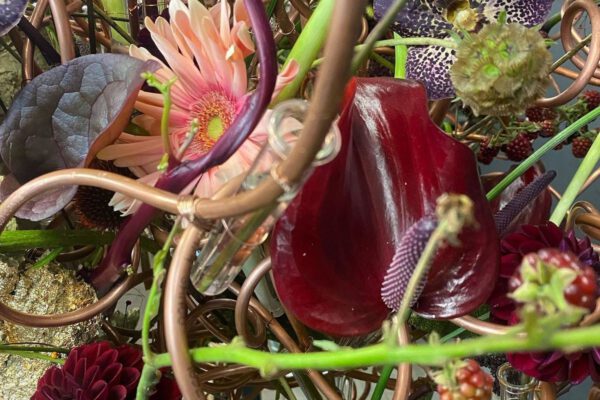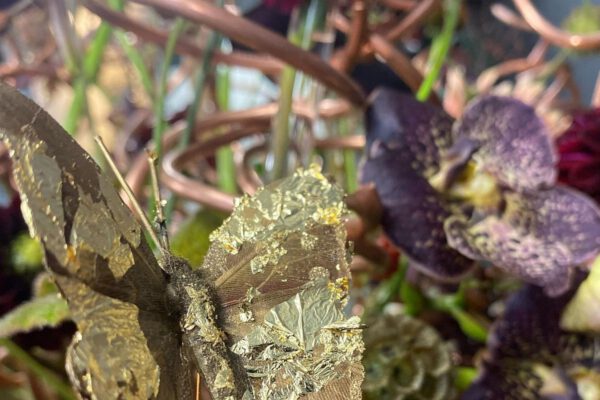 How did you choose your flowers and were you happy with your choice?
"The color combination has been thought about carefully: one quickly thinks of the colors yellow, salmon, orange with this Gold theme... I didn't do this. I went looking for the dark colors that make the gold stand out. And it did the trick, I was very happy with the result."
How did it all go?
"We were also able to prepare an assignment at home; following the Biedermeier and field bouquet trends, we were asked to create an innovative flower arrangement concept for the year 2022 on an OASIS® BIO Floral Foam block. We had to make a small variant with a sales price of € 25 and a medium variant with a sales price of € 50. The thought behind this: I wanted an object with few materials, but that showed. I think wood is already a nice material, I made a hole in it so that glass could fit in it exactly. This means that the brown oasis can be used both as a technical/decorative object. I was able to clamp the red sticks by drilling holes in the wood. Here too I wanted to keep warm colors because we are also heading towards autumn. In addition, we received three surprise assignments, I loved those. Part of the assignment even was on a stage in the evening! It felt great!"
What would you do differently, knowing what you know now?
"My painting was technical not that well thought of. The copper wire was really beautiful but in the end difficult to place my flowers. And then there was my choice for little tubes...The tubes could not give enough water to the flowers, and I could not attach enough tubes. So I learned a lot by making this design. The assignments where I had scored really well were the surprise assignments. I also really enjoy doing that: nobody can prepare and then it's just the creativity and skills from that moment..."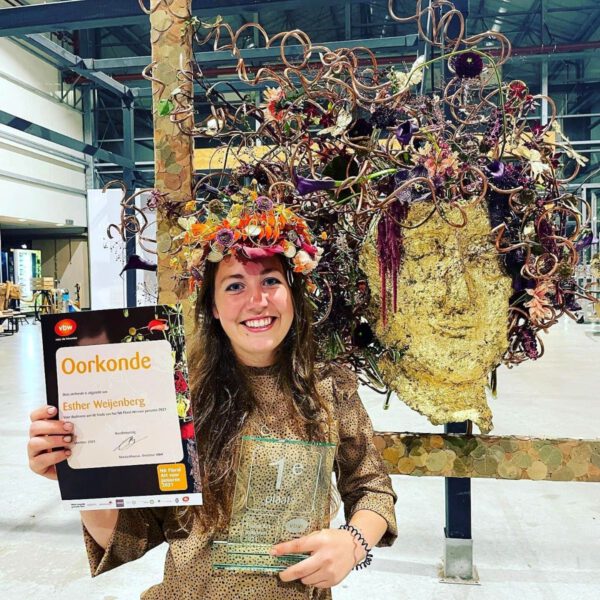 For the future, what are your plans? Where do you want to be in twenty years?
"My future in twenty years; I find it very difficult, but I hope that I can still have as much fun as I do within the flower trade. I enjoy working at the Shop Fleur Inn where I work now, and I also really enjoy doing the assignments around that. Or maybe one day I can publish a book like the one that I'm on the cover of from Jimmy Englund."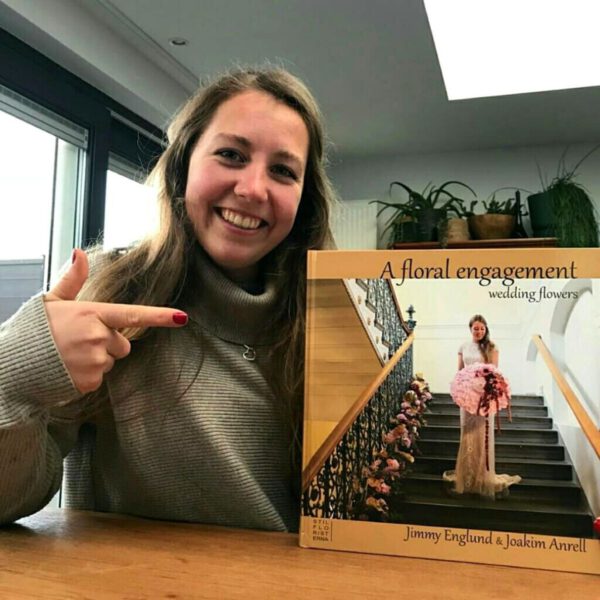 What is your favorite flower and why? What is your favorite music, movie, food, car, ...
"I don't actually have my favorite flower, I love seasons and therefore also the flowers that go with them. Favorite music, film, car I'm not really interested in, but I am very fond of Italian cuisine."
Would you like to continue your education?
"I still educate myself. By going to the study club several times a year where we have fun assignments and discuss this with each other. And I also give workshops, and from the competitions, I also still learn a lot. Floristry is a never-ending process and I hope I will never lose my passion for it! I am also good at football, as for many people flowers are their hobby, my hobby is soccer :-)"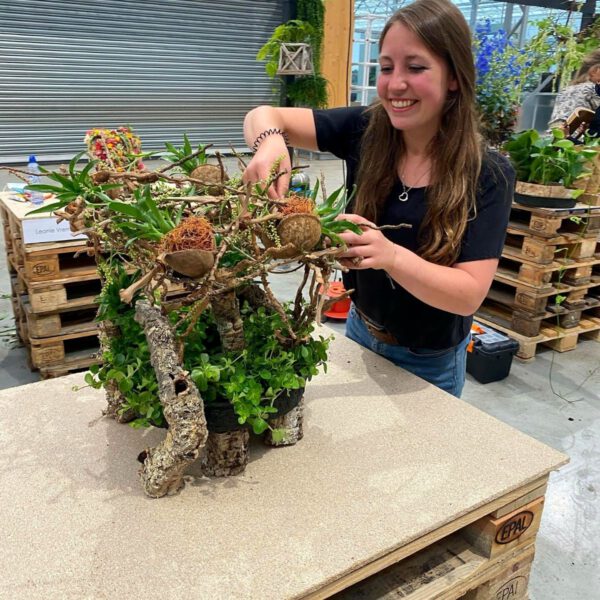 How do you keep up with the trends?
"I keep up with the trends by reading many trade magazines, going to shows organized by VBW. I am still very active around the skills competitions of both the VMBO and the MBO colleges. And of course, I'm a huge Thursd fan. So much inspiration, so many beautiful designs."