Sarah Campbell is happy with her life these days. There is always a smile on her face and flowers in her hands. Her heart beats for lush, over-the-top designs. She proudly and inspiringly shares her story on Thursd. She tells us how chasing the feeling of excitement that comes from finishing a wedding and teaching other designers how to do large-scale weddings and corporate designs make her life so blessed.

An Interview With Sarah Campbell, Intrigue Designs
You probably know her from 'The Big Flower Fight' on Netflix or from another TV program, or a podcast or... Sarah Campbell, founder and owner of Intrigue Designs and Intrigue Teaches, understands the challenges that every florist has. She wants to provide a powerful, uplifting, and safe place for growth, encouragement, and learning. A floral community that is all about positivity and sharing.
Who is Sarah Campbell?
"I am a luxury wedding florist pushing the limits of large-scale floral design. There is always a smile on my face, and flowers in my hands. My heart beats for lush, over-the-top designs where my motto is: there is always room for more flowers. I spend most of my time as a leader of floral industry education, always on the go, traveling the world building huge floral installations! My work has appeared on more magazines, blogs, and television platforms than I can keep track of."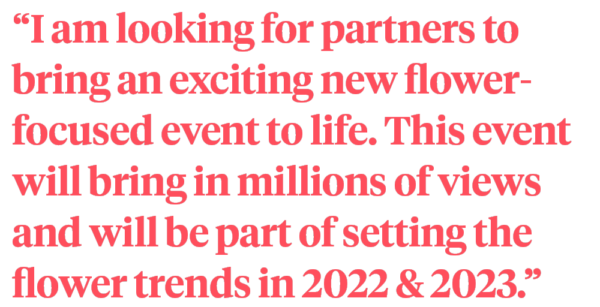 What was your motivation to go into floristry?
"Wow, flashback way back to the start, huh? I still remember when I made the decision to jump into floristry. Being a real beginner as they come. And I barely even knew the basics. As a wedding planner, I had been working a lot. But I was growing exhausted dealing with all of the little details of timelines and vendor contracts. You have to know, I have so much respect for planners, it's hard work! When I was playing with flowers I was at my happiest. And I could feel myself come to life when there were blooms in the room. I was supposed to be crafting centerpieces and transforming ballrooms, not doing timelines and booking vendors! So, I guess my motivation was chasing that feeling of excitement that comes from finishing a wedding and stepping back to see a beautiful space highlighted by the flowers that came from my hands."
What is your view on floristry these days?
"Floristry today here in the US is exciting. Large-scale wedding flowers are more in demand now than ever before. For the last three years, I have been teaching large-scale floral installation workshops and have watched as these over-the-top designs have gone from an occasional request to a regular request from both weddings and corporate clients. Designers are fortunate to be designing in a time when flowers were so well appreciated."

Is Sarah Campbell a trendsetter?
"Absolutely! I'll let you in on a little secret… anyone can be a trendsetter. I mean that! Everyone has the power to pave the way for new trends. Floral designers are artists and innovators, what we create becomes the trend. We have the ability to influence tools, flowers, design styles, and more just by sharing our work with the world. What I have that helps with trendsetting is an established audience of thousands of florists and flower lovers. This allows me to saturate the market in turn speeding up the visibility of the trends."
What is your idea on trends for 2022?
"As the world begins to open for weddings and events, we're seeing a trend that clearly calls to my design style: ABUNDANCE. Factors such as smaller guest lists combined with the excitement of being able to hold weddings once again are seeing clients come in with bigger budgets and the desire to create a unique experience for their guests…which calls for BIGGER designs."

Did you like our Thursd floral trend color for the year 2022? Genuine Pink, with the theme: Building bridges? Tell us your thoughts on the color and the theme.
"Genuine Pink is beautiful! We are just now seeing it pop up across all sorts of aesthetic spaces, like interior design and fashion, which makes it a smart pick for a floral color of the year! As clients are seeing it more and more in the world around us I'm sure it will be highly requested. The theme of building bridges, to me, means creating connections. After experiencing the past couple of years, I find this theme to be so inspirational. So it's time to build bridges and connect with each other once again. I can't wait to see how this theme influences the design we see. My mind is already racing with ideas!"
What do you want people to know about your character, signature design?
"My signature design style of big, blossoming abundance was honed by paying attention to what spoke to me as I admired the designs of others. I design in groupings with a monofloral focus as I like the way the masses of blooms make an impact on the visual experience. Inspiration is meant to guide you, but it doesn't demand that you arrive at the same destination. When people look at my work, I want them to feel this same sense of inspiration. I want designers to be able to admire what I do, feel the inspiration, and use it to fuel a new design style that is all their own!"
What about education? Is it important in floristry?
"Education is ALWAYS on-trend. Continuing to seek out educational opportunities time and time again via online and in-person networking, workshops/classes, and conferences are the key to unlocking growth and new paths to success. I've been focusing on creating learning opportunities for florists who are hungry for this kind of growth in their own careers! So that's why Intrigue is always working hard to curate effective floral designs and business courses that not only inspire creativity but also set the stage for long-term business success. Being a great designer is only part of a designer's success story. The selling of their work and the running of a solid business are equally if not more important."
If you could pick anyone from floriculture to talk to, who would you pick? And what would you like to discuss?
"If I could talk to anyone in the floriculture world it would be the breeders. I find the flower breeding process to be so interesting. This is truly where design begins with the seeds that are nurtured and developed to bring flowers to our design tables. I would want to talk about the new varieties in the pipeline. It is exciting to be in the know about what is coming to market."
What are you most proud of doing as Sarah Campbell the florist?
"I am most proud of the bridal bouquet I created for my daughter's wedding. After designing thousands of bouquets over the course of my career. Skyler's bouquet was my proudest moment as a designer."
Is there anything you want to tell our audience?
"I am looking for partners to bring an exciting new flower-focused event to life. This event will bring in millions of views and will be part of setting the flower trends in 2022 & 2023."
This workshop was realized with the support of: @mayeshwholesale @_floracraft_ @ballsbcutflowers @curate Creative partners: Venue: @luxmoregrande Floral design: #intrigueworkshop Concept & Planning: @heatherbengeofficial, @styledshootsacrossamerica Hair & Makeup : @brittneyboscana Linens: @nuagedesignsinc Cake: @lubellescakes Stationery: @papier.handmade Wedding Gown Salon: @whiteblossombridal Colorful Gown: @styled.gowns Styling Mats: @replicasurfaces Ring Boxes: @the_mrs_box, @lovelyringboxes Shoes: @bellabelleshoes Models: @carranitac, @the.alexandra.jane, @lucas.n.salazar #styledshootsacrossamerica #intrigueworkshop #intrigueacrossamerica