Fresco Flowers
Fresco Flowers
is a flower packing company located at the world's most famous and largest flower auction, Royal FloraHolland Aalsmeer. They check, pack, and supply roses from ten growers from Kenya with a total area of ​​approx. 240 ha. The farms from Kenya are
Timaflo
r,
Lolomarik
,
Ol-Njorowa
,
Rift Valley Roses
,
Kisima
,
Mt. Kenya flowers
,
Alani
,
NIRP
,
Altima
, and
Lobelia
. The farms are located near the equator, at an altitude of approx. 2,250 meters. This enables them to supply consistent quality roses in all colors all year round, especially for the higher segment (wholesale/florist shop/online business). 95% of Fresco growers are KFC (
Kenya Flower Council
) and/or MPS (
More Profitable Sustainability
) certified, which meets the #FSI2020 ambition. Important to share is that these farms play an important social role in the environment, and do everything they can to promote the well-being of employees and society. For example, they support various social initiatives and ensure better infrastructure and safety in the area.
Fresco Flowers
is working on more sustainable practices: they have reduced cardboard use by 90% at the beginning of 2019, and now they are supplying alternative solutions for plastic consumption (flower foil and a multi-use flowerbox of 100% recycled plastics from the auction). "We do everything together to deal with natural resources in a socially responsible manner" -is Fresco Flowers' motto.
How is Aart Buizer from Fresco Flowers coping with the current Corona outbreak?
An interview with Aart Buizer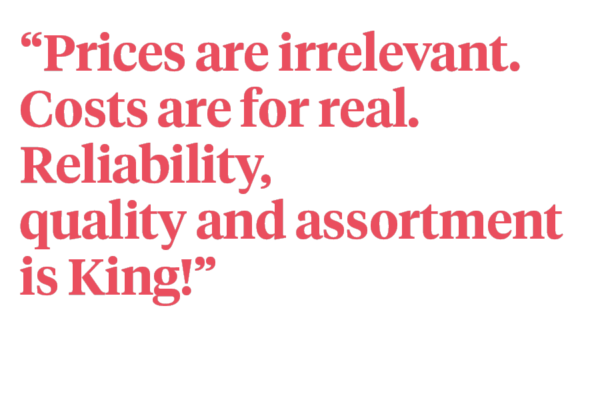 Can you describe your customers in general? What do they buy generally in your shop?
Our customers are all the buyers at the Dutch auction clocks of Royal FloraHolland. That can be exporters, other wholesalers or buyers from all over the world who buy digitally through these sales channels of FloraHolland. We use these sales channels of Royal FloraHolland because it's a unique concept of a marketplace as a one-stop-shopping place for the European market. And it offers guaranteed payment.
Have you been open or closed since the (partial) lockdown in your country?
After the lock down we closed our total operation in week 13, for one week. We soon received questions from buyers and auctioneers to start supplying the clock again with limited amounts of stems. Right now, we only sell approximately 50% of the normal volume.
How do you get information these days about the floral industry?
Each day we are in direct contact with the buyers, auctioneers, freight forwarders and growers. Besides that, we follow the news especially from Holland, Kenya and Europe.
What barriers do you face at the moment of running a successful business?
High priority is to take care of the health of the people working at Fresco Flowers and at the farms. Then what is the situation of the wholesales and florist shops in Europe (Gemany, France, UK, etc.). Are they allowed to sell? After that our biggest challenge is to manage the cargo from Kenya. Which are very limited due to the crisis in air freight and high demand from China!
How do you plan to overcome these barriers?
Talk, talk, talk…., we maintain close contacts with all partners in the logistical chain. The result of these good contacts is optimal knowledge sharing, which all parties involved will benefit from.
Which inspiring new initiatives have you seen in the industry - or are started by you - since COVID-19?
The number of promotional campaigns via TV, Radio and social media. Organized by a local growers, ambassadors from the industry and even famous Dutch people. Besides that, the Kenya Flower Council introduces the campaign: Flowers of Hope. An initiative by Kenyan flower farmers, focused on spreading happiness during the pandemic. Another development is the increase of online business B2C. As for an example www.surprose.de.
How important is it for you to lift each other up in these times and what does that mean for you and the bond with your colleague-professionals and business relations?
As already mentioned to maintain close contacts with all the partners in the chain is very important.
What do you think is the biggest issue in your segment of our sector (being a florist, grower, trader, or breeder) at the moment, from your perspective?
Sales, sales, sales… and the capacity of the wholesalers and florists. This highly depends if the containment measures for the shops will decrease. Flower shops will probable resume their activities, but not under normal public reception conditions. The recommendations on the flow of customers entering / leaving a stores, make it difficult for the retailer to achieve the same number of sales as before when things were still normal. This is reducing the number of contact moments, and gives higher costs. This will probable lead to higher consumer prices for flowers.
What is the story behind your business and how will COVID-19 affect your future storyline?
The corona virus and the measures that accompany it are causing major changes in the total flower industry. Our story is to provide as many customers as possible via Dutch auction clock in a regular and reliable way with fresh and top quality roses in sustainable packaging. We don't have the crystal ball to look into the future, but Fresco Flowers continuously analyzes the products, pricing and the expect numbers and discussing them with the growers. So I can only say: Prices are irrelevant, Costs are for real, Reliability, quality and assortment is King!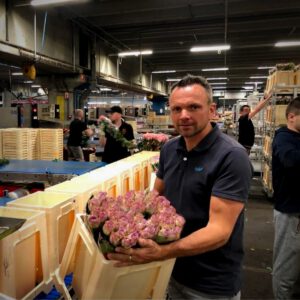 Aart Buizer