AgroCheck Database
The AgroCheck online international database is available for our members. This database contains information of more than 35,000 companies worldwide related to the floriculture industry. We mainly focus on doubtful debtors which are registered on our 'Warning List' (2,700+ companies). These are companies with a bad history: crooks, frauds, persons with bad intentions, or companies with financial problems.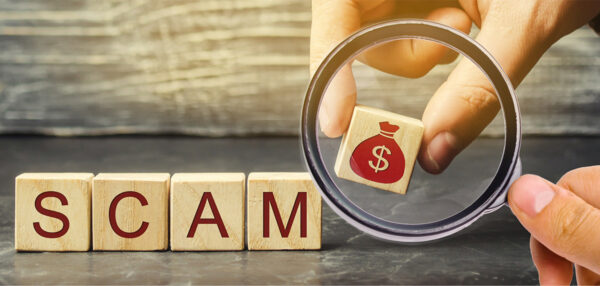 Every day the database is updated with new information. Our members also send us negative information about their clients, so we are creating a complete database with information from several markets (Netherlands, Colombia, Ecuador, Kenya). Always check your new client to know who you are doing business with!
Credit Reports
If you cannot find the company you would like to do business within our database, we can create an up-to-date credit report, this is a single-page report with all available and most updated information, like contact information, registration and tax numbers, annual figures, credit limit advice, etc.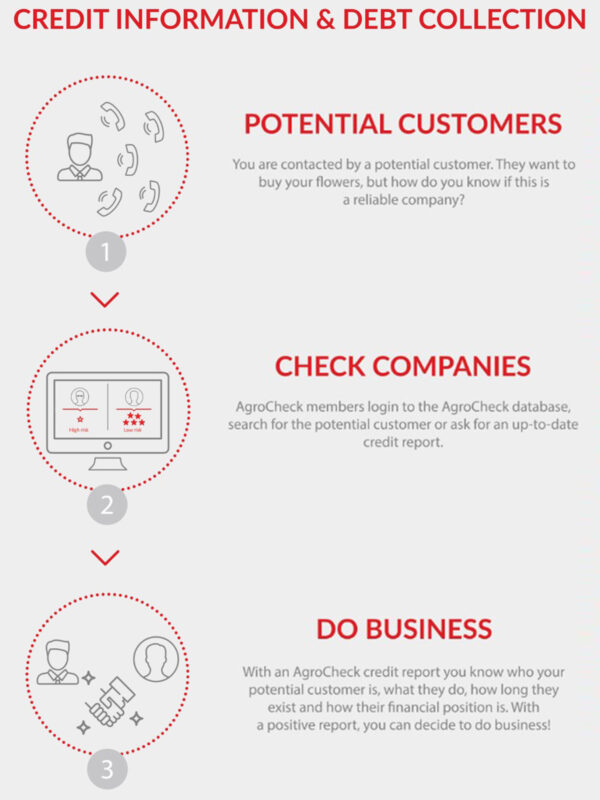 AgroCheck Collections
Almost every company deals with non-paying clients. This is frustrating and time-consuming, definitely since you have a lot of other things to worry about at this moment. Sometimes it is better not to be involved yourself anymore and to hire a specialized International Debt Collection agency. In such a situation, AgroCheck Collections is the right company to assist you. AgroCheck Collections is an international debt collection agency for the floriculture industry. We collect money for flower farms, exporters, wholesale companies, and cargo agencies. Because of our 19 years' experience, we know everything about the flower industry. We work on a No Cure = No Pay base, we only charge administration fees to start a procedure. Got a minute and a half? Watch our comprehensive YouTube video to learn about our services.
Are You Our New Representative in Colombia?
Until three years ago, 95% of our clients were based in Holland. At this moment around 50% of our clients are from Colombia, Ecuador, and Kenya, and this number is increasing. AgroCheck has rapidly grown and is now planning to expand with a sales representative in Colombia. At this moment we are searching for the right person for this position. Are you interested in this position? Contact us now via
[email protected]
.
Renewed AgroCheck Website
The renewed AgroCheck website is interactive and offers more possibilities for its users. Members who asked for a database or credit report in the past will be automatically informed as soon as the status of the debtor is changed. This way members can immediately take action when necessary and stop deliveries. Some other improvements are: • Mobile and tablet compatible • Easier database search • Export a database report to PDF.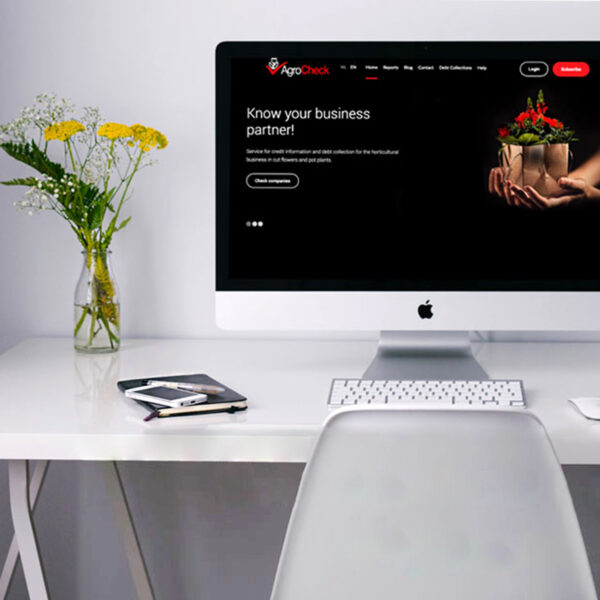 Sign Up for Our Newsletter and Stay Alert!
The AgroCheck newsletter is well-known in the flower industry. We send newsletters as soon as scammers are signaled in a certain market to make sure that you are alert. We also inform the market when a new type of scam is signaled (for example identity fraud, check the latest AgroCheck blog). The newsletter is available for non-members as well.
Contact AgroCheck
Get in touch with us to learn all about our services on
international debt collections
and credit information. AgroCheck Mark Weitjens Nijverheidsweg 23G 3641 RP Mijdrecht Netherlands Phone: +31 6 55 85 39 23 Email:
[email protected]
Internet:
www.agro-check.nl
Download our
digital flyer here
. Follow the
AgroCheck blog here
.
Register here
to become a member for only $450 a year.