Yamile Bulos walked an interesting path so far to become the woman she is today. After being a successful floral head designer at YQ Art in Bahrain through COVID she moved back to her home country Mexico. Yamile believes COVID has changed many paths, has made many people more insecure, and made lots of things more difficult. But difficult is not a word that shows in her vocabulary. When you are persistent in life, everything is possible. If you want it, you have to gain it.
Yamile Bulos
Undoubtedly the past years have had their vicissitudes, smiles and tears, accomplishments and failures, happiness and sadness, and hope and uncertainty... However, even when everything is dark, you can always perceive a small and simple ray of sunshine to lighten the way. That's what Yamile Bulos did, through her expression with flowers she managed to overcome those difficult times. She rediscovered herself and stands stronger than ever.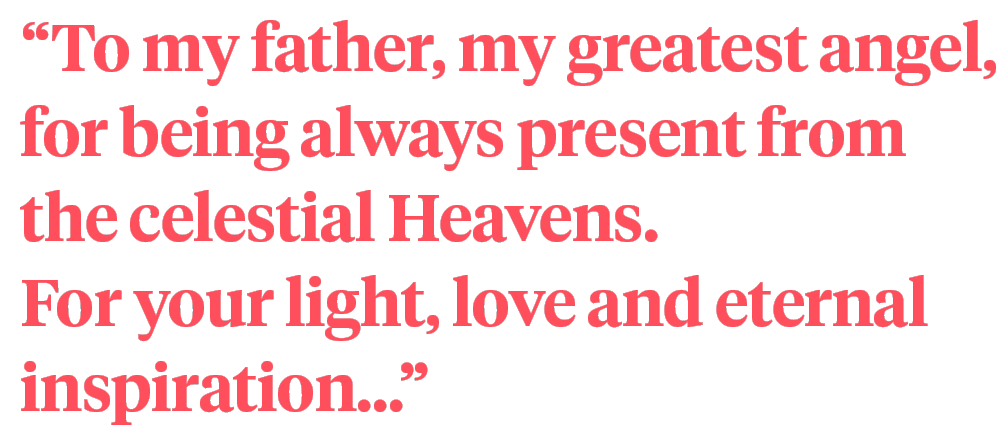 A
n Interview With Yamile Bulos, Floral Designer in Cabo, Mexico
To reencounter passion, happiness, and inspiration in life itself, amongst this uncertain time, Yamile is happy to have found the right place for her to work and create. After coming back home to Mexico from Bahrain because of COVID, Yamile moved to Guadalajara as a freelancer, but that didn't turn out to be a success...
Q: What happened after you returned to Mexico?
Yamile:
"Well, in Guadalajara I found a job as a head floral designer. But in fact, I didn't get any opportunity. They didn't believe in me. I'm somebody that want's to create, for me floral design is a creation, with the right color palette, the right mood, the right techniques. But there it was putting together lots of flowers. In different cities, you have different trends. And there it had to be lots of flowers, and big, without refined beauty. And on top of that, I could not take the lead in a project, I was not good enough. And I started doubting myself, becoming more and more unhappy with the situation I was in. Her attitude towards me was unacceptable, It was a hard decision, but I know this was not my place to stay and I moved again."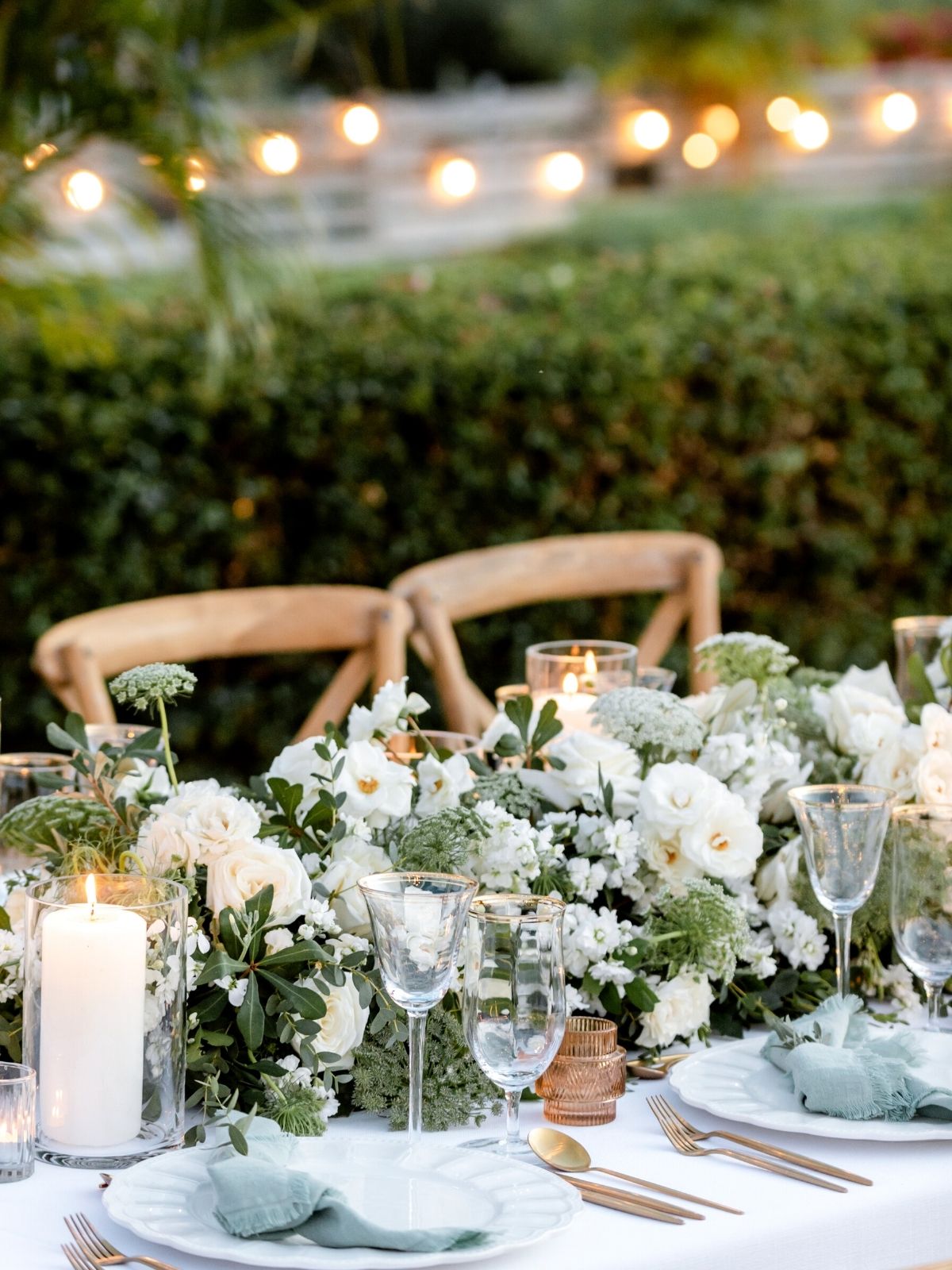 Starting Over Again
Yamile returned to flowers, her passion, her life. She always thought about herself as a brand, a creator of perfection with flowers, but to stay good enough, one has to learn a lot and educate yourself.
Q: How did you return to the flower business after your bad working experience?
Yamile:
"I was always somebody that loved to take risks, that enjoyed incredible experiences, and I wanted to be able to feel like that again. I studied marketing and advertisement, and so I returned to my base and started to give interviews, courses and workshops. I love to share my knowledge, to educate, to help other people. I made tutorials and the online teaching became very popular. And it worked, I started to believe in myself again. I had many people asking me to speak for them, or to give a workshop, or to coach some way."
Biggest Challenge
Life obviously had many challenges for many people during the corona pandemic.
Q: What is your biggest challenge in life?
Yamile sighs:
"Lots of people trust me, they believe in me, they like my judgment and when it comes to flowers, they know my brand, and they like it, they want my work. I have to believe that. What is more, since I started working with flowers, that is what they have given me: the ability to see light and color in the midst of darkness. So my biggest challenge is to trust myself and to keep seeing the light and the color."
Aria Vera at Cabo Mexico
Yamile had to luck to find a place in Cabo, where people come for the most beautiful destination weddings and other events. A place where they support her, where they give her the opportunity to create, to show her talent.
Q: So you found a new job in floriculture?
Yamile:
"I'm so happy with my new job. I have to be honest, I'm still working on myself. But at this place in Cabo, Baja California Sur, I had a dream interview with my amazing bosses, very kind and talented and to whom delicacy is important, and where production is not more important than beauty, and I became their head designer at ARIA VERA. Del Cabo Weddings and Del Cabo Event Design is their second and third business. For the coming time, we are fully booked, I can create! I love it, the passion, the skills, to use my talent is very rewarding. I really love my job. They let me create without limits and they believe in me. We have a great team and I learn a lot. I'm a real designer again. And a no brainer, living here is like living in paradise: everything feels and looks better."
Love Rocks
Many concepts have been worked on since Yamile works for the company, she gets responsibilities and the lead during the projects. From A to Z, Yamile is responsible to make clients happy.
Q: Sometimes concepts speak to the imagination, How did "Love Rocks" become what it was?
Yamile:
"The client made this huge event and the theme was rock n roll, the whole design was inspired by that. They brought a rock band and stuff like that: it was like a festival actually, and so they want flowers but they want them to look romantic or sweet.So I thought about having a vibe or looking a little bit punk/dark/rock. Then whenever I hear "rock 'n roll", red and black colors come immediately to my mind, so that's why I designed it like that."


Dreams and Goals for the Future
Everybody has different dreams and goals in life. And with International Women's Day just behind us, curiosity arises what Yamile's dreams and goals for the future are.
Q: What is your biggest wish for women? And what do you wish for yourself?
Yamile:
"My biggest wish is that it gets clear in the world that women's emotional intelligence can be an enormous added value for many jobs in all positions. That is doesn't mean that older men with more experience are without a doubt better. That men give young women the chance to be in these high positions and grow together. That working in a team gives the greatest satisfaction. And for me: I want to be one of the best floral designers in the world. With a non profit association I want to be able to help vulnerable groups of people, and if I earn more money I have a bigger chance to realise that dream."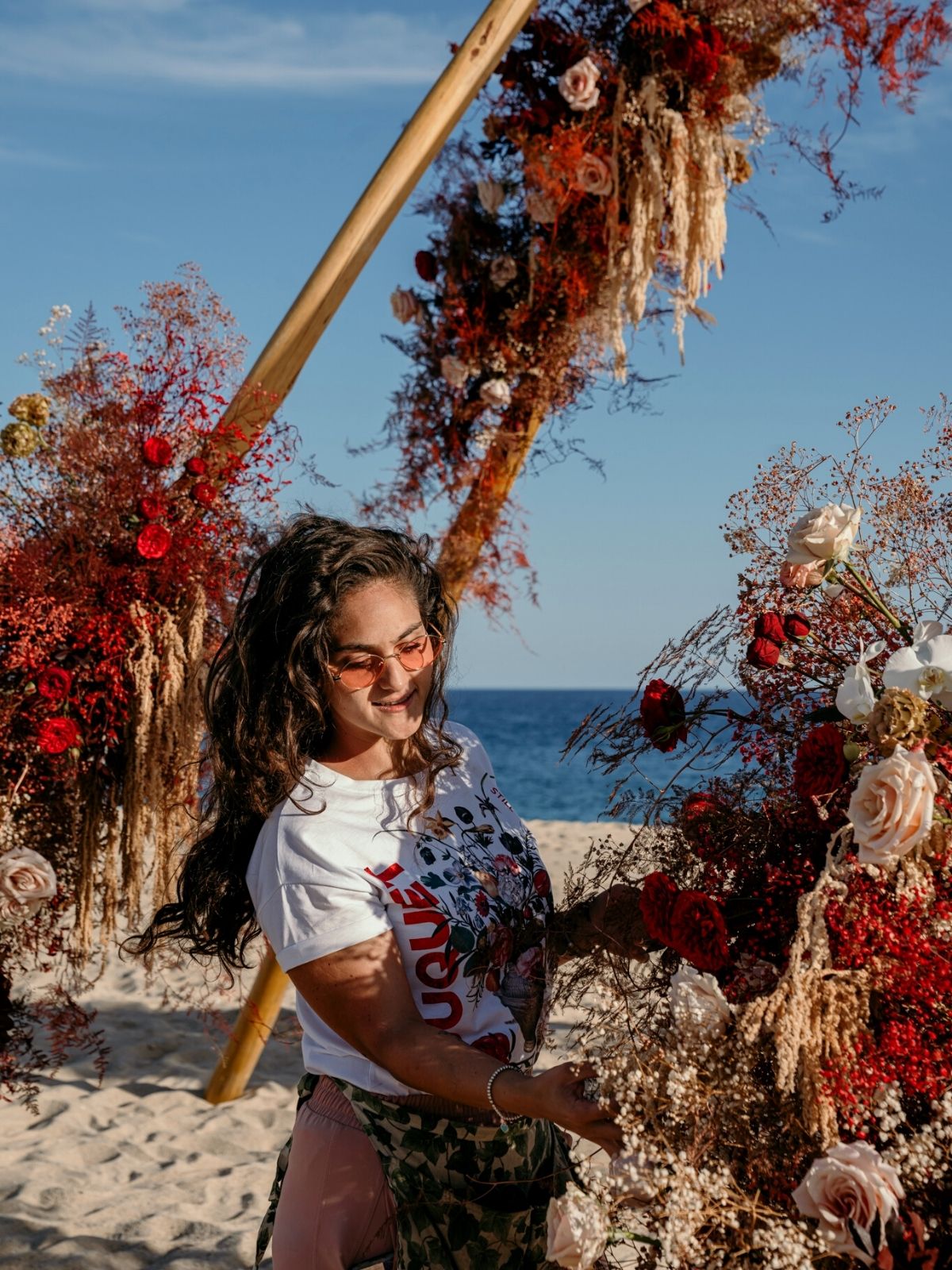 La Musa de las Flores
Gabriela Salazar from La Musa de las Flores became an icon for Yamile. She looks up to how Gabriela lives her life and how she learns from her flowers, from the roots, from the way flowers grow. Flowers have feelings and from that point of view, Gabriela designs. She lives with her family, her pets, and her greenhouse.
Q: Who do you really look up to in our floral industry?
"For me, one of the most talented people in our industry is Gabriela Salazar. She literally feels the sentiment of her flowers and uses them accordingly. She grows her own flowers and she learns from them. And most importantly: she learned me that flowers feel you, and so you have to be confident and happy, so your flowers can be happy too."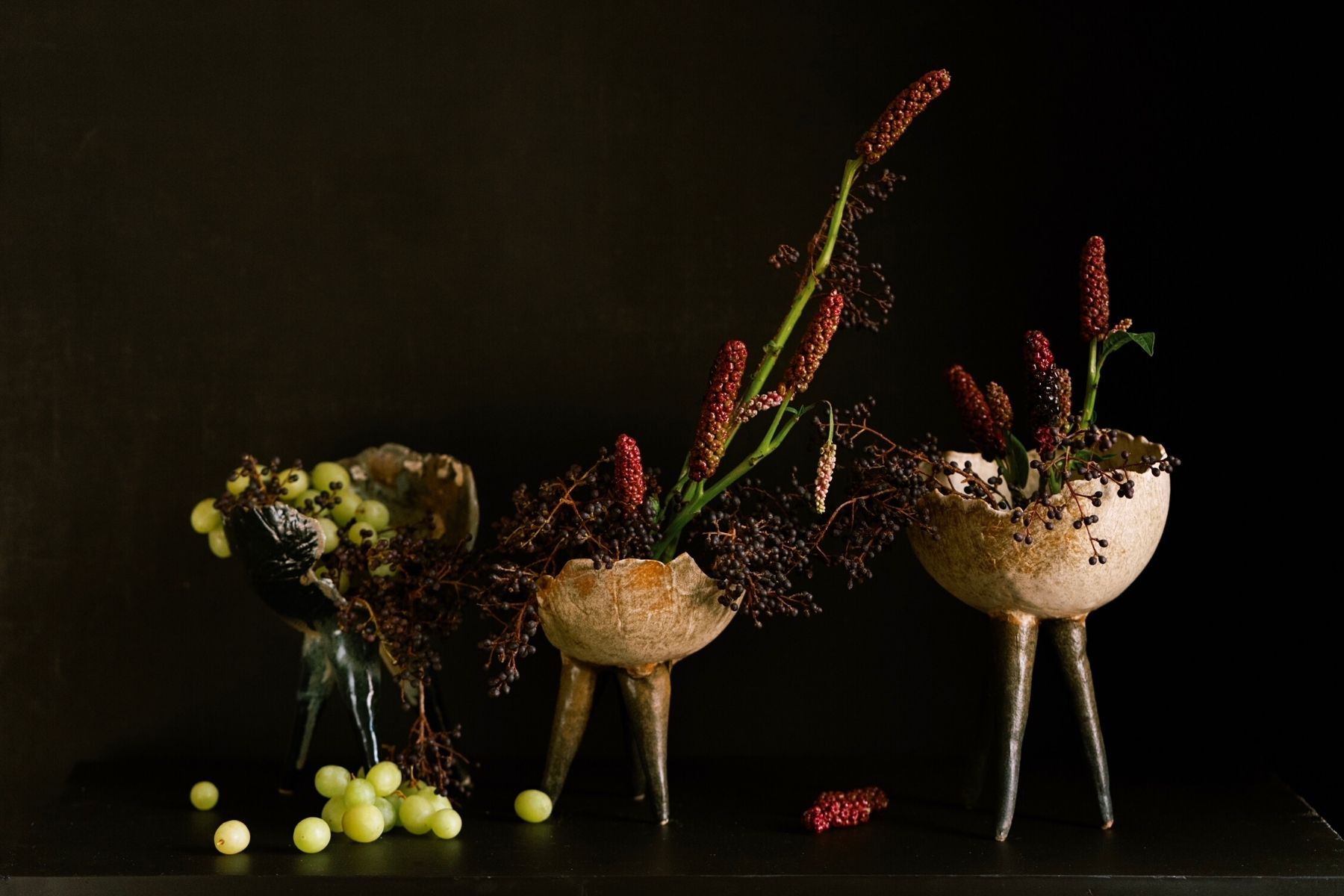 Last Message
Yamile designed a concept, LIGHT & DARKNESS, and she turned it into a book because of how important it was to her.
Yamile:
"This photo book is mainly dedicated to my family, who have enormously supported me throughout this journey of flowers. To my mother, sisters, nephew, and brother-in-law, for always believing in me, for never leaving me alone, and for being my driving force. To my father, my greatest angel, for being always present from the celestial heavens. For your light, love, and eternal inspiration...

This is also for all of my friends and those persons who have trusted me and have been beside me in the good, the bad, and the worst of times... To all those who continue inspiring me from near and far, in my country and abroad; to my professors, colleagues, and all the people with whom I have had the opportunity to work and/or share knowledge.Thanks to each and every one of you because you personify that light in the dark, in my life...

I am convinced that talent and success are always accompanied by dedication, but above all, by doing things with a lot of love and plenty of passion... And that is how LIGHT & DARKNESS was shaped!"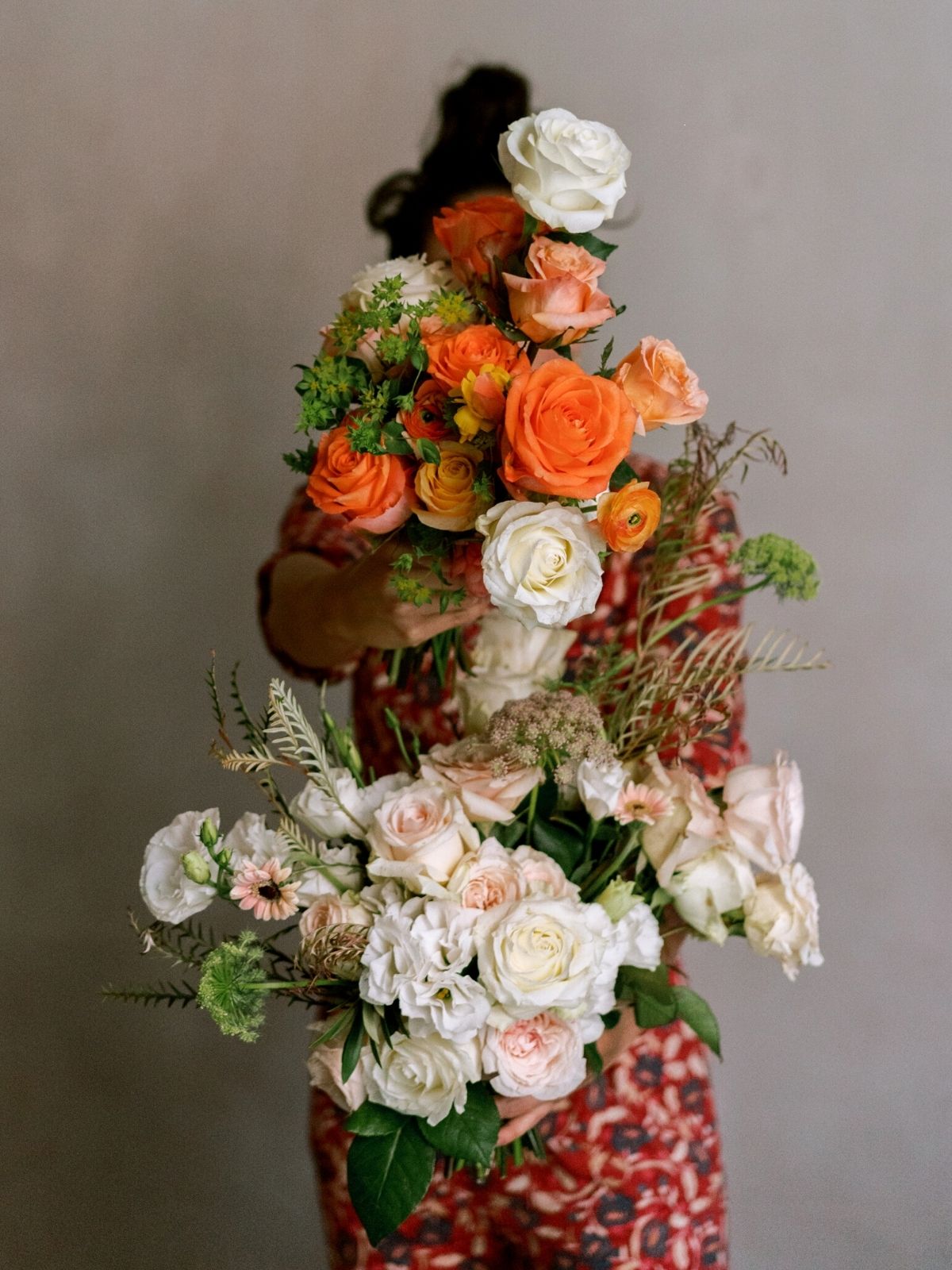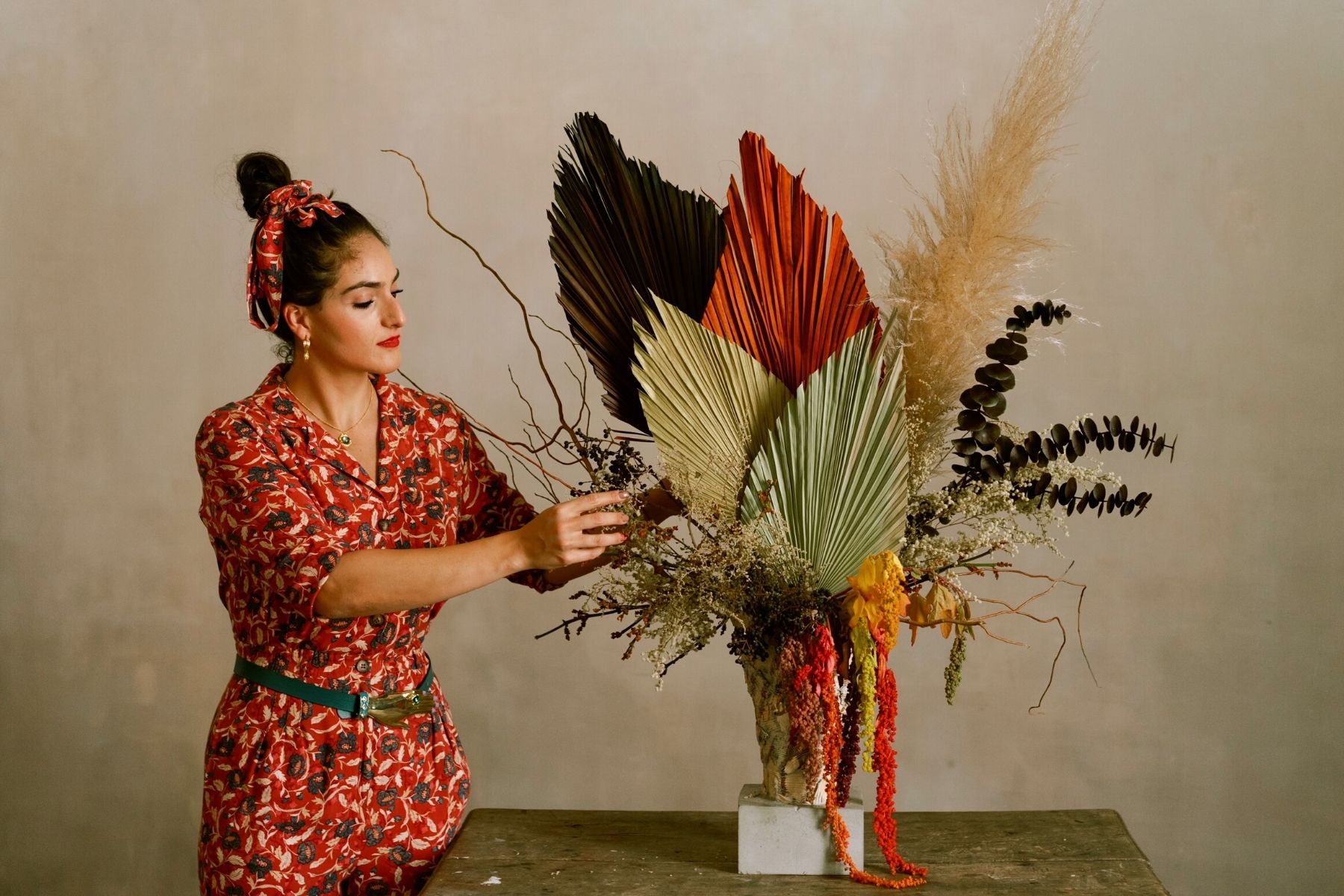 Vica Chávez (Ceramic Artist), Luis Garván (Photographer), Yamile Bulos (Floral Designer & Stylist)
Welcome to this, our Journey of Light!