Thistle and Plume
Anna Canales is one of the lead designers for
Thistle and Plume
, a boutique wedding and events business located in Chicago, IL, USA. This is a small business made up of three women: the owner Grace Koh, co-lead designer Sabrina Severens, and Anna Canales. They all previously worked together at a large floral event production company in Chicago and are not only coworkers but also good friends.
How is Anna Canales, lead designer of Thistle and Plume coping with the current Corona outbreak?
A story by Anna Canales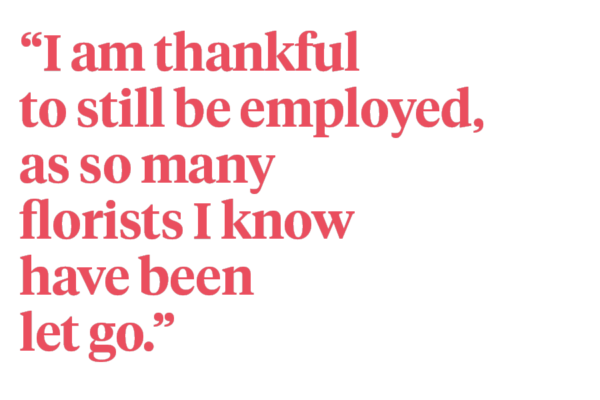 2020 Was Going To Be a Big Year
Grace started Thistle and Plume in 2018, and since we are such a young company, each year has been different. 2020 was going to be our third wedding season and a big year for us. Our typical "wedding season" is May through October, where we design an average of three weddings each weekend, depending on their scale. In the off-season, we have fewer weddings and events while focusing more on booking for the following season. Our team of three is lean and hardworking, and we bring on additional seasonal staff to help with set-ups and breakdowns during our busy season. This year we were looking forward to bringing on additional freelance designers to help in the studio and moving to a beautiful new studio space. Currently these plans are on hold, as our events from March through July, and some further out, have all been postponed.
Coronavirus Hotspot
Chicago is an urban Coronavirus hotspot in America, so our "lockdown" has needed to be more strict than some other places. We have been sheltering in place since mid March. Our access to flowers has been very limited due to restrictions on our suppliers and our geographical location, since it is a colder climate this time of the year and the growing season is still early for local farmers. Although our lockdown has been extended for another month, our state has just eased on restrictions on no contact delivery and floral operations this past week (around April 20). This was the first time I was able to get flowers and design again since early March.
Support and Lift Up Others
Our hearts go out to all affected by COVID-19 as we continue to monitor the situation daily and follow CDC guidelines/recommendations. Everyone's health and safety is our top priority at this time. Our past six weeks have focused primarily on helping our clients navigate this difficult time as we reschedule, adjust proposals, and edit contracts. We have also made helping our community a priority during this time. We have been busy sewing masks and have already donated several hundreds of masks to healthcare workers and other individuals who need them. Now that we are able to access flowers again, we have joined forces with 2 other local florists in a fundraising project to donate bouquets to our frontline healthcare workers at Rush hospital in Chicago, and as a result, support our local wholesalers and the floral industry. It is incredibly important to us to support and lift up others, and we look forward to other opportunities to do so.
Looking Forward
As we look forward, we are discussing ways to weather this storm and adjust to the ever-changing event landscape. There are many question marks, and at this time I don't know what exactly we will do, but I know we will work hard and pivot as needed. We know that weddings and events will be scaled way back when they return. We also know that these events will become more special than ever. I hope to see intimate weddings that prioritize floral, creating an unforgettable experience for close friends and family in attendance. I would love for our clients to be able to keep their flower budget and use this unique opportunity to get creative, such as by utilizing the budget from dropped centerpieces to create incredible installations that may have originally been out of budget.
Thankful
I am proud of our company right now for handling this situation with kindness, flexibility, respect for the situation. I am thankful to still be employed, as so many florists I know have been let go. The funding for small businesses in our country is simply not enough. Most florists, including us, have not received the grants we had applied and hoped for. Most of all, I am thankful for our clients. They are amazing and without them we will have no business to come back to when we are able to resume events. I am in a unique situation as a 2020 bride myself, planning during this pandemic for my own wedding in November. I know exactly what our clients are going through right now- it is heartbreaking to have to re-imagine a dream event you have spent months or years planning, at the drop of the hat and to no fault of your own. I look forward to being a calming and supportive asset to our clients throughout this process, and I especially look forward to designing again in the coming weeks as we are able to get more flowers.
Anna Canales