Let us introduce you to a 21st-century master: Bas Meeuws, 44 years old, artist. A quite recent profession, Meeuws makes hyper-realistic photographic paintings. He has two books to his name and exhibits from Delhi to Taipei. In his previous life, however, he worked as a (manual) physiotherapist for more than 20 years. A new year's resolution on January first, 2010 changed everything. He accepted a challenge to do more with his talent and slowly transformed into an artist. As soon as the children were asleep, Meeuws went to work. He had always been interested in photography, and the evenings turned out to be a perfect moment for photographing still lifes:
"For night photography, you have to go out the door, and that didn't seem like anything to me. I just wanted to play around for a couple of hours".

Meeuws has taught himself the art of photography and image processing.
"I was on photography forums a lot and when I saw something cool there, I would just experiment. So, build some still lifes, just see what'll happen. Soon you'll end up with fruit, vegetables, still lifes like that. Until my wife, an art teacher, came home with a skull: 'You can do something with that too'. So, I did. It looked nice, but it was very explicit 'death'. Still, you're already working in the 17th-century genre at that point. And I really liked flower still lifes, so while brainstorming I came up with the idea to photograph the flowers one by one. With a photographed bouquet you can see that it is a photographed bouquet; it is what it is. You can see that gravity exists."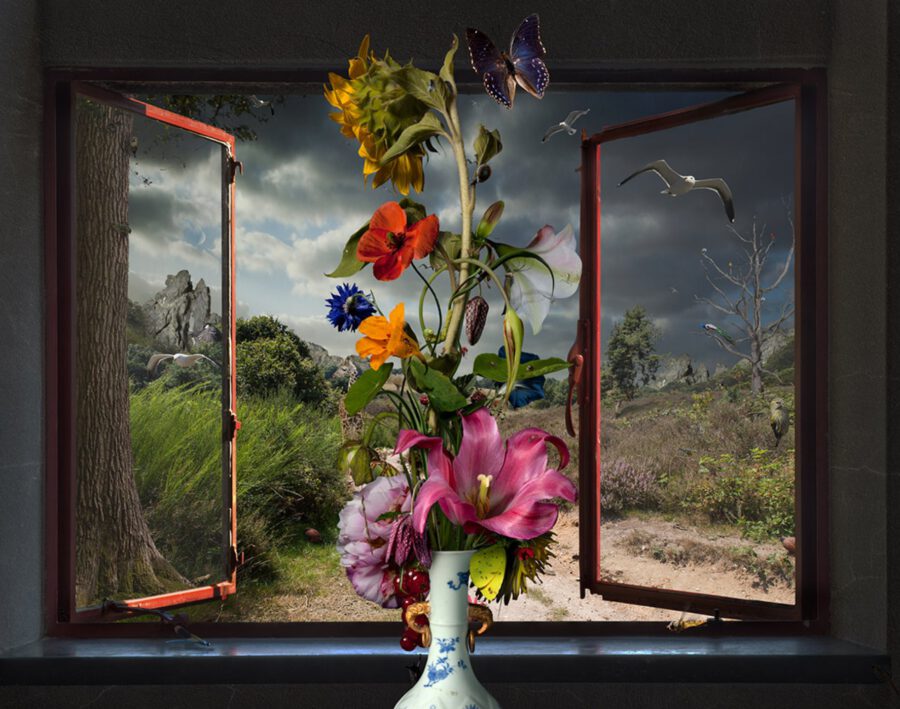 Playing with the Unreal
"In the 17th-century paintings, you come across very strange compositions, which are not possible in real life. They weren't painted truthfully either. An artist at the time could not afford a real tulip at all, that was far too expensive. Their work was often based on sketches, tulip books. They used it to make a bouquet. If you look closely, there are flowers in it from all kinds of seasons, you could never create that in real life."
Meeuws does create it, however, behind the computer. And that, too, results in special combinations.
"I like to play with form, size, composition. Such a large peony, for example, I make it the gravitational center. And next to it I place a crocus, which has been pulled completely out of proportion. Sometimes I also put pansies at the top of a bouquet. Of course, they are small, with a short stalk, but here they suddenly have a very long stalk."
There are a lot of things incorrect in his paintings, even though not everyone is aware of this at first glance.
"When I exhibit my works, I sometimes get the question: 'Those bugs, what's the deal with them? It's not possible for all those butterflies to flutter correctly at exactly the right moment when the photo is taken." Meeuws can laugh about it and sees it as a compliment that they apparently see it as a real bouquet after all. But if you look closely: "A lot of things are unreal. A huge bouquet for example, in a small Chinese vase with a narrow neck. There's a Digitalis in it, only that stem doesn't fit in that vase, let alone the whole bouquet."

#untiteld
"My work has no titles. I'm not very fond of titles. I sometimes see these very poetic ones in the work of fellow artists, and I think 'well... I just don't see it'. I also think you're pushing the viewer in a certain direction. I want you to make your own story out of it." However, his works have a common denominator: "I think sustainability is very important, that people look at nature with more respect. So, I put in everything, including vegetables, weeds... Plants that people just pass by. But if you give them a platform, people can suddenly see the beauty of it. It's all just very important. When there are no more bees, there are no more berries, strawberries, apples... We have to be a bit more careful with the earth. With the beauty of our universe."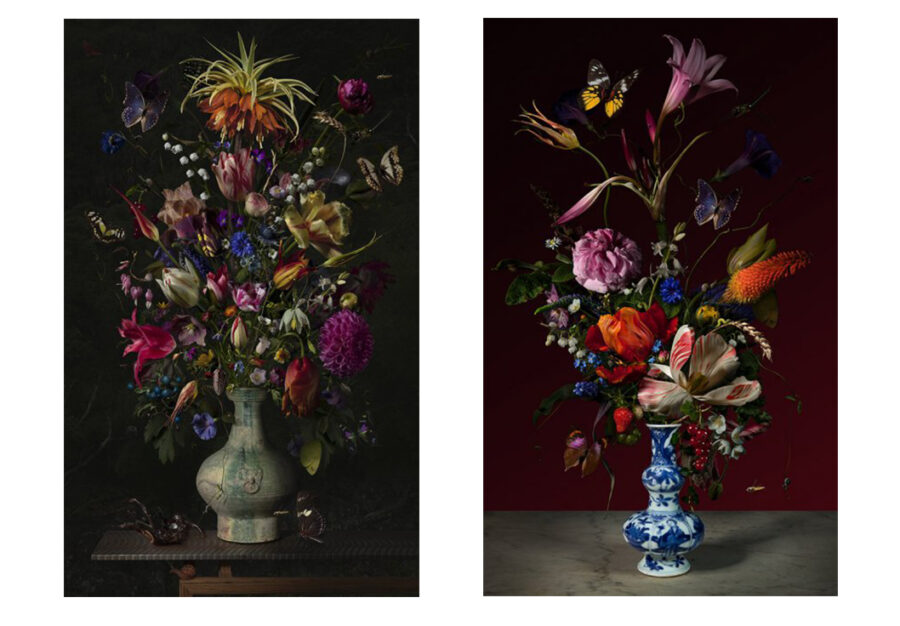 Catching a Moment Out of Time
Striking about Meeuws' work is that flowers are used at different stages of their life cycle. In the bud, flowering, but also blown.
Meeuws: "A flower has a short life span; I catch that moment out of time. I photograph them the moment they hit me, and that includes transience. Finished flowers also represent the circle of life: the flower forms buds, with seeds and berries. You can see that as the end of the flowering cycle, but it is also the beginning of a new one. Without those seeds, there will be no new flower."

Playing Hide and Seek
A work by Bas Meeuws is never boring, you discover something new every time.
Meeuws acknowledges: "There is intentionally a lot hidden in my works, so it will not get bored. That it's timeless. But so are the works from the 17th century: timeless. Already 400 years old and still sparkling."
Our gaze wanders to the painting behind Meeuws; we see spiders, butterflies, a climbing snail and hey: a caterpillar on its way to a juicy bite. In other works, a dragonfly, a finch or even a monkey. Meeuws has made several series, with influences from all over the world. From beautiful vistas to distant worlds in 'Windows' to thousand- and one-nights fairy tales in the series 'India Mughal'. In 'Hommage a Sanyu', Meeuws honors a more recent painter.
"In Taiwan I came across the work of the Chinese painter Sanyu. Sanyu lived from 1900 to 1966 and spent half his life in Paris. He worked with Matisse, and that's reflected in his work. He paints very abstractly. You can see it's a flower shape, but what flower it is? I don't know. The stems are almost transparent because he puts them down with one brushstroke and at the bottom, the paint on his brush is almost gone. I wanted to convey the same feeling but doing that with hyper-realistic photography is not easy. I think I spent two months working on them before I was satisfied. It now really looks like a painting, but without being a copy of his work. It remains a Bas Meeuws."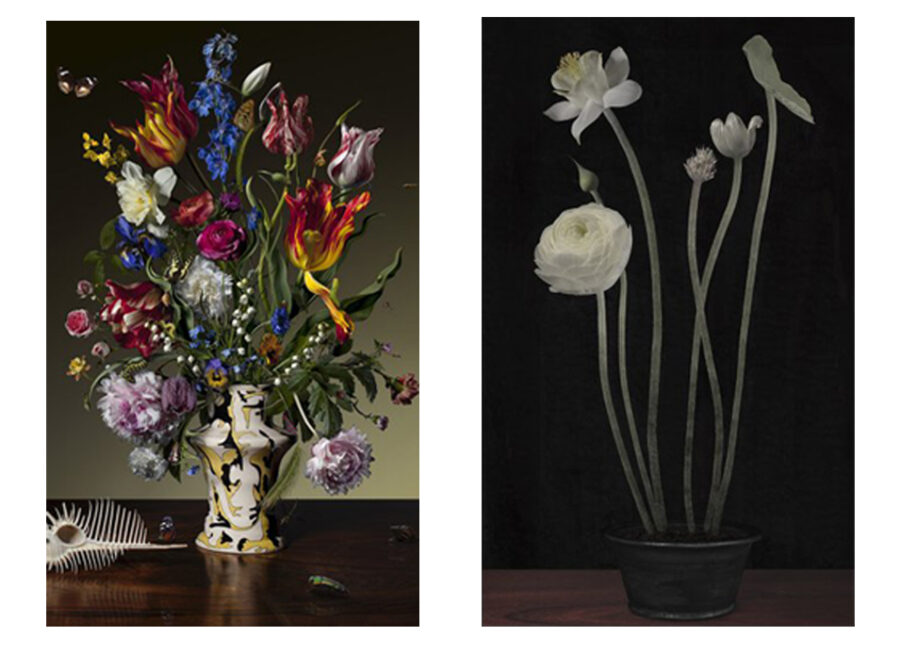 Digital Painting
Every now and then, Bas Meeuws compares himself to a painter.
"I make a composition first, choosing flowers out of my image database of more than 13,000 images. I always photograph the flowers from different angles, in artificial light, in different stages of flowering. In front of a black background. I often photograph the vases on the spot, for example in museums. Then I'm putting them together. When I'm satisfied with the bouquet, I go brushing, sometimes for hours. That works very meditatively. When the black lines around the flowers are gone, you can see the whole thing fuse together. Then I add the lighting and shadows behind the flowers. I don't work with masks in Photoshop. That in itself would be useful because you can always go back to a previous version, but I prefer not to do it. As soon as I start with the lighting it's a painting for me. Once the paint's on, it can't come off. It does have something traditional."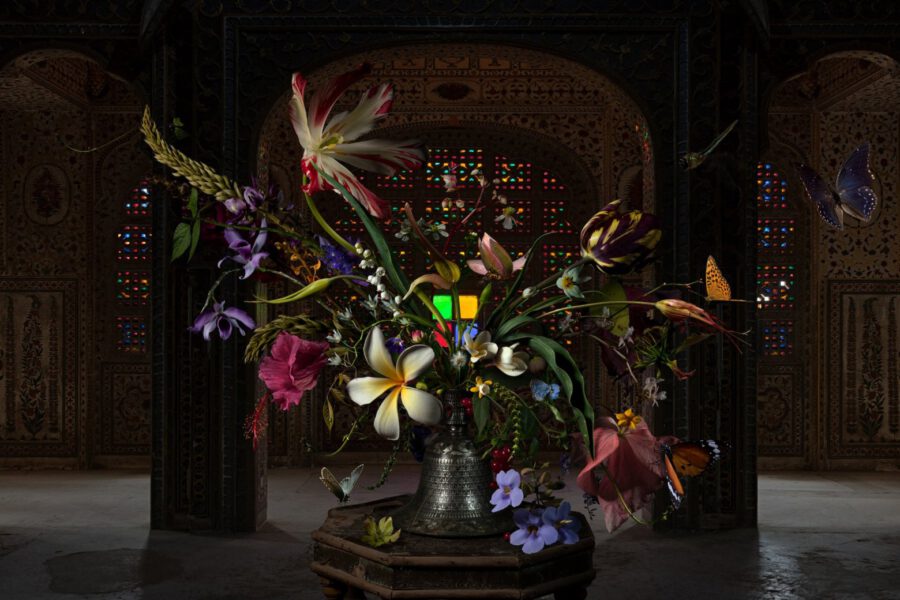 However, it is not always as practical as Bas Meeuws has to work for a client, because they sometimes want it to be just that little bit different:
"Sometimes they ask to make a flower smaller, while I have already provided shade behind that flower. But then again, I find it a challenge to solve that." Soon he hopes to find some time for free work again, between the exhibitions and assignments: "The book has taken a lot of time this year, I have underestimated that a bit. But now that that's finished, I hope to be able to take some time for an idea that I've been walking around with for some time; a series of fallen trees. And especially the clod, which contains all kinds of soil life. And flowers around it. I'd like that."
Inspired? You can read more about the work of Bas Meeuws in his book 'Flower Pieces'.