It has been a very interesting couple of months for this new company in organic flowers and plants. Bee-O is a trading company, connecting organic flowers and plants from growers to florists all around the world. Bee-O increases the availability of more organic flowers and plants to the markets.
Organic Flowers and Plants
Organic flowers and plants are different from regular grown flowers and plants. They often are more expensive and can sometimes show less attractive foliage and flowers. Also, there's not much to choose from. The assortment is really small. Only a few growers do offer organically certified products, and most of these products come in small quantities, as most of the organic growers are quite small themselves. This compared to the mass production of large growers.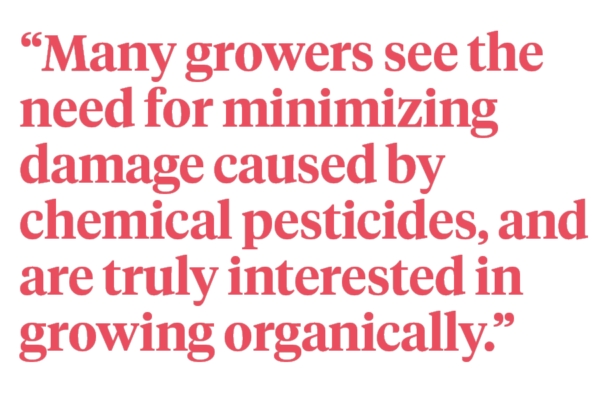 The Problem for Organic Growers
The problem current organic growers faced before Bee-O came into play, was that they couldn't easily supply florists who are interested in organic flowers and plants. Although the demand for organic flowers and plants is there, at about 5 to 10 percent of florists in Western Europe. Why has it been difficult for growers to connect the supply with the demand? Here are a couple of reasons: First, the interest in organic flowers and plants at florists is very segmented. Not every florist wants to offer organic flowers and plants to their customers. For a trader, therefore, it is of great risk to purchase a minimum amount (normally one trolley) at the organic grower. Because when they do, there's a chance they do not have enough demand to sell everything. Risk avert as they are, they try to avoid those kinds of products. Most florists only look for a couple of buckets or trays each week. And knowing that a maximum of 10% of the wholesaler's customers is interested in organic, it is hard to sell everything. Second, it is impossible for a grower to supply florists directly. They cannot send a few items to each florist individually themselves, they need to work together with a wholesaler. The chicken and the egg story. No one is to blame, it just didn't work.

Bee-O Has the Solution
The initiators of Bee-O saw this and decided to stock organic flowers at their own place within the Flora Holland auction building in Aalsmeer. To become the 'organic stock without risk' for the wholesalers. Making sure there is enough organic flowers and plants available to the daily traders via live webshop connections, it becomes possible for florists to buy small quantities at the webshops of their own suppliers. Bee-O buys full trolleys from organic growers and makes the flowers and plants available per tray or bucket. Now each and every florist can buy the smallest quantity possible, together with the other products they seek. At their own wholesaler.
COVID-19 had a Huge Impact
In March things were looking promising for Bee-O. Many small potted bulbs were sold, and florists and traders slowly learned about Bee-O. And then came the COVID-19 crisis, forcing the people of Bee-O to temporarily close all facilities.
"We learned that from one day to the other, no one was buying anything anymore, and especially not the organic flowers and plants we were hoping to sell in Spring. You have to understand that most of the organic flowers are growing outside, so at the time the corona crisis had its major outbreak in Europe, there were no cut flowers available yet. We decided to pause our business".
The Bee-O Initiative Makes it Possible to have More Organic Flowers
But the people of Bee-O didn't sit still. Herold Dongelmans:
"Behind the scenes we were using the time we got due to the COVID-19 crisis, to talk to many 'regular' cut flower growers. We've learned that many growers see the need for minimizing damage caused by chemical pesticides, and are truly interested in growing organically."
The people of Bee-O connected an owner of organic land to a Sunflower grower and decided to start together with a pilot on 7,000m2 of sunflowers.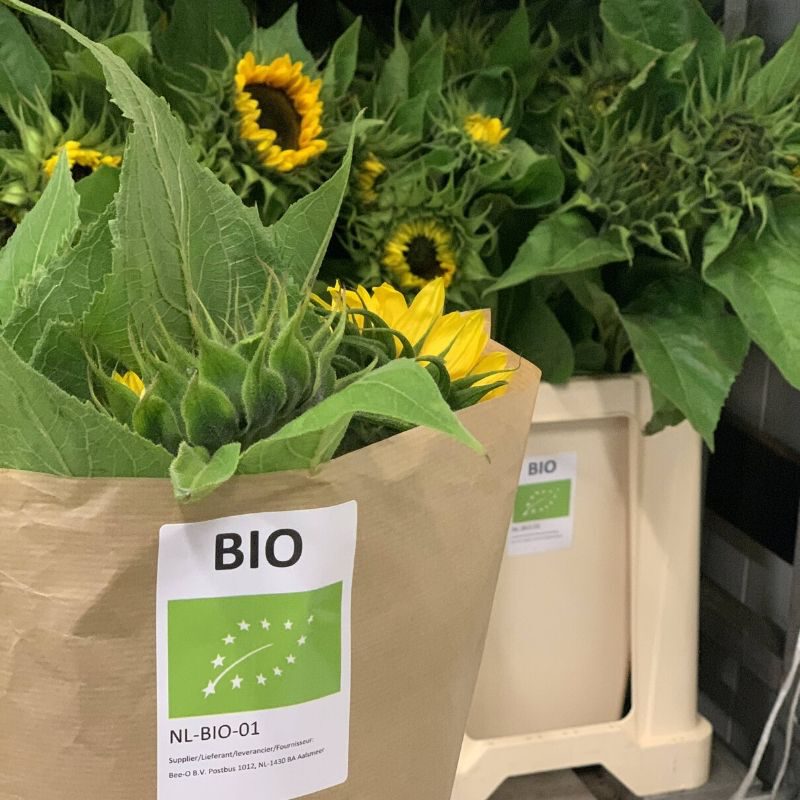 This coming week and the weeks after, around 80,000 stems of sunflowers will be available on the market. Most of them are already s Herold Dongelmans continues:
"So, for organic growing, this pilot is very promising for the future. Because we see it is possible. Although a bit more risky and expensive than the regular growth of sunflowers, we truly believe we can do this again next year. Hopefully in much larger quantities and with more flower varieties as well. So, then we can truly say that we uphold on our promises: Bee-O makes it possible!"
The Future Looks Bright for Bee-O
Bee-O is currently restarting the logistics services from its own stock in the auction. Logistics services to the traders and wholesalers to make it possible for each florist around the world to get their hands on organic products. Bee-O also likes to reach out to every organic grower in the world to share their story and perhaps to collaborate to help these growers reach a larger market. For more info, go to the
Bee-O Website