Inspiration awaits around every corner for Bethan Laura Wood, whose work transcends the realms of art, fashion, and design. The multi-faceted British designer, known for her unique sense of style and bold use of color, often draws on her travels during the creative process. "I've been traveling a lot to Asia in the last year, and I'd definitely like to work with some producers in Japan," she says, hinting at what we can expect down the road. "I think there's some very amazing qualities about the techniques there." Wood never ceases to surprise when it comes to her work and sense of style, maintaining intrigue among her vast and loyal group of followers. After earning her M.A. in Design Products from the Royal College of Art in 2009, she built a multidisciplinary practice grounded in material investigation, artist collaborations, and explorations of everyday objects. She also has participated in several residency programs, from London's Design Museum to the W Hotel in Mexico City, and regularly collaborates with artisans around the globe. In addition to working closely with Nilufar Gallery since 2011 for limited-edition and one-off works, Wood has been commissioned by several international partners to create works and installations. These include: Abet Laminati, Moroso, Valextra, Perrier Jouët, Bitossi Ceramiche, Tory Burch, cc-tapis, Tolix , Rosenthal, and Hermés. Her work has been exhibited in institutions such as V&A Museum of Childhood, Swiss Institute New York, Daelim Museum, and MOT, Museum of Contemporary Art, Tokyo. During the Interior Design Show (IDS) in Toronto, Wood sat down with Interior Design to share insights into her design collaborations, personal style, and how it all began.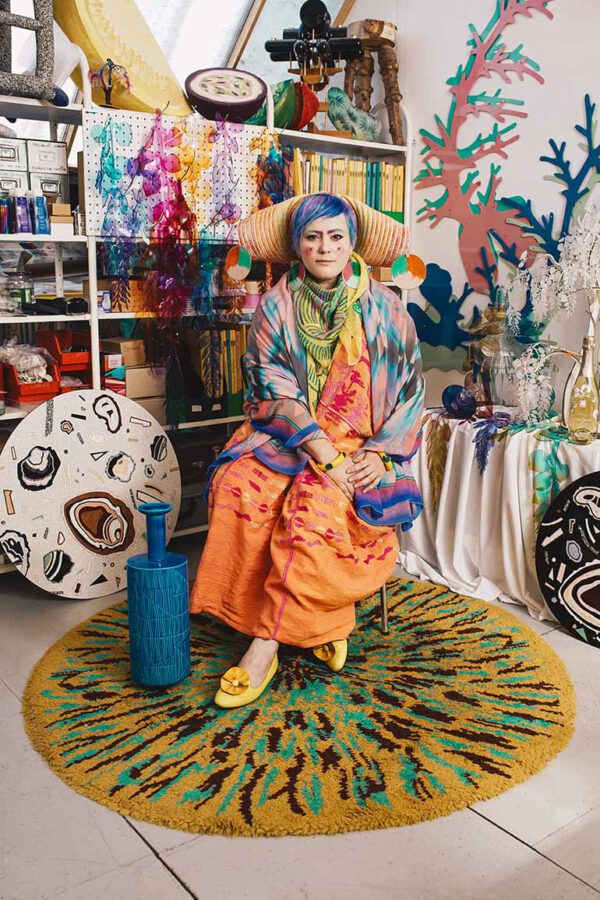 Interior Design: How did your interest in design begin?
Bethan Laura Wood: I've always been interested in design, well, in creative things from a really young age. I didn't know about different creative fields... when you're really little, you kind of know about artists, astronauts, and plumbers. So apart from maybe cleaning windows, the other job I wanted to do as an adult was artist. Then... in secondary school, you start to kind of learn a bit about different ways to be creative. I started to be much more interested in the creative world where there's interaction between the piece, the object, and the people—this kind of crossover between domesticity and art. I think that's probably where my interest in craft and design kind of started. In the end, I made a decision to go down the design path for my formal education.
ID: What, specifically, about product design appeals to you?
BLW: I'm really interested in the kind of objects we have with us every day… there's so many systems that have been in play for them to be made… I just got really interested by this kind of microcosm of stuff inside the objects. In some ways when an object is so well designed that you almost don't think that the way you're holding it, or what you're doing with it, has been engineered for it to work well then it normally means it's quite a good design, in a traditional functional sense. I just really enjoy the tactility of those types of objects.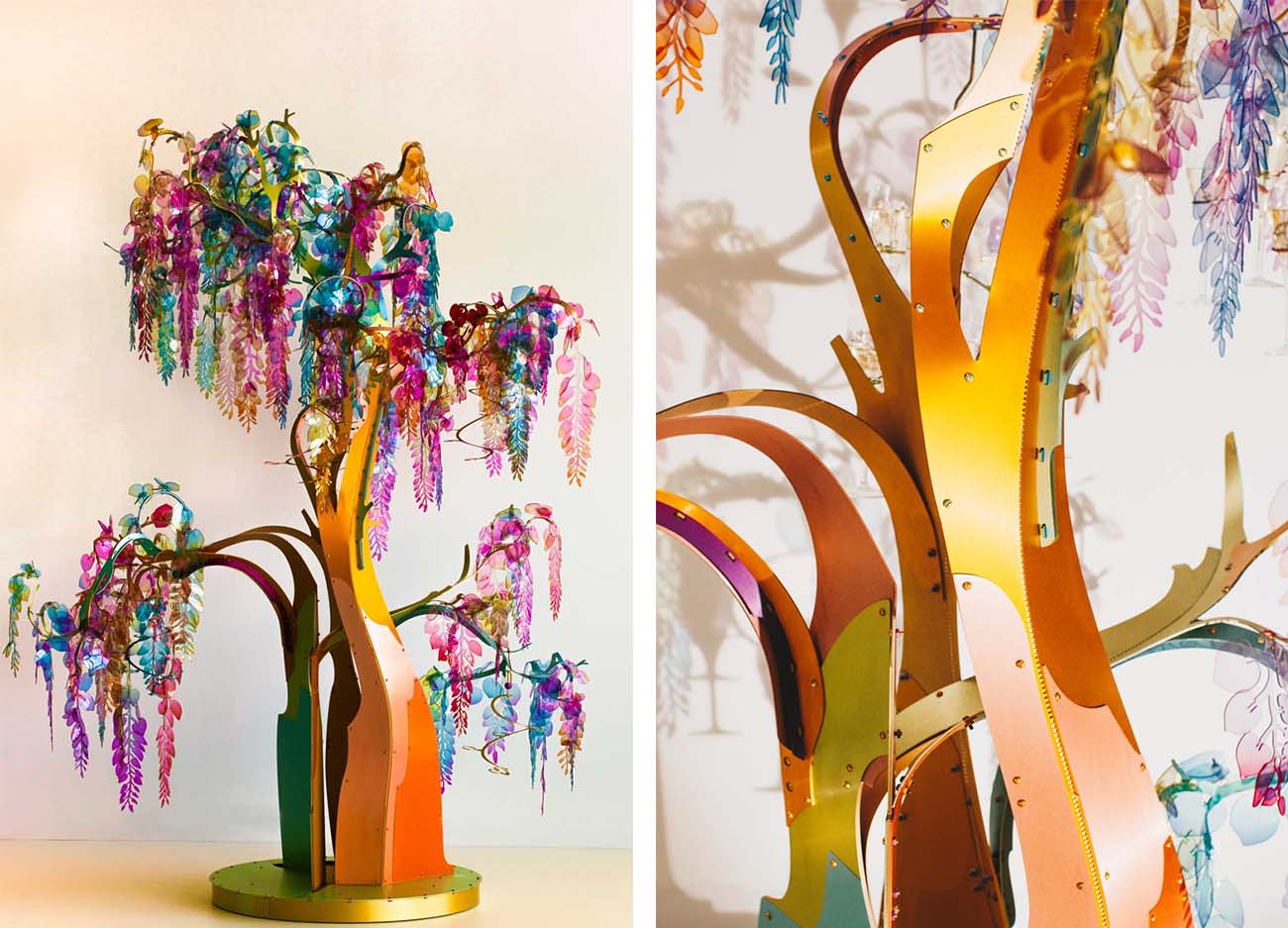 ID: How have you evolved in the last ten years? It sounds like every time you have a residency or create a product, you then take that information and build on it.
BLW: Yeah. I purposely enjoy having a multi-disciplinary practice, and I think when I started, you also worry about whether if you say that, then that just looks like you don't have a fixed choice or it's difficult for people to kind of latch onto what you do because what you do is everything. But now... it allows me to kind of have access to be part of a fair like this [IDS Toronto] and others that are more specialized on craft. It's that kind of desire to be open that has allowed me to expand different opportunities at different points in my career.... I did things like windows for Hermès, which led into its own stream of work. I really enjoy creating those different work streams and making work that suits them because some intercross—I'll take something that I develop in one world and then reuse it in another world—but other things don't. It's important to understand which things should stay in which worlds and which things become even more interesting when you put them in a different context.
ID: What is a prime example of something like that?
BLW: I just did this sculptural piece for [Maison] Perrier-Jouët and I developed a whole language, in a way, to create a tree that was inspired by the Art Nouveau movement and it's very connected to the House. This was developed and designed to meet the need that they wanted something very sculptural, but that can travel... it definitely was an art piece and made a special performance. There was a lot of language I developed for this.
ID: A lot of your work is based on color and materiality. Do you start in one place or another, or what is your design process like?
BLW: It's kind of a combination of the three things: material, location, and artisan or person. I have work that's more directly about a location and then I source a material or an artisan that will best express the notions that I want to about that. The other way around, I work directly with an artisan. I've developed a language with a wonderful guy, Pietro [Viero], who I met on the second residency I did in Vicenza [Italy]. Now we've been working 10 years together to create work. So I will develop languages around his hands. Then at some point, I did the project in Mexico, and it was about what happens when local is global and global is local.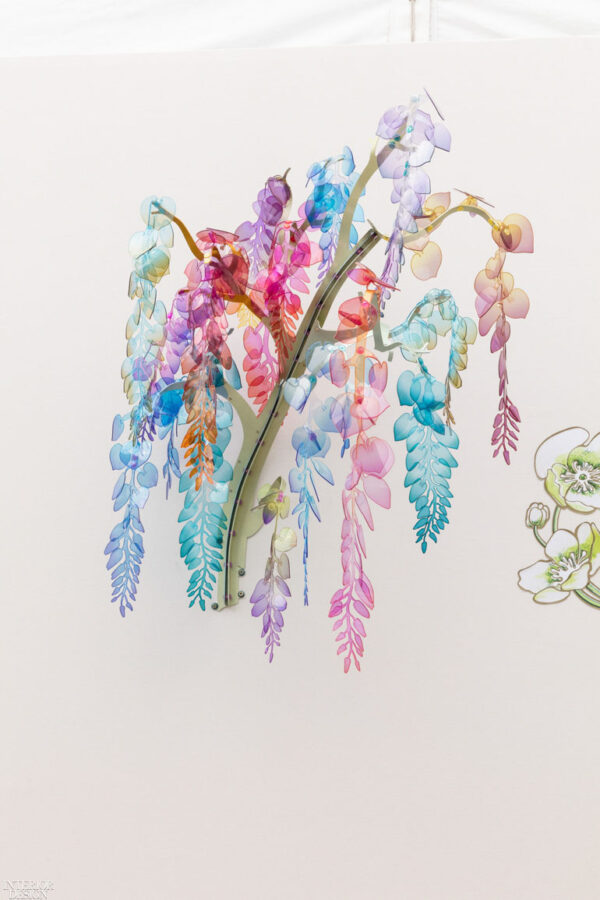 I loved the idea idea of finding a local artisan in Mexico... and seeing if there's a way to work with a language that would allow me to work with artisans that never get to meet each other and speak two different languages. So that was quite a challenge, but it was really interesting to push the narratives of what was available... It's those three factors, but the dominance of which one is at the top of the triangle changes depending on the opportunity I've got or what I'm interested in doing that time.
ID: You really are an individual and have a great personal style, both in terms of what you design and obviously how you carry yourself. Are you inspired or influenced, or is this all you?
BLW: I'm like a sponge, or a magpie. More like a magpie that's picking up pretty things everywhere and mashing them together, and now hopefully, in a nice way. But I definitely have always enjoyed dressing in a less standard way. I think that's one of the joys that I have, especially with these opportunities of traveling different places.... And then also, I love folk textiles and textures and these kind of handcrafts. So picking up these and being able to wear them is also another way that I can digest them and understand them better than just pinning lots of interesting images from somewhere... My style has definitely become more and more influenced and connected to my work than it used to be because I think I've become more and more comfortable with just getting over that I dress funny, but I make furniture—rather than people thinking that I dress funny, and so could only do fashion. I think that was something I had more of a problem with that when I was younger, so I was more adamant to have them separated. Now, they're much more fluid.