Smithers-Oasis, inventor of the first water-absorbing floral foam, launched a new product range a year ago. Under the name OASIS® Black Ideal floral foam. This product range became a floral trend in no time.
But why? Let's have a look behind the scene
First of all, black stands for elegance and style and is without a doubt one of the chicest colors available. This color exudes luxury and exclusivity and it optically raises the flower arrangement to a higher level. Important and totally different with the familiar green floral foam is that it can also be seen in the designs. You do not have to completely cover this black OASIS® floral foam with greenery and flowers because it is part of the flower arrangement. As a result, considerably less material is required, which is financially attractive, and making a beautiful creation takes less time. In short, there are only benefits. The user of the black floral foam becomes a designer, and the color can be combined with any flower color. Good color combinations with this floral foam are with the colors white, orange, yellow and purple.
But what about the quality of this black OASIS® floral foam?
Smithers-Oasis has succeeded in giving this black floral foam the same qualitative properties as the OASIS® Ideal floral foam. With this black OASIS® floral foam, the user has a product of consistently good quality and the flowers stay fresh for a long time. You can easily insert the flowers in this new floral foam as well as in the green variant. Did you know that one brick of OASIS® floral foam can fill up around 2 liters of water, a real water reservoir for flowers, and this in just 50 seconds! OASIS® BLACK Ideal floral foam does not only exist in various shapes and sizes like the wreaths, hearts, bricks etc. But also, in several bases.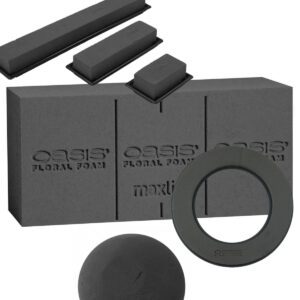 Products with a plastic black base such as our known OASIS® NAYLORBASE® products, have been a firm part of the OASIS® range for many years. In some parts of the world this black product range is known as OASIS® Midnight- or OASIS®R) Noir Ideal Floral Foam. The plastic base is robust and durable and gives the arrangement a firm h It also serves as a water reservoir enabling preparatory work in advance. The products we have with this base are the OASIS® black NAYLORBASE® wreath and the OASIS® black design ring. The recycled carton base is usually found within the sympathy range of all OASIS® BIOLIT® products. The base is made of paper-mâché and is therefore environmentally friendly. The structure of this base gives arrangements the needed h
www.oasisfloral.com
, or go to your local wholesaler. Below some pictures of Alex Choi for the AIFD symposium where Oasis® Midnight Floral Foam was introduced: