Flower designer studio
PHKA Studio
combines flowers and technology to create the most extraordinary installations by using existing space as a context to narrate floral design with an architectural approach. Let's get to know more about these Bangkok-based designers on a personal, innovative, and creative level.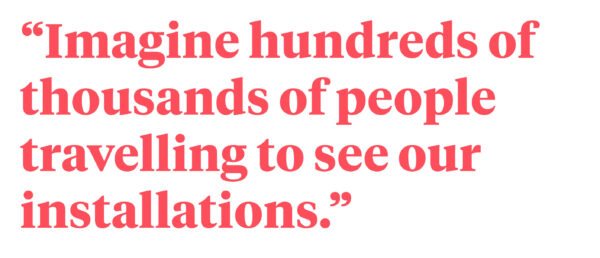 An Interview With PHKA Studio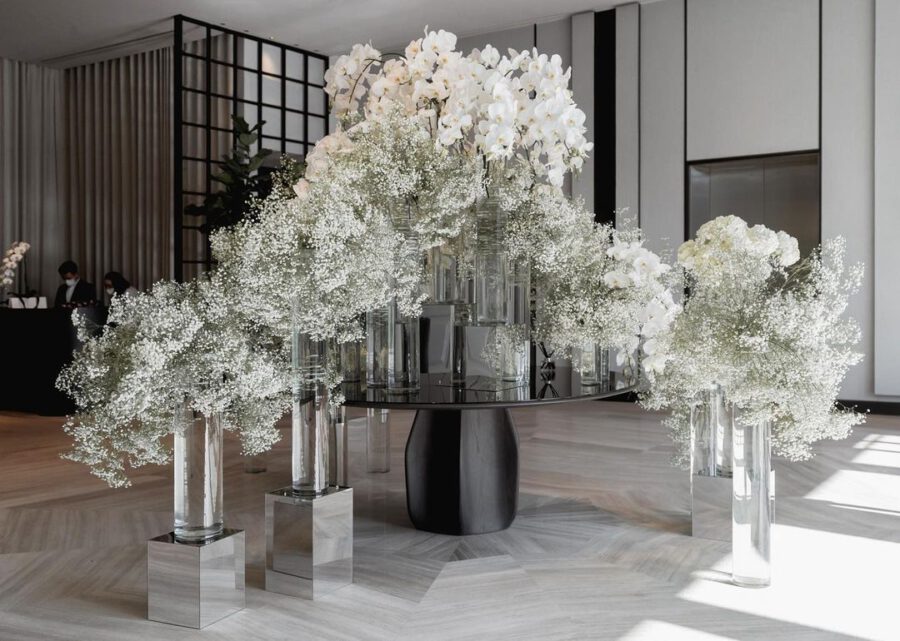 The work of PHKA studio excels by the complex designs and architectural approaches. How did you connect to floral design from this design angle?
"Since our background is in architecture so our approach is to narrate floral design using existing space as a context. We try to think of how flowers affect space as a whole, which is the same as architecture to its surroundings."
You do not only use flowers but many other materials and objects. How do you blend this together in a way that it works?
"As a designer, we are familiar with combining various materials together. For flower and plant materials, we always think of the relationship between them and their containers, which has to complement each other. The container itself could be anything rather than vases – sets, objects or customized vessels constructed of materials."
You created a beautiful installation at Flora Madrid. Can you tell us what it was like to stand there and what was your starting point with the installation that you made?
"We did installations here and there but Festival Flora is something else. Being there amongst the world's leading floral artists and designers - Mary Lennox, Thierry Boutemy, Lisa Waud, and Flor Motion, and getting to know their work approaches is a whole new experience for us. Also; the festival's reputation, the scale of each installation, the number of visitors, and Cordoba's vibe during the week are all very special. Imagine hundreds of thousands of people traveling to see our installations.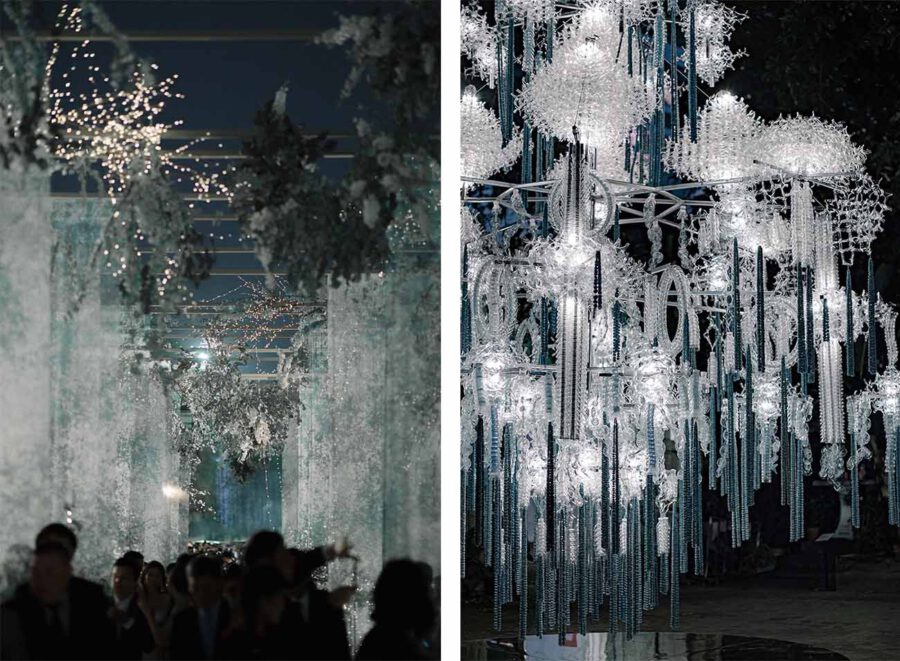 Under Flora's theme – The Trip, we came up with the concept of 'time freezing' to tell the story of 'the trip of cut flowers' as they travel across the globe, to be utilized for only a short period. During their trip, they have to remain in the best condition – stay the same, in contrast to us humans which our trip means to learn something new and change ourselves. The final form is strobe-photography-like placement, in which flowers are pre-calculated and precisely installed on ropes."
Does the fact that your background is much more design, engineering, and technology mean that you also have a different way of working than most florists?
"We think so. We have an artistic improvisation and use less instinct. We would be more comfortable with careful planning ahead, no matter if it is a big or small setup. We also love to incorporate some other technologies into our work as can be seen in Blooming Tune and The Fouette Flower. It is fun to combine different disciplines together and learn something new, which could result in new approaches to each installation."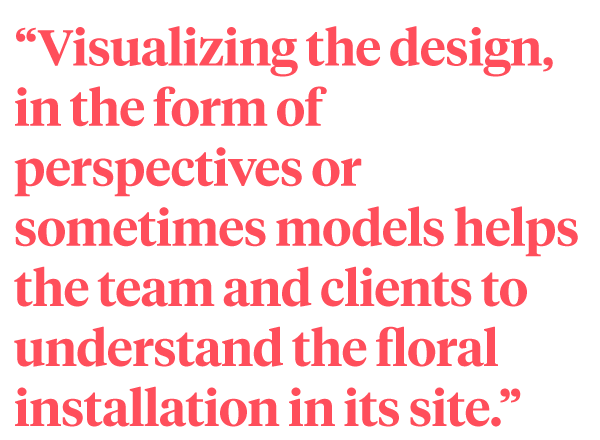 We see that you make many 3D drawings and visualizations prior to a floral installation. Can you take us into your creative process and working method and tell us how you work?
"At the design phase of every project, a team that consists of designer(s) and florist(s) would discuss the concept we going to propose, with the use of references and a materials board. The project will then develop using different approaches and types of equipment, for an instance, it could be a designer-led project in which the florist helps on flower selection or alternatively a florist-led project with the help of a designer to create the 'container' for the flowers.
Visualizing the design, in the form of perspectives or sometimes models help the team and clients to understand the floral installation in its site. On this scale of the installation, there could be third parties involved. Not limited to only the client, but possibly also a structural engineer, lighting designer, technician, musician, or even a tea specialist! We thus have to work collectively as one team to execute it and everyone has the same clear picture of what we are doing, in the most detailed way as possible."
We see that you incorporate a lot of artificial light into the designs. How important is lighting in your designs and how do you apply this?
"In specific projects, lighting plays a very important role. Flowers are a small delicate material that could disappear in large space if the light is wrong. Designers and florists in different places might have different perspectives on this. Melbourne has brighter sunlight and stronger contrast in specific seasons, comparing to London or New York. There are no seasonal changes here in Bangkok and natural light will be the same all year round so we have to think with how light affects flowers during the day and night, or sometimes in the interior space instead."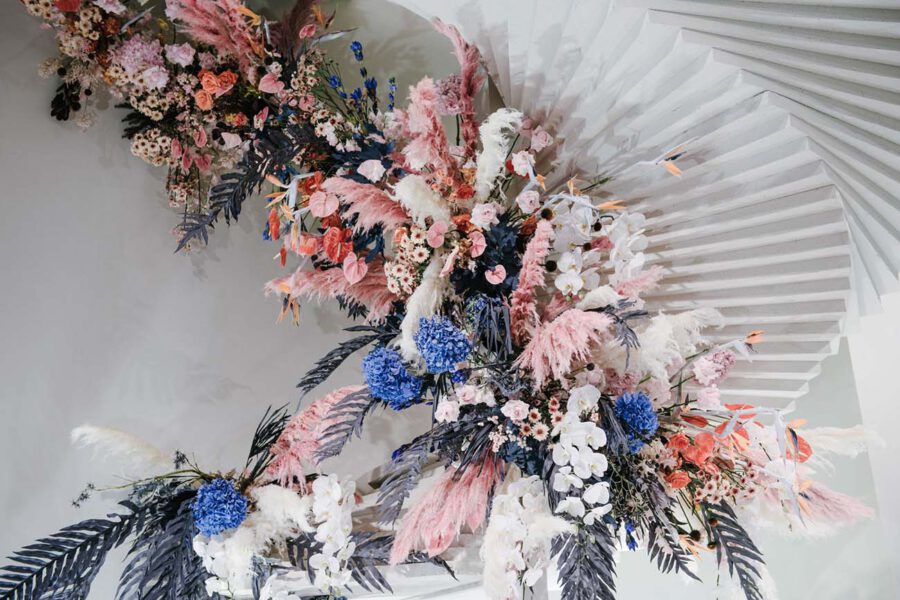 How and where do you get inspired and guided by when choosing the materials for a design?
"We try to limit our material sourcing down to things that have 'temporary' quality. It shall be sustainable, not complicated to play with, lightweight, and not expensive. Simple materials or found objects are always preferred since we also take an effort to reduce material usage and produce more waste."
Some of your designs are large projects to run as a design studio. Do you work on each project together or are there various projects running simultaneously?
"Our studio is currently run by 15 members in different roles; ranging from designer, florist, detail designer, engineer, to studio administrator. There could be a few projects running concurrently and we have to form teams of 3-5 people each, relating to the nature of each project. On special projects, it could require a larger team of up to 10 people."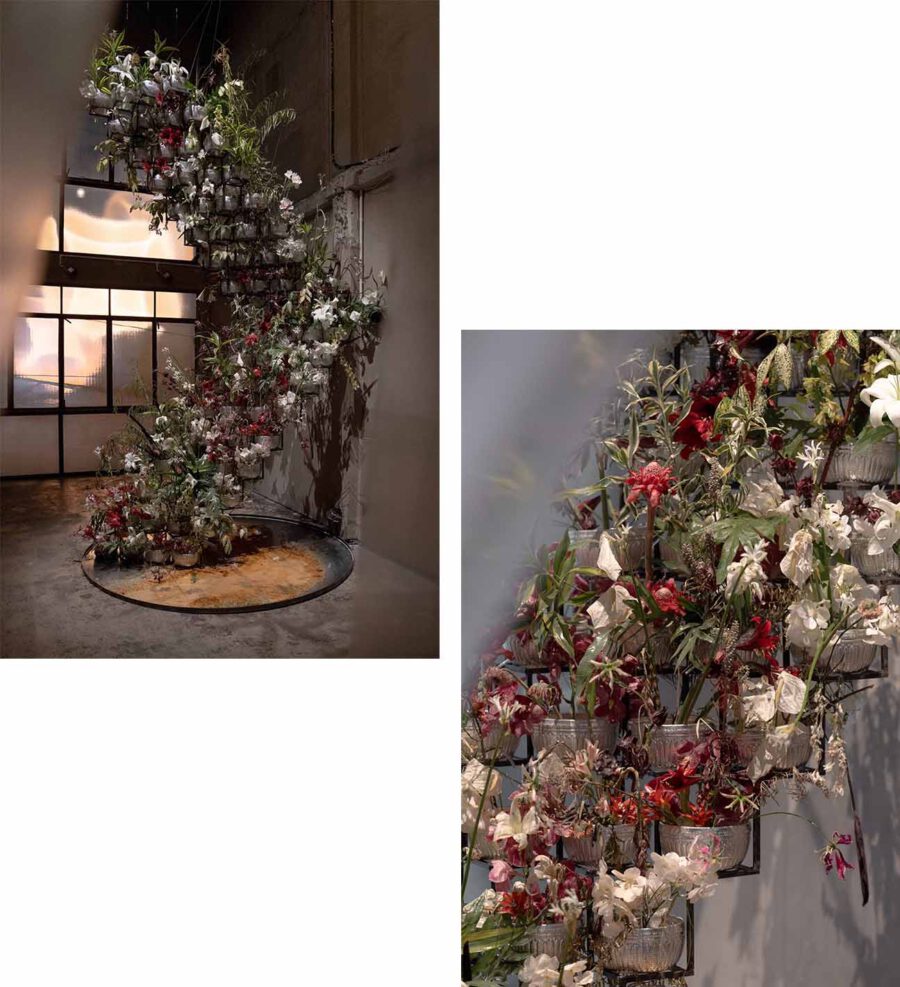 Are your customers also more design and architecture-minded?
"Not all of them are but we, fortunately, have these several clients who understand this kind of design service and realize our specialization. They enjoy the whole process by exploring new things with us."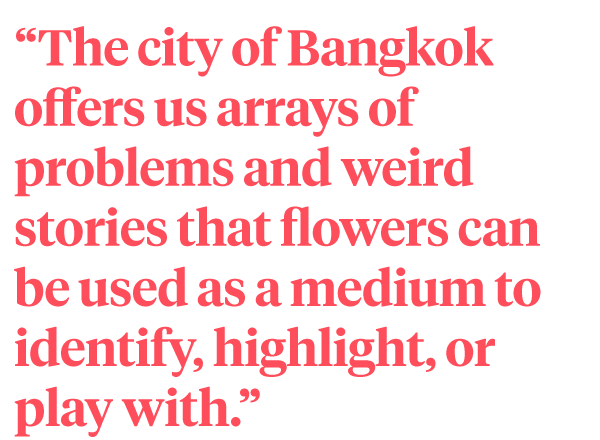 PHKA Studio is based in Bangkok in Thailand. In what way does the city or country influence your way of designing?
"Talking physically only, it could be said that Bangkok lacks living quality – congested traffic, insufficient public infrastructure, pollution problems, and so on. The city itself, on the contrary, offers us arrays of problems and weird stories that flowers can be used as a medium to identify, highlight, or play with. A few of our designs in which flowers are used as a medium are; a paradox of prostitution which is investigated in 'Abandoned One'; whether it shall be legal or illegal, moral or immoral, acceptable or not. 'Lost but Found' explored what was happened to the Bangkok neighborhood under dictatorship government while 'Minute to Forever' told the contrast story of urban life and traditional floral craft. All of these installations are context-related."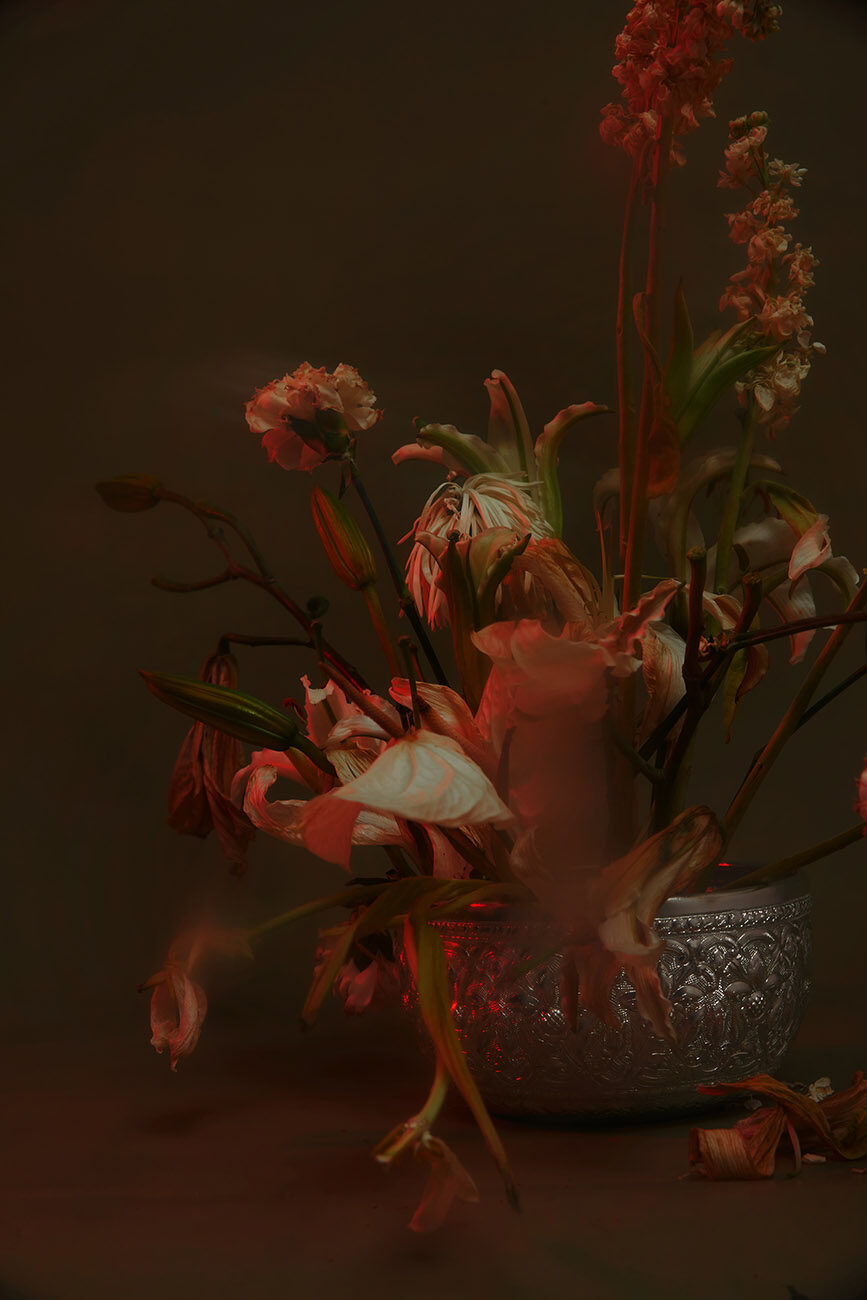 How would you define the flower 'market' in Bangkok? How is PHKA Studio different than others in the choices it makes when it comes to purchasing flowers?
"Apart from having no proper physical flower market in Bangkok since it has been regulated, flower trade still very active, via online channels, for both local and imported flowers. Comparing to neighboring countries including Singapore and Hong Kong, their flower industry could be better in the system, but Bangkok might have the advantage of the diverse natural resources we can select from.
We always try to find alternatives to import cut flowers, sourcing more plant materials directly from local suppliers or farmers (the so-called 'Slow flowers' in the United States) or encourage using more naturally-grown flowers. It would be boring if you use all the materials imported from overseas, thinking of what people elsewhere in the world would love to see from a Thai floral designer."
How do weddings and other types of events in Thailand differ from those in the rest of the world?
"Thai weddings are quite large compared to other countries. The number of guests could be up to thousands and that means a larger scale of floral decoration for such an event. The new generation anyway would go for a smaller and more sustainable wedding which is a worldwide movement. Any other events might be the same. Apart from the scale, Thais do have specific sets of beliefs or sometimes superstition about flowers. For instance, tuberose will be used only for funerals since they give a scent only in the evening, which in Thailand is the time of the day for a funeral."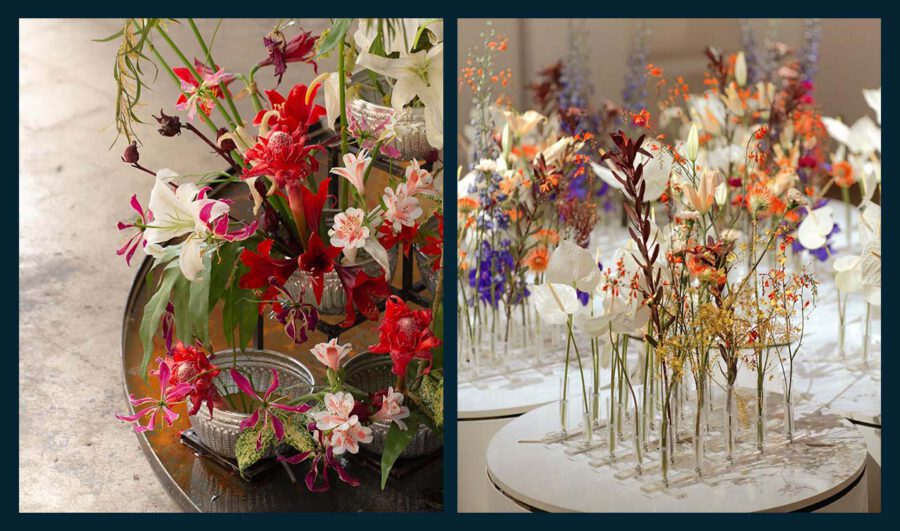 Where do you buy your flowers?
"We purchase our flowers from various traders and local suppliers, including Hilverda De Boer (via Flower Land and Kunming), Tropical Thai Flowers, Penlert De Fleur, and other local suppliers."