Located in the wonderful small town Faaborg, Fyn, Denmark, Rosa and Harley Eskelund and their son Anders Eskelund run together Roses Forever ApS.
With more than 30 years of experience, this family-owned rose breeding company is run by Rosa Eskelund with a positive mindset. She and her family are aware of the negative consequences of COVID-19 to our industry, but experience this period mostly as a 'time-out' for themselves. A time to focus on the breeding and selection of their roses. Something that normally is added to the list of daily tasks at the nursery in between flower trials and international visits to - and of - new and existing growers. An interesting read about the challenges but mostly positive approach of the global pandemic by a Danish rose breeder.
How is Roses Forever coping with the current Corona outbreak?
An interview with Rosa Eskelund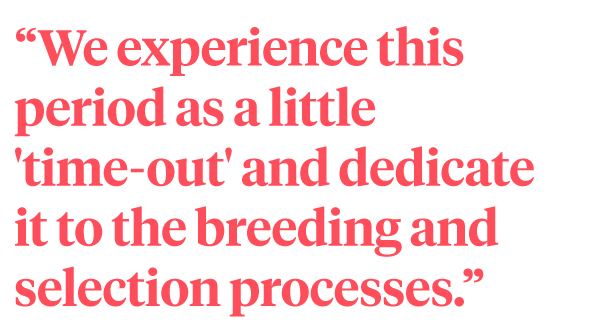 Where is your business located? In which country/region/city?
Roses Forever ApS is a dynamic family-owned Danish rose breeding company, located in South of the island Fyn. Besides the breeding program, we offer years of know-how to our clientele for starting and maintaining a pot rose production. Licensed producers are ensured of the added value by our know-how to their production of Roses Forever products, due to the fast and easy access to our knowledge and experience regarding the production of Roses Forever varieties. Our varieties are as follows: Pot roses (mini roses) on own roots: · Roses Forever® - Colorful roses · Infinity® - Extravagant roses · Love Fragrance Forever® - Fragrant pot roses · We also offer young plants. Garden Roses - get a license to grow: · Plant'n'relax® · Sweet Home Roses® · Plant'n'Cut® Cut roses: · Rosa Loves Me® - Nostalgic garden type cut roses
Can you describe your customers in general? What do they buy generally from you?
Our customers are growers worldwide that buy licenses to grow both our pot-roses ( Infinity® roses ), garden roses ( Plant'n'relax® and Sweet Home Roses®), and Edible Gourmet Roses.
Have you been open or closed since the (partial) lockdown in your country?
Our nursery has been open, but at this time of year we normally do not have any visitors. The new varieties of pot roses are shown to growers in June and again in the autumn when we invite existing and new growers to visit and select the roses which they like to test or grow. Normally we show our rose series and news at the Flower Trials which are canceled at the moment. So this year we will instead contact our licensed growers directly and send samples to them. We have licensed growers in nearly all countries around the world with China as our biggest market. China is at the moment running on full scale again. From this week onwards, we will start sending cuttings of new pot-roses to them. Which is a great development! Norway is also a big market for us and the feedback from the Norwegian market is that our roses that are grown and sold there, both the Infinity® and Sweet Home® Roses, sell very well and for very good prices. They expect May to even be a better month of sales.
How do you get information these days about the floral industry?
We always communicate a lot with the growers regarding cultivating and new varieties, sales, and so on. Nowadays we get additional information about the floral industry from the internet.
What barriers do you face at the moment of running a successful business?
I believe that everything will be normal in a few months' time. For us, we experience it as a little 'time-out'. Suddenly we have more time to prepare all the agreements from the last three exhibitions. Not to downplay the seriousness of the situation of course, but it's a good feeling to have more time to dedicate to this process and getting things done properly.
How do you plan to overcome these barriers?
We do not experience the current COVID-19 as a barrier to us. Of course, we like to travel to visit new and existing growers which we can't at the moment. Because of this, we get extra time to dedicate to our work at the nursery, time to spend in the breeding and selection process. At the moment, we are intensively selecting more colors for the Infinity® series. The Garden Roses selection process is during summer in July and August, and we very much look forward to it because this year there are flowering a lot of fragrant garden roses. And now we have the time to select these carefully.
Which inspiring new initiatives have you seen in the industry - or are started by you - since COVID-19?
In our market, we see that some garden centers in Scandinavia have started to sell through their own webshop, which I think is a good development. In Scandinavia, the COVID-19 restrictions still let all garden centers and flower shops to be open. The sales in these shops are very good this year because people love the trip to the garden center or the flower shops. The weather conditions are very well in both the month's March and April with a lot of sun and since people are at home the entire time, they enjoy flowers and plants.
How important is it for you to lift each other up in these times and what does that mean for you and the bond with your colleague-professionals and business relations?
We have always been people of the optimistic kind. In every situation we see new ways, new products, and new series ( in roses). Especially in this time, we offer our partners this optimism, our experience in marketing including our knowledge in growing roses.
What do you think is the biggest issue in your segment of the sector at the moment, being a breeder, from your perspective?
The biggest challenge to us is to always provide products that sell good and is easy to grow for the growers. Our mindset is always focused on how to make it easier for a grower, to be a grower. An example is that during last crisis in 2008, we introduced the Infinity® rose. An easily grown crop which only needs 10 weeks of production time and the rose is even easy to sell because of its so-called "X-Factor"; it has bigger and more longlasting flowers. If that product is a result of the previous crisis we experienced, let's see what is coming out of our current situation in which we spend more time for 'home-work' during this COVID-19 crisis. Hence, you can you notice the optimistic mindset we always maintain.
What is the story behind your business and how will COVID-19 affect your future storyline?
Roses Forever is a relatively young breeding company that started in 1996 and is family-owned. Our focus is the breeding of the pot-rose ( which are mini roses) but also breeding of garden roses, cut-roses, and edible roses are a big part of our business. I do not think that COVID-19 will affect our future storyline a lot - if so, its effect will be a positive one - as more breeding is done by us and we get plenty of time for the selection process during these days. - Rosa Eskelund Thank you Rosa Eskelund for your elaborate interview. If you are interested in more information about a license to grow, you can contact Rosa Eskelund via [email protected]