Farm Direct has always been a cooperative partner for its buyers and suppliers of South American flowers. Staying true to their promises and agreements is what will help them get through the effects of this pandemic. They specialize in the Ecuadorian rose, the most requested and prized rose on the international flower market. Rightly so, Farm Direct calls it The Queen of Roses.
But how is Willem van Maasdijk, founder and co-owner of Farm Direct, coping with the current Corona outbreak?
An interview with Willem van Maasdijk of Farm Direct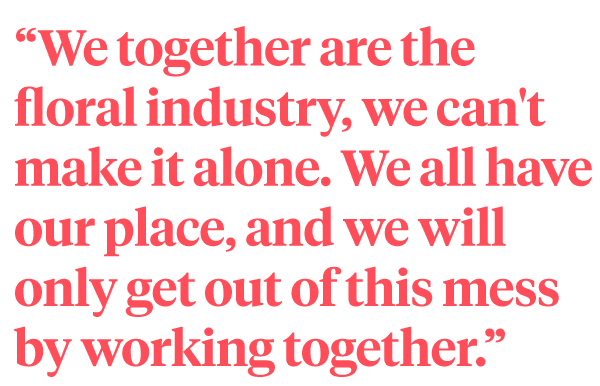 Where is your business located? In which region/city/neighborhood?
Farm Direct is located in Aalsmeer, the Netherlands, the heart of the European flower industry. We source roses from Ecuador for European markets.
Can you describe your customers in general? What do they buy generally in your shop?
We reach flower shops all across Europe through distributors and wholesalers. We focus on one specific product: large headed Ecuadorian roses. Most of our sales are placed on our e-commerce platform.
Have you been open or closed since the (partial) lockdown in your country?
As soon as the Netherlands entered its state of 'intelligent lockdown' we closed our purchasing and import operations for two weeks. Two horrible weeks in which we spent the first few days trying to sell our stock while it was still fresh. Most if it was thrown away in only a couple days. We have never sold unfresh flowers, and we weren't about to begin now. We stayed true to our cause and made sure that our people, our partners and our family were safe and could adhere to the new reality and rules placed on us by our government. Two week into the lockdown we started getting requests for roses from flower shops in specific regions, specially in the Netherlands, where shops were open. Dutch consumers were supporting the floral industry, partly because of patriotism but also because they wanted to decorate their homes and send flowers to family and friends to support them in these rough times. Now, having closed our April sales, we are surprised to see that we have covered our operational and overhead costs. We expected things to be worse, so we are counting our blessings!
How do you get information these days about the floral industry?
We pick up information on different media channels, but of course we love to read Thursd.
What barriers do you face at the moment of running a successful business?
Uncertainty. Nobody knows where this is going, how long it will take or what risk we are taking.
How do you plan to overcome these barriers?
We have overcome trying moments before, and we will do so again this time. We stay true to our promises and agreements; always honest, always friendly, always the best quality. We will stay as constant as ever. We believe this will get us through to the other side...
Which inspiring new initiatives have you seen in the industry - or are started by you - since Covid-19?
I'm inspired to see a country of entrepreneurs come together under the same values and code of ethics. When you see your country stand behind you, your government supporting your mere existence and investing in your future... that's inspiring.! It makes me realize that a small company like ours is not that small in the big picture. We together are the floral industry, we can't make it alone, we all have our place and we will only get out of this mess by working together. When this is over, we will look back and really feel that we all deserve a piece of the pie.
What is the story behind your business and how will Covid-19 affect your future storyline?
Farm Direct started small in 2012. We have grown purely organically, no loans, no investment, and we have overcome highs and lows by just sticking to our values. In the world of flower wholesale, costs are high and margins are thin. That's why we've always focused on running a lean operation. Nonetheless, in recent years we have started to grow into a costly operation. This pandemic has taught us to go back to our basic structure and cut down the fat. Not only for us, but also so we can continue to deliver value for our customers. Now more than ever, in business and in our personal lives, we realize what is important. Lesson learned!
Willem van Maasdijk