From Grower To Florist
De Ruiter's vision: Creating Flower Business® where we strive to optimally serve every link in the floriculture supply chain: from grower to florist
Our mission: The development and commercialization of new, improved and marketable rose and flower varieties
We do this through:
-Interactive communication with the flower sector; -Continuous integration with strategic partners, key players and influencers in the market; -Market acceptance while maintaining contacts throughout the supply chain; -Introduction of high quality varieties which stand out in the market and thus strengthen the global position of De Ruiter.
Thanks to our longstanding experience, we detect the various uses for our varieties early in the selection process.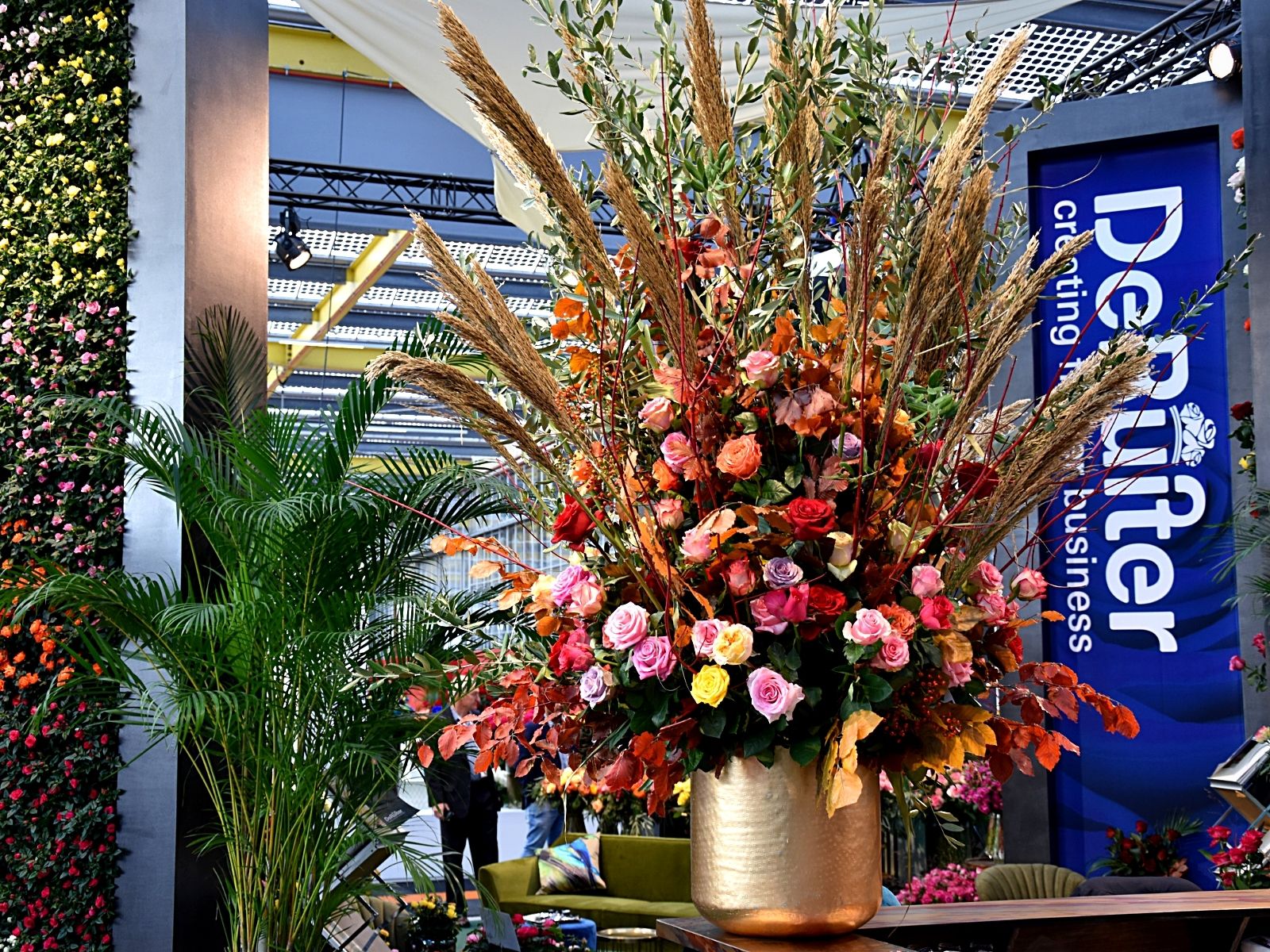 De Ruiter Innovations
Breeding takes place at the head office in the Netherlands and at our location in Kenya. The moderate climatic conditions of our advanced greenhouses guarantee an optimal breeding process.
More than Roses
De Ruiter has consciously worked on the development of the product rose in its more than one hundred years of existence. We were also at the cradle of pot rose cultivation. Nowadays, in addition to cut and pot roses, we also breed spray roses, patio and landscape roses, cut and pot hypericum, rose hips, anigozanthos and hydrangeas. Started as a family business, we have grown into an organization with international fame in the field of breeding and propagation of all types of roses. Since 2015, De Ruiter has been awarded the title "Purveyor to the Royal Household" by the Dutch King.
Breeding & Selection
Research & Development forms the basis for De Ruiter's innovative business. Keywords for our breeding are: plant health, productivity, uniformity, forms of transport, colors, scent, cultivation techniques, environmental requirements and vase life. For the breeding & selection program, De Ruiter makes use of data-based breeding in addition to traditional breeding and selection methods. By continuously collecting market data, De Ruiter can respond to all specific requirements or petitions from the supply chain.
For the development of disease resistant and sustainable varieties, De Ruiter participates in scientific research together with universities and scientific research organizations in the field of biogenetics, marker techniques, DNA fingerprints, pheno- and genotyping.
De Ruiter Innovation B.V. (Europe)
In the past, De Ruiter has been always well presented at the auction with her varieties. Many growers in Europe know the varieties of the famous composer line, Ambiance®, Madelon® and of course the Prophyta® line. Since then a lot has changed, but not the presence of De Ruiter and her varieties in the entire flower business chain. We are still there. At the moment the varieties are more adjusted to the customers needs. For example, the economical lengths of the roses for transport are very important, but without the loss of a good head size and vase life. This resulted in new developed rose varieties like Cosmiq®, Zelda®, All Star®, All Right® and Sunny Side®.
There are many more varieties to mention but it is better to come and see them in the showhouse in Amstelveen, by visiting our website, or to download the European cut rose catalogue.
De Ruiter's Spray roses Conquest !
After our first introduced spray rose Alegria, we are 22 years in the future now, and we have four very popular Spray rose lines. Bubbles®, Kheops®, Dimension®, Essence®
Bubbles®
The Bubbles® line is well known for their head sizes and strong stems.
Kheops®
The Kheops® line is well known for their pyramided shaped flower stems and many flowering buds;
Dimension®
The Dimension® line is recently add to the spray rose lines. Very productive and a little bit smaller head size then the Bubbles series.
Essence®
The Essence® line is the line where you find sprays with a fragrance.
De Ruiter will continue in breeding, developing and introducing spray roses for every grower in every region in the world coming years.
Autumn and De Ruiter varieties
It's Autumn again, especially for this time of the year we will introduce some nice varieties and upcoming new varieties. Cafe Latte® is already familiar and needs no introduction.
Marrakiss® and Sunny Side® are new.
In our showhouse rose growers can find the two new sprays that perfectly fit in this topic. Mc-19-0016 and C-15-0087-003. Both were on display at the Mosow Flower Expo in September last month. Russian florists, wholesalers and growers were impressed by the color and shape. For sure that these varieties will be available in the Russian florist shops soon.
London Party
London Eye®, one of our special shape cut roses received many mutants. Since then we have some sisters added to our catalogue. London Bell is the second one that is named . All together we introduced the collection The London Party, they are an eyecatcher on every expo and fair.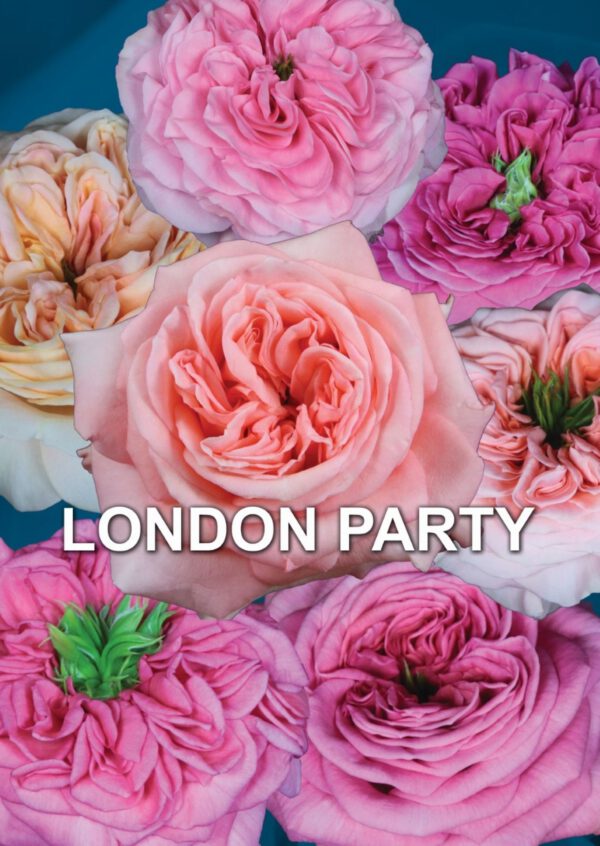 Meet my Roses®
The slogan Meet my Roses® covers various marketing concepts of De Ruiter. With this communication slogan we draw B2B, online and offline, attention to our varieties. We offer our relations the opportunity to tell their story about the rose craft on the Meet my Roses® platform: the product, the grower, the wholesaler, the exporter, the supermarket, the florist and the marketplace.

The People Behind the Roses
With Meet my Roses® we show and speak to the people who are behind the rose product. Stories about their craft, passion, drive and craftsmanship. With Meet my Roses®, De Ruiter creates a preferential position for its roses with the trade and consumers by stimulating the demand for our roses. Our growers benefit from this, who meet the demand with their offer.
Under the guidance of our head office and our agents worldwide, we take our relations into the world of the rose. From our test field to the end product for the consumer. With the aim of a good return for all our supply chain partners. Meet my Roses® is our proof of Creating Flower Business®.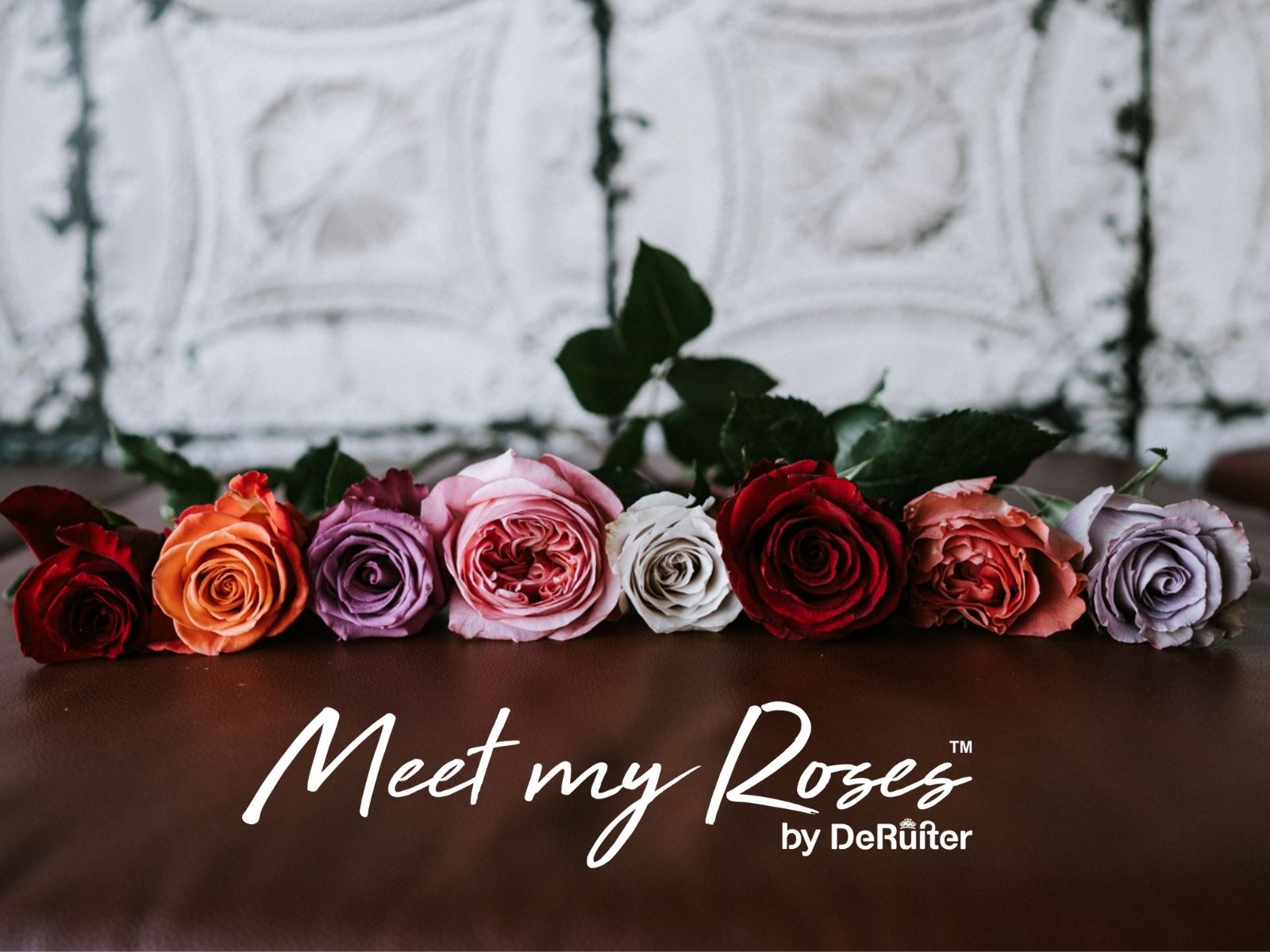 De Ruiter's rose hip collection Hiphop®
De Ruiter has worked hard in recent years on a new wide range and collection of bottle roses, the collection is known under the name HipHop®:
Large Hip Hop® Bottles
Early Hiphop®
Mandarin Hiphop®
Tender Hiphop®
Easy Hiphop®
Small Hip Hop® Bottles
Ladybug Hiphop®
Bells Hiphop®
The specs
-Various hips, shapes and bright, hard colors -Big and small hips, nice lengths that the floricultural business chain asks for -Annual recurring production that the grower is very happy with -Disease resistant; almost no pesticides and fertilizers needed
Corporate Social Responsibility (CSR)
In addition to the strict selection methods in the field of cultivation techniques, transport and growth properties, shape, colour, fragrance, production and vaselife, De Ruiter expressly looks at the current standards with regard to the environment and corporate social responsibility.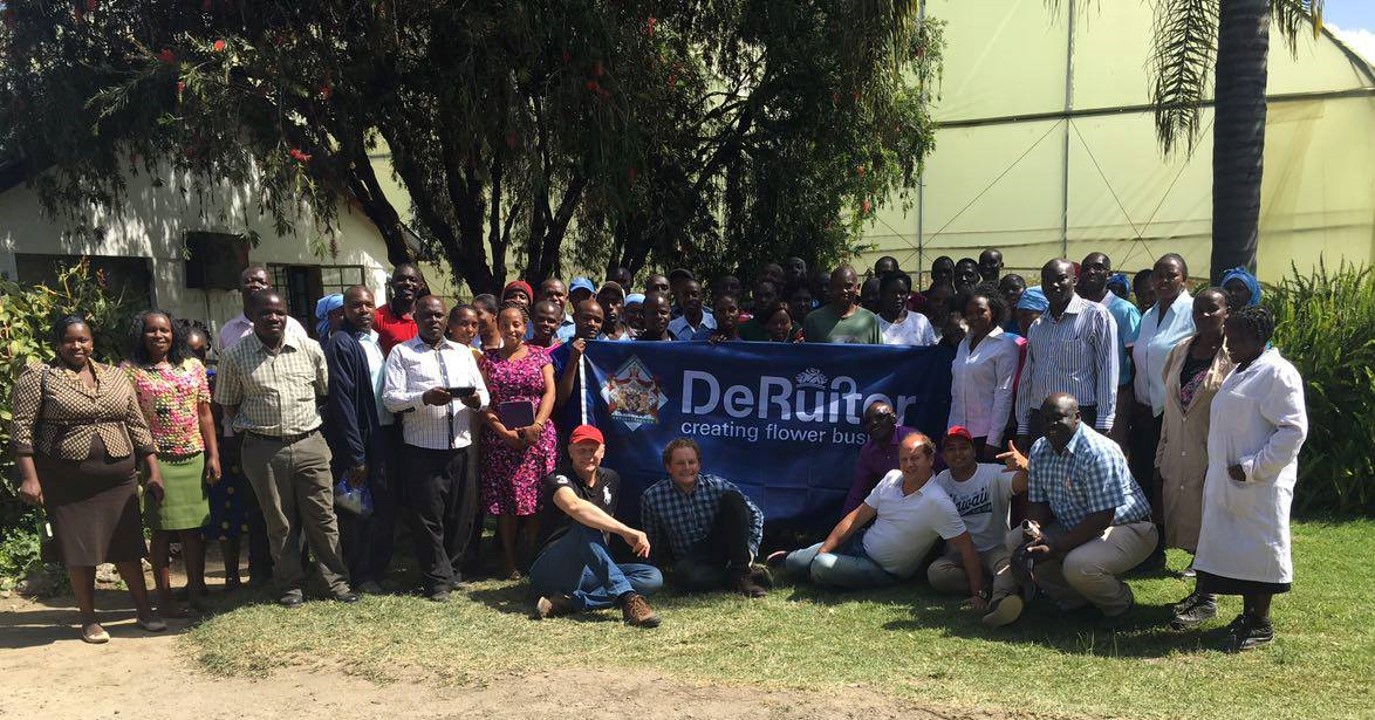 People and Planet
The emphasis is on people and planet. De Ruiter continuously invests in its people through expanding knowledge, training, research and making aware about how De Ruiter wants to do business in a socially responsible manner. The environmental aspects of breeding and selection on location are continuously evaluated in order to use more biological and less harmful or chemical pesticides. The supply chain partners are involved in this process and it is pointed out that the newly developed varieties are more disease resistant and as a result require less pesticides or water, which reduces the 'carbon footprint' and allows the grower to produce in a more sustainable way.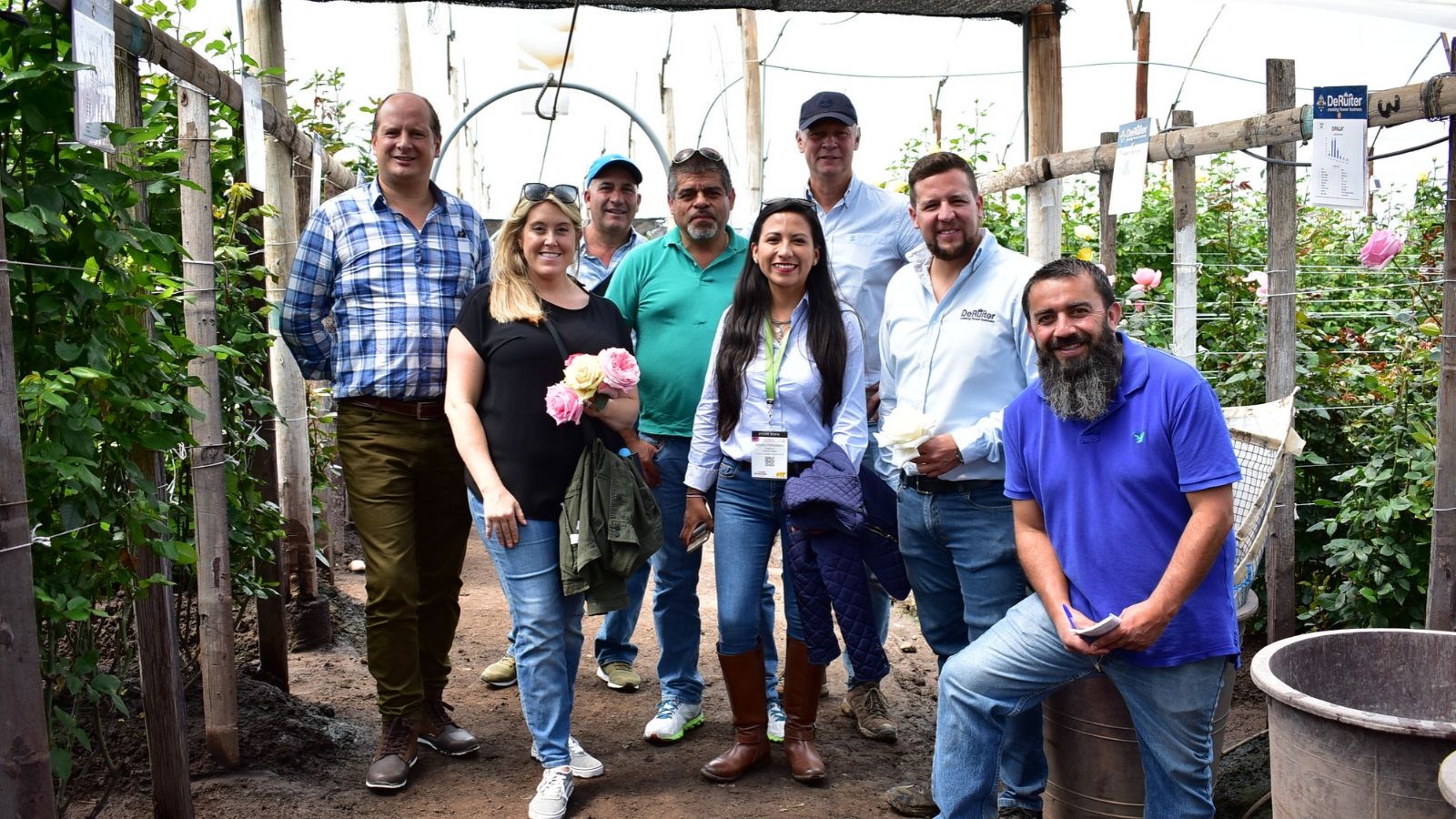 Various Quality Labels
De Ruiter uses the norms prescribed by various quality labels, such as ISO 9000, Fairtrade and MPS. De Ruiter sets high standards for itself in order to obtain the best varieties with the least environmental and socio-economic impact.
Regions
In order to optimally serve our worldwide customers, De Ruiter Innovations has test and show greenhouses in the regions of Europe, Africa, South America, India and China, which are production areas with different climatic conditions, solar radiation and cultivation techniques.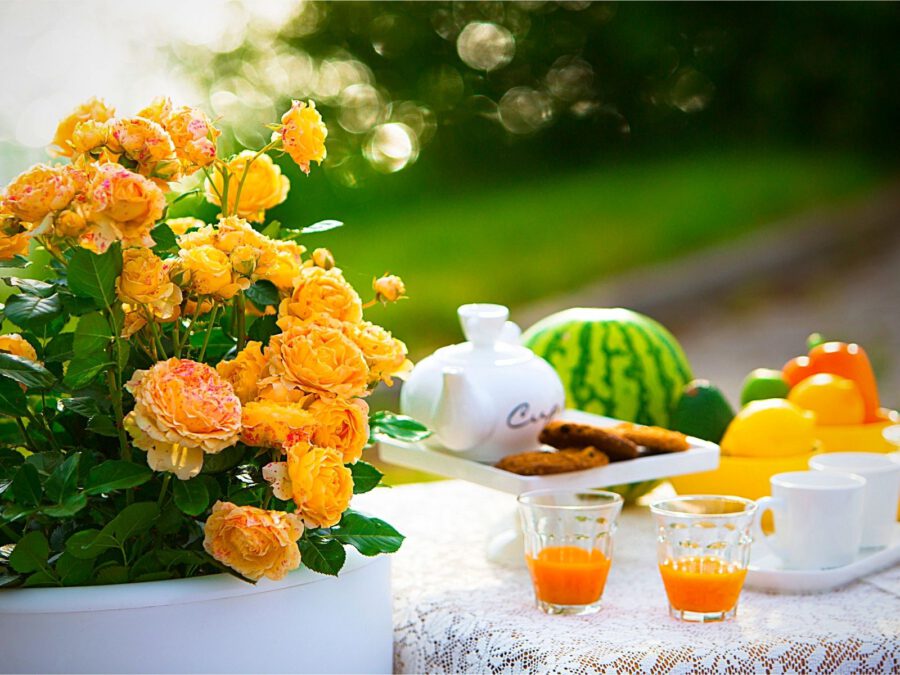 Roses from South America
From South America De Ruiter is introducing three popular rose line collections:
1. The Golden Collection from Colombia
Six highly appreciated rose varieties that are a well-known newcomer due to the special colors in combination with special shapes and long vase life.

2. The High Productive Variety collection from the Ecuadorian Andes
This special line of roses is a very welcome newcomer. For the grower as well for the total supply chain.

3. The Platinum Travelers Collection
Market tendency of flower consuming is increasing on direct flower distribution, which is the reason to focus on varieties who have an outstanding transit behavior and that is that we did with our varieties. Ethylene production is very important on that part of the variety so according to some studies made in USA, Espérance and Forever Young are one of the best varieties with a very low Ethylene production during transportation who are important on the vase life time. Beside this we are proud to mention that the above mentioned three collections are less susceptible to Botrytis and other diseases. This all contributes to the quality within the supply chain.

There is so much to mention but it is better to come and see the roses live at the farms, or by visiting our website, or you can download the Cátalogo 2020.
For more information about technical variety specifications or where to buy information, please check the website.
De Ruiter East Africa
From De Ruiter East Africa (Kenya and Ethiopia) we present the following collections:
1. The Big Five Collections
Red Big Five®
Rhodos®, Ever Red®, Flanna®, Born Free®, Furiosa®
White Big Five®
Brightlight®, Epic White®, Lagreta®, Proud®, Uzuri®
Orange Big Five®
Comanche®, Nassau®, Oranda®, Wannahave®, Almanza®
Yellow Big Five®
Basanti®, Idole®, Sonrisa®, Super Sun®, Tribute®
Pink Big Five®
Celeb®, Daydreaming®, Lorraine®, Opala®, Wham®
2. Retail Mix
Hard Discounter: Red Calypso®, Wild Calypso®, Lagreta®, Comanche®, Sonrisa®, Lovely Jewel®
Supermarket: Furiosa®, Zanta, Sonrisa®, Wannahave®, Daydreaming®, Epic White®

3. New variety collection
Pomarosa®, Zanta®, Dream Girl®, Frutteto, Comanche®, Fluence, Mysterious®, Trivia, Opala®, Snow Bubbles®, Zadique®, Romantic Bubbles®.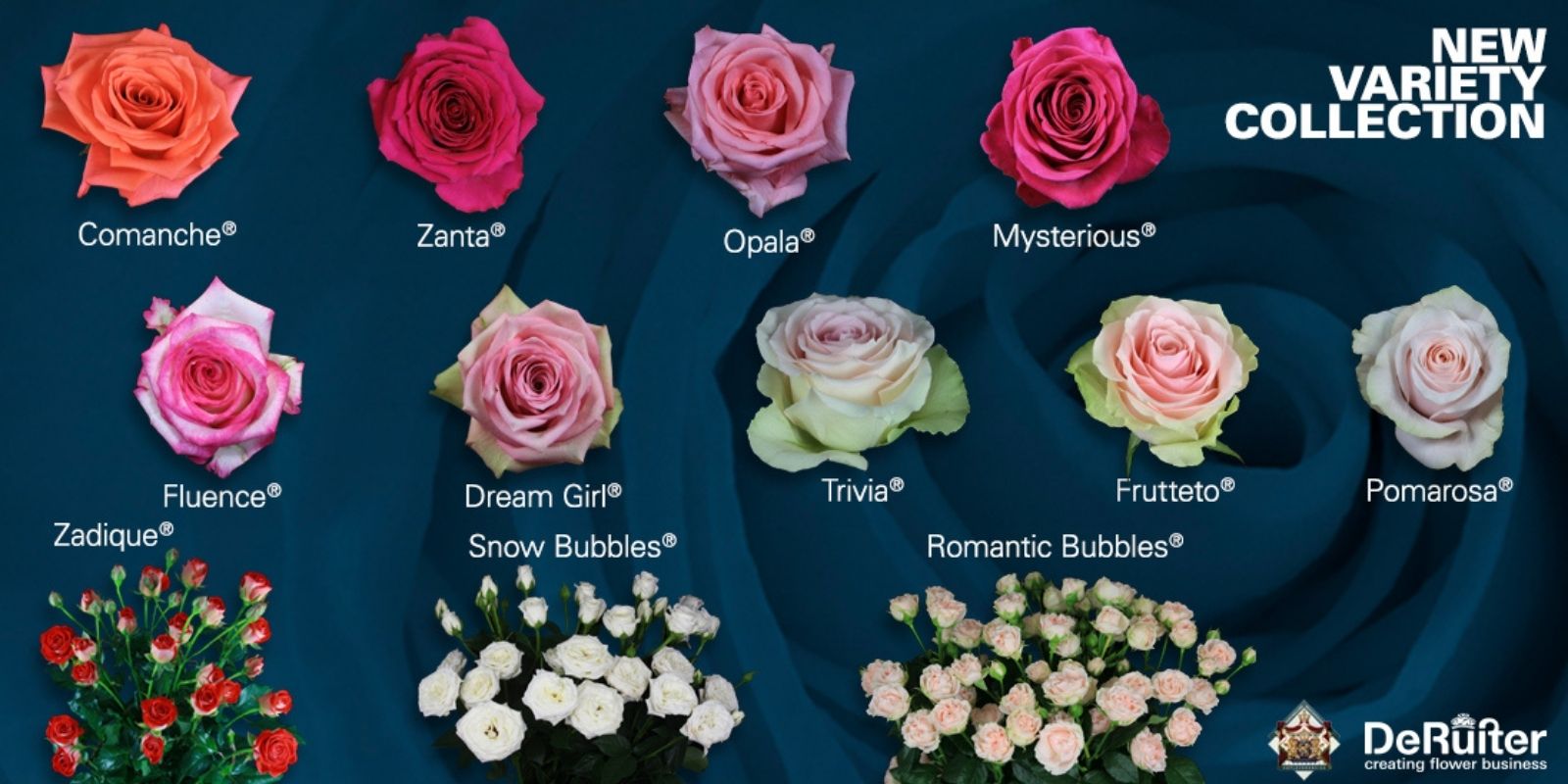 For more information about technical variety specifications or where to buy information, please check the website www.deruiter.com
Jewel® potrozen
The Jewel® Potrose Line is a unique product line bred by De Ruiter Innovations B.V. This new potrose Line has the following general characteristics: Healthy, uniform in production, good-branching, large flowers, intense colours and a good durability.
A rewarding plant for the user to purchase due to its excellent shelf life. Our Jewel® varieties are produced in the Netherlands and Brazil, pot size (10.5 to 13 cm). For more information on where -to buy, please contact us: [email protected].
Terrazza® roses
The name Terrazza® directly refers to the use of this rose line. Multifunctional! In addition to indoor use, the Terrazza® is extremely suitable for all kinds of outdoor purposes. Various pot sizes for the terrace, garden, balcony and flower box.
Terrazza® roses have a high ornamental value due to the constant sea of flowers until the first night frost. The Terrazza® roses have various lines with many colors, large and small flowers and unusual shapes.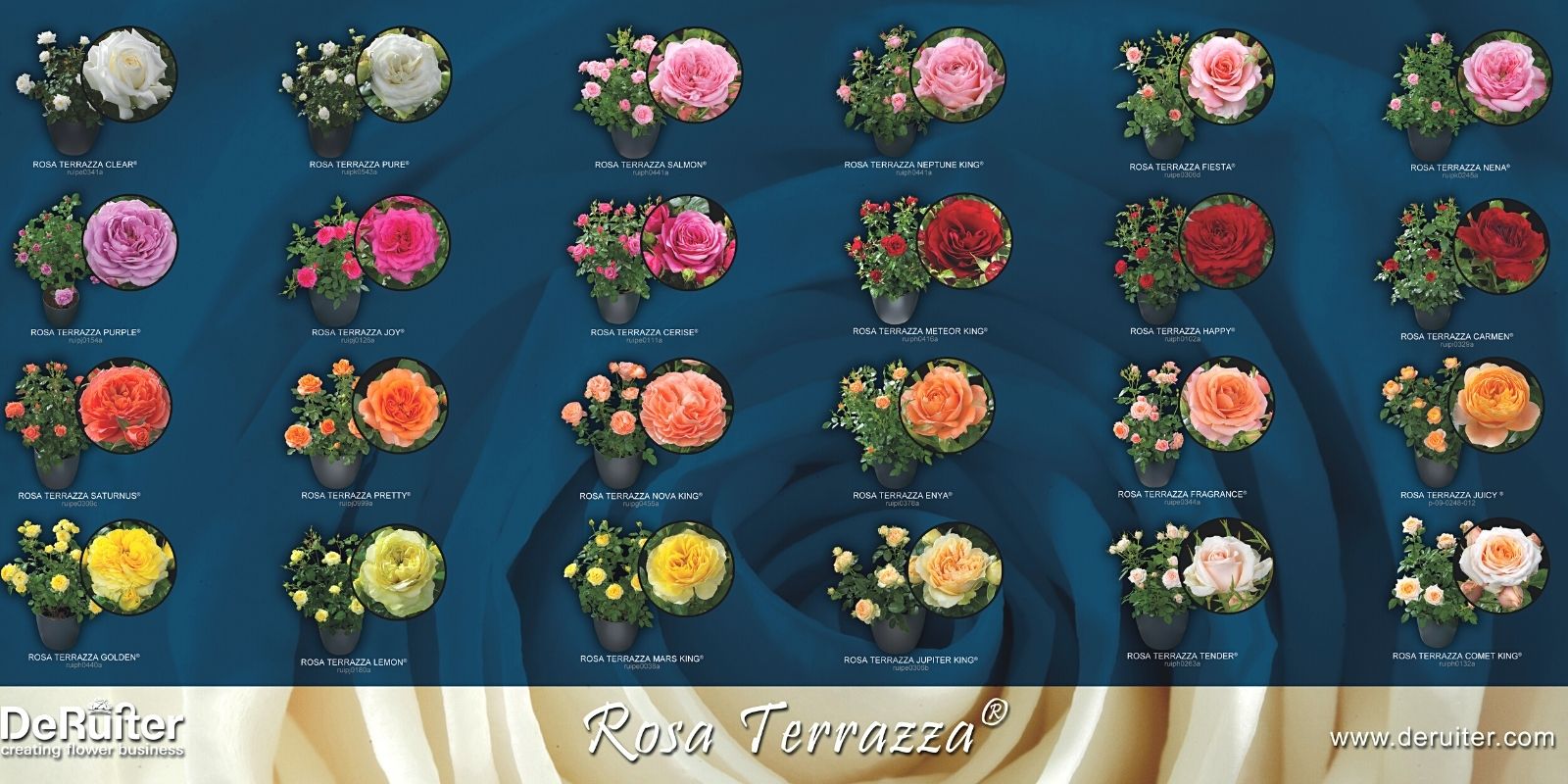 Anigozanthos
Anigozanthos or kangaroo paw comes from Australia, the flowers resemble the animal's front legs. In the wild, the plant grows mainly in the southwest, in the very dry environment of Shark Bay and Mount Baker. In Kenya, De Ruiter has recently developed its own line Anigozanthos and consists of three varieties: Early Spring®, Gold fever® and Yellow Gem®.
A vase life of 14 days, long branches, flowers up to 5 cm and very good disease resistance makes Anigozanthos a welcome addition to our range.
Cut hydrangea
Within the cut hydrangea range we have specially bred and selected for cultivation in Africa. This selection from breeder Lendert de Vos is represented by De Ruiter in Kenya:
Hydrangea 'Rembrandt Novello®'
Color: white/green Stem length: 55 cm Diameter flower: 18 cm Vase life: 14 days Production: 50 per m2
Hydrangea Macrophylla (16-20018-02) 'Diva®'
Colour: red Stem length: 60 cm Diameter flower: 20 cm Vase life: 12 days Production: 50 per m2
Hypericum
Hypericum is grown for different purposes: 1. For the cultivation of berries stems for bouquets (cut hypericum); 2. As an ornamental shrub in gardens and public gardens (think of the Hypearls®, the pot hypericum of De Ruiter); 3. As a pot plant (think of the Hypearls, the pot hypericum of de Ruiter).
Contact details & Social links
For more information go to the website of De Ruiter For socials of De Ruiter, click the icons below: