Do you want to get something special in your hands from one of the world's greatest floral architects? Here is your chance to get to know Daniël Ost (even better) with his inspirational book packed with magnificent floral arrangements. The best news: you can order it with a huge 'THURSD' discount from the Fleur Creatif webshop.
Japan is Blooming
Many locals and tourists find their way to floral wonders like the Kawazu Cherry Blossom Festival and the Wisteria Festival at Kawachi Fuji Garden. Belgian floral artist Daniël Ost is also very fond of Japan and its floristry. Ost instantly fell in love with Japan: he was an apprentice of Japanese artist Noboru Kurisaki and he has exhibited there on numerous occasions. This special and prestigious bond between Ost and Japan is captured in his book "Daniël Ost in Kyoto", or as he calls it "a testimony of […] the most important period in my life as a flower designer but also as a human being." A few years after the publication of this book, he even was awarded Japan's Order of the Rising Sun (2015).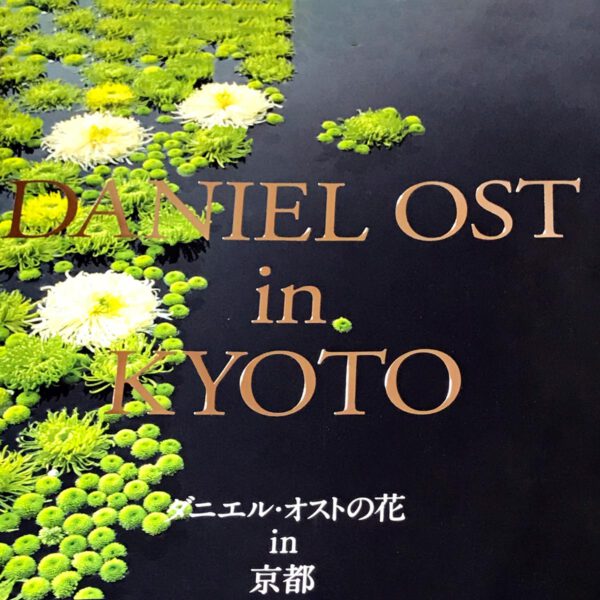 Daniël Ost in Kyoto
This inspirational book is packed with approximately 140 magnificent floral arrangements in equally beautiful places since his works were scattered in sacred, symbolic places all over the modern city of Kyoto. One of these places is the Sugimoto House. Hidetaro Sugimoto, owner and preserver of this residence, claims that
"Ost's works make us think not of 'animal spirits' but of 'floral spirits'. Flowers and buds, new leaves, and fallen leaves, the 'floral spirits' in them literally embody the life force. This is truly food for the soul; one can never tire of looking at such works."
In addition, Japanese architect Kengo Kuma acknowledges that Ost has truly mastered the art of Ikebana:
"An intuitive understanding of Japanese time and space and arranging of flowers and plants which makes that his own. That characterizes Daniël Ost."
Great recommendations, breathtaking floral designs, and a submersion in Kyoto's cultural heart. What's not to love?
Discount offer for Thursd readers in the most extensive webshop Fleurbookshop by Fleur Creatif: "Daniël Ost in Kyoto"
Format: 32 x 23.5 cms – hardcover Pages: 176 with +/- 140 illustrations Language: English and Japanese Regular price: €75,00. On ordering, use the code 'THURSD' for € 25,00 discount. Webshop link for English readers: Daniël Ost in Kyoto Webshop link for German readers: Daniël Ost in Kyoto Webshop link for French readers: Daniël Ost in Kyoto Webshop link for Dutch readers: Daniël Ost in Kyoto
Biography
Daniël Ost was Born in Sint Niklaas, in 1955, and under the influence of his grandparents, became interested in flowers from the age of three. By his 20s he had started winning prizes internationally in floral design competitions, coming to be known as a 'Sculptor in Flowers' or an 'Architect in Flowers'. His work staged in historic buildings all over the globe, include wedding decorations for the Belgian royal family, and show-striking creativity going beyond existing notions of flowers in what must be termed a new art form. Ost captures the hearts of viewers with beauty in perfect harmony with its space, with his unique style he combines a dramatic gorgeousness with grace and elegance. It is no surprise that the books of his works have won numerous prizes, including a silver medal in the Donside Awards (book design category). #fleurbookshop