The company Bloemenservice Nederland (translated: Flower Service Netherlands) is located in Roelofarendsveen, a small village directly on the A4 motorway, which is a perfect location for them because they can be in Amsterdam, Rotterdam, and The Hague within half an hour from their location. In the same building as their flower wholesaler (J. de Koning) so they have all the flowers in stock, easy access to a lot of accessories, and the use of a huge cold store.
How is Annemarie Hoekstra, owner of Bloemenservice Nederland, coping with the current corona outbreak? Going from many weddings to absolute no weddings?
An interview With Annemarie Hoekstra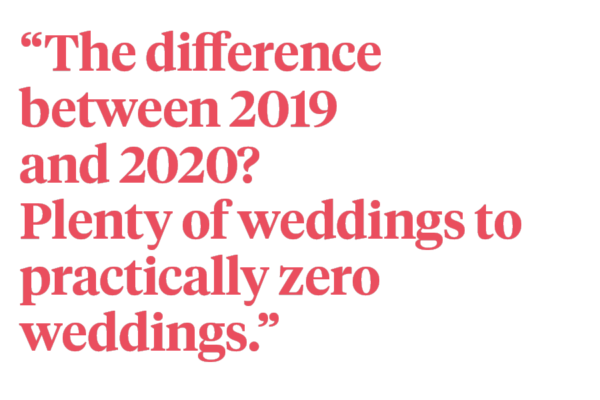 Can you describe your business in general? Please walk us through a schedule for your 'normal' wedding seasons. How does it differ in 2020, compared to other years?
Annemarie:
"I started with Flower Service Netherlands in 2007, then mainly with business flower arrangements and sending flowers all over the country. When we had done this for about seven years, I increasingly noticed that I wanted to take a different course with our company. We really wanted to be able to make beautiful things, to create unforgettable memories for people.
In bridal flowers and event assignments, we found that magic that made our hearts beat faster. I am used to setting big goals and that is how we had decided with the team that we wanted to become one of the biggest players in bridal flowers. And secretly also the best ;-). When this dream came true a few years ago when we won the Dutch Wedding Awards as the country's best Bridal Boomer, our wedding business gained momentum. We are very grateful for this!
In 2019 we were able to organize no fewer than 124 weddings with the most beautiful flowers. 2020 looked even more promising. In January/February early March, the bridal couples were 'in line' to drop by for a bridal flower appointment, often afraid if we were already fully booked on their date. Our quotation wall in the office is now packed with current quotations that are completely unsuccessful because brides and grooms do not even know whether they can get married. All because of the COVID-19 virus. The bridal couples who had already booked us are now massively moving their wedding to the end of this year and summer next year. For us, this year would literally kick off to be a fantastic wedding season. This normally runs from May 1 to the end of September. So the difference between 2019 and 2020? Plenty of weddings to practically zero weddings."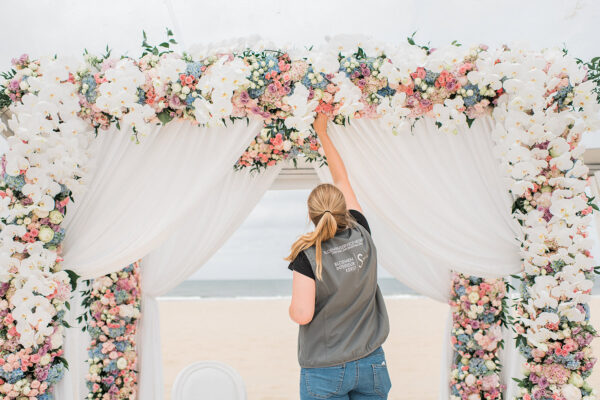 Have you been practicing your business since the (partial) lock-down in your country? What barriers do you face at the moment of running a successful business? How do you plan to overcome them?
Annemarie:
"Yes, we still work, but in a in a completely different way. The storage has never been so tidy ;-) The difficulty is that although you might have really good ideas to make a little turnover is that they are sometimes not feasible in practice because you're really bound by strict rules because of the virus. Yet we try to work ahead. To give an example; we are already busy with Christmas preparations because this is an important part of our income. We also bring the Christmas spirit with our decorations throughout the country in December."
Which inspiring new initiatives have you seen in your field of work (or related industries) or are started by you - since COVID-19?
Annemarie:
"In particular, I have seen many crazy initiatives from companies that are now out of work and really bring something good to the people. For example, there is a DJ and saxophonist who, of course, now have no bookings at all, who have converted their bus into a driving live surprise. You can book them for someone's birthday, they drive in an unrecognizable bus, suddenly jump out, and have a big party at your door with live music. And guess what ... really busy those guys!

Those are really entrepreneurs who see opportunities, I have a lot of respect for that. We ourselves had just finished our renovation at the beginning of March. We converted the interior of our store into a dream studio. The store became a beautiful place where you as a customer are directly inspired by arbors, styling materials, flower walls, and dried flower collections. The paint was just dry. And there would be an incredibly nice official opening when the virus broke out and threw a spanner in the works."
"Because the store is also a shop, and it is still open, we have thought of giving mini-workshops for small groups that want to do something fun in a safe way during this special time. You can come to us with some friends, you will get a workshop with flowers and after that, you will have selfie time in our studio. For this, we have made five beautiful places where you can take beautiful photos. Even a decor where it looks like you are on vacation .... After all, no one can take nice vacation photos. Of course, we adhere to all regulations here and we stay well within the number of allowed people who may come within our m2. Safety before everything!"
How important is it for you to lift each other up in these times and what does that mean for you and the bond with your colleague-professionals and business relations?
Annemarie:
"This means a lot to us, we recently did a number of styled shoots with a small team of professionals from our industry to generate beautiful images for when hopefully it will be over with all this misery. During the last shoot our colleague suppliers from the wedding industry recorded this song . In any case, it landed to us enormously: https://www.facebook.com/marielle.jongmans/videos/10216457686737234/"
What do you think is the biggest issue in your segment of the wedding industry at the moment, from your perspective?
Annemarie:
"Events are a bigger problem than weddings, after all events are hardly caught up. Weddings that cannot go through now are usually not canceled but moved. However, the biggest problem for us as a supplier is that you can only deliver one x number of weddings per week at a time. For now, it means a huge financial setback.
You don't know how long it will last. But at the same time it means that bookings that you already had now suddenly move to popular dates next year and that you are therefore no longer available for new bridal couples while you know that you will have to make up for an extremely bad year. Of course you also feel with your brides and grooms as best as possible, because they are also hugely affected by this force majeure."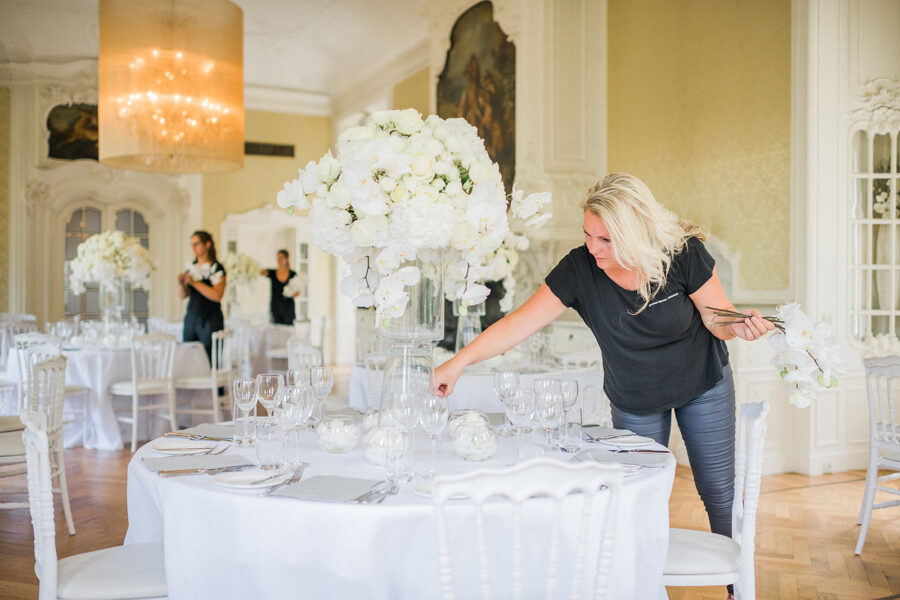 Do you notice any interesting changes of plans and choices of customers, with the events and weddings that are influenced by COVID-19? E.g. in the type of flowers, themes, venues, group sizes?
Annemarie:
"What strikes us most, is that some of the bridal couples first call us neatly when they start to shift their date and that they also ask for our availability. Others just mail us simply and 'inform' us about their new date. Also, there are still a lot of bridal couples who are going to wait for the next press conference by our government. Everyone hopes of course that the current measures becoming less and less strict. Suppose we go back to a situation where, for example, a maximum of 100 people are allowed, then many bridal couples will still want to get married this summer, but with the 30 people max as it is now in Holland, it still feels like a half wedding for many people. And well, what we hear all around is that we will go to a '1.5 meter distancing society' for the time being. This means no weddings and events for my business unfortunately."
Can you describe to us your ideal wedding setting? If you and your clients would go all in, what would that be like?
Annemarie:
"If the customer really wants flowers to be in the spotlight of their big day, then this is what it will look like for us."
Designs by Annemarie Hoekstra from Bloemenservice Nederland.