The Flower Council of Holland keeps flowers and plants constantly top of mind with the consumer. But how do you inspire your consumers during a time of crisis? Managing Director Dennis van der Lubbe elaborates on how they inspire, inform and activate everyone during COVID-19. But mostly, he shares the idea behind some inspiring initiatives in floriculture and how the need for hope resulted in a big collaboration between different parties.
How is Dennis van der Lubbe, Managing Director of the Flower Council of Holland, coping with COVID-19?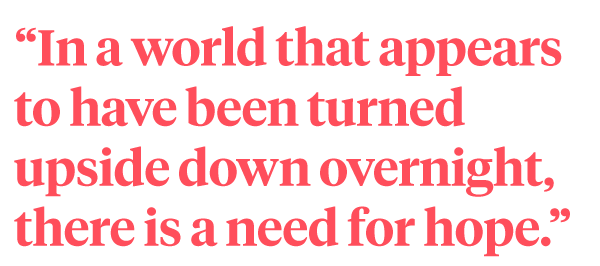 Where is your business located? In which region/city/neighborhood?
Our office is currently located in Honselersdijk, the Netherlands. We will be moving our office in September / October into the FloriWorld building in Aalsmeer. We also have small offices in London, Dusseldorf and Paris.
Can you describe your business and customers in general? Which service do you provide?
The Flower Council works hard to keep flowers and plants constantly top of mind with the consumer. We ensure that consumers become and remain inspired to buy flowers and plants. Not only do we encourage consumers to buy more flowers and plants, but above all, to do it more regularly. Because flowers and plants not only make great gifts, but are also great to enjoy for yourself. We want to make sure that florists, garden centres and other sales outlets have a permanent place on the consumer's shopping list. We do this by inspiring, informing and activating our campaigns in four European countries: Germany, UK, France and the Netherlands. We work with our partners to develop effective marketing campaigns with flowers and plants in the starring role. Based on thorough market research, our engaging campaigns ensure that people talk about flowers and plants. Not just amongst the consumer themselves, but also in the media. Alongside our campaigns, we also inspire with engaging, lively content, both online and offline. This is of interest to consumers, the flower- and plant sector, and the press. From handy tips, DIY projects, detailed information, interesting stories and fun facts through to inspiring images. Apart from major campaigns and topical content, we also regularly launch surprising promotions.
Have you been open or closed since the (partial) lockdown in your country?
Although working from home, the full team has been working constantly. This resulted amongst other things in the beautiful 'Let hope bloom' campaign.
How do you get information these days about the floral industry?
We get our information via the breeders, growers and traders with who we meet ourselves (mostly via digital meetings). Also via trade press or via our board members.
What barriers do you face at the moment of running a successful business?
Our budget is a percentage of the turnover of the auction of Royal FloraHolland and Veiling Rhein-Maas. So given the strong drop in sales the last weeks and the uncertainty of sales for the remainder of the year, our budget for this year has also been seriously reduced.
How do you plan to overcome these barriers?
Fortunately we see the sales slowly getting better, which should positively affect our budget as well. For the reduced amount of budget however we have been focusing on activities which are proven successful and/or will generate effect on the short term, to maximize the effect of the budget on the short term.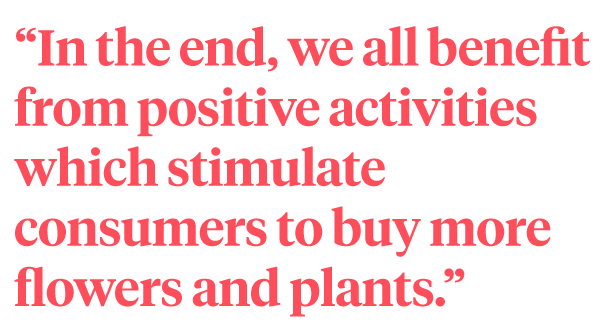 Which inspiring new initiatives have you seen in the industry - or are started by you - since COVID-19?
The 'Let Hope Bloom' campaign was a new campaign which we developed during COVID-19. In a world that appears to have been turned upside down overnight, there is a need for hope. We created this campaign in record time. The results also offer hope. Quantitative research by reseach company Motivaction amongst consumers in the Netherlands, France, Germany and the United Kingdom shows that the 'Let Hope Bloom' campaign was given a high rating and was perceived very positively. The message had been widely seen and hit the right note with the core target audience, and was given a high rating of 8.2 out of 10! Many respondents (69%) indicated that they wanted to buy more flowers and plants for themselves or others as a result of the campaign. In the meantime, we are also leading an international project group of different stakeholders, to develop a new campaign to give sales of flowers and plants an extra boost once the most limiting restrictions around the coronavirus will be lifted. A campaign about belatedly being able to celebrate the missed opportunities to be together. Participants and interested parties include various breeders, growers, traders, Royal FloraHolland, VBW Central Association for Flower Retailers, Glastuinbouw Nederland and AIPH. During the first online meeting about this campaign we noticed that there was a lot of willingness to join forces to invest in a joint campaign. Interested parties can always contact us to participate.
How important is it for you to lift each other up in these times and what does that mean for you and the bond with your colleague-professionals and business relations?
In times like these, you notice that together we can achieve much more. We already have seen some great examples where different parties in our industry worked together, focused on the bigger picture, because in the end, we all benefit from positive activities which stimulate consumers to buy more flowers and plants.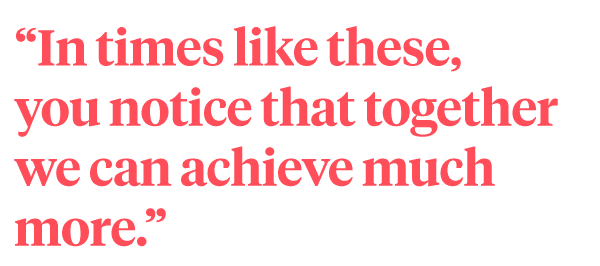 What is the story behind your business and how will COVID-19 affect your future storyline?
We showed the industry that The Flower Council of Holland is not only capable of bringing different organizations within our industry together, to work on a shared goal, but we also showed them that we can develop successful international campaigns and activities, which motivate and stimulate consumers to buy more flowers and plants. So we hope that interested parties, reach out to us, to see how we can cooperate to achieve this together.