Dimitris Papadakis is the owner of the flower shop '
Flowers Papadakis
'. It was founded in 1989 in the area of P.Faliro in Greece, near to main port of Pireaus. The region is called Attiki. The shop is very close to the sea (about 200 meters) and near to central Athens (around 5km). Dimitris is also very active in the Green Florist association.
How is Dimitris Papadakis from Greece coping with the current Corona outbreak?
An interview with Dimitris Papadakis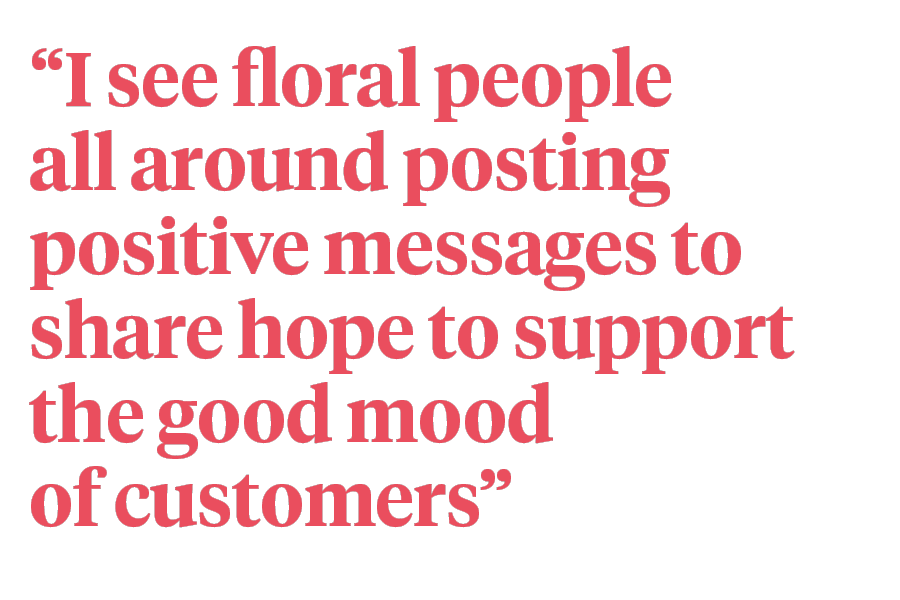 Can you describe your customers in general? What do they buy generally in your shop?
My commercial approach about my customers is a multi-customer policy and include the following: 1) My First line of business I developed very early. It is my B2B business (floral gifts for companies in the high-end of the market). For hotels I deliver decoration for receptions and lobbies for example, but I also often do designs for super yachts to welcome special visitors, and I do lots of decorations for companies that organize conferences, exhibitions, presentations and congresses. 2) The second line of business is our cooperation for the last 30 years as a good partner and executive member with some international platforms of floral orders (Interflora - Fleurop) who give us orders for executing flower deliveries. It is very important for this type of customers to offer high quality products and services. 3) The third line is our activity in the wedding industry. Offering high quality services like planning, organizing and decorating with high quality floral products. With garden roses from David Austin for example. We do this for couples that get married not only in our region, but generally everywhere in Greece. At all the Greec Islands like Mikonos, Santorini, Tinos, Andros, Kefalonia, Crete and all Saronic famous Islands. We have to organize this with a very big team of professional floral designers that can offer high standard quality of services all around Greece. 4) The forth line is e-business. We get a lot of orders through our platform via the social communication points like Facebook, Instagram, Pinterest, Twitter, Blogging and of course, organically through Google. This line of customers is the digital customer. Important to us, so we try to post every day on these platforms about our products, our proposals and our services to attract an online audience. 5) And the last line, but very important, are all people that come to our flower shop. People who've become our friends, the people who support us all days of the year with a friendly touch; laughing together, and crying together. Talking about all the precious moments in life. We love them, we appreciate their support and we are very thankful to have all these customers returning every time to our shop to flowering their special moments in life!
Have you been open or closed since the (partial) lockdown in your country?
We closed our shop from 18 March after government order and we had to be closed until 20 April. Below you see the pamflet we have on our shop.
How do you get information these days about the floral industry?
I get much information from social media. On Facebook I have more than 4500 florist friends all around the world. I know what happens around the world, also from my commercial partners in Holland, from my export company, from the official page of Royal FloraHolland market, from my grower-friend, from Florint Organization, from floral art pages, and from Thursd. of course.
What barriers do you face at the moment of running a successful business?
Personally I think that the big problem is our public health. It is very important to control the spread of the Corona virus and to have less deaths. It is necessary to collaborate with our professional associations and government people of the responsible ministries to have a strong plan for the next day. At first to re-open the flower shops according to the public health measures and secondly, to allow to start the economical activities offering to us cash flow and support. Generally from my other duties, I am Vice President of the Athens Florist Association, I think that this moment is a very difficult one. It is very hard for our business activities without the economical support from our government. Greece is a country and very beautiful, but the country is still in a period of economical crisis with high unemployment and painfully high taxes and penalty measures by other countries. I believe that our strong working ethos will help to make a recovery very soon again. We are continuously in meetings with the Ministry of Economics and Development, with the Association of Growers to plan the next days ahead. The main barrier now is the SPREAD of virus and after that the cash flow support from the government.
How do you plan to overcome these barriers?
My plans to overcome these barriers after all is to take all advantage of government support (f.e. interest free loans and postponement of taxes). And to ask better conditions of payments from my Dutch flower partners. Also it is very important for all people of floral wedding industry to help the couples to re-plan the days of weddings for the next season. We can offer available different days but not the cancellation option.
Which inspiring new initiatives have you seen in the industry - or are started by you - since COVID-19?
I think that our industry has serious damages. We are seeing that a large amount of the seasonal floral production was destroyed. We saw high quality floral products going to waist. But we also saw millions of flowers as a gift to health persons at the hospitals. Also I see every day a lot of floral designers to do floral creations inspired by COVID-19. I see floral people all around posting positive messages to share hope to support the good mood of costumers. My initiatives from the first moment of this bad time was to send messages from my personal account to encourage all my friends, to post photos of my creations with beautiful shiny colors, and to share positive feelings. To give hope to all people. From my public account of the Athens Florist Association I posted announcements and information for all florists all around Greece concerning the measures of the government, the correspondence of our Association with the different ministries, and about the problems that happened with the closing of our shops. We succeed to be part of the discussions about the economical support of our government, not only for us as businesses, but also for our employees.
How important is it for you to lift each other up in these times and what does that mean for you and the bond with your colleague-professionals and business relations?
It is very important for this time to have clear and common approach, to stay calm and safe, to have energy, and to offer help and support for all that need them. I try at this moment to organize a national association of floristry where all the different parties (florists-growers-traders) will participate equally to think about planning a restart of our national Floristry. I think that is the best time to see the future of the national floral industry, to ask from our government to support our activities. We need better quality of flowers, we need better cost prices, we need stronger customers, we need big weddings. We need a more friendly government without high taxes with better development and more investments.
What do you think is the biggest issue in your segment of our sector (being a florist, grower, trader or breeder) at the moment, from your perspective?
The issue is also the recovery of the economy, it is not only public health. It is equal important to be healthy and be economically happy. As an old and experienced man in floristry I think the biggest issue is to have a low recession for this year and a fast and strong development next year. Flowers are a serious indicator of consuming. If the flowers have good prices, it is an indicator everything will be better.
What is the story behind your business and how will COVID-19 affect your future storyline?
After three generations in family floristry business, my story tells that nothing can stop the nature to harvest, nothing is not enough to stop the plants to grow flowers, nothing can block people to flowering their special moments with flowers! I firmly BELIEVE that COVID-19 cannot stop the love, the hope, the happiness.. COVID-19 cannot stop the flowers!
Can you walk us through the immediate and expected (long-term) consequences of this crisis
My opinion is that for this year, all economy activities will come very slow. We see a HISTORICAL -last 20 years- low price of petrol, we see it at all international economies. We see what happened with the airlines. We see what it exactly means that all shops are closed. We see all the waisted flowers and plants. So it is important to have health, time and energy to manage to recover from these fact this year. After this period, I think for next year all will be better! We will have recovery, we will have a better mood, better weddings, better results and florists will sell more flowers!
Dmitris Papadakis