Din Blomsterhåndværker
Henrik Andersen is the owner of flower shop
Din Blomsterhåndværker
, which translates to 'Your Flower Craftsman'. A shop located in the small city called Thisted, in the north of Denmark. The service area for the flower shop has about 30.000 inhabitants.
How is Henrik Andersen coping with the current Corona outbreak?
An interview with Henrik Andersen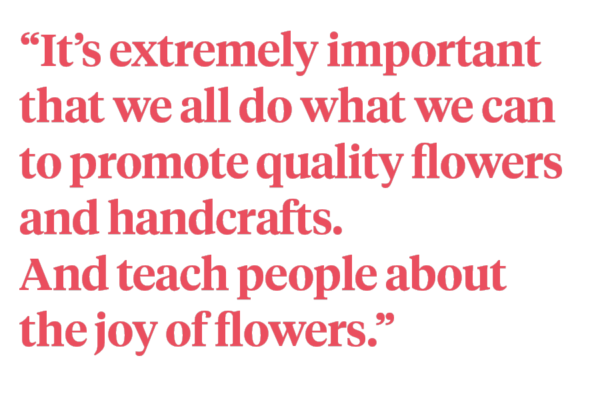 Can you describe your customers in general? What do they buy generally in your shop?
My customers are mostly 20 - 60 years old and buy mostly bouquets, plants and funeral/wedding work.
Have you been open or closed since the (partial) lockdown in your country?
We had normal opening times all of the time - taking all the necessary precausions.
How do you get information these days about the floral industry?
Mostly from Interflora Denmark and following the industry in general on social media.
What barriers do you face at the moment of running a successful business?
The biggest challenge for me, and I know also many other flowershops in my country, have been coping with such a huge amount of Interflora online orders that made the past two months overwelmingly busy. Just as busy as Christmas or mMother's Day nearly every day. This meant that we haven' t got the time to keep our shops exciting for local customers to visit, even though we worked extremely many hours. It have been totally crazy times. But of course it's great to be able to keep the shop alive and open.
How do you plan to overcome these barriers?
I plan to take a few closing days to clean and re-arrange the shop and our work area. This way we get a little "back to normal" again and at the same time I try to teach my local customers to order more in advance. I'll try to offer free delivery if a customer buys for a certain amount and when they order earlier than the delivery day!
Which inspiring new initiatives have you seen in the industry - or are started by you - since COVID-19?
I think it is inspiring to see people and shops work more together, help each other and think about each other. And I hope in the future people could maybe learn that flower deliveries make a huge difference for someone that is lonely, sick or whatever. Receiving flowers when you don't expect it is so life-giving.
How important is it for you to lift each other up in these times and what does that mean for you and the bond with your colleague-professionals and business relations?
It's extremely important that we all do what we can to promote quality flowers and handcraft and teach people about the joy of flowers - and at the same time to teach them that handcraft takes time.
What do you think is the biggest issue in your segment of our sector (being a florist, grower, trader or breeder) at the moment, from your perspective?
The quality of flowers/greenery seems to be a little more uncertain than usual. And when everything has to go so fast every day it can be dangerous!
What is the story behind your business and how will COVID-19 affect your future storyline?
I was in the industry for 26 years and I own a shop for nearly 15 years. I'm trying to make sure that the important thing in the shop is quality and handcraft. I could be a little affraid that customers again will think about the prices instead of the quality/craftmanship - that would be bad for my kind of store.