Exclusive on Thursd. an interview with
Holly Heider Chapple
. A visionary in the industry, trendsetter, mentor, influencer, developer, and advocate for the careers of floristry and farming. Holly has over 25 years of experience.
Anything beautiful, unique, and harvestable becomes a part of Holly's designs.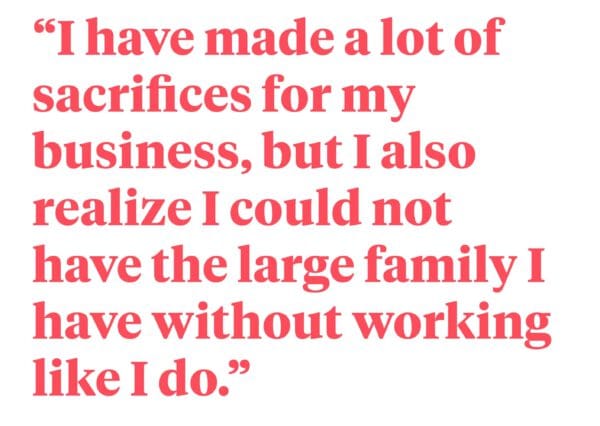 A Visionary in the Industry
Get to know Holly Heider Chapple, the designer with an endless drive and commitment to her work, in this insightful interview.
An interview with Holly Heider Chapple
Before the fame, you hailed from Loudoun County, Virginia. Can you tell us a little about how living in Loudoun County has shaped you from a self-taught florist to the floral designer you are today?
"First off, I would not call this fame. I am a worker among workers. Fame looks very different to me, like Beyonce or Dolly. I would say I am recognized for my many years of work (28 years roughly) and for the quality of my designs. I grew up and still live in Loudoun County. Here my parents operated a large garden center and a smaller farmers market. Through the years, our family offered a wide range of bedding plants, house plants, trees and shrubs, produce and then holiday accents like Christmas trees, garlands, wreaths, and potted tulips or lily for easter and such. Most of the land was considered farmland that featured open pastures of corn, wheat, soy, mixed with flower farms, vineyards, and Christmas tree farms.

This environment undoubtedly inspired my love for nature and, ultimately, floral design. All around me was the inspiration I needed as a designer.
I turned to nature and the land for comfort, peace and a chance to be creative. My father was my first teacher. He taught me how to make garlands, wreaths, kissing balls, and centerpieces. While he was not a master florist he was a master at mechanics and botanicals. Customers would often ask my father if our garden center offered floral design so, he began referring me for the work. Suddenly I was in business, and it was essential for me to learn the principals of floristry, create mechanics, and develop a style that was unique to me. Because of this, the nature around me became my most significant resource, and my designs took on a very loose and airy natural style. My designs often featured herbs, wheat, grapes, stems of tender fruit or veg, or entire plants that I would source from my father's garden center. Anything beautiful, unique, and harvestable became a part of my designs."
Having raised 7 children and being known in floristry as "Flower Mama" how did you manage to stay empowered to create the best work-life balance?
"I would say the words balance and Holly do not belong in the same sentence, in regards to an even balance of family and work. I was taught to work until the work is done, this is probably a work ethic I learned from very German father. This means I am often gone at dinner or away on the weekends. My children, hopefully, understand that this is necessary for our family to live. I think most floral designers face extreme deadlines or pressure from a a fresh medium and we don't have the luxury of working nine to five jobs Monday through Friday.
Because of this, we have to create working environments that work for our family. I purposefully chose to be home based. This allowed me the opportunity to be at home with the children. I could see the kids off to school and be at their events when needed. My husband would take over on the weekends, and ultimately as the business grew, he came on board with our company, which allowed us another chance to have a parent present at their events. I have made a lot of sacrifices for my business, but I also realize I could not have the large family I have without working like I do."
You are reshaping the seasonal flower movement with your collection of design mechanics and supplies. When and what made you decide to create new innovations to work with instead of flower foam?
"I created the first egg form while designing a bridal bouquet in Palm Springs, which is essentially the desert. I needed the bouquet to be natural stem so that the design could go back into a vase of water in between use and photography. Using foam was not an option. I also needed the bouquet to be very wide open and loose. My bride had requested a bouquet that had "signature star blooms". Essentially she was seeking a design that had space between each flower so that each blossom could shine like a star. She was indicating that she did not want a tight ball of flowers. To keep the stems and blooms wide open and apart from each other, I knew I would need a grid to hold the stems in place. I knew the form would need to be two layers, or the design would collapse. Something compelled me to make that egg shape. Immediately I knew I had created a mechanic that would change the way I designed. I quickly went to my forum of Chapel Designers ( this is a network of floral designers that I founded ten years ago and shared with them the design mechanic). We all agreed that this form was changing the way we designed. BTW that very fist bouquet was featured in Martha Stewart.

At the Chapel Designers conference in London, we made the first pillow mechanic and created my first cascading elevated design that did not require foam. This new mechanic was created first because of the way it allowed us to design in an open and loose form; it just so happens it is foam free, which is very timely as many are concerned about the continued or overuse of floral foam. Because the mechanic form was making a massive difference in the lives of the many florists I was teaching this design style to, I knew it needed to become a product. I had an excellent working relationship with Syndicate Sales, so I went to them to see if this could become a product line. The rest is history. 

While the product is foam free, which is awesome, and incredibly fortunate, if I were to be 100 percent honest, I pursued the shape of this mechanic because of the way it opened up and supported my designs. This mechanic also actually reduces the amount of flower stems used and helps with longevity of the design."
What to you is the most challenging part of selecting flora and foliage for arrangements, when working with numerous combinations to synthesize and develop new creations?
"Sourcing can be an issue, because I like the unique or tender elements, a lot of what I love to design with is not readily available or mass-produced. Having my own gardens/flower farm has undoubtedly helped me create the type of designs I like to create. Another issue is that I like lots of textures and several layers of the colors I am using. Designing this fully and lushly makes for a rather expensive design. Price needs to be explained to the consumer to make sure they can budget for a piece this loaded in valuable stems."
You credit your gardens for keeping your design ideas fresh, what is another way for you to get inspiration for creating floral and event design?
"I have an endless thirst for new knowledge as it pertains to floristry. This passion or curiosity always has me trying new things or meeting other designers. I am on a constant quest to know more and to create something new. Because I do travel, I also seek inspiration from the regions I am visiting. I love going into shopping centers/markets to see how things are merchandized or what colors seem to be trending. I also love to follow fabric designers and artists."
On your time off, what is your favorite way to express yourself artistically?
"Ironically enough, it is via floral design. I absolutely love to create something for my home. Creating for my personal space does not feel like work to me, but feels very therapeutic. We also enjoy cooking when we have fresh produce from the farm."

With reaching heights and changes while being a mom of seven, did you have a time in your career where you faced a burn-out?
"I have not faced actual burn out as I try to reach a little higher each time I design and create something at least slightly different than the time before; this keeps me excited. I certainly have been overwhelmed and exhausted. The seasonality of flowers also helps to keep things fresh. If we always had the same flowers every week, it might be boring, but in truth, when the lilac returns or the peonies are in bloom, it is like seeing an old friend. There is a sense of excitement and celebration as my favorites return to me. I would also say I have certainly faced different seasons in life. At one point in my life, the children were all young, and I was changing diapers in between each design. Now I am racing them off to the next activity between my work. I have also recently become a grandmother, which feels hard for me to believe. I have to consider the fact that my body is changing. This reality check causes lots of reflection and a sense of urgency when it comes to doing all that I want to do. It also helps that my love for flowers is undeniable. It is in my blood, or you could say my DNA."
Can you give us an example of when you established and accomplished a goal that was personally challenging?
"I knew our company had to grow and evolve. I realized my company needed equity to be sustainable. As a home-based floral designer, I had not built a business that had assets; primarily, I had not built a company that could be s I also needed a place to teach and tend to the designers that were reaching out to me for guidance and support. I set my sights on purchasing a location that our company could own and ultimately sell, but also a place where I could grow the community of designers I believe in and educate. Seven and half years ago, I found a farm just two miles up the road from my home and workplace. It remained on the market for three and a half years, the entire time I watched the price drop, and I dared to believe it could be mine.
Four and half years ago, I made purchasing this 25-acre farm a reality. In all honesty, we didn't have the money for the farm, but sheer will and creativity can truly make things happen. To this day, I know the only reason I got the farm is because I was committed, and I pushed past my fears, and I didn't give up until the goal was realized. Another similar situation was my opportunity to present a main stage presentation for AIFD. I can't say speaking at AIFD was a goal of mine, as it never occurred to me that I would ever be offered the opportunity to present as I am not AIFD certified. However, when that very frightening offer came my way, I did realize I had to move forward in spite of my fear even though I had been trained differently. It was one of the hardest things I have ever done and equally one of the most wonderful and rewarding. It was another example of making a commitment and seeing it through. Being committed and seeing things through works wonders for me!"
Women everywhere are working tirelessly to make a difference in the world — and the floral industry is no exception. How do you continue to thrive in the floral industry?
"I try to find new paths and cut out places for me to go where perhaps no one else has been. This keeps me focused on my company, and it's exciting. I try desperately to not look at what others are doing, which I have to admit can be hard. It is easy to get derailed when you spend any time at all looking at your competition. I also created a network of wedding and event floral designers called the Chapel Designers. Some might consider these fellow designers' competitors, but instead, we are allies and friends. Because of the organization Chapel Designers, I now feel like I have an endless support system that I can turn to when things get complicated, or I lose my way. The organization also gives me a solid list of remarkable designers I can come back to for advice, additional design support, or just a place to ask for good wishes or prayers."

Did you ever experience any prejudices as a woman or even as a successful woman in the floral industry?
"I honestly don't think I have been prejudiced because I was a woman, but I do believe there was some prejudice about my social media that ultimately led to some of my recognition. I heard little rumors or whispers that I was just a social media designer and or self-taught. Those people didn't realize I had 28 years of experience and that my success did not come overnight. My success came from running a sustainable and successful and profitable business and from staying the course and doing the work. I had the foresight to get on social media and begin marketing my business in a way most florists didn't think was necessary. I mainly got ahead of the game, you know, like I mentioned before, I found a path where no-one else was and ran with it. I will also admit that I am worried about prejudice in regards to age; I don't want to be perceived as less cool or relevant because I am aging or a grandmother. Being truthful has served me well so I am okay saying this. In all honesty, when I was a young mother, I think clients often felt good about spending money with me. They liked seeing the children and knowing their flower spend was helping our family."
You are setting unparalleled industry trends, what do you foresee being a huge trend in 2020?
"Our recent feature in Martha Stewart will be sure to please. The designs featured the Toffee rose which is probably the most sought after rose, mixed with a light pastel blue that came from stems of tweedia and powder blue delphinium. I know for sure this color combination will be hot this year, especially since Pantone announced Classic Blue as the color of the year. I do see a return to sophistication and elegance and perhaps less boho or hipster. Loose and airy organic designs will remain relevant, though, because the consumer has learned about the many different varieties of flowers and textures from social media. The consumer now knows what to ask for and frequently asks for these unique beauties by name. We are also experimenting with more sculptural shapes in our installations or designs. I typically try new design styles out in photoshoots and see if they are well received. Shape will be an important trend as we move forward."
Final question: where do you buy your flowers? (name of the wholesaler/trader)
"My primary source for flowers is DVFlora; they are absolutely fantastic and have supported my business with quality stems and excellent customer service. I would not be where I am today without a dependable wholesaler behind me. Having a wholesaler you can trust is the ace in the hole all successful designers need. Additionally, I also use Potomac Wholesale Florist, Florabundance or Mayesh. All of these companies provide incredible product and can ship flowers to me just about anywhere I am."