Floral foam is a dense, porous, and lightweight material that can be manipulated into any shape and form. You'll find the best floral foam mostly being used by florists and hobbyists as a part of their floral arrangement kits. From the most informative facts and tips all the way to why floral foam is used nowadays, you're about to get all the info you need on this type of material.
What Is Floral Foam?
Simply put, floral foam is a dense, lightweight, porous substance that can be carved into almost any shape. When wet, it retains its shape and gives both water and support to your cut flower arrangements. The density of the floral foam means that it contains a lot of water, which extends the life of your flowers. It also gives the flower stems additional stability, giving you more control over your arrangements.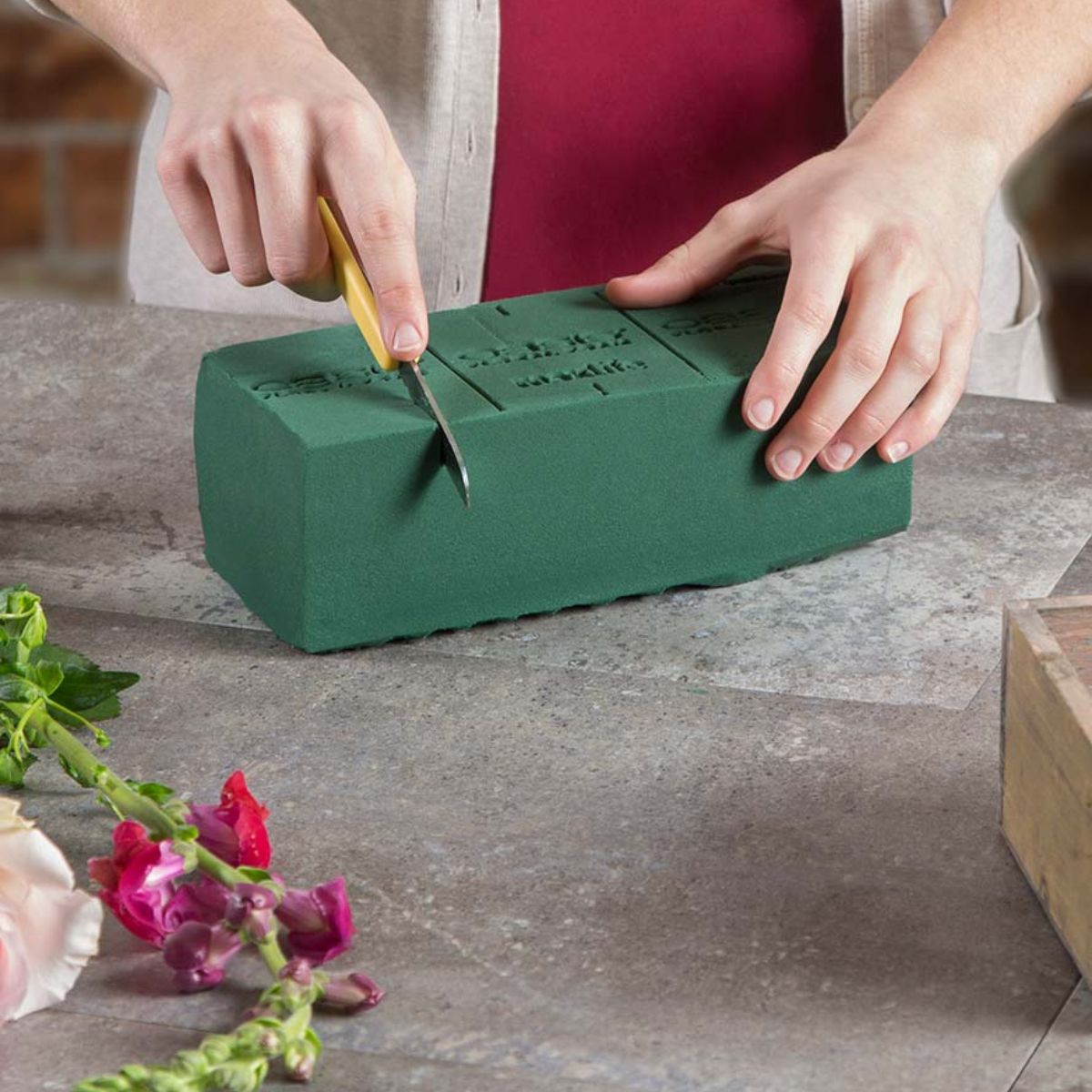 The Creation of Floral Foam
The green foam product was not designed for flower arranging, but Vernon Smithers of Smithers-Oasis patented it for this purpose in the 1950s. Feldmann claims that Oasis flower foam quickly gained favor among professional florists due to its ease of use and because it was incredibly inexpensive and simple to utilize. All you had to do was simply cut it, soak it in water, and insert the stems. Nowadays, floral foam is especially useful for arranging flowers in vessels that would be difficult to manage if the blossoms were not placed inside a robust base.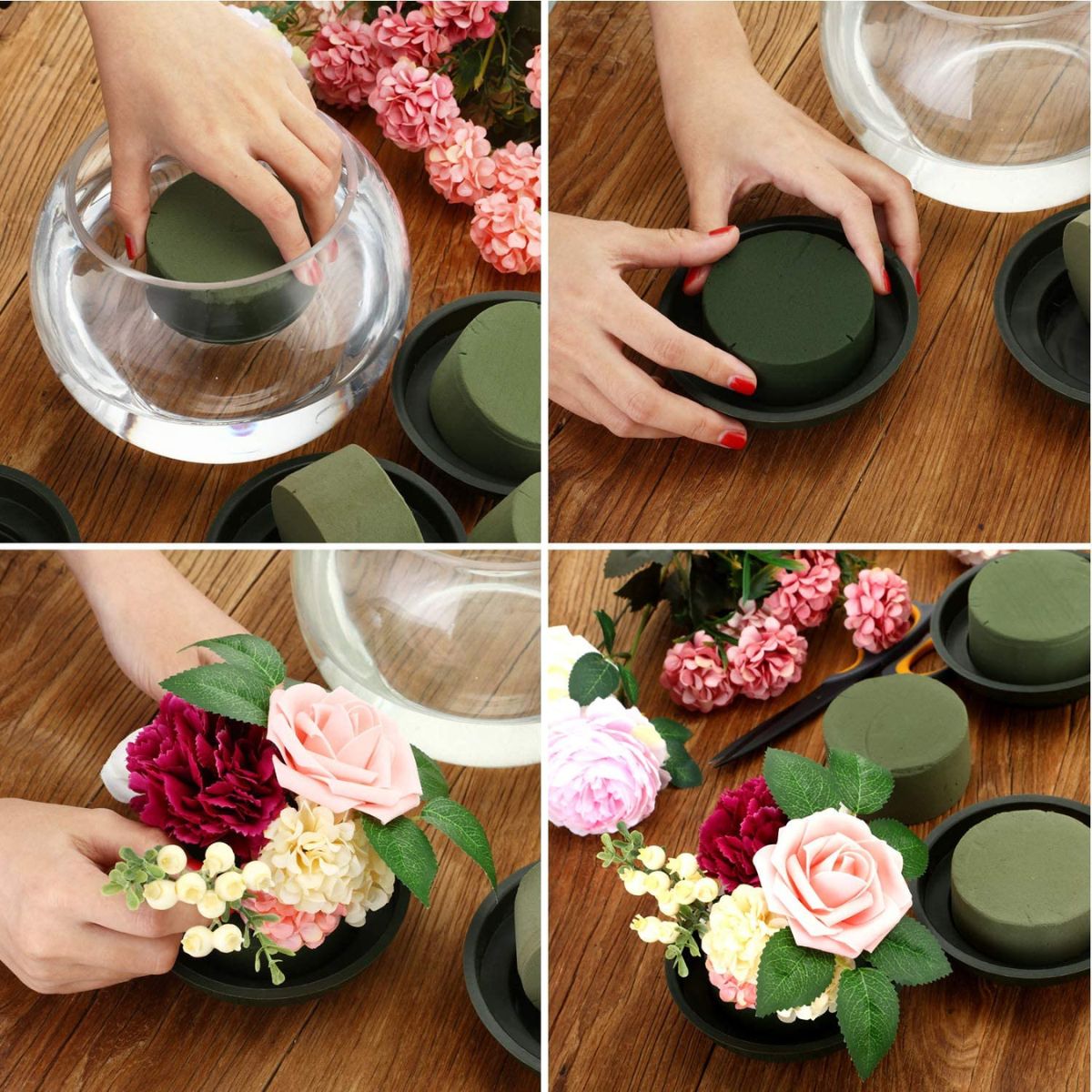 Its invention made floral designing very accessible to unskilled arrangers who couldn't get the stems to stay where they wanted. So hooray for floral foam because many floral professionals swear by it and actually make their whole creative and design process a lot easier and more efficient.
Straight to the Point - Why Use Floral Foam?
What are the benefits that floral foam can bring to you as a florist? Floral foam is one of the most used alternatives at the time of creating a floral arrangement because it keeps flowers in place. Floral foam also holds water (adding flower food is advised), extending the life of fresh flowers. Because of the stability of foam, you can construct and produce the design you want.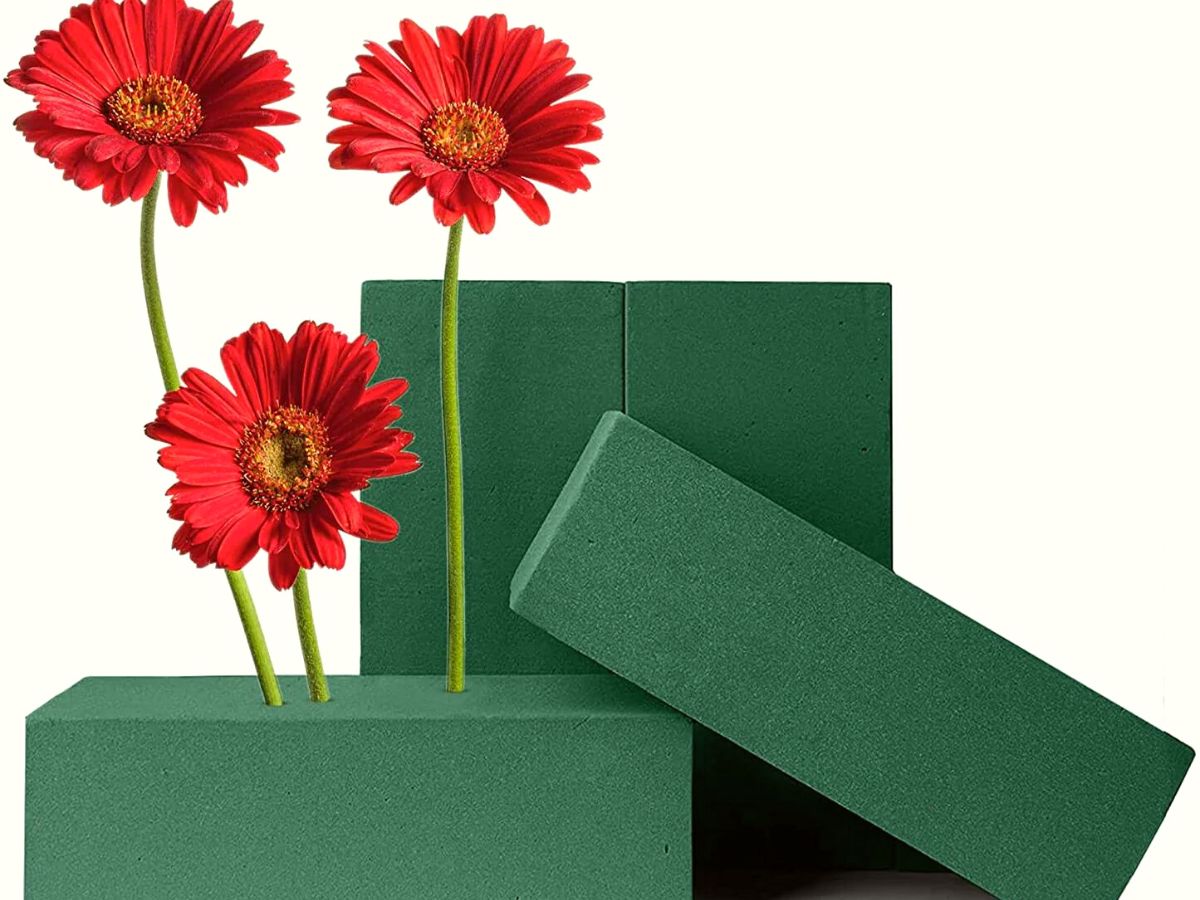 You can cut floral foam into whatever shape you choose or get it in the shape and configuration for your application like cones, spheres, wreaths, cages, mache, bouquet holders, tiles, garlands, and many more that save time and offer positioning alternatives. By using floral foam, you can also gain design stability and flexibility, as well as a water source and efficiency.
What Types of Floral Foam Can You Buy?
The best floral foam for fresh flowers depends on the purpose you're getting it for. Here are some considerations worth reading when choosing the type of floral foam you need to use.
1. Standard
A standard floral foam means a medium-density one that is perfect for holding almost any kind of stem. They are usually the "one size fits all" kind. They are impressive at storing water and maximizing the flower's life. Most florists or flower shops use this kind.
You should get the standard kind if you're into daily floral work. These foams need to be placed in water to soak it up and offer the excellent saturation that they're known for.
2. Springtime
Flowers such as tulips, hyacinths, and daffodils are commonly used in spring arrangements. These flowers can be difficult to handle and keep looking bright and fresh when decorating. They have fibrous delicate stems that break down in depths of water and can be troublesome with the foam. Because the stems are essentially hollow, the flower may perish sooner than the others.
Such flowers need light-density foams. You can also add a toothpick or a wooden pick to the flower's stem that'll swell from the water and also connect the stem to the water source.
3. Deluxe
The use of high-density floral foam is required for high-end fashions. The high-density foam grip will keep the heavy stem in place, along with providing a stable location. Such floral foam also serves as a fantastic source of water, extending the life of the flowers in the floral arrangement.

For specific shapes, you will also require a deep reservoir of water. The deluxe type of floral foam can contain a lot of water and keep flowers hydrated for a longer period of time than other types of foam.
4. Instant
This is a medium-density floral foam that is suitable for most stems. This foam has tiny holes punched in it, making it ideal for roses while allowing the foam brick to saturate significantly faster. Because of its ease of usage and rapid penetration, the instant type of floral foam is extremely flexible. This type is preferred by event planners, retailers, and hobbyists, hence its name.
Maintaining Floral Foam
Floral foam must be managed and cared for properly. You must ensure that you have taken all necessary safety precautions. The majority of floral foams are composed of phenolic foam which is a material that contains a number of hazardous chemicals, including formaldehyde and carbon black.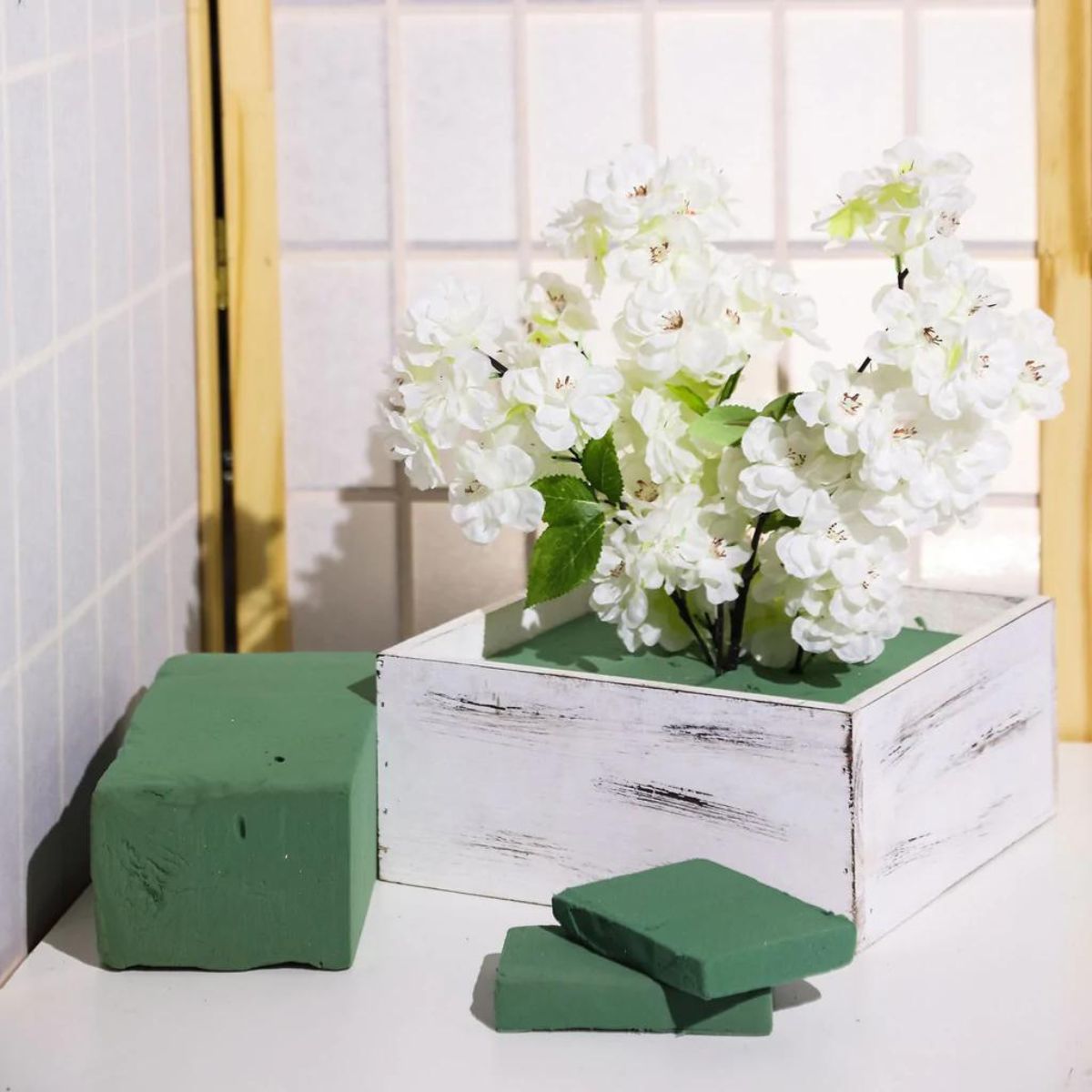 If you're not careful when handling floral bricks, these synthetic elements can pose a safety risk. Wear gloves when handling, soaking, and arranging the flower foam to protect your skin from these toxins. Try to avoid as much exposure as you can and be sure to wear eye masks so that the dust created by cutting the floral foam does not bother your eyes.
How You Should Dispose of Floral Foam After Using It
Properly disposing of floral foam can help prevent more microplastics from entering the air and water. Feldmann points out that, according to a poll of professional florists done by the Sustainable Floristry Network, 72% of those who use floral foam admit to disposing of it down the drain once the flowers die, while 15% apply it to their garden and soil.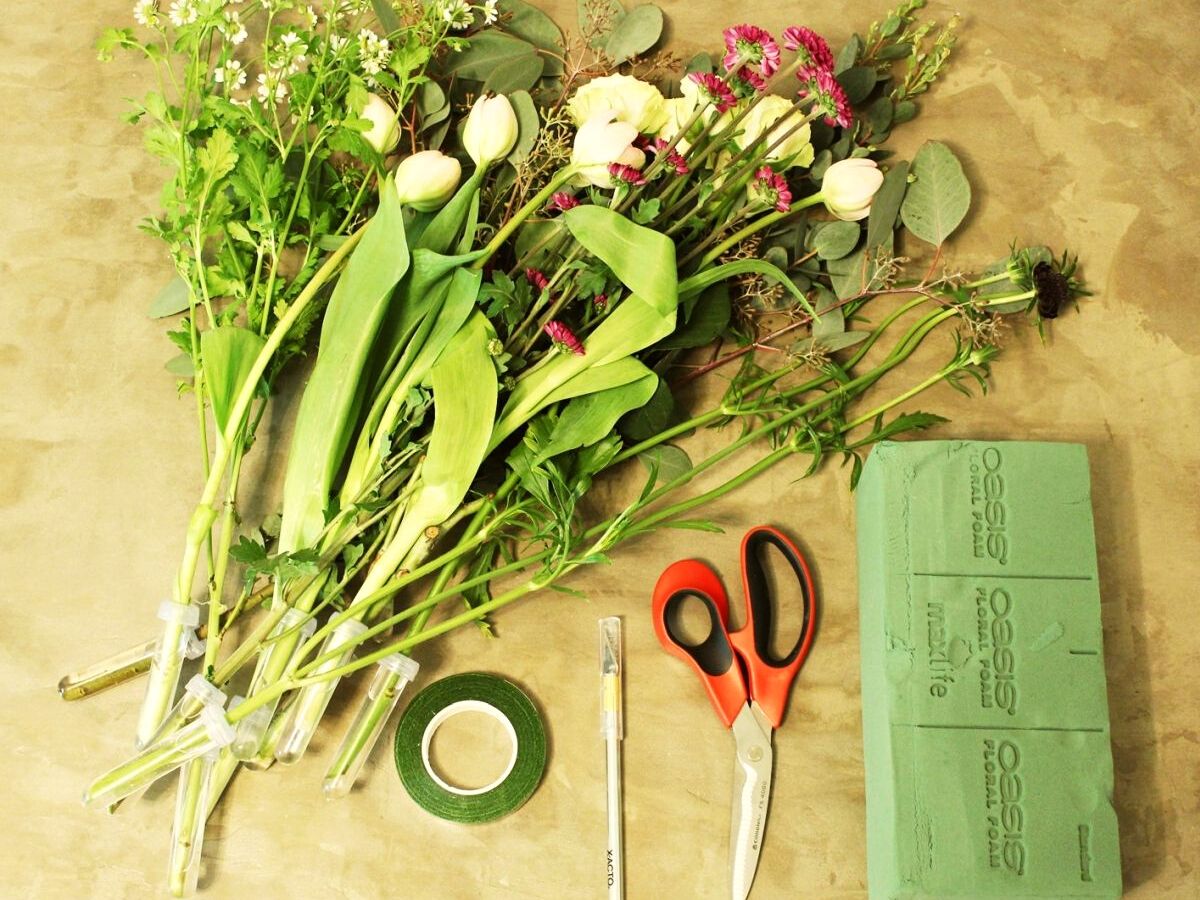 Furthermore, floral foam has made its way into the natural environment by several routes: burial with coffins, through the water system in vase water, and disposal into green waste systems, gardens, and composts when intermingled with the flowers.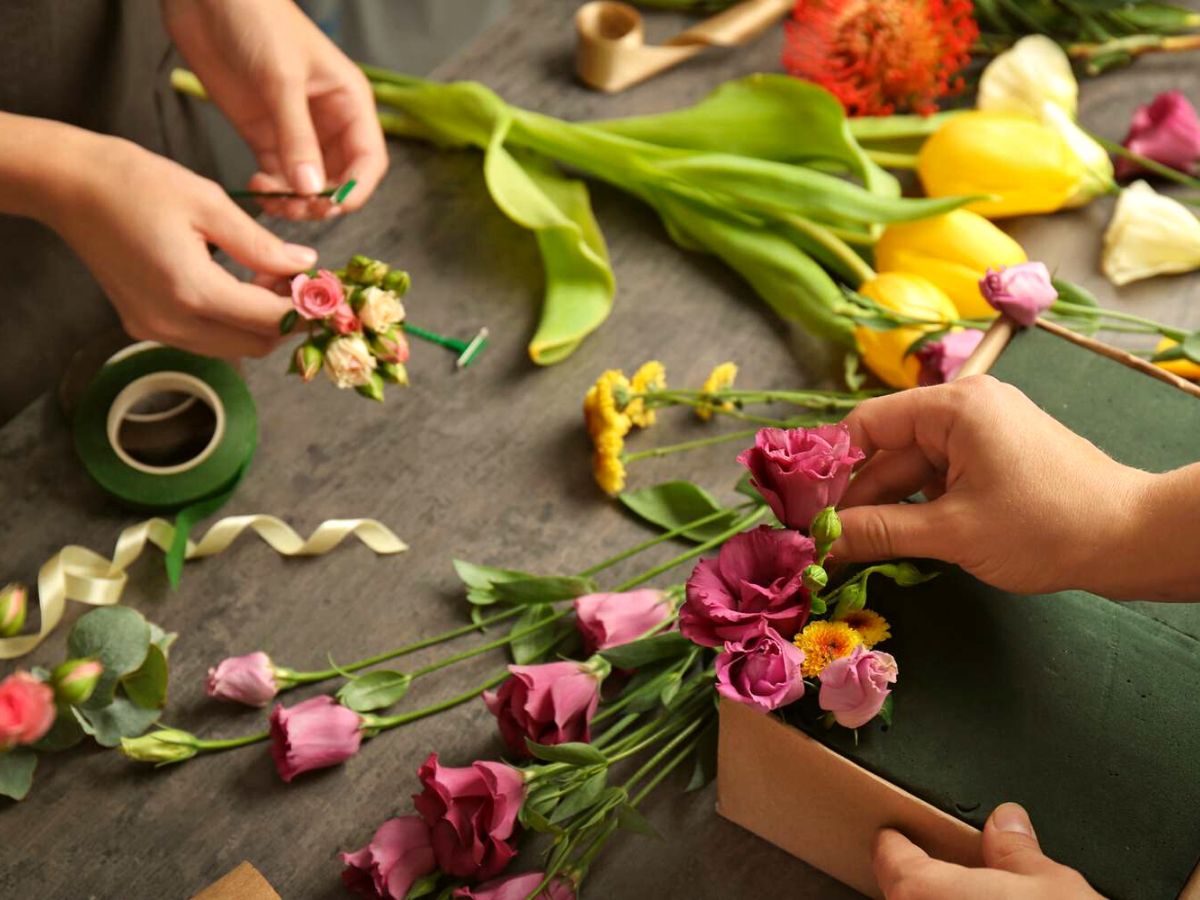 If you must dispose of floral foam, experts agree that throwing it away in a landfill is preferable to washing it down the drain or adding it to compost or yard debris. Feldmann recommends "pouring it through a tight weave cloth such as an old pillowcase to trap as many of the foam fragments as possible" when throwing out water containing floral foam pieces.
Sustainable Floral Foam Alternatives Are Also a Choice
Letting go of the convenience mentality to have a more sustainable future is something all of us should work on so that humans and the industry produces less of an impact on the environment. If you're trying to be a more sustainable person, there are floral foam alternatives like Sideau as well.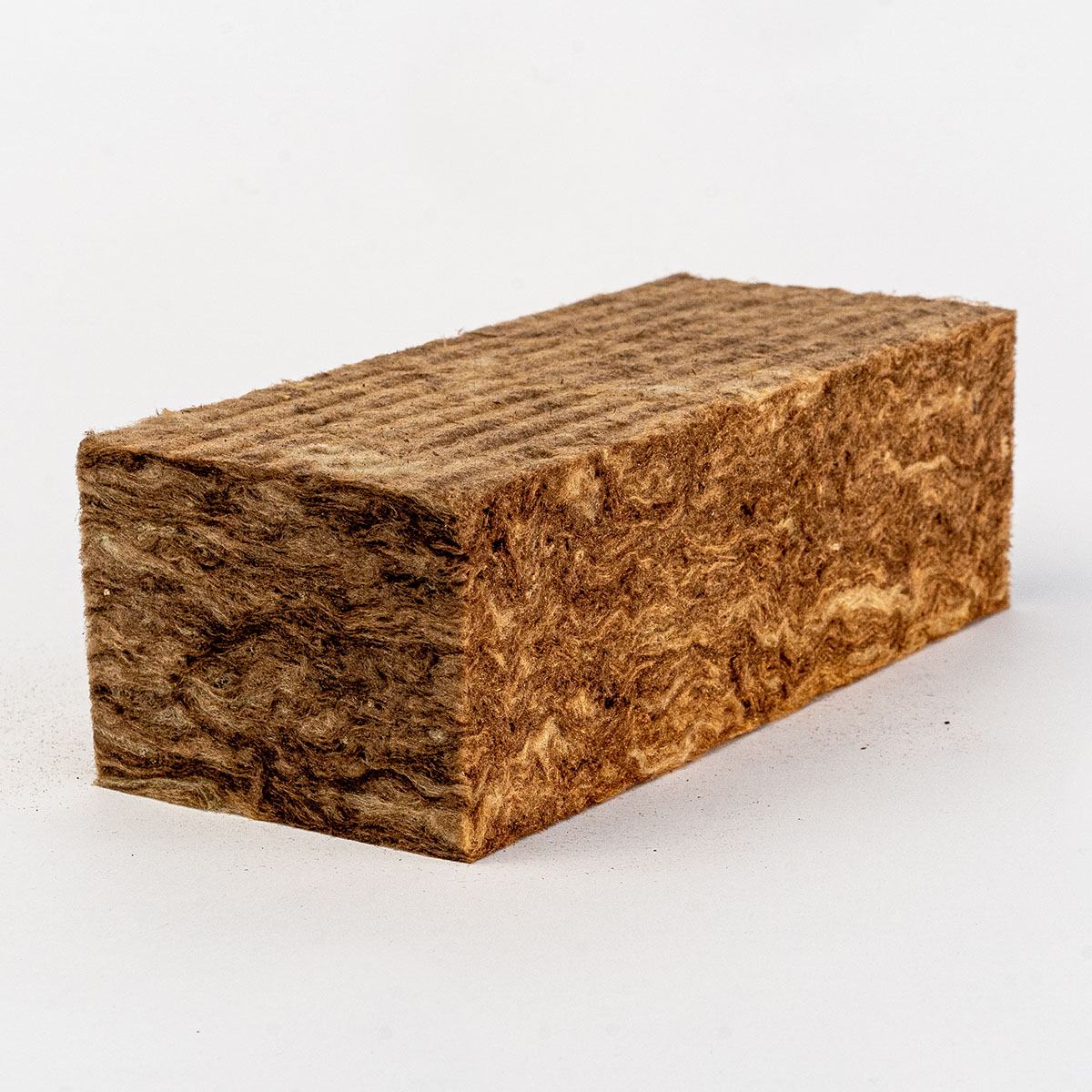 TerraBrick, a 100% biodegradable product from Oasis, is also available. Made from plant-based, renewable, natural coir with a compostable binder, the new product is a great alternative for floral foam. TerraBricks, like Oasis floral foam, absorb water to keep flowers moist while supporting stems in an arrangement. Then, the coir-based product can be composted and utilized in the garden safely.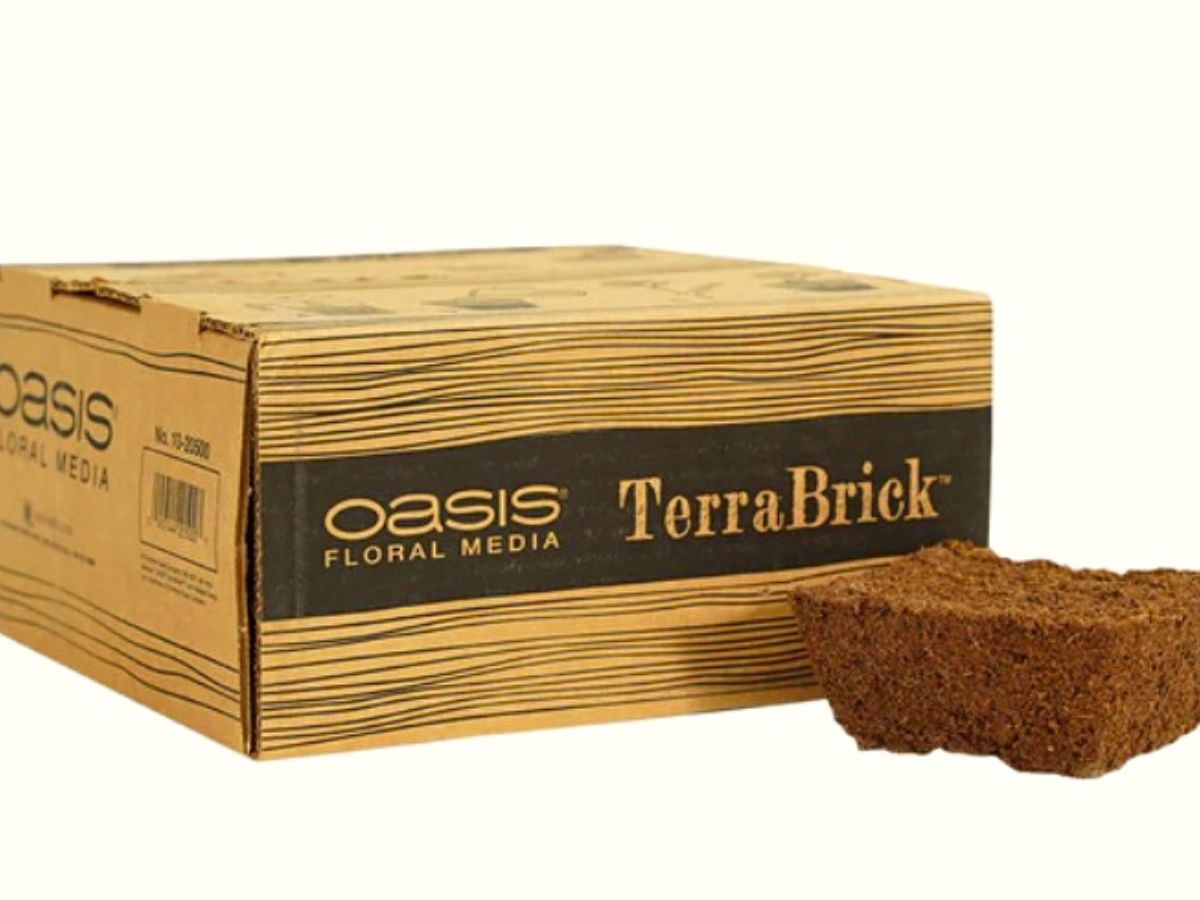 Read also about 'Floral Foam vs. Wire'.