Influenced by the seasons, flower designer 
Mai Yanagisawa
creates arrangements with the unification of colors and textures. Come to know more about the designer that runs flower studio
Toile Blanche
on a personal, innovative, and creative level.
An interview with Mai Yanagisawa of Flower Design Studio Toile Blanche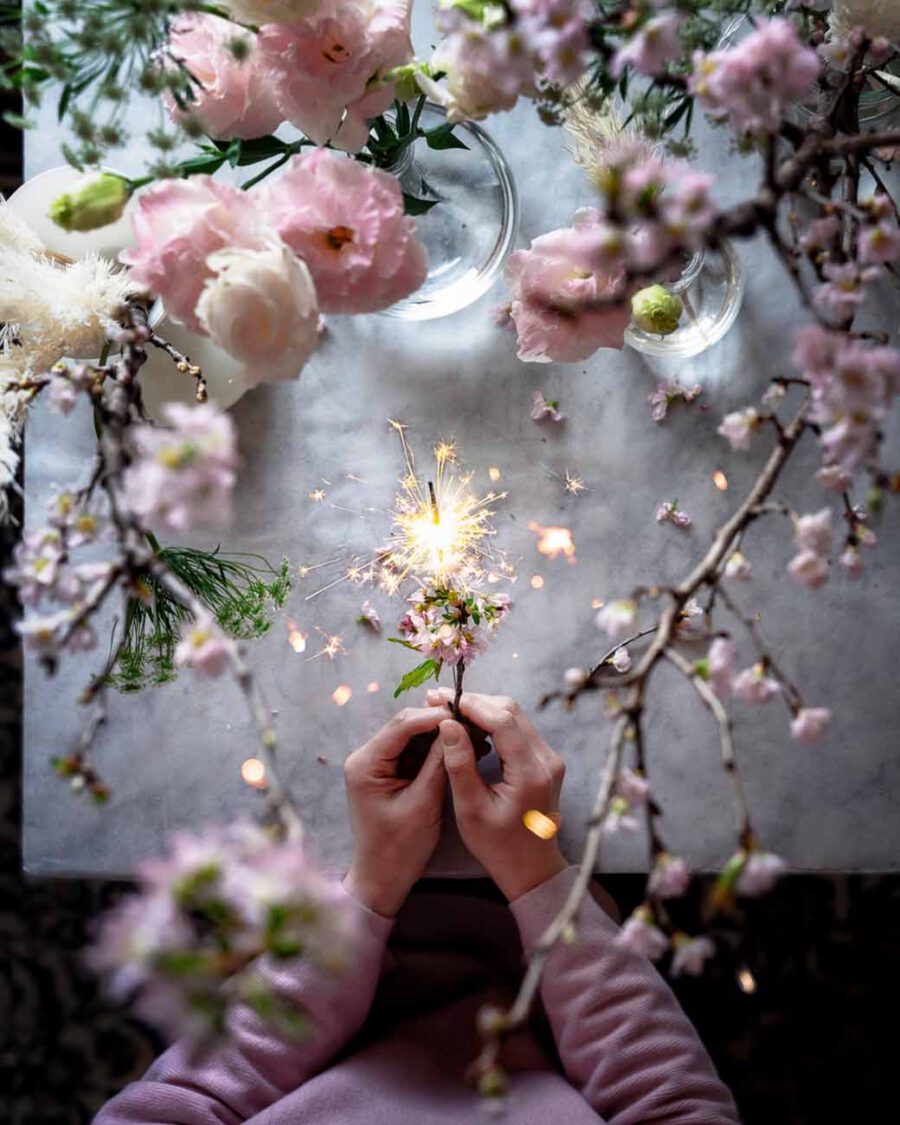 Can you give us an insight into the story of Mai Yanagisawa and her flower design studio?
"I am a floral designer in Japan. I was very interested in flowers and their color-schemes from an early age. For that reason, I had been learning traditional Japanese flower arrangements since I was a junior high school student. After that, I studied various designs at art college. Fortunately, I was later able to work as a flower designer. I am currently leading a flower design studio. My studio mainly produces and sells flower arrangements and holds workshops at various companies. I also do the styling and photography for flowers and products."
What are three reasons why someone would want to get to know you as a floral designer?
"They would be interested in my flower design, the color scheme of flowers that I use, and/or interested in my photographic expression."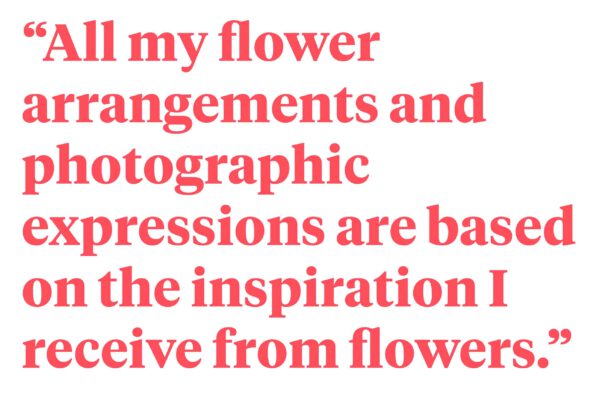 We see beautifully edited photos in your portfolio. Where does this wonderful and dramatic style originate from?
"All my flower arrangements and photographic expressions are based on the inspiration I receive from flowers. Fortunately, there are four wonderful seasons in my country. My flower work is influenced a lot by the seasons. If you go to the flower market now, you can buy all seasonal flowers purchased from all over the world. But I want to make something that fits the season as closely as possible. Because I think that will result in the most natural and the most beautiful work."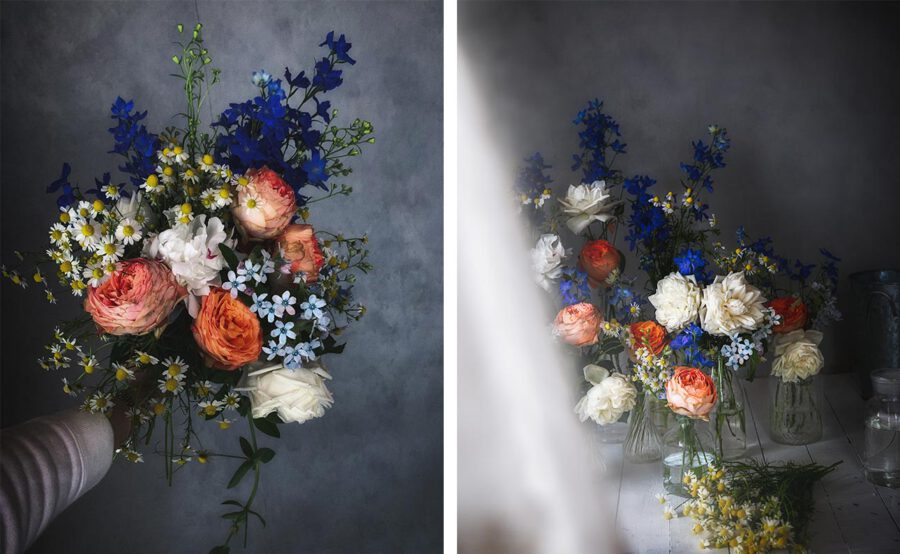 You own an online shop in preserved flowers. How do you set up the preservation process? And mostly for our readers outside of Japan, what type of preserved flower products do you create?
"I ran an online shop specializing in preserved flowers for about eight years. Currently, the online shop is closed. Right now I am designing preserved flower arrangements for various workshops and event displays. Previously, preserved flowers were developed around roses. However, various types of flowers and greens are now being developed. I will produce and provide flower arrangements that use various types of preserved flowers as much as possible and create an atmosphere close to natural flowers."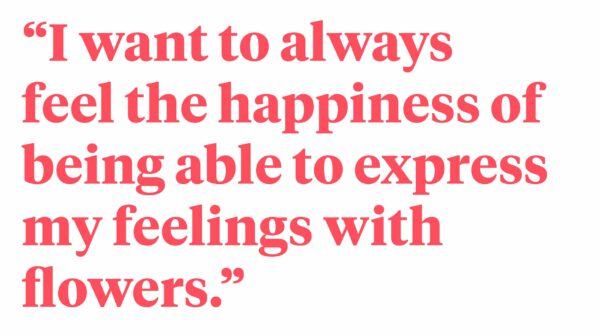 Why are flowers such an important part of your life and what made you decide to travel the globe to gather international experience?
"That is because I just love flowers. I want to always feel the happiness of being able to express my feelings with flowers. The reason I went to the UK and other places to study flower arrangements was that I wanted to see and experience European-style arrangements locally. The reason I stayed in England for a long time (about 15 months) was that I wanted to come in contact with flowers of various seasons throughout the year."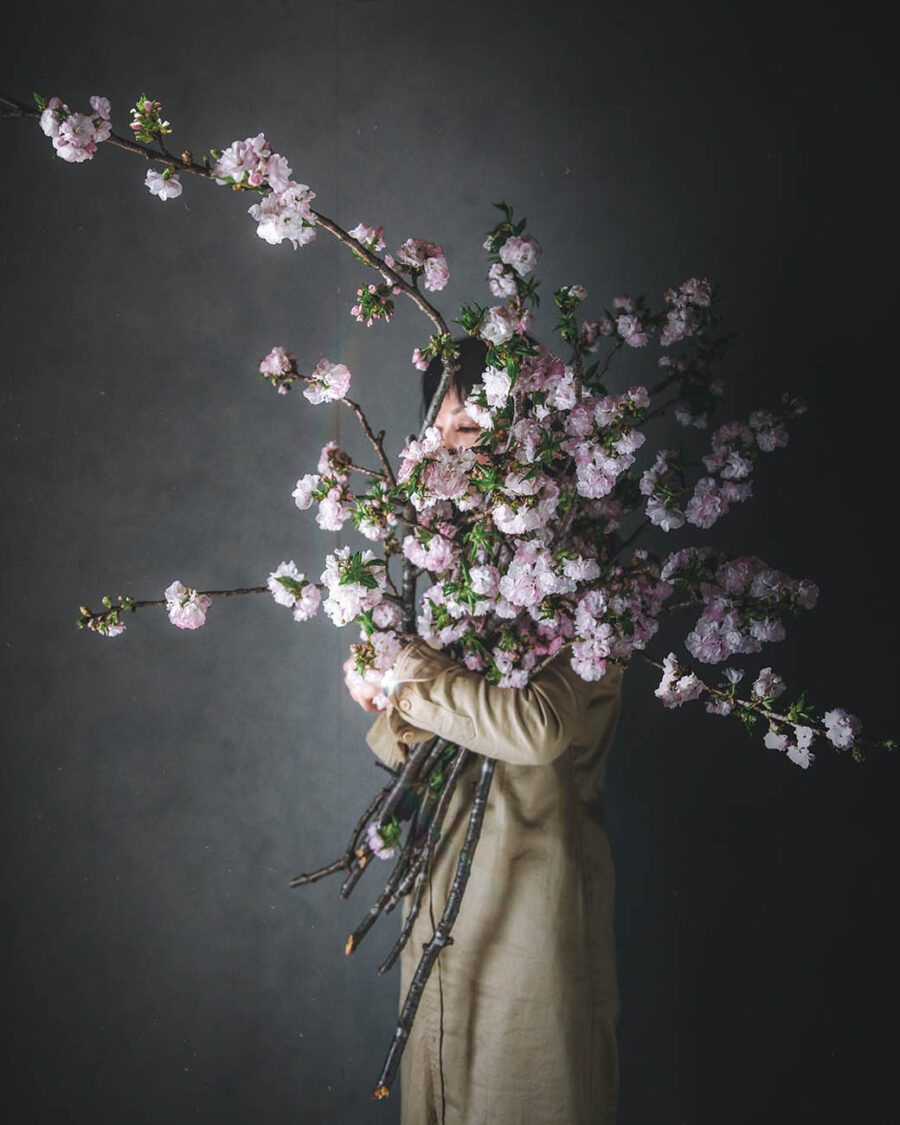 How would you describe your style? Are there any international influences?
"I think my floral style is a European style with a few ikebana elements."
After finishing your studies in the UK, which influences did you take back home with you (e.g. cultural influences or floral techniques)?
"Japanese style ikebana is subtraction. On the other hand, I reaffirmed that the European-style of flower arranging was an addition to that."

It seems that you are a bit of a sweet tooth looking at your food styling photos. There is a lot of cake! This also shows in the soft color pallet of your floral designs. What made you choose to let it come together in your mysterious and moody photography style?
"Yes, I am really a sweet tooth. I love sweet colors as well as sweet tastes. Flowers and sweets make my life bright and enjoyable. It is inevitable for me to take a picture with such a wonderful combination."
What would be your ideal setting: a photo of flowers, a photo of food, or a combination of them both?
"One of the ideal settings for photography is to use natural light. The unification of colors, textures, and tastes is also an important factor. And a combination of them both would be ideal."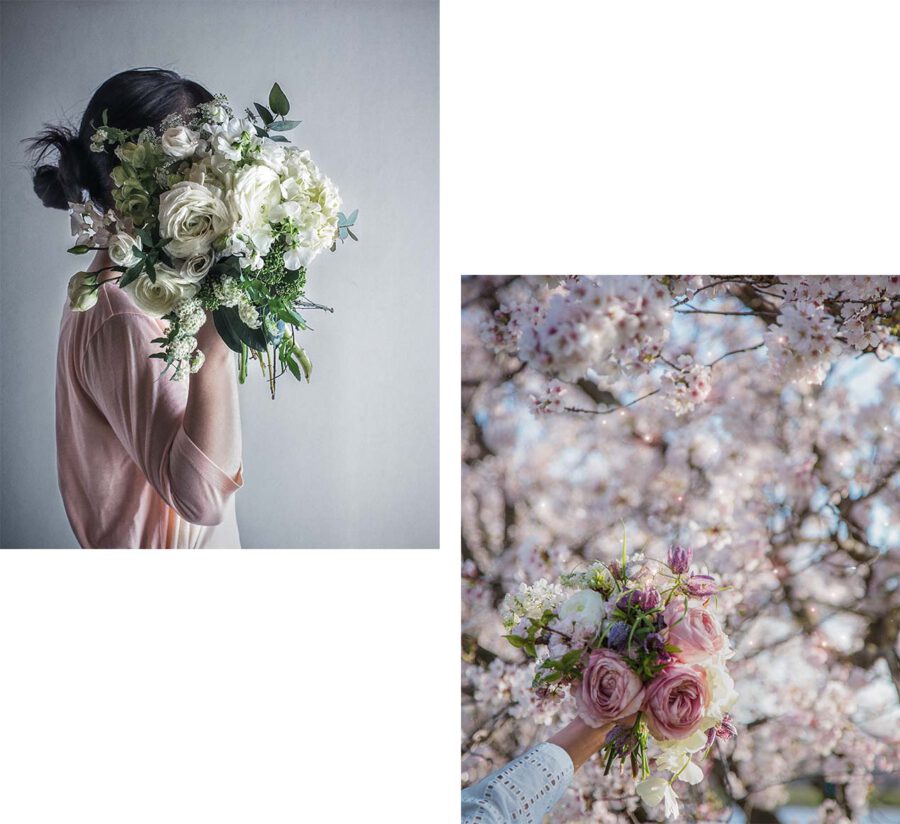 Where do you buy your flowers?
"Ota flower market in Tokyo (Ota Floriculture Auction Co., Ltd.)"
Who tops your wishlist of international designers to work with and why?
"One of my favorite designers on my wishlist is Mary Lennox. Her flower clouds are so impressive. I respect her because she produces arrangements that still remain conscious."
You are an inspiration to people in the field of flower styling and photography, but what inspires you?
"I am inspired by SNS and Art appreciation."