The Next Generation in Breeding
Interplant Roses is most proud of its rich history in rose breeding. For decades we have been one of the world's most prominent rose breeders. And we are always looking towards the future. Which rose varieties will stand out from the crowd in 10 years to come? Only vision can supply the answer to that question. Our vision arises from our shared know-how and close relationship with our customers.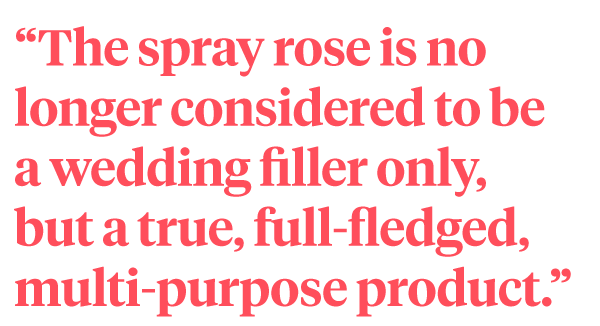 Rose Breeding with Passion, Innovation, Involvement, and Quality
For almost sixty years now, we are experienced in the breeding of cut flower roses, both single heads, and spray (multi-headed) roses. Although Interplant is mainly known as the spray rose breeder, we develop a wide range of rose types such as (intermediate) hybrid-teas, garden shaped roses, and sweetheart roses. Good examples of upcoming HT-varieties are Goldfinch and Good Vibes. Classic hybrid-tea stars like Moonwalk and Explorer are still in high demand.
As for our spray roses, innovation is the keyword with so many new product lines such as the Trendsetters and the Flow Series. Each of these individually unique in its shape, color, growth, look and feel. The past decade our spray rose assortment has been broadened rapidly. A natural consequence also of the increased demand worldwide.
More than a Wedding Filler
The spray rose is no longer considered to be a wedding filler only, but a true, full-fledged, multi-purpose product. Besides the broader assortment, also the color palette and the overall quality of the spray rose has increased. Some upcoming rising spray stars are Impressionist, Flinders Lane, and Leila. Spray rose varieties that are already established and well recognized by the market can be found here.
Maximizing the Vase Life of Spray Roses
The demand for large-headed spray roses has increased considerably in the past two years. That's good news for spray rose breeders and growers. However, florists and consumers can enjoy so much more of this trendy product: research reveals a simple trick to prolong the vase life of spray roses by 30%! Here's how your high-quality spray roses will be stronger and prettier. Interplant Roses asked an independent company to conduct a qualitative study among florists and traders. The purpose was to investigate the impact of the cutting stage of spray roses on their vase life. By running these tests and sharing the results, Interplant Roses wants to improve both the understanding of the product with florists and enhance the consumer experience and perception of spray roses. Read the full story, including some remarkable test results, in this article on Thursd.
Our Latest Varieties
Here are three short video impressions of our latest varieties and a preview of our upcoming spray roses.
New and Upcoming Varieties
Trendsetter Roses Trendsetter Roses refer to the nostalgic garden roses which differentiate from the regular Spray Roses. Their traditional English flower shape gives them a romantic impression. Their uniqueness is characterized when the flower achieves full blooming. In general, Trendsetter Roses have large flowers, can be used in all kinds of bouquets, and give a natural appearance. Even a single stem Trendsetter Rose can invoke a feeling of serenity and beauty. This novel family gives a modern twist to the beloved garden rose. Gentle Trendsetter, Golden Trendsetter, Grand Trendsetter, Jolly Trendsetter, Luna Trendsetter, Party Trendsetter, Red Trendsetter, Sunny Trendsetter, Yoga Trendsetter.
Flow Flowers After thousands of crossings and 25 years of experimenting, Interplant has succeeded in creating a new type of rose family that goes beyond the traditional rose: the Flows! This product is being bred exclusively by Interplant. The chosen varietal name, Flow, alludes to the very special and unique flower shape with ruffled petals and refers to the impression of flowing movement as the bloom matures. Once fully opened up, the blooms create a surprising expression, with varying shapes and color contrasts from petal to petal. The Flows have a sparkling touch and appearance and can also be combined beautifully in bouquets. A long vase life gives consumers the opportunity to enjoy this product for many days. Bridal Flow, Charming Flow, Fair Flow, Ice Flow, Ivory Flow, Show Flow, Sweet Flow
Premium spray roses Premium Spray Roses have the same basic characteristics as Regular Spray Roses. The big difference is that they excel in some important traits. Premium Spray Roses have specific forms and are larger than normal flower sizes. They also distinguish themselves with diverse bud shapes, unique colors, and refined characteristics. Large flowers and limited releases add to the exclusive nature of our Premium Spray Roses. The flower production of our Premium collection of Spray Roses is always medium to low. That is why they are being released on a limited base to designated customers. Leila, Quincy, Gelato, Impressionist, Summerrose, Tanja
Regular spray roses Since the beginning of Spray Rose breeding, we have seen a steady rise in popularity for this special and elegant rose type. One striking element of this rose directly stands out: multiple rose blooms grow on a single branch. With intermediate stem lengths of about 60 to 70 centimeters and relatively small rose blooms, they have a very elegant appearance. As they normally grow 5 to 7 flowers per stem they will make a big impact in bouquets. Spray Roses come in all sorts of colors and shades. You will find Regular Spray Roses in mono and mixed bouquets and they also are great for luxury presentations and creations due to their multiple flowering blooms. Flinders Lane, Justine, Motown, Sancerre, Severina
Hybrid Tea Roses Hybrid Tea Roses are one of the most popular rose types in the world. The typical shape of a hybrid tea rose is a straight and upright long stem with a large flower. The bloom of a hybrid tea rose can be as large as 8 – 12 centimeters in diameter. The rose plant itself can grow as high as 1.7 meters although most hybrid teas have shorter stems for practical reasons varying between 70 and 90 centimeters. Due to its long stem and colorful blossoms, hybrid tea roses are ideally suited as cut flowers. Goldfinch, Orange Wave, Diablo, Good Vibes, Explorer, Royal Explorer, Hot Explorer, and Helene.
Intermediate Hybrid Tea Roses Intermediate Hybrid Tea Roses distinguish themselves from regular Hybrid Tea Roses with smaller stems and rose blooms. The stem length of Intermediates fluctuates between 50 to 70 centimeters. In general, they have a longer vase life than regular Hybrid Teas which make them ideally suited as cut roses in mixed bouquets or rose bouquets. Cool Blue, Smoothie, Primio, Highlight, and Vitara.
The Extensive Interplant Assortment
Interplant Roses has a vast assortment of spray roses that are already very successful on the market and the thoroughly tested stars of the future. Check out the full range on this Assortment Page on the Interplant website, or download the brochure here.
About Interplant Roses
Interplant Roses is an international (rose) breeding company with almost sixty years of experience in the breeding of cut flower roses, both single heads and spray (multi-headed) roses. It is a family-owned company, founded in 1962. The company is now led by the third generation: Robert and Martijn Ilsink. The fourth generation has made its appearance as well. The head office is located in the center of the Netherlands. Interplant has its own test facilities in Kenya and has a great network of worldwide agents and representatives. Interplant Roses B.V. Hugo de Vriesweg 4a 3481 JA Harmelen Netherlands Phone: +31 (0)85 – 06 651 11 WhatsApp for florists: Manon van 't Klooster: +31 6 13 14 07 43 WhatsApp for trade/others: Robert Ilsink: +31 6 23 13 58 62 Email: [email protected] Website: www.interplant.nl