Katya Hutter has her own floral atelier in Amsterdam, Katya Hutter Floral Design. The coronacrisis has terrible downsides, but the only thing that remains is to pick up some positiveness. After the first desperate week of the coronacrisis, Katya noticed the transformation to more positive and constructive ideas. This resulted in a feeling of being much more connected with the industry professionals and her clients right now.
Where is your business located?
My creative floral studio is located in the center of Amsterdam, Netherlands.
Can you describe your customers in general?
I'm specialized in event and wedding floral designs, flowers for the interior. My main clients are private individuals, wedding and event planners, as well as companies. My style is romantic and lush with an artistic flair. Therefore, my clients are people that appreciate this style. I use a lot of different flowers and plants in my designs and work mostly in garden style. My biggest orders come from the wedding and event industry.
Have you been open or closed since the (partial) lockdown in your country?
In the Netherlands we have so-called 'intelligent lockdown'. It means we are allowed to go out. It is advised by the government to work from home and stay as much as possible at home. Our flower market and flower auction in Aalsmeer are open, so I can buy flowers, although there are fewer varieties offered than usual. I continue working, however, most of my assignments for spring and summer 2020 were canceled or rescheduled for the winter or next year. Now I'm receiving requests for weddings and events for next year.
How do you get information these days about the floral industry?
Usually I get this information through social media or word of mouth, as I know personally quite some professionals in the area here and abroad. Also, I follow many florists, growers, and industry-related groups and get information from their posts.
What barriers do you face at the moment of running a successful business?
At the moment the most difficult things for me are the uncertainty and reduced cash flow. Many businesses, that regularly order flowers, such as hotels and restaurants, are closed. In addition, the fact that events are prohibited until the 1st of September 2020 makes the wedding & event industry very quiet at the moment. We know that these restrictions are likely to be extended, no one knows for how long. It is very difficult for my clients to plan an event. People do take risks, hoping that at the beginning of next year everything will normalize. Also, the spending power of individuals and companies is currently a serious problem, as experts say a deep recession will occur around the world. All this directly affects my business.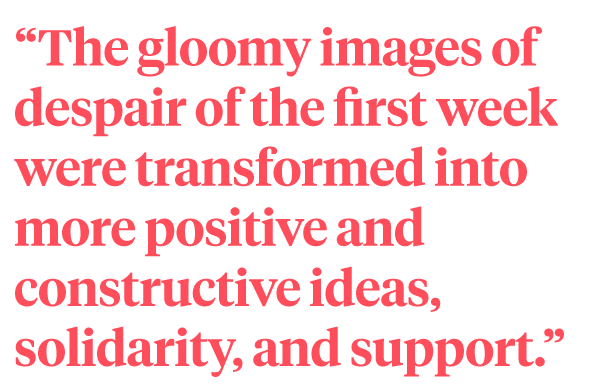 How do you plan to overcome these barriers?
My plan is to continue my work and be effective, do not relax, and do not give up. Finally, I have time to clear my photo archives and update my website. I am promoting my business through professional platforms and social networks, trying to get more requests for the next year to offset the loss of this year. The Dutch government has offered financial help to small and medium-sized businesses and start-ups. I applied for a subsidy. It won't be much, but it will help to cover some expenses this year.
Which inspiring new initiatives have you seen in the industry - or are started by you - since COVID-19?
The first week of the quarantine was terrible: I've heard directly from growers here in Holland, that they were destroying their crops since most of their income was based on export. With no demand from abroad, with fewer flights, it looked like the only option to destroy what they had been carefully growing for months. Fear swept people's minds: there was no room for creative solutions. These terrible images from Royal FloraHolland showed how badly the industry was hit... It was heartbreaking to see and hear. Therefore, the first positive initiatives and ideas of collaboration and cooperation from florists and growers were so important. Jolanda Kats from Van der Lugt Lisianthus has organized collaborations with florists. And Thursd. made posts and content encouraging people to buy flowers. Jeff Leatham told about a big promotion initiative of the Bloemenbureau Holland 'Let Hope Bloom'. There were more and more encouraging words and actions. The gloomy images of despair of the first week were transformed into more positive and constructive ideas, solidarity, and support. It is really beautiful, and I believe this approach will help us to survive the big crisis.
How important is it for you to lift each other up in these times and what does that mean for you and the bond with your colleague professionals and business relations?
I feel much more connected with the industry professionals and my clients right now. There is much more understanding and empathy for each other. As one of my friends said, it looks like the global rat race is over. People stopped and realized that it is not only their individual race in obtaining happiness and prosperity for themselves and their families, that was important. We are all a small part of the big world where everything is connected. There are other people and creatures with their goals and desires, and each of us has the right to be happy and enjoy life. There is nature and our relationship with it is far from perfect. If we remember it, cooperate, help each other, take care of our local community, and nature, we will have more chances to reach this common goal and have a happier and more prosperous future as a result of this crisis. Someone sent me a great encouraging video about an incident during the first Paralympic Games in Salt Lake City. A group of runners with Down Syndrome started their race, one of them fell, and the rest of the group immediately turned back and helped him up. After that, they continued running together, embracing each other, as one group, and they all as a group came first and looked happy. I was very moved by this.
What do you think is the biggest issue in your segment of our sector (being a floral designer) at the moment, from your perspective?
I think that the biggest problem for florists is a decrease in demand from the private sector and organizations, a decrease in cash flows, and uncertainty in the flower industry as a whole. We are not sure how growers will overcome difficulties, how this will affect prices and supply. When evaluating projects for the next year, I keep in mind and inform my clients that prices can change. Living in the Netherlands, the country of flowers, we are very spoiled with relatively cheap and high-quality flowers. We have many local growers, and I really hope that they will receive help from the government or the EU to survive these difficult times. I also hope that the flowers will not become unaffordable luxury.
How will COVID-19 affect your future storyline?
Wedding and event floristry stays my priority, though I understand that in terms of income it is now a less attractive area. I'm thinking about other directions and working on new products. Well, I'm quite new to this business, so for me, this situation is a challenge. Though I feel confident about my offer and quality of the work. The flow of requests did not stop, it means that people like my work and want to order my products and services. All this encourages me to continue. I believe in a positive outcome and work hard at the moment to keep my business afloat.
Can you walk us through the immediate and expected (long-term) consequences of this crisis?
For me personally, I think this means less revenue this year, less collaboration with photographers and growers. I really hope that in 2021 the event and wedding industry will return to normal, that my agenda and those of my colleagues will be busy again. I believe in everyday activities that shape my future. Perhaps I will find a new expansion area and my expectations will be exceeded. As an entrepreneur, I know that my success largely depends on my work and partly on luck. I wish everyone connected with the flower industry to stay creative, positive, healthy and take a walk on the sunny side of the street.
Photos courtesy of Consuelo Edeling and Katya Hutter