My Peony Society
My Peony Society
is located in Aalsmeer, near Schiphol. In the heart of the Dutch flower export at the Royal Flora Holland auction building. My Peony Society is an association by growers, for growers. They unite expert peony growers, traders, wholesalers, florists, and stylists. They are passionate about the perfect peony. As an association, they share resources and knowledge, research new technologies, and innovate. Together they cultivate the highest quality peonies, for fans all over the world.
How is Marty Star, owner of My Peony Society coping with the current Corona outbreak?
An interview with Marty Star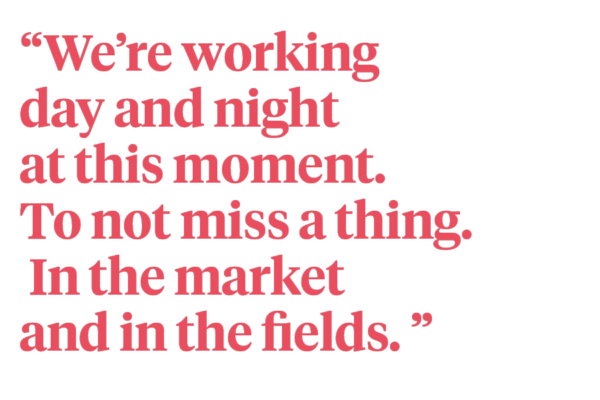 Can you describe your customers in general? What do they buy generally in your shop?
Our customers are wholesalers and retailers in the highest segments of the market. We love to keep in touch with florists and designers as well, and inform them about the amazing varieties that we have and are ahead of us. But we're not capable of supplying them directly due to logistics and administration. See us as a grower.
Have you been open or closed since the (partial) lockdown in your country?
We're open and are rocking the season right now! We're that kind of type that never gives up hope and as far as we are concerned, hope didn't gave up on us as well. Untill now we see that all our customers are supporting us and help us wherever they can. And in turn, we are helping them as well. We're working day and night at this moment to not miss a thing in the market and in the fields. To connect the growers with the buyers.
How do you get information these days about the floral industry?
The information from the different markets we get from the growers we work for and of course from the daily contact we have with all major flower exporters and wholesalers all around the world.
What barriers do you face at the moment of running a successful business? And how do you plan to overcome these barriers?
The biggest challenge that we have to deal with is that there isn't enough labour force for our growers to harvest the flowers. From this, we try to adapt our strategy to "less is more". So we're only harvesting the very good and excellent peonies and let go of the ones that are usually used in the "lower segment". This is good for on how people perceive the peonies, because the flowers in general have a better quality this way.  So the consumer gets more value for money.
Which inspiring new initiatives have you seen in the industry - or are started by you - since COVID-19?
The best thing I've seen in the industry is that everyone is united in the same goals. It is all about the common goals and cooperations to reach it. We all need the flower industry to survive and see it as a higher goal. Everyone seems to be aware of the fact that "united we stand, divided we fall". There are various initiatives to illustrate this, but personally I liked the "Bloom for hope" action the best. For me (as a millennial) "hope" didn't have any meaning before COVID-19. Everything went perfectly well. Until the virus came and ended our fairytale. So from that perspective Bloom for hope to me was, the ultimate, floral message to the world. A gesture to others while the industry itself needed it so much. Ultimate selflessness, just bloom!
How important is it for you to lift each other up in these times and what does that mean for you and the bond with your colleague-professionals and business relations?
At My Peony we're all driven by passion for our product, we look out to the season all year. It's like a rush and you just can't get enough of it. Everyone in our company shares this sentiment, it's like being infected with a virus. But a good one! So when the season started we didn't need to lift each other up. It's all automatically, the growers give all their energy of a whole year in three weeks of harvesting. And while we're working with it, we feel this energy as well. And it becomes a part of us. It became a part of who we are, we have a really special culture. All our people are aware of it, even seasonal workers. And despite Corona, the time for us is now!
What do you think is the biggest issue in your segment of our sector (being a florist, grower, trader or breeder) at the moment, from your perspective?
Peonies are the ultimate wedding flower (but who am I? I'm not objective) and due to COVID-19, weddings and events are all cancelled. We definitely will miss this segment a lot but we also believe that there will always be customers for beautiful flowers. We hope for it to be like this!
What is the story behind your business and how will COVID-19 affect your future storyline?
We're working on ways to communicate faster. High-tech will be more and more embraced in our company. Not necessarily because of COVID-19 but it definitely speeded up the process. Since we founded My Peony, we grew to a society of more than 30 growers. The most important thing that we do is to communicate, to make each other more enthusiastic, to learn from each other, and to complement each other. In order to do this we need to connect growers with each other and with customers and we need to visit each other frequently. Thanks to COVID-19, 2020 is a lost year in terms of visiting each other. So in order to overcome these problems for now and for the future, we're working on ways to digitalize this. We're working on data measurements in the fields, we're working on data flow in logistics and we're working on dashboards where we can share knowledge. We try to connect the world in its most simple way and it will be challenging this year. But with hard work, I know we will succeed!
Can you walk us through the immediate and expected (long-term) consequences of this crisis
As I told before, on the short term we see the demand for wedding flowers decrease at the commercial side while we also notice difficulties in harvesting the peonies due to labor. Therefore we will focus on a 'less is more' strategy. Technology will get a prominent place in our near future and we will do the utmost best to make the most out of it!
Marty Star