The House of Meilland has more than 200 employees in France alone. Meilland's research team is dedicated to the creation of rose varieties for cut flowers (fresh flowers) and varieties for garden and landscape. They have a garden roses production company (grafted and cutting) and a mail-order company that sells rosebushes, plants, bulbs, and seeds. The Breeding center is in France (near Nice), the online sales and pot production is in France near Lyon. They also have production fields in Spain (Sevilla), and trials for cut flowers and pots in the Netherlands (Leimuiderbrug)
How Is Matthias Meilland Coping With the Current Corona Outbreak?
An interview.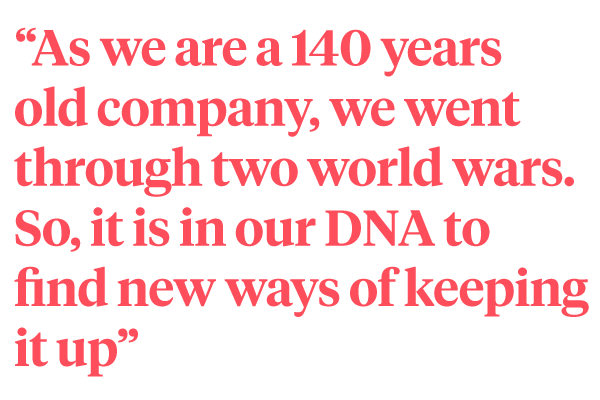 Can you describe your customers in general? What do they buy generally in your shop?
Talking only about the breeding part of our business, we don't have a 'shop'. We are creating varieties and managing the rights of those for propagators. Our customers are propagators of plants or of cut flower of roses.
Have you been open or closed since the (partial) lockdown in your country?
The breeding and selection is working. The salesmen are doing work from home. The online sales of plants for France and Italy are also working.
How do you get information these days about the floral industry?
We keep in touch with the growers all around the world, our agencies are feeding back on their markets. But we also get lots of news from Newsletters.
What barriers do you face at the moment of running a successful business?
Not being able to visit trials at growers, not being able to travel to meet with clients. No events for novelty launches.
How do you plan to overcome these barriers?
Well, for visits trials/travels: we organize video conferences with our clients to visit greenhouses and discuss. For events, we postpone them to at least this coming fall.
Which inspiring new initiatives have you seen in the industry - or are started by you - since COVID-19?
Learning how to select new varieties by not traveling wasn't an option before. Now we are finding out that it is possible, although we don't know yet if it will enable us to make better selections.
How important is it for you to lift each other up in these times and what does that mean for you and the bond with your colleague-professionals and business relations?
We understand the situation. As we are a 140 years old company, we went through 2 world wars, in May '68 (France was locked for one month) and as we work in many countries, we already experienced those type of measures locally. So it is in our DNA to find new ways of keeping it up!
What do you think is the biggest issue in your segment of our sector (being a florist, grower, trader or breeder) at the moment, from your perspective?
We will face having less royalties this year, but this will be temporary.
What is the story behind your business and how will COVID-19 affect your future storyline?
Negative side: Less royalties, risk of clients closing. Positive side: Less « carbon print » in selection, more breeding focus.
Can you walk us through the immediate and expected (long-term) consequences of this crisis
No idea at that point ;)
- Matthias Meilland