Neill Strain Floral Couture introduces the new Collection of Valentine's flowers crafted especially for Valentine's Day 2021.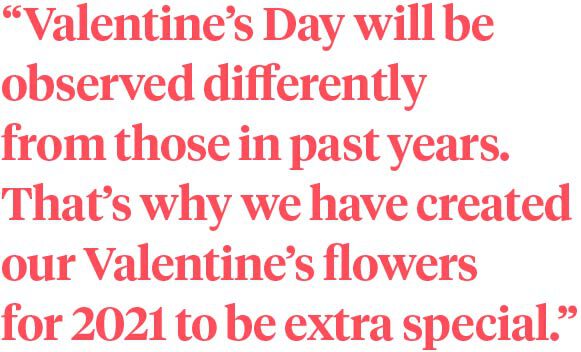 A Special Valentine's Day
With flower deliveries available across London on the special day which falls on a Sunday this year, Neill's Valentine's flowers are undoubtedly the most beautiful and the freshest in London. In this blog post, Neill explains why…
Like every celebration during Covid times, this year's Valentine's Day will be a special one. With any easing of restrictions looking unlikely in the near future, we can presume that for many, Valentine's Day will be observed differently from those in past years. That is why we have created our Valentine's flowers for 2021 to be extra special.
Our 2021 Valentine's Collection
Our 2021 Valentine's Collection of red Rose bouquets varies in size from six to one hundred Roses. You can order a bouquet with 6, 12, 18, 24, 48, or 100 Red Naomi Roses, adorned with gold-painted Wax flowers and seasonal foliage, presented in an elegant, leaf-lined glass vase. These bouquets are overwhelmingly beautiful, not just for the design but for the extraordinary quality of the Roses.
In our usual, unique way, we source our flowers directly from the very best growers and sourcing red Roses and romantic blooms for Valentine's Day is no exception. In the life of most British florists, Valentine's Day is the busiest day of the year and the challenge is to procure fresh, high-quality red Roses. We order our Roses in advance at Porto Nova, reputably the best red Rose grower in Holland, owned and run by a family that has been working in horticulture for 115 years and exclusively producing the new Red Naomi Rose variety since 2006. From their state of the art glasshouses, they select and pick for me the very best, most perfect flowers they have. Those that have spent a little longer growing on the plant, where the heads are a little or even a lot bigger, the stems are taller (80 cm) and stronger, their general state is a paradigm of strength and beauty. Following conditioning, the flowers are sent straight to our Belgravia boutique and arrive within less than 24 hours of picking. The quality is quite breathtaking.
My Only Choice of Red Rose
Red Naomi Roses, and in particular those from Porta Nova, have the largest petal count of all red Roses on the market today. The quintessence of romance, these blooms are incredibly long-lasting, very strong with sturdy, long stems sometimes exceeding 80 cm for the Supra premium range which is what the Porta Nova growers select and pick for us. Furthermore, these Roses have a subtle, delicate fragrance which is rare to find in such a hearty Rose since most fragrances have been removed by breeders in favour of longer vase life. The fullness, velvety texture and rich deep colour make these remarkable flowers my only choice for our red Rose Valentine's Day designs.
Our magnificent fresh floral heart, a dome-shaped heart created with 24 Red Naomi Roses embellished with pink Waxflowers and Skimmia and framed with Cornus branches and Asparagus fern is a work of living art. Carefully crafted by our talented florists, this presentation of red Roses is an incredible way to express one's love on Valentine's Day.
For those who prefer pastel colours to red when it comes to Roses, our Avalanche Rose bouquet is the perfect Valentine's Day gift. Available with 6, 12, 18, 24, 48 and 100 Roses, these uncommonly tall and big-headed Roses are equally as impressive as our Red Naomi Roses for Valentine's Day.
Florist's Choice Valentine's Bouquet
New to our Valentine's Collection this year is our Florist's Choice Valentine's Bouquet. Available in 3 colour palettes, whites, creams and greens, reds and pinks, and pretty pinks, these Valentine's flowers are created with a selection of stunning flowers chosen by our florists.
Petite Couture Floral Arrangement
Last but not least in our Valentine's Collection is a Petite Couture floral arrangement together with our fragranced candle "Rose & Oud." Utterly and unashamedly opulent, the sensual character of "Rose & Oud" makes an enticing Valentine's Day gift. Oriental Oud adds to the exotic scents of Amber, sultry Musk and romantic Patchouli combining remarkably with the lingering floral fragrances of Rose, Geranium and Jasmine on a delicate base of wood, Vetiver and Raspberry. Learn more about this richly-scented candle here.
Belgravia Boutique Valentine's Display
Even though our Belgravia boutique is officially closed, we are open every Monday to Saturday, and on Sunday, February 14th, from 10 am to 4 pm, for Click & Collect and telephone orders. Our Valentine's display this year comprises lovely red Roses together with Myrtle, Hedera (Ivy) berries and trailing branches. The red Rose heart is centred between two lovely red Rose urn displays in the windows. Undoubtedly one of our most elegant Valentine's installations.
Last spring when the first lockdown was imposed, hundreds and thousands of flowers were being thrown away due to lack of demand since all florists had temporarily closed their doors. Ten months later, however, our growers are now telling me that they have never been so busy! As people spend more time confined at home, they are ordering more and more flowers and plants. As quantities are limited for Valentine's Day, I urge you to order your Valentine's flowers early to avoid any disappointment. You can order online or call the Belgravia boutique on 020 7235 6469. The deadline for ordering your Valentine's flowers is 1 pm on Saturday, 13th February, after which time you should call the boutique to see if we are able to help you. You can Click & Collect or we will deliver anywhere in London. I hope you have enjoyed this visit to our Valentine's flowers and we look forward to hearing from you soon! Florally yours, Neill x