At
Red Lands Roses
we work hard, yet consciously, producing the most beautiful roses in the world. This is only possible because, in addition to our quality standards, we prioritize the health, safety, and social welfare of our people. This is a story detailing the 8 steps towards achieving our quality goals.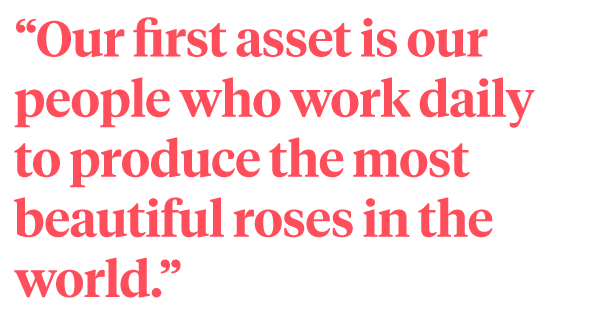 Garden, Spray, and T-Hybrid Roses
Red Lands Roses
was established in 1996 in Ruiru, on the outskirts of the capital city - Nairobi, Kenya. The altitude of about 2,000 meters and the proximity to the equator are ideal conditions for the cultivation of roses. We specialize in growing and exporting Garden, Spray, and T-Hybrid roses of the highest quality in a range of around 200 varieties. Our roses are grown in 28 hectares of greenhouses on a 100% hydroponic system. Instead of soil, we use volcanic material which is dug out from close to the farm, washed, and sterilized. Besides top-quality roses, this system ensures the maximum recycling of water,  and no rejects of phosphates and nitrates seep into groundwater. All this we do to ensure that we take care of our environment and ensure sustainability in its use. We are internationally recognized by these labels below for our practices that respect both people and the environment:
MPS-A, the highest grade for environmental care
KFC, Kenya Flower Council - Silver Grade
Global GAP, for good agricultural practice
In this short CNN special we show how we are able to make a mark in the challenging Japanese market.
Some Varieties
To see all our 200 varieties, we invite you to find the comprehensive
roses catalog on our website
. What's your color? What's your size, or shape? Everything's there, Mini Must, Garden, Spray, and T-Hybrid roses. To name a few...
Ensuring the Highest Quality in 8 Steps
All processes at Red Lands Roses are aimed at ensuring that each stem that our clients receive is of the highest quality. In order to make this possible, we take the following 8 steps:
Invest in computerized climate management and feeding system in all the greenhouses
Analyze each stem that is harvested, one by one, for several parameters such as

opening stage
bud size
shape
color
stem strength
straightness of the stem

Send samples of our roses to independent flower experts in Holland, France, and Japan who check the quality standards in terms of sorting, bunching, and boxing and advise us accordingly to ensure our clients receive the best quality product
Invest in a traceability system where each stem is monitored all the way from harvest, grading, boxing, and shipping. All stems can be traced back to their greenhouse of origin in the event that any variety needs intervention
Attach a tag to each bunch to ensure that our clients can recognize our roses effortlessly. The Red Lands Roses tag is our guarantee of quality to our clients
Pack all our flowers in recyclable boxes, without glue or staples
Offer different types of boxes adapted to clients' needs and the size of flowers
Place data loggers in boxes to monitor and record temperature from our cold stores to their final destination. Any non-conformity is shared with shipping agents for control purposes
All our processes are geared to ensuring that we continuously improve the quality of each stem.
We select only the varieties with the longest vase life. Our varieties have an average vase life of 13 days.
Our Peoples' Welfare
Our first asset is our people who work daily to produce the most beautiful roses in the world. Health and safety is a priority. Our daycare center for young children, school fees sponsorship for all employees, bicycle project, solar lamps project, a communal organic vegetable garden, and medical cover for all employees and their families are among our social efforts for the well-being of our employees. Our full unionizable staff is a member of the Kenya Plantation and Agricultural Workers Union (KPAWU) which represents agriculture sector workers in Kenya. We have twenty shop stewards who represent the staff in union matters. The shop stewards are allowed 30 minutes of paid time every week to train the staff on labor-related matters. When the COVID-19 pandemic struck and the business was badly hit, the Red Lands Roses management ensured that no staff was fired. Instead, they worked part-time hours, ensuring that all staff maintained their source of income here at the farm. In addition, a number of measures were put in place to ensure that the farm was compliant with the Ministry of Health requirements to make all workplaces compliant with COVID-19 regulations. This is a video story about how Red Lands Roses coped with COVID-19, exercising resilience, ensuring that staff is taken care of, in spite of the circumstances. At the farm, we have several hand washing and disinfection points, temperature sensors, masks for all employees and their immediate families, and markings indicating a distance of 1.5 meters in between persons in common spaces. The staff is also trained continuously by the company doctor on how to ensure that they and their families remain safe. We at Red Lands Roses recognize that we need to ensure the wellness of all our 500 employees in order for them to work as tirelessly as they do to ensure that the quality standards at Red Lands Roses are maintained.
Supporting Maasai Women
In addition to internal systems that ensure sustainability and welfare of our employees, Red Lands Roses supports a Maasai Women Group by purchasing their art in the form of bracelets which they sell to take their girls to school. All the funds raised by this women's group are used to educate the girls who are often ostracized by their communities for refusing to take part in female genital mutilation (FGM). This is Red Lands Roses's way of supporting the Maasai girls and showing our stand against FGM.
Contact and Follow Red Lands Roses
Red Lands Roses Ruiru Kamiti Road (C63) Ruiru, Kenya Phone: +254 708 600 504