Pascal Phaner is a renowned French floral artist that has completed many activities to date on his path as a designer. Without having a true interest in flowers, his path lead him into floristry and turned it into his greatest passion that now devours for the greatest part of his life. Traveling the world for demonstrations and giving others a true peek into his designs, techniques, and ideas... COVID has restricted him to his home country where he now, fortunately, had the chance to choose the things he really wants to do, such as finishing his book.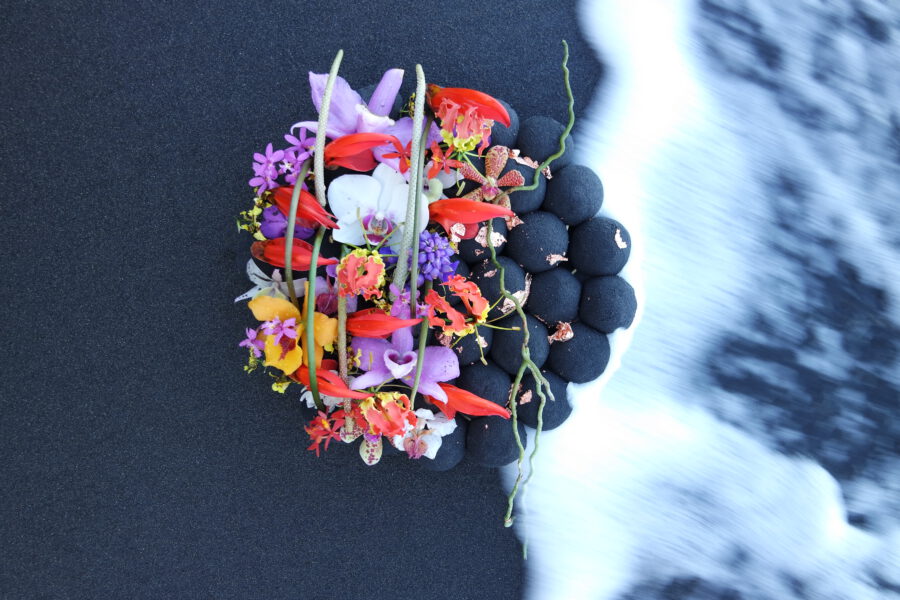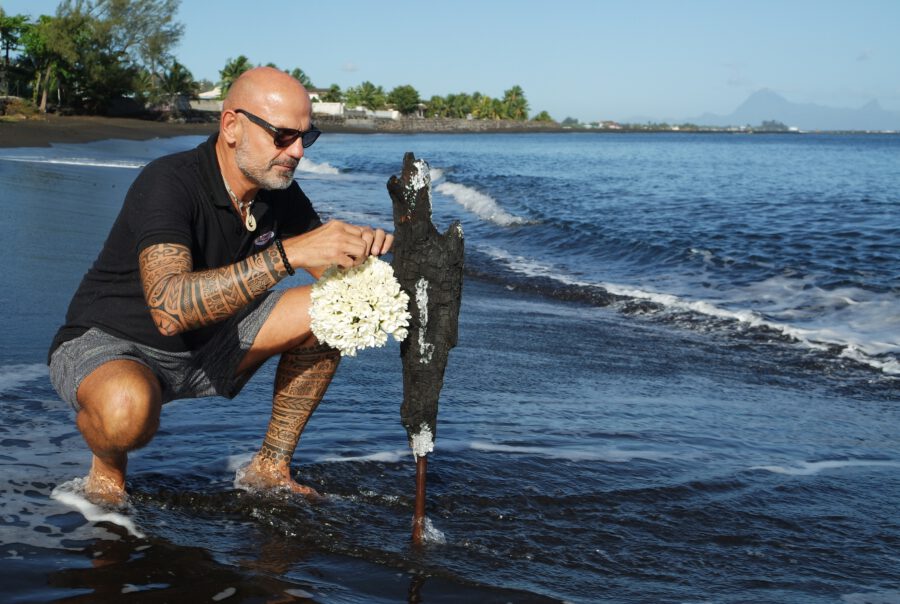 An Interview with Pascal Phaner - Meilleur Ouvrier de France
As a true inspiration with the diploma of the Concours Meilleur Ouvrier de France, Pascal talks about the influence of this title on his florist profession. Learn how traveling the world made him not only connect with other florists, new cultures, and techniques but also with himself on a creative and passionate level. Pascal Phaner, an open and passionate florist with an interesting path into floristry that is worth reading about.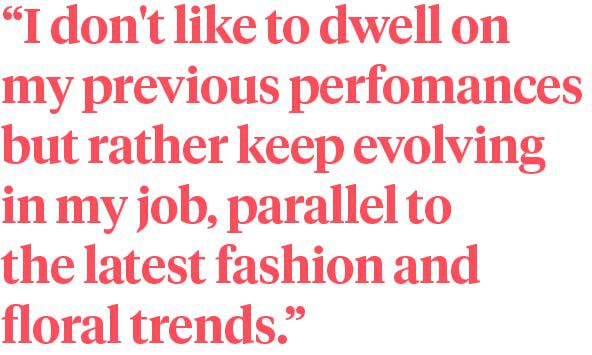 First of all, who is Pascal Phaner, and can you share your floral journey so far?
"My floral journey consists of many activities so far. I started in horticulture and once I graduated, I switched to a florist apprenticeship to escape the compulsory military service at that time in France and postpone my departure deadline.  Once I obtained this new florist diploma, I went to Tahiti for a year and a half where I got acquainted with tropical plants. Back in France, I worked in a florist shop and little by little I combined it with giving lessons in a CFA (Red: 'Centre de formation et Apprentissage'; a training and learning center) in Lyon. These two activities lasted a number of years but it was especially in 1998 after a meeting and an internship at the training center of Parisian florist Guy Martin, that I started to take part in competitions. Since then, in my perception, I have really evolved in creativity in my profession.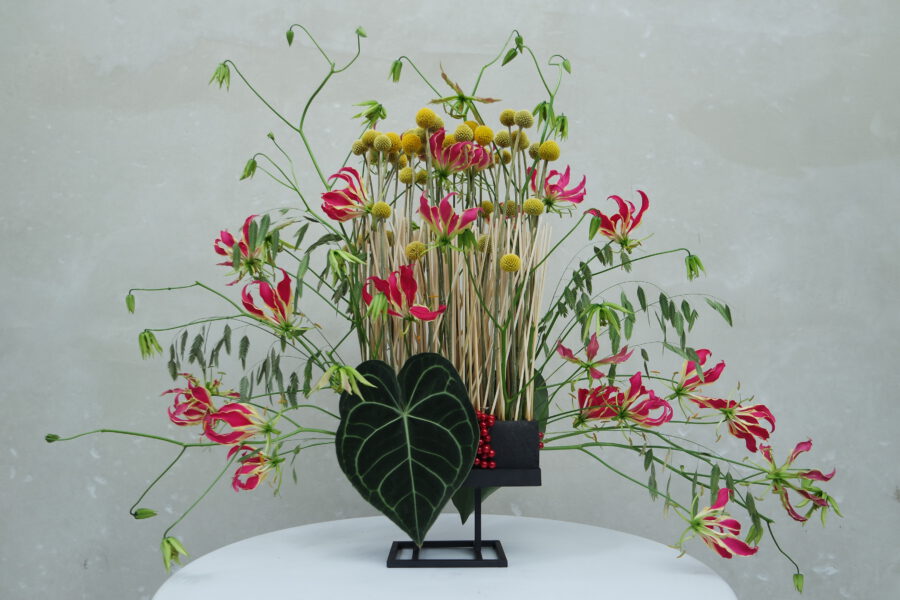 I had the chance to do several demonstrations in Taiwan, Tahiti, the island of Reunion, and Japan. At the same time, I started working for Smithers-Oasis as an ambassador for the brand and as an employee at a wholesaler in Lyon. In 2007 I obtained the title in the 'Concours Meilleur Ouvrier de France (MOF)'. (Red: A prestigious title for craftsmanship in a particular profession. Every 4 years, multidisciplinary, this competition represents 230 professions gathered in 17 groups or sectors. The competition is to win the title in which you have to take your profession to a higher level with a number of basic materials by making a masterpiece.) I am constantly evolving in my work and that's why I stopped teaching floral art eight years ago and the store a year ago, to be able to focus on various projects in the flower and plant world."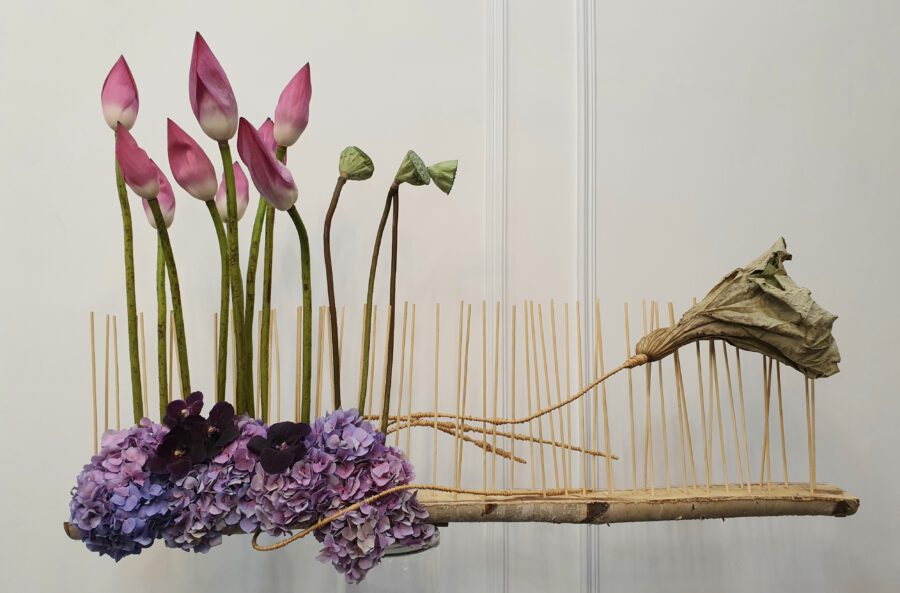 You own the title of 'Un des Meilleurs Ouvriers de France'. Can you describe to our Thursd readers what this unique and prestigious French means for your professional role as a florist?
"Obtaining the diploma from the 'Concours Meilleur Ouvrier de France (MOF)' in 2007 was a great moment for me because it happened in my hometown, Lyon. I was under quite some pressure because at the time, I was still working at the CFA and my students followed all the stages of my preparation."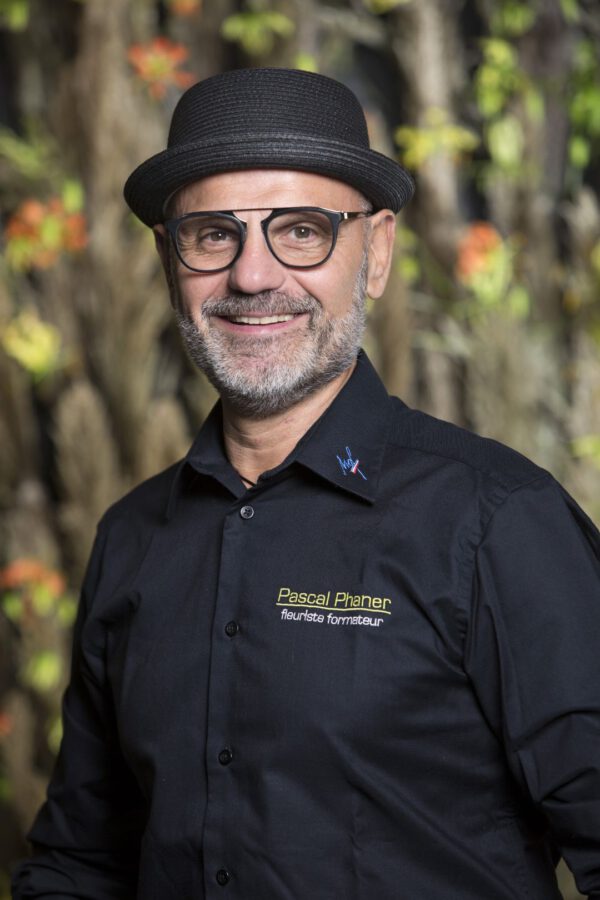 How does earning such a title influence a future path in floristry?
"I believe in transparency and have always liked to transmit my knowledge to whoever asks for it, I never hide anything. And in this, I agree with the philosophy of MOF to convey a message with your work. This also allows me to emphasize personal growth and development so I don't dwell on my previous achievements, and thus, keep evolving with my job and put myself in parallel with the latest fashion and floral trends."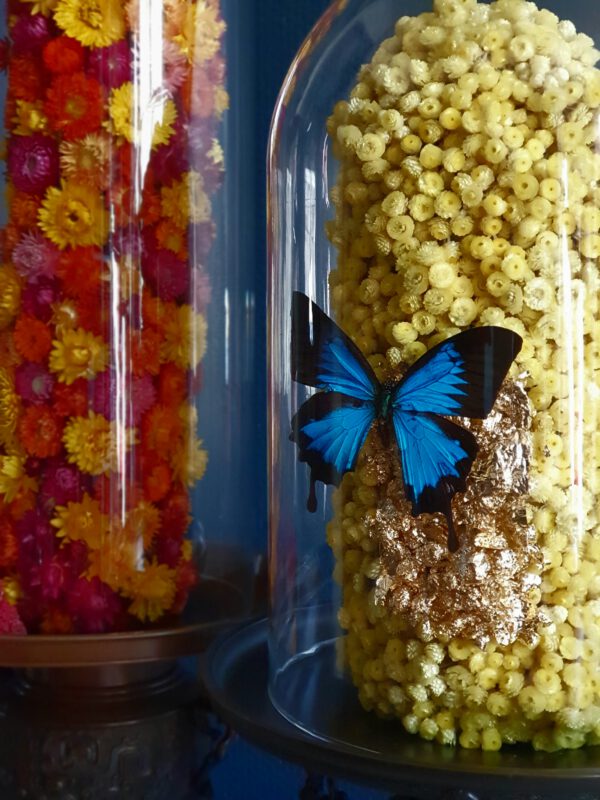 How do you unlock yourself creatively? Do you have a typical routine for that?
"I am a 'sponge' and am inspired by everything! My greatest passion is to transmit and transform it into floral art. I get inspired in theaters, museums, exhibitions, fairs, gardens, by films, fashion, architecture, history, and culture. I never have any moments of doubt and I have the capacity to create with everything and nothing. Even on vacation I always have a few supplies in my suitcase to create something, wherever I am."
Your designs are breathtaking and of a very prestigious level. Can you tell us something that is still on your wishlist - anything floral- and/or business-related?
"In my creations, my goal is to really catch the eye of the person. I am always in search to surprise the spectator and let them question my creation. This can be done by a color, a shape, or an accessory. The composition or bouquet should invite the person to travel and discover the philosophy of the artist who created the work. One thing that is still on my wishlist is to write a book (that is actually already in preparation) in which you'll find techniques, photos, and ideas. Another project which I hope to accomplish in 2022, is to make underwater compositions in the atolls of French Polynesia, created with local plants."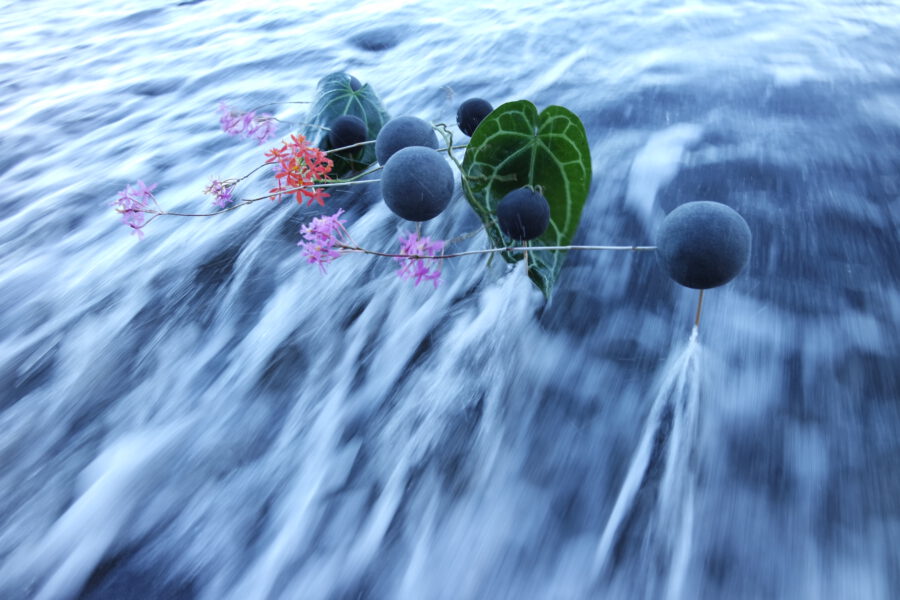 Growing up, what is your first memory of anything floral?
"In my early childhood, the first memory is the smell of a wild orchid. The perfume of this flower really intrigued me, as well as the shape of its flower. Another memory that marked me a lot, is one from the beginnings of my apprenticeship in 1984, where I had to make a composition with bread and flowers. Besides these memories, I can't remember not being drawn to gardens and plants, no matter the age or location."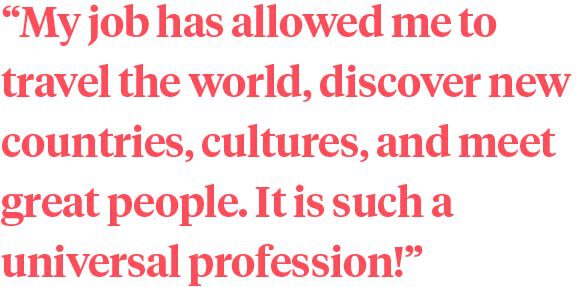 When did you figure out that flowers were more to you than to most people? And was floristry a path you knew you could take?
"I started working with flowers without any real passion. I chose a profession and knew how to work with flowers, nothing more, nothing less. It was after various meetings - with people of the profession and with flowers themselves - that the profession as a florist has turned into a passion that now devours, for my greatest pleasure, an important part of my life. My job has allowed me to meet great people, discover countries, travel the world, and discover other cultures. It is such a universal profession! Everyone uses plants, with techniques, symbols, myths, tbenefits. It's the whole world that connects us all."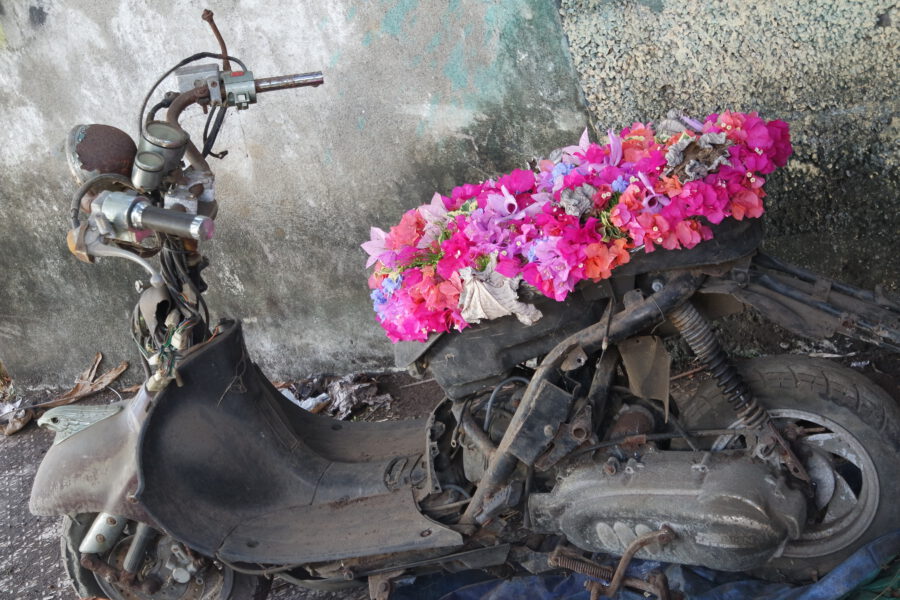 What is a Pascal Phaner flower confession that most people don't know about you or wouldn't expect?
"Personally, I do not like large flower arrangements at home. I prefer just one flower or one foliage or berry, styled in a very simple and pure way. I change it every day, or every two days and can really enjoy it."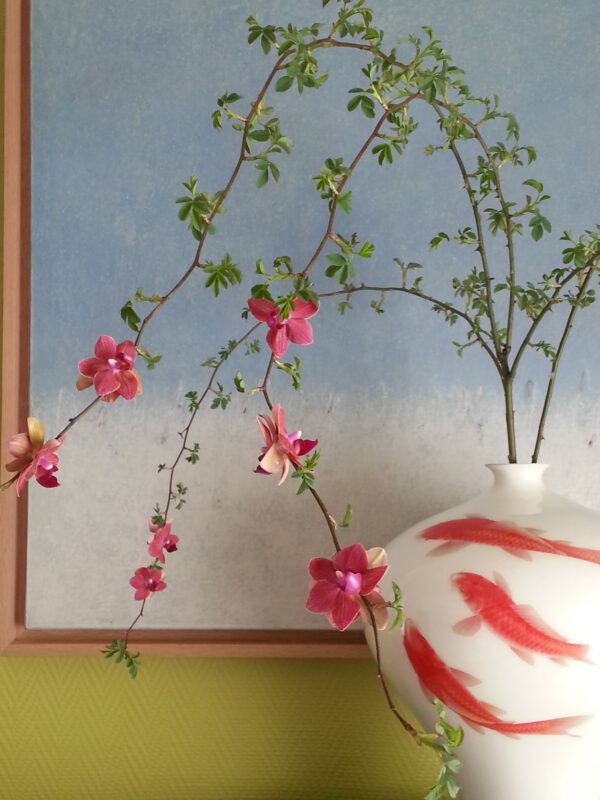 Which 2021/2022 trends do you expect and which ones are next on your wish list of designs?
"My taste of style and hunger for new things is constantly evolving. For me, the trend in my work follows a search for natural and ethnic materials. Returning back to nature and to handmade work, but with a touch of organic, animal and mineral material."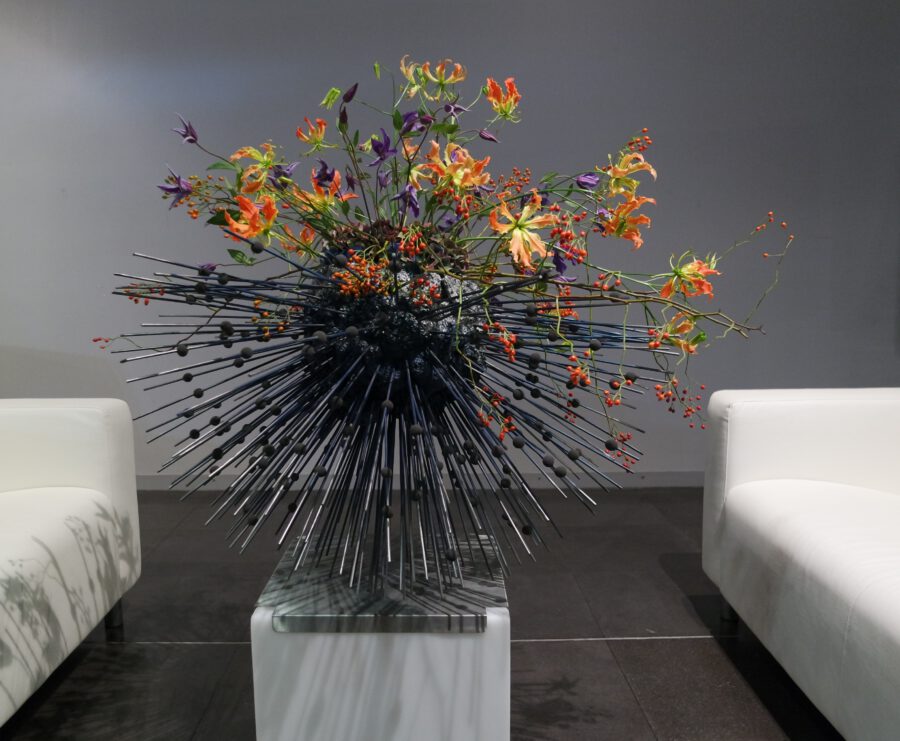 Which effect did COVID have on your business and how did it make you change your perspective?
"It created an immediate stop to all my travels for demonstrations and trade show plans. Also, it created a comeback to basic living for me. I left the store where I had been working for many years, to be able to do what I first didn't have time to do; work through other companies and in other places in France. This paradoxically pushed me to write my book which was a long-standing project. Fortunately, COVID did not prevent me from already having projects for 2022, 2023, and 2024."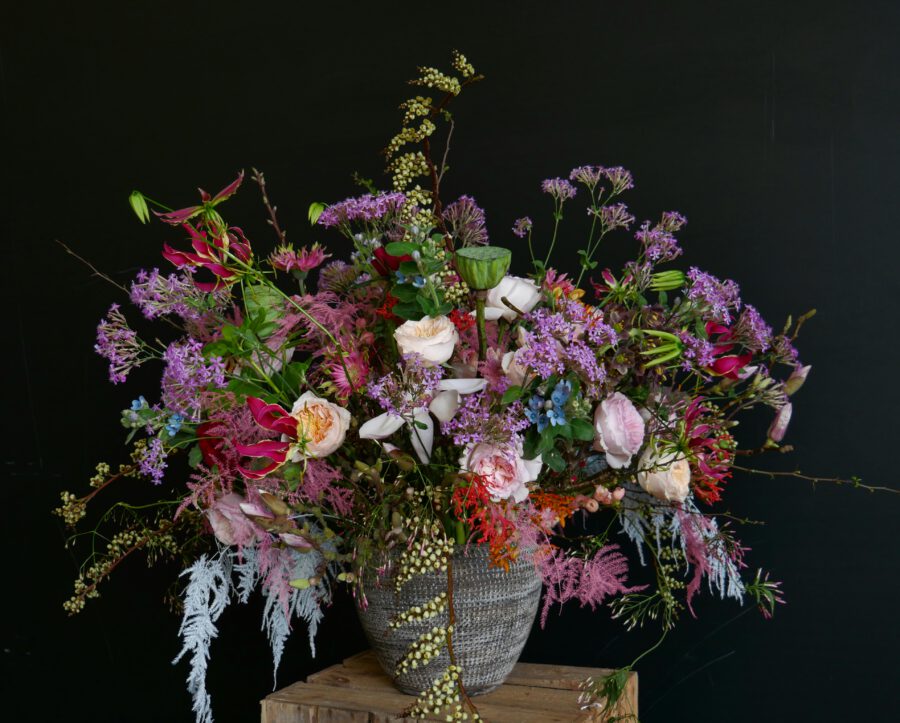 Your designs are known for their uniqueness. Can you walk us through the process of combining your love for flowers into a perfect matching design for your clients?
"The best thing to immerse yourself in the location and really sit down and talk with the client. This way you discover their hidden desires and especially their bad memories with a specific flower or plant. It is really the best way to meet their expectations. Sometimes you have to shake them up a bit with a realization or a color that would not have occurred to them but which is in harmony with the place. Their and mine emotions must be brought out on the table and a relationship of trust is important in this work."
Besides running a flower shop, you also give demonstrations and your design for photoshoots. Which of those three do you like doing most?
"Working with customers is more and more energy-intensive, my safety net is my own creations and my constant research for ideas. I love giving demonstrations because you meet florists from all walks of life. If I have to choose, then I'd say I have a weakness for my own creations. Creating without constraints of time, budget, or style gives the best feeling in the world."
Which (type of) flower has ever surprised you and can you tell us in which sense?
"I have a weakness for orchids, probably because of my passion for the world of tropical forests. Some of them have a bewitching scent, such as oncidium with the scent of chocolate and vanilla, cattleya and green cymbidiums."
 On the Thursd. international flower platform, transparency is created in the world of flowers. Can you tell us where you buy your flowers?
"The plants that I use have several origins, depending on my specific research of plants and flowers:
Dexx - France

Van der Plas - the Netherlands

Hortisud - for French production

Penja - for tropical plants

Plus a few local producers"
The Book of Pascal Phaner
The book of Pascal Phaner will be published at the end of 2021, latest the beginning of 2022. In the book you'll find techniques, photos, and ideas, all collected in the extensive floral journey of Pascal. A must-read to keep an eye on for sure!