Standstill
And then everything, literally everything came to a standstill. We could hardly believe that a virus can have such an impact all over the world and that this actually happened. But from that day it became spring and the beautiful weather continued. Nature could not be stopped and the beautiful flower and plant splendor could not be inhibited. We had no choice to see this together and to realize that we need nature. And not the other way around…!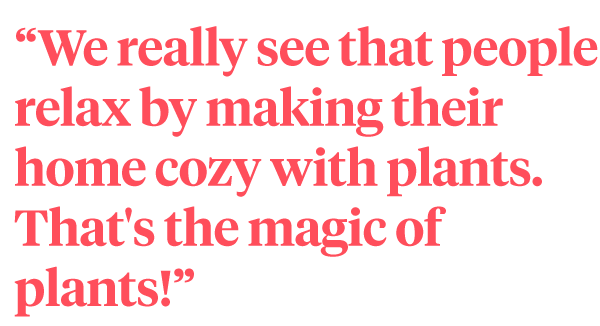 Together we realized that we should again consider the naturalness of everything. Your family, friends, colleagues, our health, but also nature. Plants and flowers are emotion, which has been all too well in recent months. We have a nice profession as growers, we are busy with nature all day and bring nature to people's homes. Within our company, we are always working on product innovation. We have various air-purifying plants. Because we spend so much time indoors, this is becoming increasingly important.
Green Environment
Houses and buildings are increasingly insulated, so the air quality is not good. Plants have the solution for this! And they are also beautiful. It has been proven that just looking at plants gives a soothing feeling. You can also concentrate better in a green environment. And that is desirable with all those stimuli in our society. Or should I say "was" desirable? ... Are we going back to this hasty time or did we need this reset to change? We notice in our Concept Store that people are very interested in getting started with plants themselves. They want to transform the house into an urban jungle, want to know more about plants, or look for easy-care plants, such as terrariums or hydroponics. We have been developing hydroponics for over five years now. Not every species is suitable for it, but our Clusia Princess, for example, is a strong plant that does well in water. It is great to talk to consumers about this. Hear how they decorate this in their home and how they are doing it.
The roots must be in the water, not the stem of the plant
We really see that people relax by making their home cozy with plants. That's the magic of plants! You see the roots develop in the water, which gives a mysterious effect. In addition, for those who find it difficult to determine when to water a plant, it is a good indicator when the water needs to be replenished. Plants are not only fun but also healthy!