Each year people state their New Year's resolutions, and at Royal Van Zanten we have made a little plant and flower #wishlist for you to help you achieve a more colorful, healthier, and happier 2021!
New Year's Resolution 1: Take Care of Our World
Sustainability is no longer a trend but a requirement for a better world. These plants are our suggestions for a colorful yet environmentally friendly garden in 2021!
Limonium Salt Lake®
Pot limonium Salt Lake® has a very unique and botanical vibe. She attracts bumbles bees and butterflies and flowers from spring to late summer.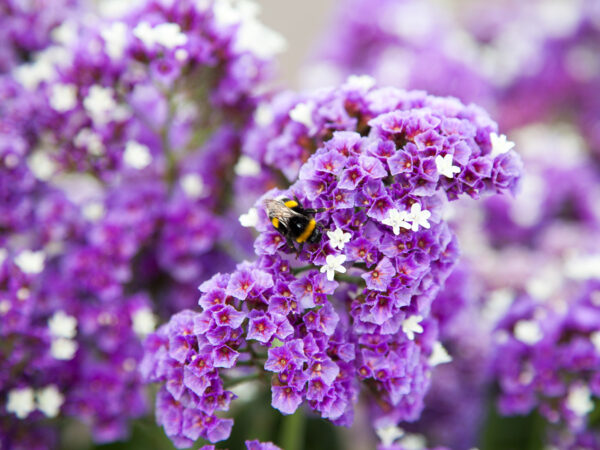 Pot limonium Salt Lake®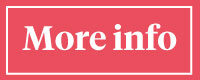 Colorita® Fabiana
Hop on the variegated leaves trend with our sustainable and blooming garden plant: Colorita® Fabiana. Fabiana is unique due to her bi-colored leaves so even when not in bloom see is a sight for sore eyes! The cultivation has a low energy impact and contributes to the sustainable and environmentally friendly character of our potted alstroemeria series Colorita®.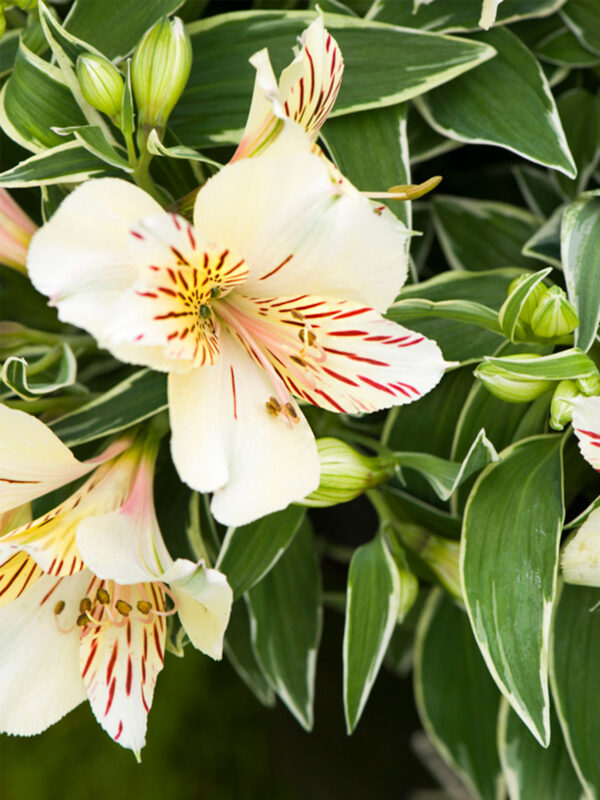 Colorita® Fabiana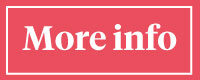 Colorita® Yentl
Our other favorite choice is Colorita® Yentl with her curly flower petals. Colorita® plants are known for attracting bumbles bees and butterflies to your garden.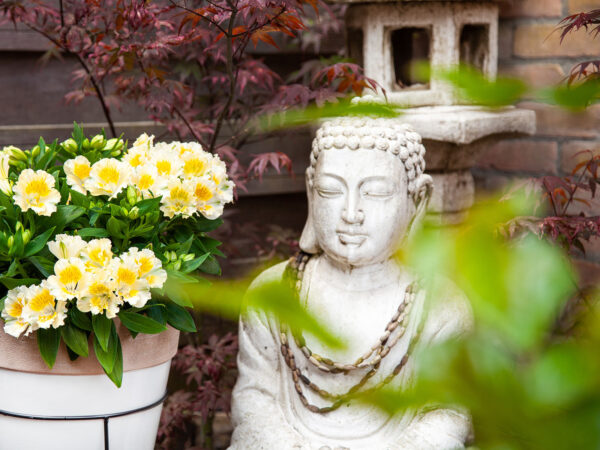 Colorita® Yentl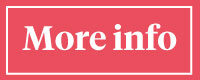 New Year's Resolution 2: Bring Color into Your Life
Potted Chrysanthemum HoiHoi
A new year, a new season, that means a change of color! An easy way to adjust your shop and/or living room is to work with colorful seasonal plants. With colors, you can enhance the mood in each room.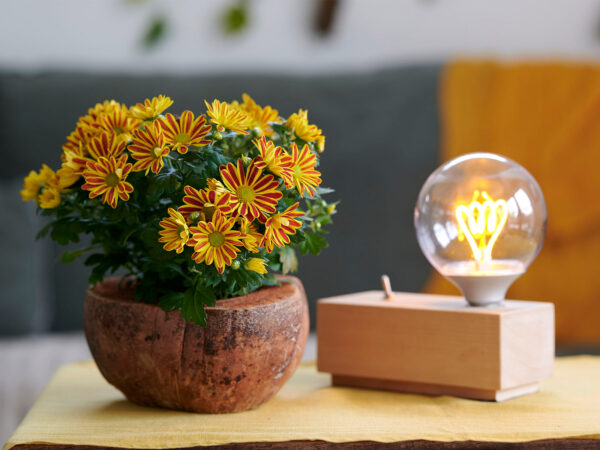 Potted chrysanthemum HoiHoi
HEREBY 5 REASONS TO BUY POTTED CHRYSANTHEMUMS: 1. Available in every color imaginable! Natural colors such as: white, yellow, pink, purple, red, orange, green and of course bi-colored flowers. But they are also available in artificial colors like the blue disbud chrysanthemum Fireworks. 2. Available whole year-round, not only in the autumn. 3. Bloom for approximately 6-8 weeks, after that you can easily switch your old plant for a new plant with a different color. 4. Potted chrysanthemums are budget-friendly! 5. Did you know potted chrysanthemums clean the air? So they enhance not only your home visually but they clean the air together with your green plants.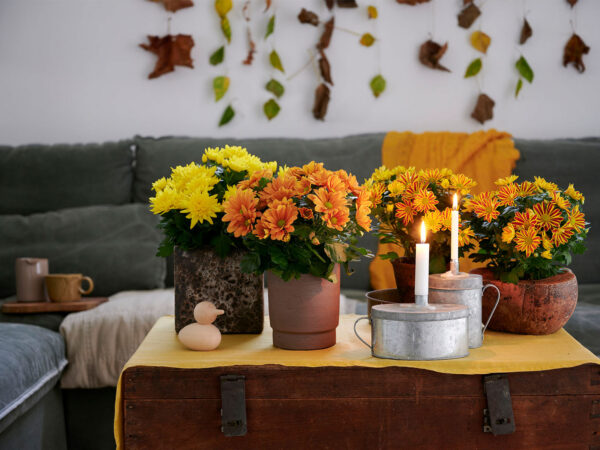 Cozy table with potted chrysanthemums: Mount Carmel, Sunset Time, HoiHoi
New Year's Resolution 3: Make the World a Happier Place
All over the world flowers are bringing a smile to everyone's face and instantly making life brighter and more cheerful. The many different flower varieties available are creating an enormous color palette from which you can choose. There is enough variety to surprise your customer 365 days and respond to seasons or trends. Our sparkling flowers are not only suited as a gift but also perfect to pamper yourself with a royal floral bouquet. Flowers are turning each day into a party no matter where and for whom. The past time we stayed at home a lot, sometimes this can be a bit boring or lonely. Science has proven that flowers positively enhance our mood. So surround yourselves in your home office with flowers. Or send flowers to your family and friends, to show that they are not alone and that you think about them.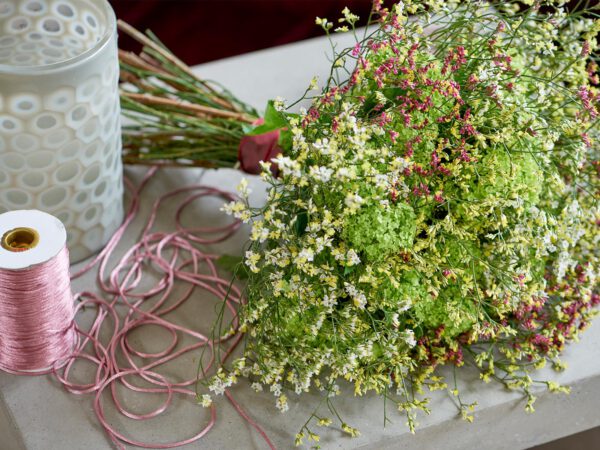 OUR FLORAL SUGGESTIONS: 1. Botanical bouquets are still trending. Use our statice & limonium varieties for airy and large wild bouquets. As an extra plus, this will make your large bouquets more budget-friendly. The peach-colored Apricot Sun Birds and Icy Sun Birds are the latest two new varieties within our well-known statice assortment. But we also say 'welcome' to a new variety within our limonium portfolio: China Passion.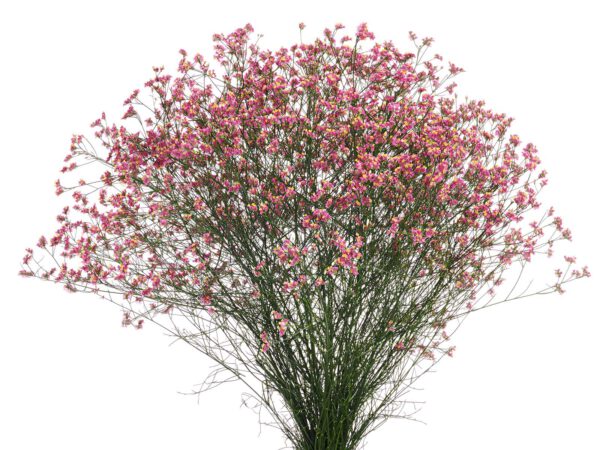 Limonium China Passion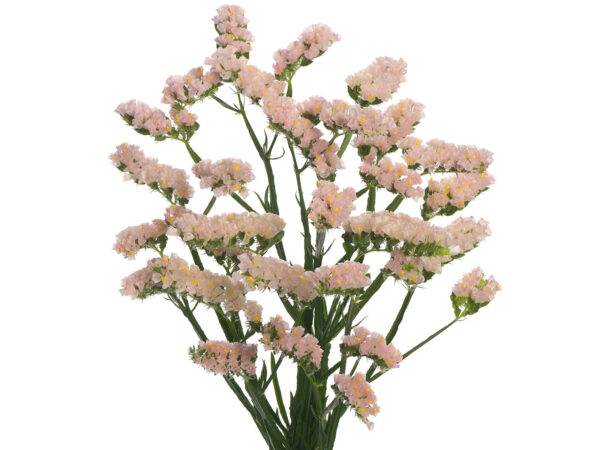 Statice Apricot Sun Birds
2. The alstroemeria is a symbol for long-term friendship. All six petals represent a valuable quality: understanding, humor, patience, compassion, strength, and respect. Sustainable as well in terms of production and flowers. We can offer a wide, brightly colored assortment to choose from. New in 2021 are Winterfell (white), Limelight (yellow), Simba (yellow), Velvet Queen (red/purple), Robin (red) and to be expected mid-2021 a very promising, magical new white variety. This new variety is totally beyond your imagination so keep an eye on it.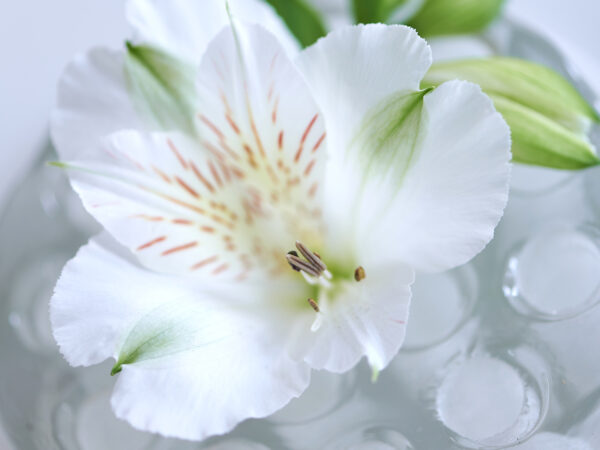 Alstroemeria Mistral
3. Dating at a distance can be difficult, so a charming bouquet can be the perfect way to surprise a potential lover. The charming Charmelia Pink will be a perfect choice!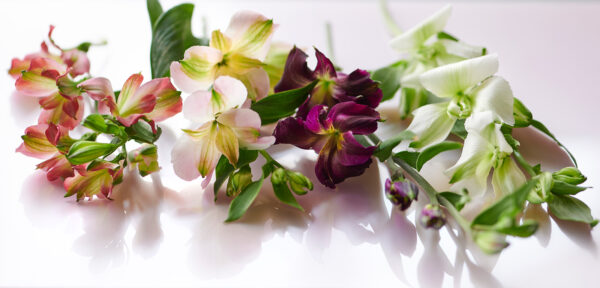 Charmelia Mix
4. Bouvardia: the exclusive cut flower with a unique shape and splendid colors symbolizing enthusiasm. Year-round available en beautiful solo in the vase or in mixed floral arrangements. The ideal flower for florists and designers who like to be inspired by exclusive and trendy flowers. High lights at this moment are Diamond Princie, Royal Roza, Sweet Roza, Sparkles, Coral, and Dark Pink.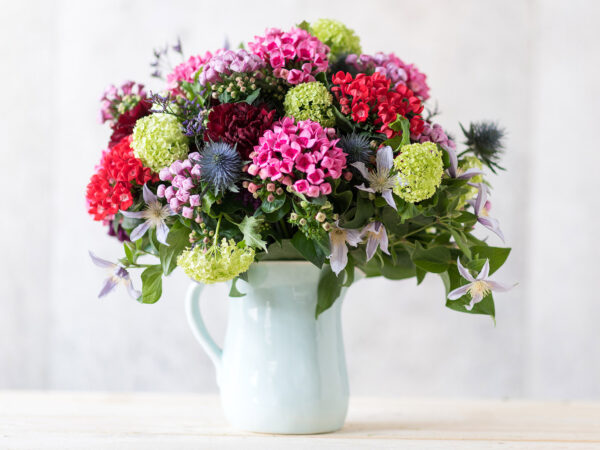 Bouvardia bouquet
5. Not to mention our eye-catching and sparkling chrysanthemum varieties. Steady and reliable varieties making the difference! The colorful and versatile chrysanthemums in spray, disbud, and santini are loved by everyone and symbolize a long and happy life. Check our assortment of chrysanthemum Haydar, Haydar Pink, Haydar Yellow, and Chic.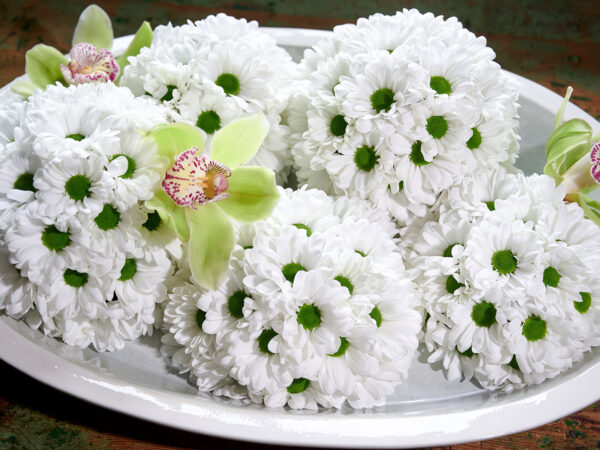 Chrysant Chic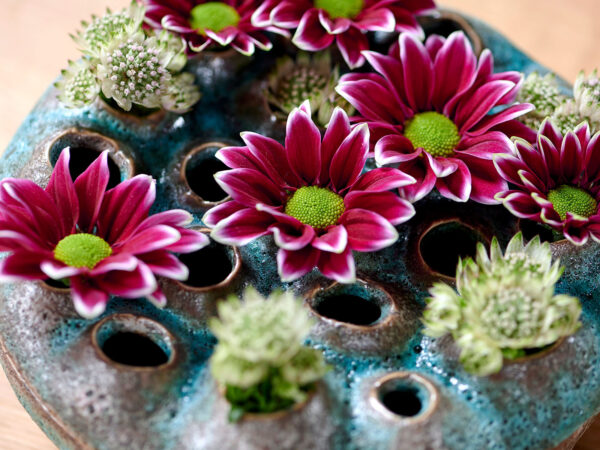 Chrysant Haydar
Novelty Shopping List for 2021
Last but not least here is our novelty shopping list for 2021! Stay on the look-out for these new varieties. Some will be available in a limited amount this year.
1# Pot Chrysanthemum Santosa Pink
Santosa Pink is a special new pot chrysanthemum. Her shape is what makes her truly unique.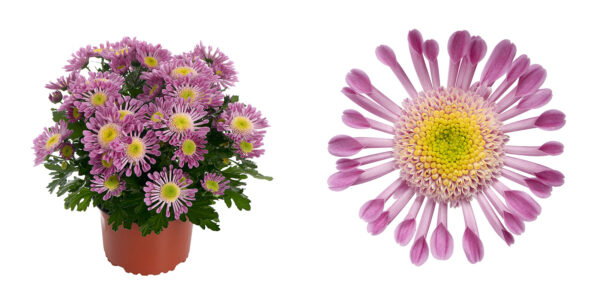 Pot chrysanthemum Santosa Pink
2# Pot Chrysanthemum Alpine Time
We are always inventing the basics. This year we have a new and improved white daisy pot mum that will be a great addition to your assortment.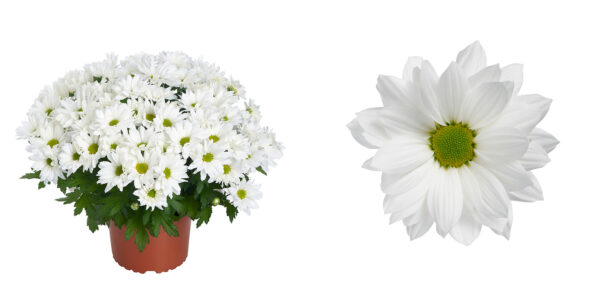 Pot chrysanthemum Alpine Time
3# Pot Chrysanthemum Sunda
Sunda is a real showstopper in your (web)shop. Bright purple petals with white edges and a green-yellow anemone type heart. The petals have a slightly curled shape, which enhances the artistry of the flower. Not a chrysanthemum that you'll see every day! Sunda is an exclusive variety and therefore limited available at grower SV.CO.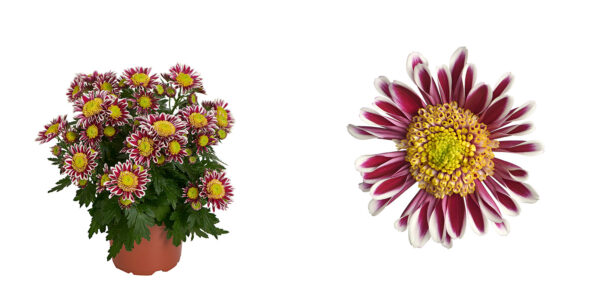 Pot chrysanthemum Sunda
4# Multiflora Tribeca White, Tribeca Yellow, and Tribeca Dark Pink
Our little Tribeca family has expanded to a full-grown family of 5 colors: white (new), yellow (new), sunset, pink, and dark pink (new). This will be THE series for the early season (week 34-36) that you wouldn't want to miss!

Multiflora
Tribeca White
,
Tribeca Yellow
, and
Tribeca Dark Pink
5# Aster Showmakers® Indigo Ice
Our Showmakers® series has a new blue addition: Showmakers® Indigo Ice. Are you already a fan of Blue Bayou? We suggest you try out Indigo Ice. We know you will love her!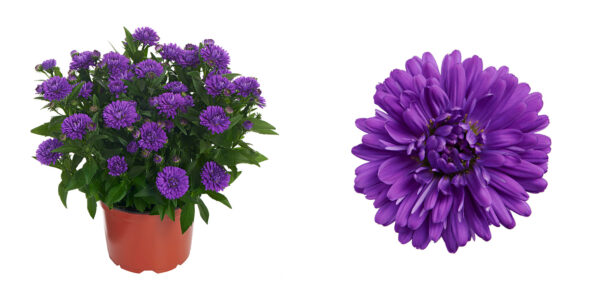 Aster Showmakers® Indigo Ice
Interested? Let's Get in Touch!
Like to check out our complete collection? Please visit our website or download one of our free digital catalogs here: - Cut flower Alstroemeria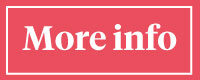 - Cut flower Statice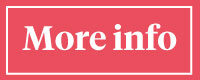 - Cut flower Bouvardia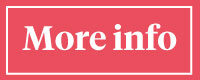 - Cut Flower Chrysanthemum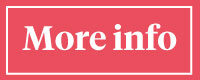 - Pot plants: Colorita (Alstroemeria) & Salt Lake (Limonium)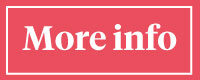 Or check out all our free downloads here.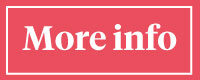 Contact and Follow Royal Van Zanten
Like to order? Please ask your supplier or grower for our products. You can contact us for more information or if you love to work together with us. Royal Van Zanten's Market Manager Wouter Jongkind Email: [email protected] Instagram: https://www.instagram.com/youngchildwj/ Royal Van Zanten's Area Export Manager cut flowers and pot plants Egbert Bok Email: [email protected]