Smithers-Oasis is a company specialized in floristry products. The company is most recognized for its creation of water-absorbing foam in 1954. Ever since they have been developing this product, simultaneous efforts have been made to lower their footprint on the planet. This is their view on sustainability.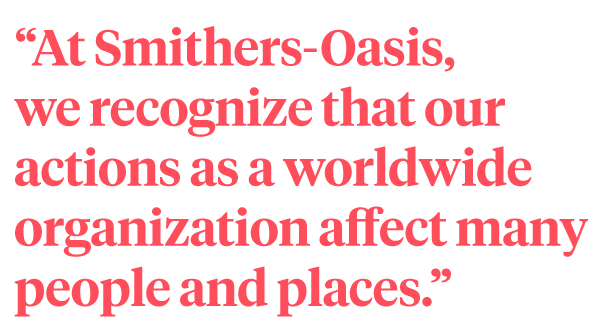 Commitment to Sustainability
Smithers-Oasis is committed to contributing to the sustainability of the earth we live on and the people and communities we serve globally. Consistent with our dedication to social responsibility, we recognize the environment requires thoughtful stewardship and accountability to preserve it for future generations. As a leader in the floral industry, our commitment is long term. We look for ways to be an increasingly sustainable company. We will continue to introduce innovative and environmentally friendly floriculture products and programs that increase the sustainability of our planet.
Working Together — Our Corporate Social Responsibility
At Smithers-Oasis, we recognize that our actions as a worldwide organization affect many people and places. For this reason, we take our corporate social responsibility very seriously. We believe our obligation goes well beyond legislative compliance, to a moral obligation to act responsibly in our daily business. Our goal is to make a positive impact on our employees, customers, and communities and to lead through responsible management and applying socially and environmentally responsible practices in all we do.
Environmental Statement
Global-View
Over the years, we have worked hard to lessen our footprint on the planet. When it comes to the environment, our actions have always been to align ourselves with all local regulatory requirements. We support this promise to environmental stewardship throughout our organization.
Research and Technology
Our research and technology teams collaborate with our global suppliers to develop our raw materials and specifications. Our ongoing commitment to the highest production standards includes Lean Manufacturing Practices and elimination of waste, which provide operational efficiencies that benefit our company, customers, and the environment.
Floral Foam Products
Our floral foam is based on inert phenolic resin technology, the same chemistry used for the handles of kitchen cookware. When made into cellular floral foam, our resin is fully polymerized and reacted with only small traces of free acid (much lower than cola beverage products) which may be neutralized by adding water. Smithers-Oasis was the first in our industry to eliminate the use of freon from floral foam production. Moreover, we've successfully reduced our volatile organic compound emissions (VOCs) by more than 85 percent over the past 25 years.
Post-Harvest Products
Our postharvest products are specially formulated to maintain an optimal environment for cut flowers by adjusting the water pH for maximum uptake, providing a source of energy for the flower, and keeping the flower stems open and free-flowing.
Grower Products
Our growing media are both cellular and organic, and are well aerated and designed for optimal callus formation and root development. All OASIS® growing media are engineered products that meet our rigorous quality standards.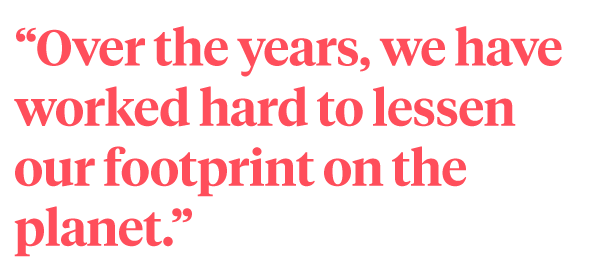 Commitments
We stand by the following commitments: • We will continue to maintain a standard of compliance with all applicable environmental laws in every country where we operate. • We will continue to research our products to find additional ways to reuse, recycle, and reinvent our products to reduce our footprint on the environment. • We will continually set new objectives for improving our environmental performance and reducing the environmental footprint of our operations and our processes.