Coping with the Current Corona Outbreak
How is
Studio Flores
from Lithuania coping with the current corona outbreak? An interview with Kristina Rimiene.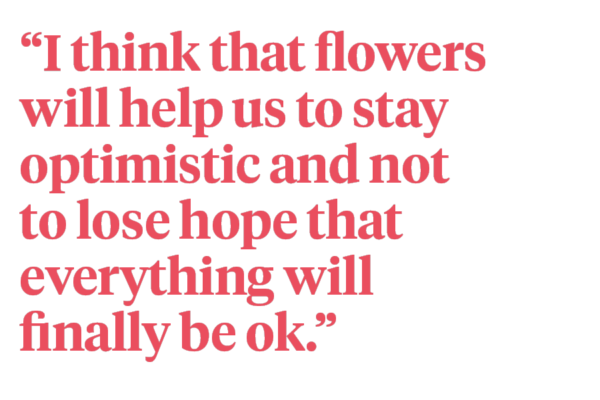 Where is your shop located? In which region/city/neighborhood?
My business brand is Studio Flores. The shop/studio is located in Kaunas, the second biggest city of Lithuania.
Can you describe your customers in general? What do they buy generally in your shop?
Lately we work more with floral decoration projects for businesses, events, private parties, weddings. Also, we sell and deliver flowers and flower bouquets on demand of customers calling in or businesses that we have contracts with.
Have you been open or closed since the (partial) lockdown in your country?
In Lithuania full lockdown started on the 16th of March. It seems like it is not going to be called off until the end of May. My flower shop was shut down like everything else. Only on-line business with no eye-to-eye contact was allowed. On-line floral business and deliveries on demand were not so popular in Lithuania before the COVID-19, so it took a while for flower shops to start switching on this kind of supply and sales channels.
How do you get information these days about the floral industry?
Most of the information about local or international floral industry comes from a social media. Also from personal contacts with local or foreign colleagues and wholesalers. After Covid-19 cases began to double and triple and the lockdown has started most of the responsible people stayed at home and started to avoid all the not necessary contacts. All events were called off of course. Nobody cared about flowers anymore. Only about food supplies. The wholesalers and distributors were not importing flowers anymore. The Aalsmeer auction collapsed, flowers, as we saw, were thrown away… After our society has learned to cope with lockdown florists have started to get more online inquiries, but the supply was interrupted. Only maybe one week ago we have started to import flowers again. So, talking about a successful business of flowers in Lithuania at the moment I would say is more than too early.
How do you plan to overcome these barriers?
I am trying to adjust… Getting some orders, delivering some bouquets. But it's not enough to run a business. Hard to say when the market will be stabilized and what happens next. It's a crisis that has an impact on everybody.
Which inspiring new initiatives have you seen in the industry - or are started by you - since COVID-19?
It's so great to see how florists and floral designers from all over the world become so united. They share their thoughts, update with the news, join many groups and communities in social media, and create so many interesting floral projects.
How important is it for you to lift each other up in these times and what does that mean for you and the bond with your colleague-professionals and business relations?
I think that flowers will help us to stay optimistic and not to lose hope that everything finally will be ok. Flowers are our business, but we are in this business because we love flowers like everyone else after all. It's a great time for everybody to know each other better and to support. We can share our ideas, create, we can raise and take challenges. I have created a flower mask to share the hope myself. Also, I took a challenge - five days/ five mini design projects to show that even one tiny flower can make people happy. At the same time, I keep creating floral design projects for posting them not only on social media but for a demonstration on a TV show that I host on the national channel of Lithuanian TV. I expect that looking at floral art people will see flowers in a different way and will love them more. That will help to recover floristry faster. I hope after everything will be over the international community of florists will become stronger and maybe not now directly, but then we will be able to help and support each other more. Let the flowers bloom for hope!
What do you think is the biggest issue in your segment of our sector (being a florist, grower, trader, or breeder) at the moment, from your perspective?
Like in a mosaic every peace is important – each section in this supply chain is vital. Without a final customer, there will be no need for flowers to grow, no reason to breed, no way to trade and export. Some would say that small business is a smaller issue. The trader has a much bigger issue with working capital, salaries, etc. But in fact, reality shows that everybody is affected and everybody faces losses.
What is the story behind your business and how will COVID-19 affect your future storyline?
Five years ago, I have chosen the floral world as a direction for my life. I think I will keep to that line, though it will be changed. It doesn't matter which way. The main thing now is for us all to stay safe! Keep safe!
Kristina Rimiene