The Big Flower Fight: Series Synopsis
The Big Flower Fight challenges ten pairs of passionate amateur gardeners to create spectacular, large-scale flower installations for a chance to design their own sculpture at London's Royal Botanic Gardens, Kew. Facing elimination with every task set, these international teams of plant-obsessed artisans will be judged by florist to the stars, Kristen Griffith-VanderYacht, with Vic Reeves and Natasia Demetriou presiding over proceedings.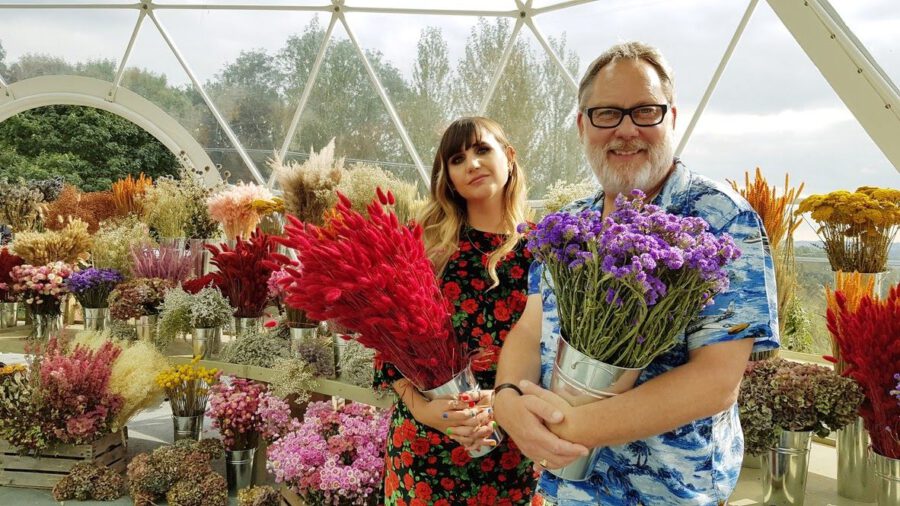 The Big Flower Fight will be available on Netflix from 18 May 2020.
EPISODE 1 - ENORMOUS INSECTS A competition like no other where the end result is a ginormous garden sculpture festooned with flowers and foliage. The first challenge for the ten teams is to build giant insects including butterflies, bees, and beetles, planted with pollen-packed flowers designed to attract insects. EPISODE 2 - FABULOUS FLORAL FASHION It's Floral Fashion Week! The nine teams run up stunning couture creations made with thousands of colorful cut flowers. Petals resembling silk, ivy adorned capes and towering hats of pampas grass go into some of the most unique, wearable gardens you've ever seen. But whose floral fashion fantasy will be wilting by judgment time? EPISODE 3 – HUGE HAIRY BEASTS It's a mammoth task for the Flower Fighters when they bring ten-foot-high huge hairy animals to life using thousands of grasses. The eight teams need to mimic everything from the shaggy coat of an orangutan to the fluffy fur of a koala bear. To bring their creations to life, the teams must give the animals facial features using materials from the salvage yard. But as the competition heats up, a flower fight breaks out over some mirrors. EPISODE 4 – GIANT EDIBLE THRONES The seven remaining teams raid the Big Flower Fight vegetable patch for a seat at The Harvest King's banquet. Their challenge is to build huge thrones out of fruit, vegetables, and edible flowers that are good enough to eat. But will they be able to infuse their creations with a story that makes the judges' mouths water? EPISODE 5 - MAGNIFICENT MOBILES For the quarter-final qualifier, the six teams float magnificent mobiles into the air. These giant creations, made from thousands of dried flowers, are suspended to create a sky-high visual feast of fireworks, storm clouds, and flying pigs in space. EPISODE 6 – SEA CREATURES A pregnant seahorse, a maternal turtle, and a giant octopus are some of the designs that come to life when a mountain of plastic beach waste is engineered into five stupendous sea creatures. The quarter-finalists have to plant up their watery friends with thousands of coastal-dwelling flowers and plants. But which of these delicate creatures will come crashing down along with the dream of being in the semi-final? EPISODE 7 - GREEN GIANTS Green giants rise up from the ground in the decider for a place in The Big Flower Fight final. The four remaining teams are given a patch of muddy ground to turn into a fantastical fantasy creature using evergreen plants, in the first challenge to be entirely constructed outside the dome. But who will battle it out against the elements for a place in the final? EPISODE 8 - FAIRYTALE FINALE The Big Flower Fight reaches its grand finale and the three remaining teams face the biggest challenge of all - to build a super-sized fairy story scene complete with realistic characters out of all the remaining plants in the nursery. They're joined by former flower fighters who return to cheer on the finalists before one team is announced as the series champions.
THE HOSTS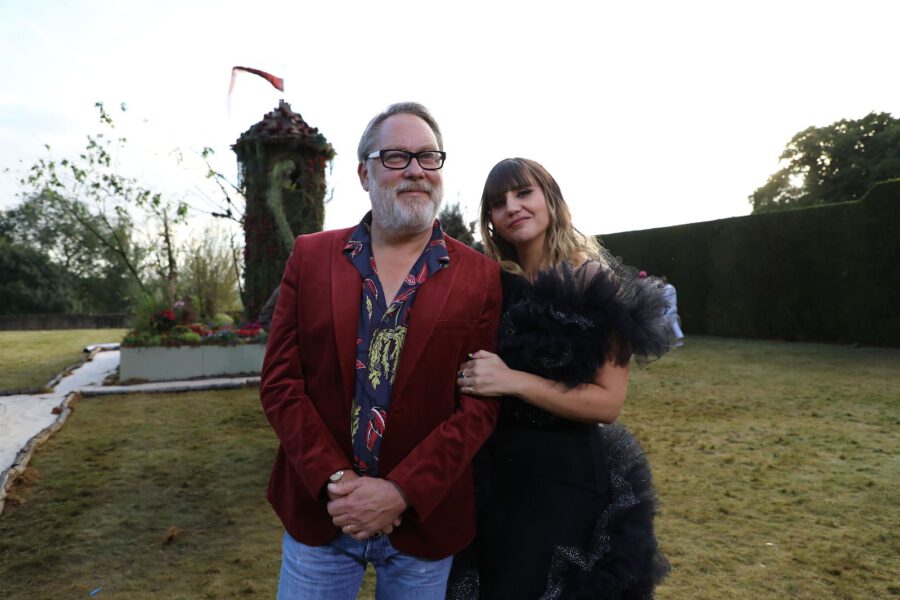 Vic Reeves
Jim Moir, better known by his stage name of Vic Reeves, is most famous for his comedy double act with Bob Mortimer. The comedians have starred in award-winning TV shows over more than three decades including The Smell of Reeves and Mortimer, and Shooting Star, gaining both commercial favor and a cultish fanbase and cementing Vic's status as a British comedy icon. Vic is also an actor and presenter and has been an artist since the early 1980s. His work has been exhibited at spaces including the famous Saatchi Gallery in London. Vic is based in Kent, the "Garden of England," and so is no stranger to the luscious, pastoral setting of The Big Flower Fight. Q&A • Why did you sign up for this? This is a dream job for me because I only live half an hour away! It's perfect. And it sounded like a great idea, so there was nothing to think about it. • Are you into gardening? Well, I'm into everything. I do try and garden, with a degree of success. I've got a raised herb garden and that fails regularly so this year I stuck some tomatoes, courgettes, and beetroot in, and it all happened. It bloomed. But other than that, I get a gardener in. But I think that works quite well for this show. My position in this is to be a viewer. If I do get a plant's name right, I get quite excited. Other than that I just try and say something witty now and again. It's really good fun because there's a lot going on. I'm an art schoolboy so it's quite exciting to me that there's a lot of crafts going on; it's not just plants. • Can you sell the show to me? There are some very, very keen people who produce these magnificent structures almost out of nothing, and very quickly. It always astonishes me. On the first day, you go in and there's nothing, and by the end of that day, there's something quite incredible happening. They're so passionate about it and it's great to see anyone with that amount of passion producing anything. If they've got passion, you're with them. • Is it competitive? It's quite tense because they haven't got much time. And there are other people - mentioning no names - who go and steal off other people. There have been moments of theft. Which has been noted by the judges. There's a high level of competitiveness now. • What are the contestants like? There's a good amount of gardeners who know all the flowers, but there's quite a lot who are as naive as me! But they know how to make things look good from a sculptural point of view. And there are some great characters there. I don't think I've ever seen a show with this amount of big characters in one place. It's not Gardeners' World. It's punk rock gardening. I was looking around yesterday and thinking, a lot of the people here could be in bands. It looks like a documentary about some rock and rollers instead of gardeners. It's really good. Seeing the end product is really quite exciting. The scale is incredible. They really put blood, sweat and soil into this. They must have headaches at the end of the day because they don't stop. • What's your role within the dome? I go around chatting with them, have a look at what they're doing, ask them questions. Then I'll stand with the judges and comment on them, and kind of liaise with them. I'm really the conduit between the contestants and the audience. I'm kind of on their side. If the judges are giving them a hard time, I'll try and alleviate that a little bit. • How do you get on with Natasia? We hit it off straight away. We hadn't met each other before so you do wonder, 'Is it going to work?', and if it doesn't happen straight away then it's not going to happen at all. You can't fake camaraderie. We get on really well. • How would you describe the judges? Kristen's hilarious. He's very good at what he does and he's great at verbalising what he's thinking and what they should be doing. So he's a master at his craft, and you have to believe him. He's a very warm and funny person. He's not a Simon Cowell by any means. He actually has got a skill, for a start! So when he says something, he's being critical but he's being kind at the same time because he really wants them to succeed. The guest judges are all highly skilled. They are really from the top echelons of that world. They've all been really interesting characters too, and highly skilled, and excellent at explaining themselves. • Are you quite an empathetic person? You've got to be because you can see them getting worried and you root for the ones who weren't doing as well the week before. You feel for them because you're human. • Is the show inspiring your creative side? Every day I've got nothing to do for four hours in between the opening bit and the wandering around with the judge bit. So I've moved half my studio over here and I'm painting all the time. That's another reason why this is the perfect job for me! It really is a dream job, honestly. • What are your thoughts on the environmental message? There are always elements to each challenge they have to stick to which is environmental. There was one which was the most, which was using plastic to highlight the amount of rubbish in the sea. I always have been interested in conservation. In fact, when I was at school, in 1976, I did a project about the amount of rubbish in rivers, and I put my heart and soul into it. I failed! I don't know why. I was gutted because I was passionate about it. I've spent most of my life in rivers and seas. I was in Surfers Against Sewage in the 1980s. I loved bird watching as a kid and I could probably tell you what any bird was, to this day. I'm a big wildlife fan. It's really important. Highlighting anything is worthwhile.
Natasia Demetriou
Comedian and actress Natasia won the Skinny Debutant Award for her solo show You'll Never Have All Of Me at the 2014 Edinburgh Festival Fringe. Her unique comedy style and outlandish humor have landed her starring roles in series such as comedy-horror hit What We Do In The Shadows, as well as part of double act Ellie & Natasia for BBC3. She also starred alongside her brother Jamie Demetriou in the Channel 4's Bafta-nominated sitcom Stath Lets Flats. • Why did you sign up for The Big Flower Fight? I just really loved the idea of it. I've got a little tiny balcony and I've recently gone insane with flowers out there. Although since I've been away filming this show, it has turned into a morgue, which is sad. I was nervous because I've only done acting and to be myself was a bit 'ooh'. The big clincher for me was Vic being the co-host. To dance around a field with him was just too exciting. I'm such a fan and I'm always getting him to do the voices of characters I loved. I just thought it would be a really fun job. It's a subject matter that I really love, and I really believe in the healing powers of plants. I wrote a whole sketch about cacti once. I love a cactus. The sustainability element was really appealing to me. It's not wasteful. It's not like, 'Best Plastic Toy Maker'. • What are your credentials? Oh, none, I'm just an enthusiastic Saturday garden center shopper. I'm just the one that walks around going, 'Oh, these are pretty', and then you get to the till and go, 'Would this be good on a balcony?', and they go, 'No'. I do like being outside. My family has dogs and so we go out walking a lot. We all love gardens, though, don't we? Pruning our rose bush and chatting to the neighbors. It's very British. I used to be a nanny and a lot of the parents had quite high-powered jobs, and they would always be in the garden at the weekend to chill out. It's like our sanctuary. Houseplants have become a gigantic business too haven't they, recently? I think we're all so achingly aware of the climate and sustainability and the ability to grow your own stuff is soothing for your soul when you're so unbelievably anxious about everything else. • Is the conservation message of The Flower Fight important to you? Yes. Of course. I think it should be the most important thing for everybody. Enough is enough. We've had our fun. We have to start reversing what is happening now. I think nature is real-life magic. When you look at a bee going up to a beautiful flower and taking pollen you're like, 'how is that happening?' It blows your mind. We're filming this in a beautiful area of Kent and we've seen so many birds and insects and it's incredible. It would be nice if we could be more excited about birds than man-made stuff. I think from working with children so much and reading so many picture books, you realize they are all about animals. And you look at these elephants in the book and think, 'Is this only going to exist in drawings one day?' • What do you think of the contestants? I don't want to sound fake, but I genuinely love them. You get to know them so well. They're all amazing, and lovely, and funny, and different, and weird. They're an amazing bunch of humans. Even when I'm not on camera I peer in to see how they're doing. I want to get involved SO much. I'd like to get stuck in more, but I'm always wearing a nice dress so I can't! I've asked for a side table so I can do my own little project but they were like, 'Um, we've got enough on our plate'. I do find it so soothing, doing something creative, especially in this world of phones and laptops. It sends me into a trance of relaxation. • Is it your role to be funny, or empathetic? I really just wanted to come into this as myself. There's no plan. Sometimes I feel sad, sometimes we mess about. I just react honestly, how I would feel if there was no camera. • Have there been any dramatic moments? There have been some wobbles. One of the teams felt really out of their depth one week. There was a lot of thieving for a couple of weeks! It's legit a competition. You'd go in sometimes and there'd be real tension in the room. A couple of structures have fallen apart. That's hard after 14 hours of working on something. They're not fake people that Netflix made. They're not robots. They're real people who put blood, sweat, and tears into their work, and they want this. There's genuine jeopardy, and I feel it. • How do you enjoy working with Vic? It's a dream come true. Within a second of meeting him, he was making me laugh. He's the kindest, most chilled, funny man. A lot of the stuff we joke about will never be shown because it's too stupid and too puerile. I could work with him forever. I told him I love his artwork and he made me a painting and left it in my dressing room. It was a picture of my shoes. He's an amazing artist. Whenever he's got some downtime he's in his room painting. He's a lovely, wonderful, generous man. • How do the two of you work: is it mainly scripted or off-the-cuff? Very off-the-cuff. You do have to script some stuff because you do have to tell the audience a lot of information, as I am learning! But we are given a lot of freedom. When we chat with the contestants, we just chat. It feels very natural. We just roam around the dome picking up whatever we can find and turning into a comedy prop or a wig. I've used too many flowers as pretend microphones.
RESIDENT JUDGE
Kristen Griffith-VanderYacht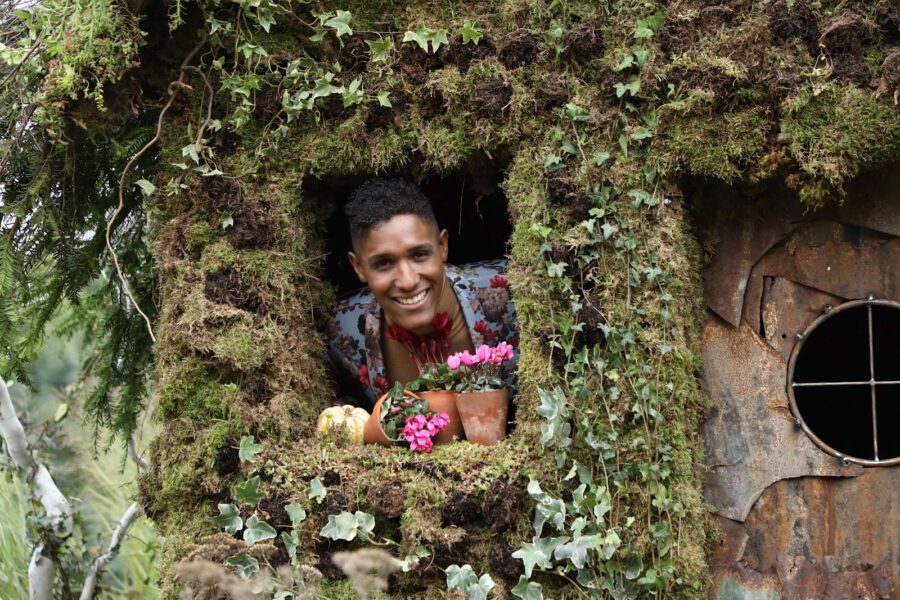 Named as a Top Florist in the World by Harpers Bazaar for two consecutive years (2019, 2020), Kristen Griffith-VanderYacht has established himself as one of the leading creative voices in the floral design industry. His work has been published worldwide and seen on shows such as Good Morning America and the E! Network. Kristen's ability to create uniquely crafted floral compositions elevates his pieces beyond commonality into the fine arts. Not only is Kristen a gifted designer he is also a generous mentor and teacher, offering workshops, tutorials, and inspiration so everyone can enjoy the endless beauty only found in flowers and plants. • How did you get involved in The Flower Fight? I got a message on Instagram, of all places, which was very modern. I feel like the universe has been telling me for a long time that television is in my future so I wrote back immediately but they wouldn't tell me what it was so I sort of had to go in on a leap of faith. I did the interview in the Starbucks car lot, without a stitch of make-up on, after dropping the baby at daycare - very glamorous! When they told me a bit more about it I was like, 'Okay, this sounds great'. • Why? Sell it to us. Flowers exist in every facet of every culture. They're at your wedding, your dinner party, your gas station. This show really pushes that further. It lets you pull back that glamorous velvet curtain and see what goes into some of the biggest, most ostentatious creations you have ever seen. For a lot of audience members they'll say, 'I wanna do that! How do they do that?' What's different about our show compared to other competition shows is that it takes art, creativity, and experience, and it allows the viewer to see design in a whole new world. It's a similar concept to a makeover show: it starts with something quite basic, then the artist / designer comes in and reinvents it. There's a transformation element that I think is so appealing. And flowers are obviously beautiful by their own design but they're also perishable, and that creates a lot of tension in the dome because they don't last forever. As a florist, I'm really just a glorified mortician. By the time these flowers come to me, they've been cut dead and it's my job to make them beautiful for just a few more days. I think that's why flowers have lasted such a long time in a commercial world; because of their fleeting nature. They're beautiful one minute, and gone the next. Our show really encompasses the magic of flowers, but also the ambition of the designers. • These structures are huge, aren't they? Enormous. Our biggest one is about three meters, which is ten feet. That is gigantic! It requires the designers to really dig into their creative toolbox to figure out how to make it. Some of them are winging it; some of them are pulling their hair out. All of that is okay because that's a real way of processing our creative emotions. • How important is that environmental message to you? Hugely. I think it should be the most important thing to everyone. We all have room to grow. We're all learning. We all want to know, 'What can we do to live more sustainably, or prevent climate change?' What this show does is take away elements of floral design which are pretty much staples. There's no floral foam involved at all. We are raising awareness of how our time on this earth impacts the environment. We're talking about bees and butterflies and pollinators playing a vital role in our eco-system. We really want to shed a light on our environment. • What's your background: you started out in performing arts, didn't you? So I went to a notable High School in Michigan called Interlochen which is a performing arts academy. Performing arts for me was never about 'making it'. I grew up in Detroit, in an extremely religious family, and I was just looking for a community where I could be my own weird, crazy, effeminate, quirky, feminine self. Amongst all those theatre kids, I was just average! It was a chance for me to find my tribe. And they are still my friends today. They helped me to shape my personality. I love my biological family, we're very close, but now I have an additional family of friends. Performing also requires a lot of sacrifices and sometimes people miss out on having children and getting married, but I wanted those things so I left the arts to pursue other interests. • How did you get into floristry? By accident! I was going to grad school in Colombia for counseling and psychology, and during my time off I would just play with flowers and explore that. It was always a major part of my aesthetic at home but it snowballed into an obsession and I just wanted to learn everything I could about the art form of floral design. Over time, I realized this was what I was supposed to be doing. And I dived headfirst in. My husband Aaron has been incredibly supportive and given me the space to do it while he has done the 'home thing' with our baby. So I've been so blessed. • What are you looking for from the contestants? Stylistically I'm open to anything. I want to see stories. I want to see that the artists are really thinking about how to create a dynamic design, and that will require them to use all the skills they have acquired over the years. If they're able to show me that they're listening to my advice, and making adjustments, while creating something stunning, then that is what I'm looking for. A great design needs expertise but it also needs a little finesse and acumen that you cannot teach. • I'm told you're a very honest judge. You're absolutely right. I'm a very honest judge. I like to think that I'm encouraging. I also want the teams to do their best. I'm not here to tear anyone down. I know that the creative energy they are putting into their creations is immense. At the same time, I believe in them, and if I can see that they're coasting through, then what's the point? I don't want you to come to this competition and show me something you've already done. I want you to come to this competition and show me something new and that means stepping outside of your ego and really being creative. I'm not the Simon, or the Randy, or the Paula, or the RuPaul. I'm definitely my own person in that world. I haven't seen anyone on TV like me: a black, gay man with a baby who he adopted with his husband. I've had such an interesting journey and I want to bring all those experiences, and that authenticity, to my role as a judge. And I really want to inspire young people to live their lives with passion and chase their dreams. In order to do that, you have to take your craft seriously. But you can have a little cheek and fun along the way! • Did you know who Vic Reeves and Natasia Demetriou were before making The Big Flower Fight? I did! You know they say never meet your heroes because they might disappoint you? Well, they have not disappointed me in the slightest. They have been 100 percent welcoming, encouraging. It's like we've formed our own little family. The contestants are the babies and I'm training them to go and be the art power-houses that I know they can be. Vic and Natasia have taken me under their wing and made me feel comfortable about being myself on camera which is one of the hardest things to do because it's a very vulnerable place to be. • Have you enjoyed filming in Kent? Oh my gosh, it's so beautiful! They've given me all the best advice about where to eat, where to go, sights to see. Being a tourist sort of wears off when you're here for this long but they've given me the deep cuts about where to go.
THE CONTRIBUTORS
Henck and Yan, from the Netherlands and Denmark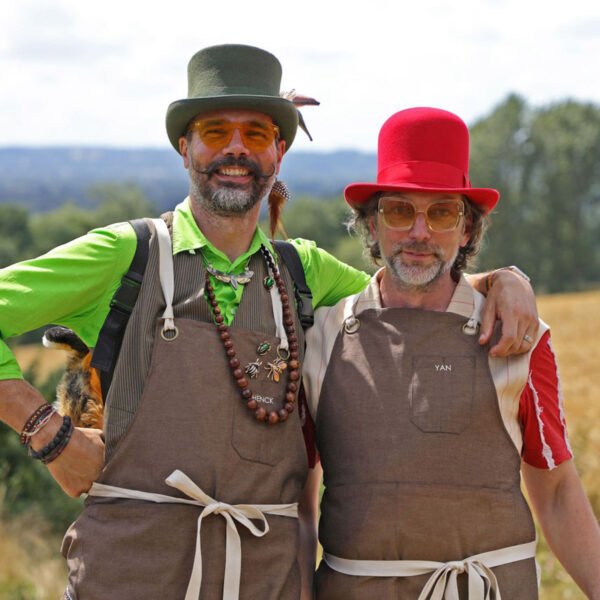 Yan was a fine artist before teaching himself about flowers in his 20s. He has been the director of florist Bespoke Flowers for 20 years, and has won a gold medal at the Chelsea Flower Show. Henck is a freelance florist and found his love for flowers at a young age before going on to create the bouquets for family weddings. He is now a Master-Florist. • The competition is a mix of floristry but also carpentry and horticulture. Which are your strengths? Henck: It's a very mixed group of people. There are landscape artists who are really good with structure making which is not really us. We are more, 'Let's try and weave something with willow'. • How would you sell a show about flower arranging to the people at home? Yan: I don't think anybody has seen flower arranging on this scale! I think the living sculpture is something that is rarely done on this scale. Henck: Plus things go wrong, and there's banter, and we get ourselves into trouble. So I think there will be plenty of jeopardy and it will feel exciting to watch. • How well do you get on with the other contestants? Henck: We call it The Big Flower Friends rather than The Big Flower Fight. We're like a slightly dysfunctional family. • Are you competitive? Henck: We are quite known for going against the judges' advice! In episode one, Kristen said, 'You are going to make it pretty, aren't you?', and I said, 'No'. Yan said, 'You mustn't disagree with the judges!' but we are a little bit rebellious. • How do you describe your relationship throughout this competition? Henck: I guess we are dysfunctional brothers. There's friction, but there's love. • Is the environmental and conservational message important to you? Yan: There's a chance that our livelihoods will stop existing if we don't stop polluting and using plastics and these kinds of things. It was emphasized to us right from the start, there will be no floral foam or anything like that. We recycle a lot. And that is entirely the right message.
Ralph and Jim, from Eastbourne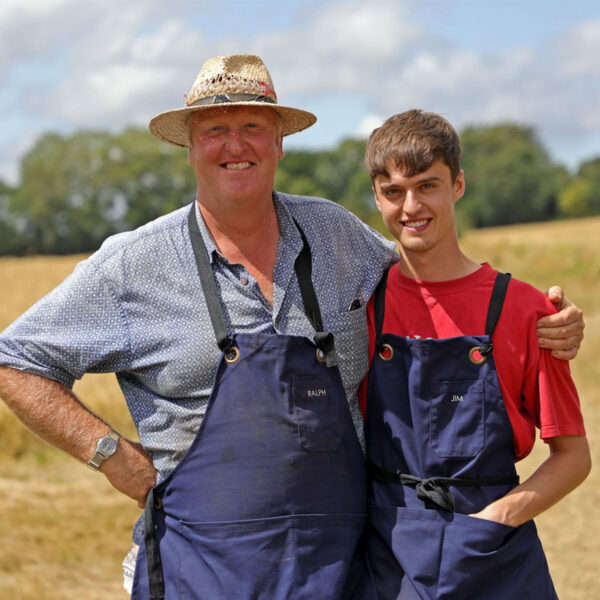 Ralph is a groundsman at a private school in Eastbourne and has a City & Guilds qualification in horticulture at Level 3. His son Jim is currently at the University of Brighton studying 3D design and craft and has a part-time job at a leisure center. They enjoy working on projects together and last year drove their 1940s army truck to Normandy for the D-Day commemorations after A five-year restoration. • Tell us a little about your backgrounds and how you came to be on the show. Ralph: It's been my job for a million years. I've worked for council parks and gardens, and then I worked for a private school as a groundsman and that's where I am at the moment. I've been doing that since 1987. Jim: Through Dad, I grew up with a love of the outdoors but I didn't love gardening so much. I was always the one who had to clear up after Dad had cut a hedge or whatever. That was a labor of love! I'm studying 3D Design and Craft. So this show is right up our street: it combines what we both do. • Do you feel competitive? Jim: We didn't to begin with, but as the challenges went on, we did want it more and more. It's not against the others particularly. You just want to keep on doing your best. Ralph: It's nice to think of people at home saying, 'Look at those two silly sods, they're actually coming up with the ideas'. You get the same brief and everyone takes it in completely different directions. Every time I look around the dome at the end of a build I think, 'Would my mum, and my wife, like to watch this?' On every occasion, the answer is 'yes'. Jim: Although Nan might be a bit annoyed about the judges! It's constructive criticism, which is really helpful, and you learn and adjust. But to my Nan, she'll be like, 'How dare they say that to my little boys!' • What have been your best and worst critiques? Ralph: One of the judges wanted to take our design home! That was pretty good. I can't think of a bad one. Jim: We're just too perfect… Jim: It does help defuse things sometimes. If you're feeling angry, they'll say something stupid and you just laugh. They are good.
Sarah and Jordan from Maryland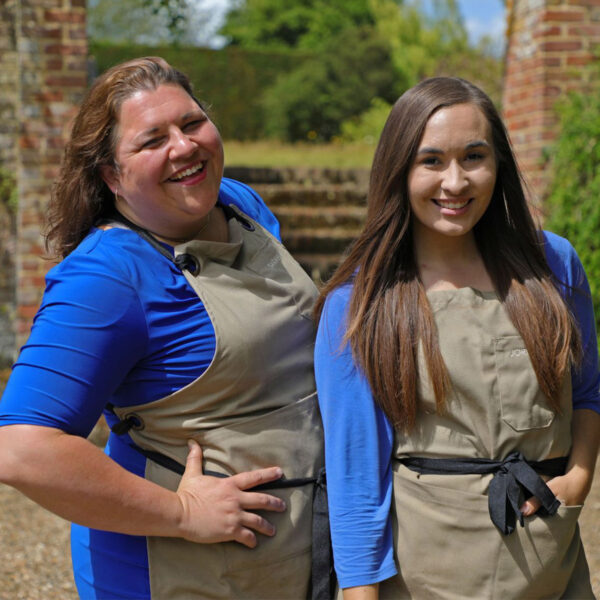 Sarah owns her own wedding florist business, Intrigue Designs. She started in the industry as a wedding planner and has been working exclusively as a florist for the last 10 years. Jordan has been working with Sarah for 3 years and has become her 'right-hand woman'. Together they travel the US teaching workshops and classes to inspire floral entrepreneurs. • Can you tell us a little about how you met and came to be working together on this competition? Sarah: Jordan is my daughter's best friend. I hired her as my assistant when she sent me an email from New Zealand where she was backpacking, applying for a job with my floristry company. Within minutes I phoned my daughter, saying I was about to hire her best friend. She was officially hired to be my personal assistant but having her do that would be a waste of an asset; she's just too smart. Jordan: Sarah's very into the floral and design side of the business, I'm much more into the marketing, strategy, logistics side. The competition has been a real challenge for us because I'm not a designer. • What's your working relationship been like throughout this competition? Sarah: When I get frustrated it's not Jordan's fault. I'm having to teach her everything in each challenge, and it would be easier to have another designer with me who already knows this stuff. She's a really fast learner though. Jordan: I knew, coming in, that it would be tough. I said to Sarah at the start, 'When you lose this, it will be because you chose to bring me'. There's only so much you can do if you are pulling that extra weight. • How does your skill set compare to other people on the show? Sarah: My favorite thing about this show is that you have lots of different types of people. They have all worked with flowers or plants or design in some capacity, but not a single person out there does exactly this. So it's really interesting to watch artists, florists, plant specialists, fashionistas, coming together to figure out how to bring these living sculptures to life. Jordan: This is a medium we've never seen before. We tried to YouTube and Google these things and you can't find it anywhere. This is brand new, and that's exciting. • And what about Vic and Natasia? Jordan: Having Vic and Tash around has been so much fun! They are not educated on plants and flowers so when they pick things up and go, 'What's this?', it's so funny. They are such sweethearts. They are the yin and the yang to the judges.
Andi and Helen from Somerset
Andi is currently a head gardener for Yeo Valley and has been a horticultural lecturer for many years, She has won silver medals at BBC Gardeners World and Chelsea Flower Show. Helen has worked as a gardener, botanist, and has managed numerous nurseries. She is currently a YouTube presenter for Candide Gardening and is an artist in her spare time. They enjoy traveling, visiting gardens, and attending music festivals. • All your fellow competitors have completely different skills. Where do you sit in between that? Andi: We're very much what you'd call horticulturists. We're ecology and plant nerds, but we haven't done sculptures before. It's so random! • How do you get on with the other competitors? Helen: We're very ambitious, but we're not competitive. We just really admire what they're doing. They're such lovely, beautiful people. • How do you get on with Vic and Natasia? Helen: Natasia is really quite helpful! She'll come over and say, 'Why don't you do that', or 'Can I help you with that?'. She's genuinely lovely. • Sell it to the viewers at home. Andi: It'll be funny, and very arty. For anyone who's creative in any way, it'll really float their boat. It's not just working with plants, it's carpentry, metalwork, painting. It's a fun smorgasbord of crafty talents. • How important is sustainability to you when creating your sculptures? Helen: We made it paramount for every sculpture. Sometimes we've made our whole sculpture sustainable so we've used hay for the bodywork, for example. Andi: We use only natural materials: there are no plastics involved. I've spent most of my life as an organic gardener banging the drum to anybody and anyone who will listen to me about it. And Helen did her degree in applied marine and terrestrial ecology. She's taught me loads.
Andrew and Ryan, from London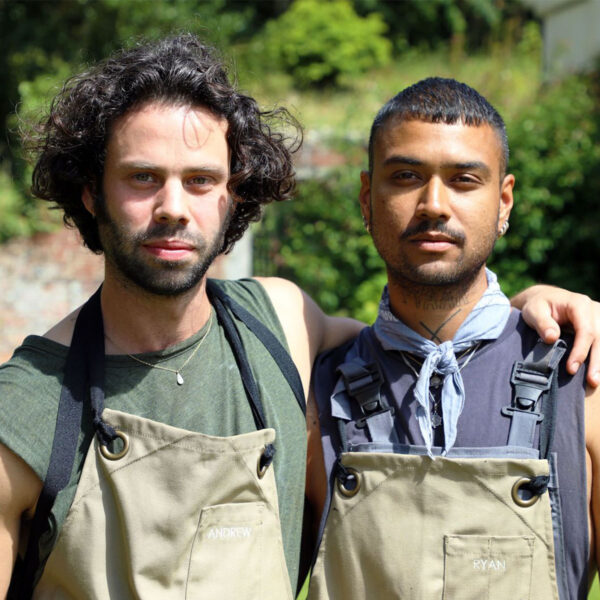 Originally from Vancouver, Fashion & Culture curator Ryan moved to London in 2010. He has collaborated with the V&A Museum and Tate Gallery among others. Andrew, a photographic artist from Lancashire, creates work influenced by the symbiotic relationship between humans and nature. They met at a house party a year ago and were a couple at the time of filming, but are now close friends. They both enjoy exploring the city and going to exhibitions together. • Can you tell us a little about how you met and came to be working together in this competition? Andrew: I'm a photographic artist and a lot of my work is inspired by nature and ancient cultures. It's about how people need to connect with that to relieve themselves of modern-day pressures and anxieties. I have gardened a bit, but in no way have I ever been a gardener. Everything I've learned has been passed down to me so it's a less informed way. This show was an opportunity to bring in aspects of my photographic work, and a joy that I feel with nature. Added with Ryan's skills, the whole thing makes sense. Ryan: It was a gamble! I'm a fashion curator. I curate fashion and art exhibitions all over east London. I've worked with fashion houses and designers as well as artists. My shows have become very synonymous with installations and I curated the first nail art exhibition in the world. On top of that, I host a gay Bollywood night which has been so successful, it's almost taken over from everything else. I only started it because I missed Bollywood music and I never heard it in nightclubs here, but word got out. We've DJed for Vogue and Diesel. I met Andrew two years ago and when this competition came up, we thought it could work. We're the only couple, and we're the only people who have never touched flowers before! • What's the atmosphere like in the dome? Andrew: It's like electricity. It goes quiet when the clock is ticking down but you know everyone is really utilizing their brains. Ryan: The set-up is brilliant, the hosts are phenomenal, and I think Kristen is a really great judge. He challenges you as much as he supports you. He's honest and he tells you how it is, but he says it with faith that you will do it better next time. So it's not that he slates you, it's more that he says, 'In my opinion, I would love you to do it like this'. Some of the moments I've had a real connection with his critique is when I can see that he gets what we're trying to do, but he asks us to anchor it in floristry, which is a challenge for us. Andrew: It's that convergence in the middle of creativity and horticulture that he's really looking for, and that's hard, for everyone. We're all learning a lot and we're all starting to get a bit closer to what he wants. He doesn't just want a sculpture of an animal: he wants your textures to be like the animal, the colors, everything. Ryan: It's a really nice harmony between all these different skill sets. It tests every single creative spectrum that you have inside you. • Sell the show to viewers at home. Ryan: It's a high tension pressure cooker where we have to conceive, execute, and deliver high concept flower arranging. Andrew: This has completely upped the scale from usual flower arranging. It'll fascinate children and adults. The scale is key: it's so huge. Watching the blood, sweat and tears should be entertaining! Ryan: People won't look at floristry or nature the same way after this show. It will challenge your creativity even sitting at home. It should excite people to get their hands dirty and have a go at home, whether you have a garden or not. • Is the environmental message important to you? Ryan: Completely. Andrew said to me he'd only go on the show if he could put that message forward every time we're in front of the cameras. Andrew: It's not just us. There are contestants talking about medicinal plants, plants that serve a purpose. Hopefully, it will be inspiring. • Is it competitive? Andrew: It's interesting being in the dome because you can concentrate on your work but keep an eye on the others too. There's a competitive element but everyone is weaving their own tapestry and it's just fascinating to watch the different ways that people approach the challenges. • How have you found Vic and Natasia? Andrew: Oh my God, they're so funny. I haven't told Vic yet but I was brought up on his comedy. He finds the most obscure elements in people's structures and pulls this humor out of it. It makes the atmosphere a bit more jovial. Ryan: They are hilarious. Even if you've lost hope in yourself and convinced yourself that you'll be going home, they'll walk in and take the mickey out of themselves, and distract you. Andrew: Vic's an artist, and Natasia's mind is really out there. So I think it's feeding their creativity and igniting their imagination as well. It's bringing out this real child-like aspect for everybody involved. Ryan: Reality shows in the past have tested people's stamina, but what we've done is collectively done something that people think is really boring, which is floristry, and we've all been blown away by what we've created.
Monet and Stephanie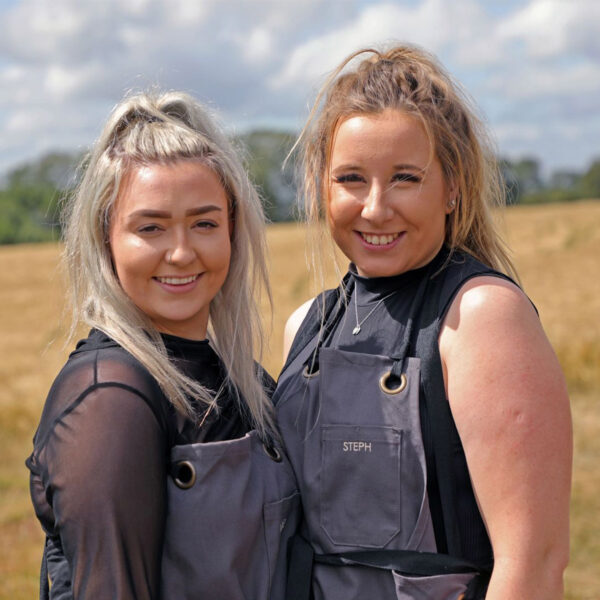 Monet completed her Level 4 in floristry at college. She received a silver medal at the Surrey County Show 2017 and the RHS Hampton Court Flower Show 2018. Stephanie has completed the same course as Monet and won first prize at the South of England Agricultural Show in 2018. They met four years ago and now have their own businesses, 'Monet's Floristry' and 'Steph Lovell Flowers'. They are the youngest contestants in the competition. • How well have you worked together? Steph: I think pretty well considering we are both quite fiery personalities. We know what we like and what we don't like, and sometimes those things clash a little bit, but we've been getting through it. I think we definitely have become closer through the process because we've been together for 12 hours a day. • How do you get on with the other contestants? Steph: I was actually surprised that with such a big group of people, everyone could get on so well. I think because we all have something in common, we know what we're doing, and we can appreciate each other's work. We've all got a group chat so we're always chatting to each other even when we're not together. • Can you sell the show to the viewers at home? Monet: I think floristry is becoming more popular now. I think people are becoming aware of the actual names of flowers now. The show will tell people more about it and hopefully inspire them to do it at home too. Steph: As a TV show I think you'll be able to see how hard we're working and how stressed we are. There have been tears so you'll see the emotion as well. I think everyone's had a little cry here and there. • What do you think of the environmental message of the show? Steph: That's become a big trend as well now, which is great. I think it's great that they put it in the show because that will attract those kinds of people who love nature and conservation as well as the sorts of people who like curated flowers and art and fashion. It's good to get outside. If you can bring the outside into your home, it's really good for your mental and physical health. I'm obsessed with buying house plants. I've learned how to take care of them, what the health benefits are, and they're just nice to have in the house.
Nick and Taylor, from New York City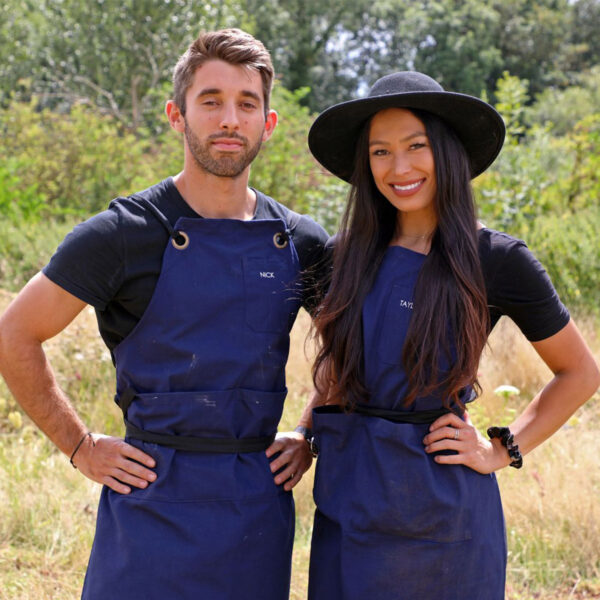 Taylor majored in Visual Arts at Columbia University and now runs her own interior plant styling business while promoting botanical interiors on Instagram. Nick was a college baseball player and after graduating, taught himself to become a plant coach and apartment farmer. The friends met online through Instagram three years ago and are passionate about sustainability and urban horticulture. • Can you tell me a little about your backgrounds? Taylor: I'm an interior plant stylist, based in Brooklyn. I wasn't really sure what to do with my art degree but I always grew up in a house filled with plants so I started to just combine the two with interior design. Nick: I was a baseball player up in Boston, and from that became a personal trainer. I was always very interested in my health and wellness which is what inspired me, about six years ago, to plant a garden in my parents' backyard. I had no experience of gardening and I became obsessed! Then I moved to New York City and it was a shock to be in this big concrete jungle of stress and not surrounded by any greenery. The only thing I could do was buy house plants. • And how did you meet each other? Nick: The power of Instagram! We have a really strong plant community in New York City and it's always our goal to use Instagram for good, not evil. • Have you ever worked on anything this scale before? Taylor: We've never done anything like this whatsoever! Seeing the scale of things at first was intimidating but soon we were just having fun with it, climbing up scaffolds and sitting on top of ladders. It's so fun, especially the creative problem-solving. • Can you sell the show to the viewers? Nick: I think people will be shocked. Looking around the room after that first challenge I was in shock at the quality of the structures. Even our own - I was like, 'How the hell did we do that?' The scale is huge, it will look so impressive. I can't wait to see it. • How do you find the judging? Taylor: It varies, but overall I haven't been dwelling on any of those sections. It was difficult from day one to see people go home. I cried each time. It's hard when you know how hard everyone has worked. The judges can say what they want, it doesn't change anything for me. • How do you feel about the environmental message of the show? Nick: For us, it was the number one important element. You can make art and that's great but it's important to us that our art can be long-lasting and sustainable and also have a message.
Raymond and Chanelle, from London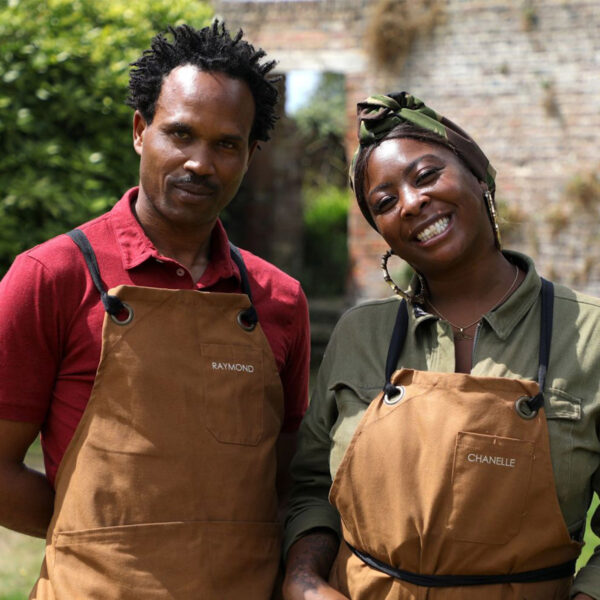 Chanelle is a fashion designer and owns her own label, INOIR. She has produced clothing for Cardi B and has styled a music video for Idris Elba. Raymond has owned Sunflowers Florist in south east London for 13 years. They met in Raymond's shop and share a love of flowers but also music: Chanelle used to sing in garage band Purple Haze Cru, and Raymond is a member of his local church choir. • What is your background? Chanelle: I am a fashion designer. I have a Masters degree in fashion production management and a Bachelor's degree from the London College of Fashion. I've worked on pop videos too - I've worked with Stormzy and Idris Elba, and now I run my own label. Raymond: I've always loved flowers, I'm an artistic person, and I see myself as someone who chose this career because of my love for nature. I do events, and weddings, and so on. Nothing as huge as we have done on the show though! • Can you tell me a little about how you met and came to be working together in this competition? Chanelle: We met at Raymond's flower shop. I'm a regular and I love the way he arranges things and puts things together. We became BFFs. He's not in fashion but it's still creative and so that was really interesting to me, and he started teaching me things. • How did you find the atmosphere? Chanelle: I'm not a conventional person, I take things very personally, and I've found it hard. But do I think that will show on camera? Absolutely not! People have crumbled but you won't see Raymond and me crumble. • What did you think of the environmental message? Raymond: It's so important. I like talking about the different plants and how they can add to your garden and create an environment that is natural and good for wildlife. I'm a vegan, and I have been for more than a year. So to talk about the health benefits of conservationism is really interesting to me. • How do you get on with the other contestants? Raymond: We are family! Everyone has different backgrounds, experiences, nationalities. I get on really well with everybody. We're in each other's faces all the time and even though it's a competition, you want everyone to do really well. We eat together, we stay in a hotel together. When we realized somebody was actually leaving, it was a bit of a shock. It's such a friendly atmosphere.
Declan and Eoghan, from Dublin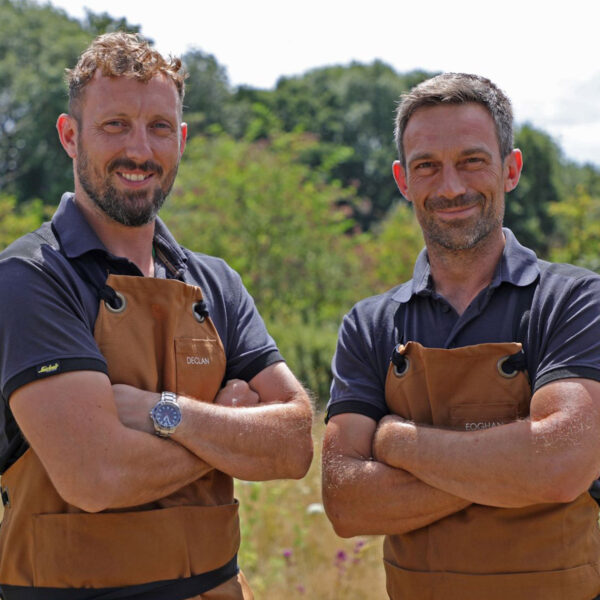 Declan and Eoghan both have degrees in landscape architecture and met at the University College Dublin eight years ago. Eoghan trained in landscape management at UNESCO world heritage site, 'La Alhambra', in Granada Spain while Declan also has a diploma in project management. The pair now work together covering residential and commercial landscape design and contracting. • Can you tell me a little about how you met and came to be working together in this competition? Declan: I'm a landscape architect and contractor. I started off in art design, then I went into horticulture and landscaping. Then I got into landscape architecture which is where I met Eoghan about six years ago. Eoghan: We were mature students - apparently! - so we hung out straight away. I studied carpentry and joinery in my teens, then I started getting into landscaping and planting. I got more and more into landscaping on a bigger scale so I decided to go off and study landscape architecture at college. • Have you had a stand-out challenge? Declan: We had to create an edible throne and we had our own take on that using Irish history and landscapes. We used a historic link to a megalithic site called Newgrange in Ireland and that was one of my favorite challenges. • What are the other contestants like? Declan: You're put into an environment where it's all new to everyone. We all came together, and it was a bit 'us and them' with the judges. You're all against the clock, you're against the judges, so we just saw the funny side of all of that and cracked on with it. • How did you find Vic and Natasia? Declan: We really enjoy having them around, having a bit of craic. It's their job to come over and see the funny side of the competition, so that gives a nice light element to it. Lovely people. • Can you sell the show to the viewers? Eoghan: I think they will probably have to put it in the 'comedy' section of Netflix! We've had a lot of fun, and I know the editing team will make it look even more spectacular than it already has felt on the day. It's also very competitive and very creative. What people produce is spectacular. I think people will see it is much more than flower arranging.
Rachel and Delilah, from Brooklyn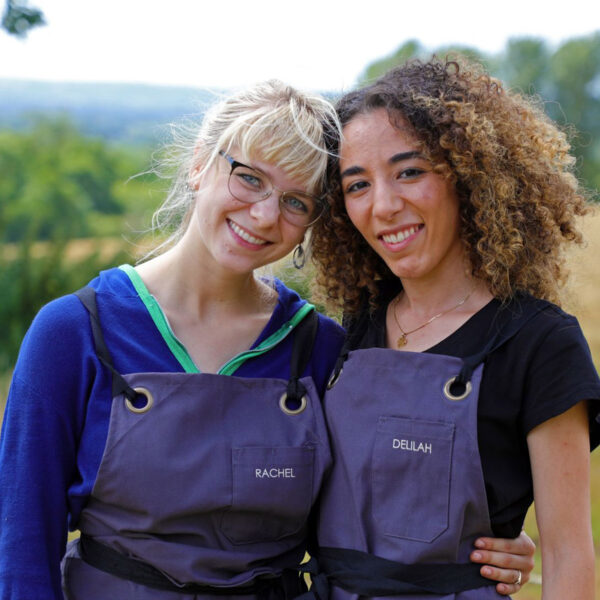 Originally from Minnesota, former contemporary dancer Rachel is an artist who loves to paint flowers and nature. Delilah has a degree in business from the University of Central Florida and worked as a freelance floral designer before joining the team at renowned Brooklyn florist and plant shop, Rosehip Social. The friends met at work two years ago and both love to keep fit. • Why did you want to enter the competition? Rachel: I think we were just really excited to be able to push our creative boundaries, and have the ability to produce interesting floral and plant-based sculptures that were outside of our regular scope of work. And to be able to work just for us, and not for a client. • The scale is so ambitious. Did that feel like a big step up for you from what you're used to doing, day-to-day? Delilah: I don't think it's a step up, it's more a step in a different direction. It's allowed us to test our boundaries and see what we're really capable of. It's an amazing opportunity to work with plants and flowers. • Did you feel competitive? Rachel: Definitely! Although we get along well, we're trying to compete with each other to see who will do things differently or who might take things in a new direction, and that's exciting. I think it's a healthy level of competition between all of us which is really nice. It's never felt uncomfortable or overly stressful. It's just healthy competition. • Has it tested your friendship? Rachel: I don't think it was ever tested but there have definitely been a few more tense moments when one of us was really tired or not feeling super-well because we were also dealing with jet-lag, particularly the first week. So there were moments where we had to take a step back and remember that we are human beings and not robots. • Is there a difference between the New York and the London floral worlds? Rachel: I think there might be some stylistic differences, just for aesthetic preferences. I think the London and the New York worlds probably are quite similar in terms of scope. I think in England, tradition is held to a higher standard than New York, just because we don't have the tradition of the rose garden or things like that. • Have you enjoyed spending time in Kent, otherwise known as the Garden of England? Delilah: It's an absolute dream. Everything is so lush, and beautiful, and green. It is really an incredible experience. Rachel: Especially coming from New York which is cement everywhere. Taking the time to spend in a very nice green space is a breath of fresh air.
GUEST JUDGE BIOGRAPHIES
Humaira Ikram - Enormous Insects
Humaira is a course leader for the Garden Design Diploma at the highly regarded KLC School of Design and an experienced garden designer. With over 15 years of experience under her belt, Humaira has trained professionally in Horticulture and Garden Design and worked alongside award-winning garden designers such as Cleve West.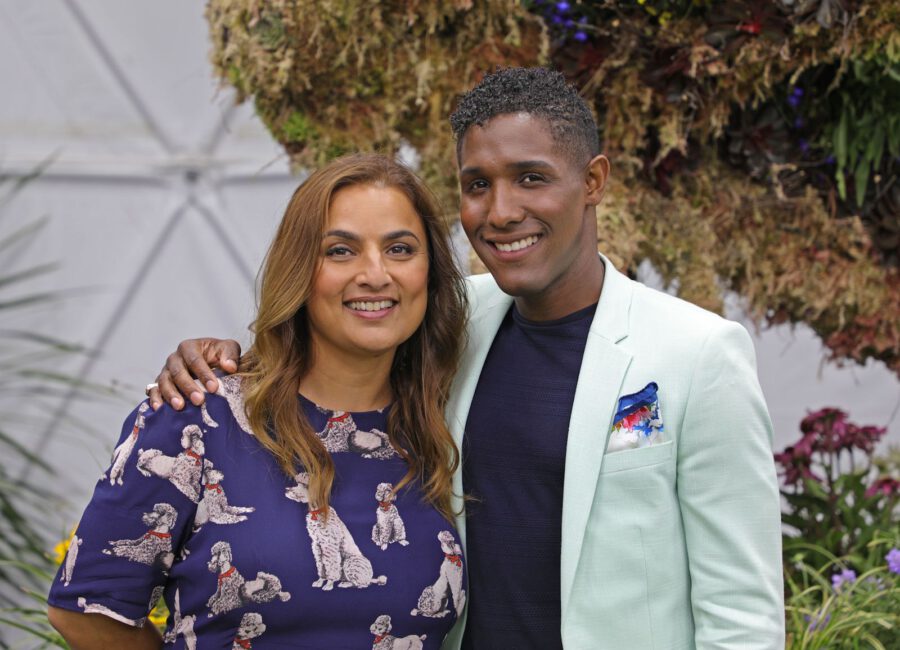 Simon Lycett - Fabulous Floral Fashion
Simon Lycett is one of Britain's most famous and well respected floral designers. It was Simon who Elton John went to for his 50th Birthday Party flowers and he is the brains behind the royal family's most special floral designs. His credentials as one of the most sought after florists in the country provide him with the expertise to judge a range of botanical installations and give clear incisive feedback.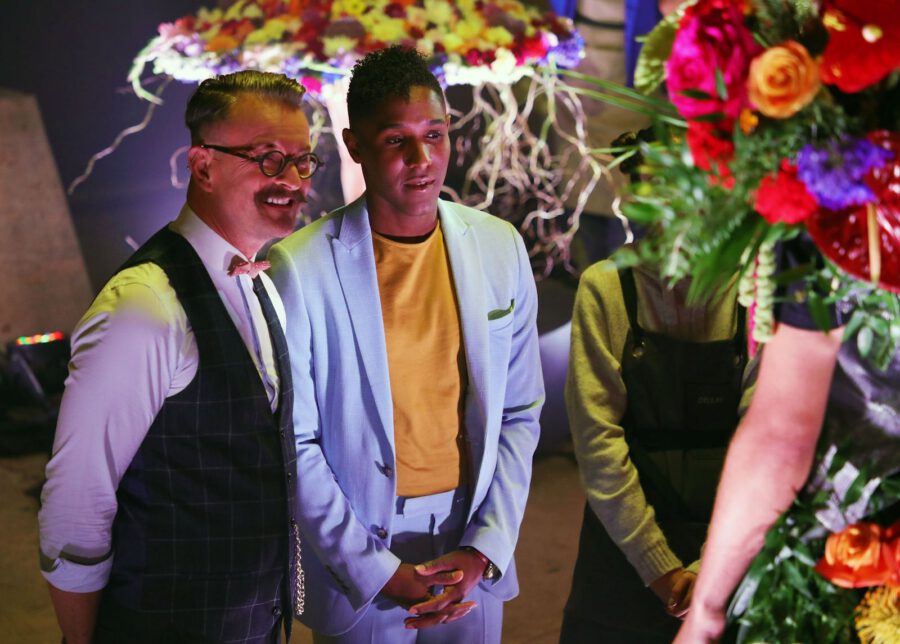 James Wong – Giant Edible Thrones
Passionate about all things horticulture, James spent much of his childhood growing up in Singapore and other parts of Southeast Asia and proudly attributes these formative years as the foundation for his love for plants – a fascination that has grown and carried him into his career as a botanist.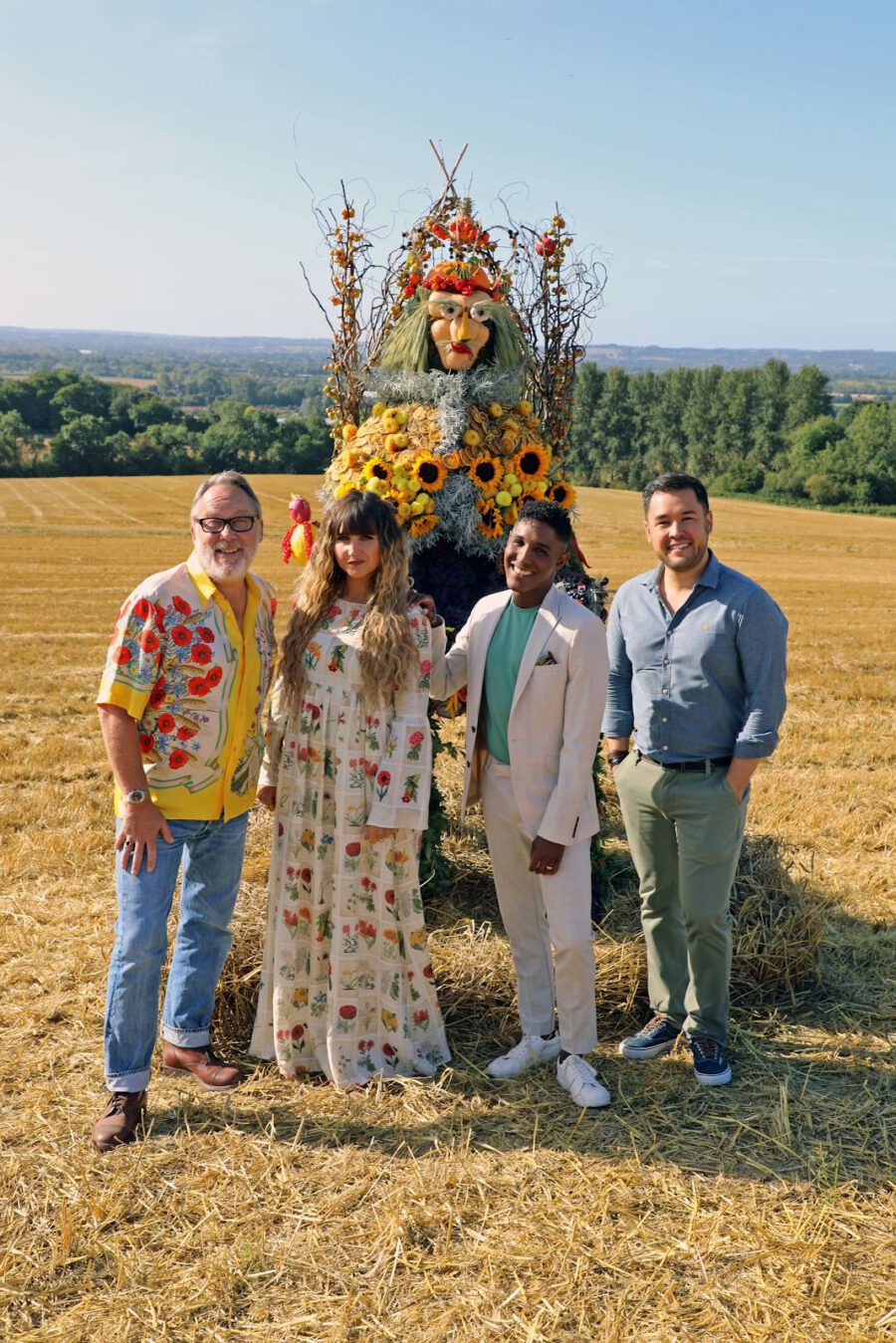 Melissa Richardson – Magnificent Mobiles
Melissa Richardson is the founder of JamJar Flowers, a bespoke floristry business based in London. Since founding the company in 2009 it has gone on to become the go-to florist for some of London's trendiest restaurants, from impressive installations at Sketch and arrangements for notable brands such as Google, Mulberry, Daylesford and Instagram.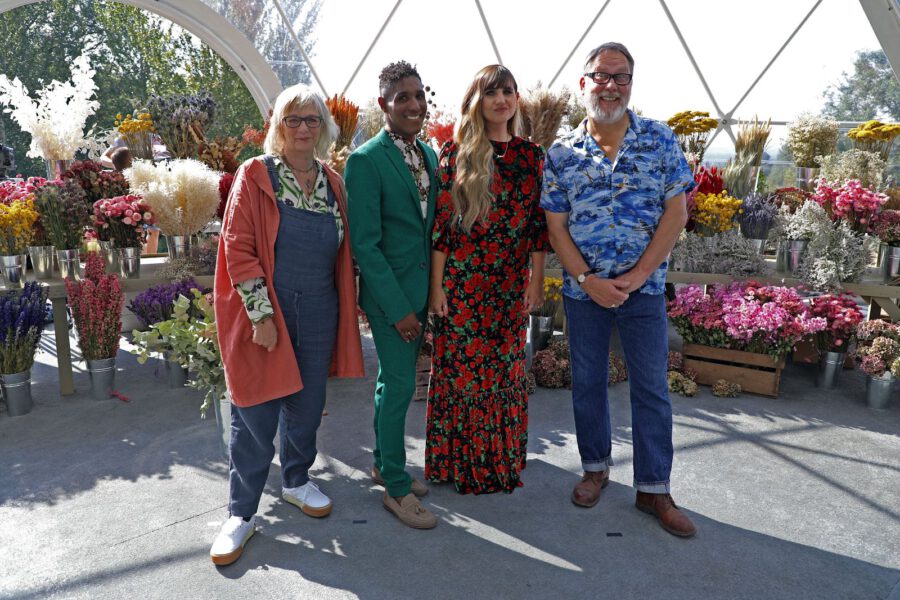 Sarah Eberle – Sea Creatures
Sarah holds more gold medals and best in shows than any other garden designer in the UK. She is hugely respected in the gardening world with more than 40 years of experience as a landscape architect. She works in both traditional and contemporary styles of design and has won 17 gold medals in RHS shows.
Sophie Walker – Green Gants
Sophie Walker is one of the leading garden designers of her generation and is the youngest woman to have designed a garden at the RHS Chelsea Flower Show, aged 28. Her gardens have won her the People's Choice Award at RHS Hampton Court Palace, along with an RHS Silver-Gilt Medal and an RHS Chelsea Flower Show Silver Medal for her famous Cave Pavilion garden.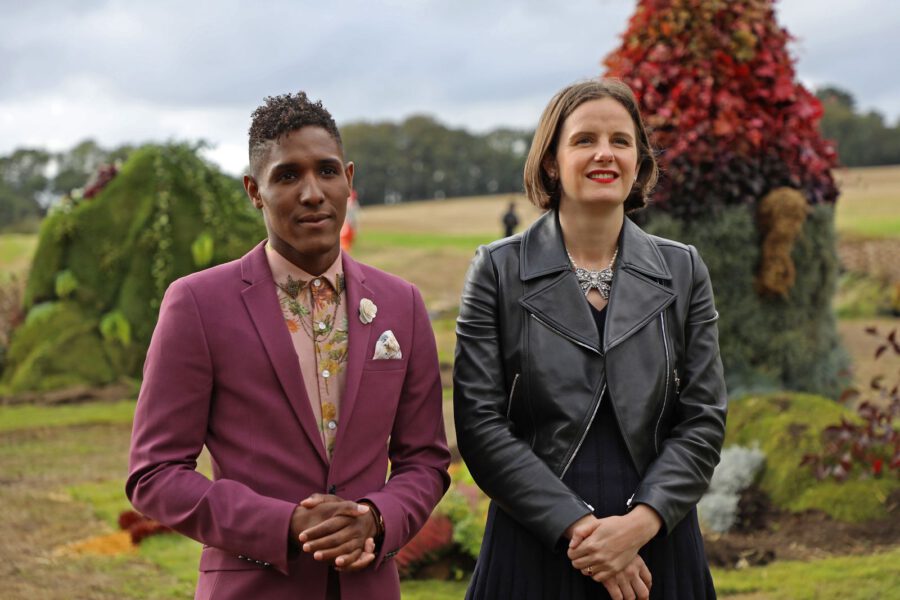 James Alexander-Sinclair – Huge Hairy Beasts and The Fairytale Finale
James Alexander-Sinclair is the epitome of English eccentricity and is also one of the most revered judges for the Royal Horticultural Society and a leading garden designer. He is best known for being a world-renowned figure on the RHS show circuit and has both designed and judged a plethora of prestigious garden competitions, most famously the Chelsea Flower Show.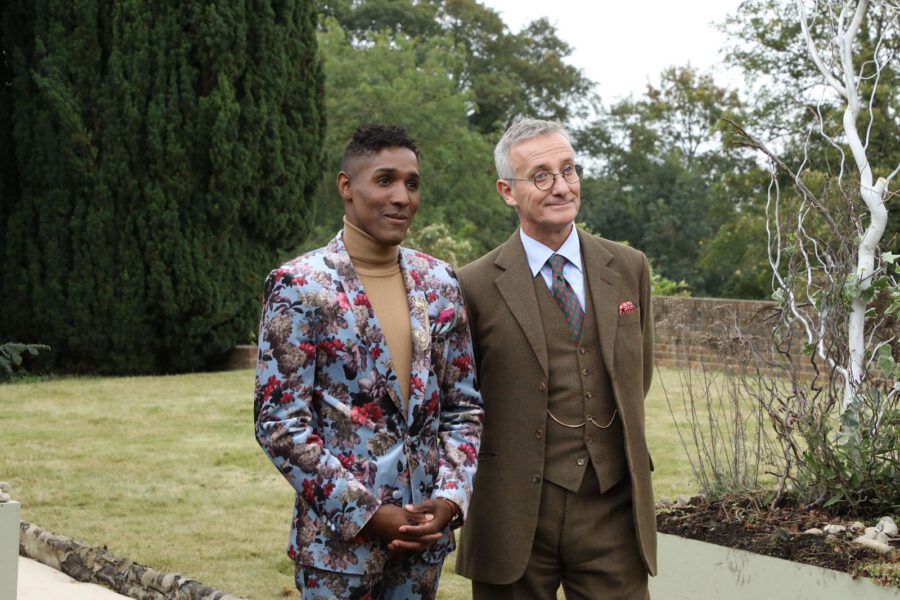 More information about The Big Flower Fight is available on Netflix.