Dmitry Turcan is one of the most recognizable Russian-speaking floral artists. With a love for impressionism and a speedy workflow, in this interview, he elaborates on his relationship with his mother and how her role and characteristics have formed him as a person.
Dmitry Turcan about Mother's Day
Dmitry's mother is not your typical post-Soviet mom. Read about how his modern Russian mother lives in another country than he does. And how her personal engagement with flowers makes him prefer to surprise her on any other casual day than Mother's Day.
An interview with Dmitry Turcan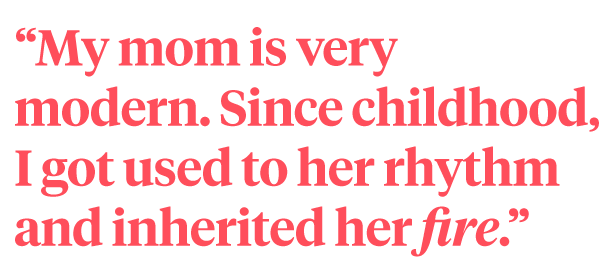 Do you have a special Mother's Day tradition with your own mother?
Dmitry Turcan continues about Mother's Day:
"In Russia and in the post-Soviet areas, Mother's Day is not present as such. Usually, we give flowers and gifts to our mothers on International Women's Day, which takes place on March 8th. Therefore, I do not have any special traditions with my mother on the second Sunday in May."
On Mother's Day, do you always create a design for your mother? Or is it so that this largely celebrated holiday in floriculture makes you focus more on clientele and less on your own mother?
"My mother and I live in different countries, and even if I wanted to make a bouquet for her, I would, unfortunately, not be able to. But my mom is special. She was also engaged in flowers, so for us, the question is not so acute for getting a bouquet for a certain holiday. She can go at any moment and put flowers at home by herself. I prefer to surprise her on casual days when she doesn't expect it. This is a more powerful and interesting way to make her happy and express my love to her."
"As I said, we don't have such a holiday but we are increasingly starting to hear about this because so many young people live abroad where it is very popular and essential. These people just order flowers for their mothers and I create designs for them but it won't take too much time."
What do you think will be this year's perfect Mother's Day Flower?
"I won't choose just one flower, because this year is unique in its kind. Now our mothers need support more than ever and it should be expressed, from my point of view, with the help of ALL spring flowers. Because spring is a symbol of awakening, a new life, and life in general. That is if you want to please your mother and say: "Everything will be fine, I'm with you", then feel free to choose any spring flowers."
What kind of flowers does your mother love?
"My mother, as I am, is fond of seasonal flowers. They reflect the state of nature and it's so wonderful."
Does your mother represent the typical Russian mother? Can you explain to us why?
"My mom is very modern. She follows the latest trends in terms of communication with children. She works a lot on herself. Her motto is: "Live in a way that brings less concern to your children." All that she can do herself, she does it herself. This is not very common among mothers from Russia and the post-Soviet space, so I can say that she is not typical."
Which trends have you noticed in Mother's Day bouquets? Can you perhaps show us a difference in your own work throughout the years, representing those trends?
"As I said, our mother's day is not celebrated. Now, during quarantine, I continue to work in my flower shop and I can say that my style has changed and I think it will be trendy for sure. I began to use more blossoming branches sprouted with green leaves. I started to make bouquets with more delicate but still very complex color combinations. They became more "girly", but the masculine style is visible in them."
Are there any personal characteristics that you inherited from your mother that we can see in your floral designs / your work as a florist?
"I think that I inherited speed from my mother. She walks very fast, and when she took me to kindergarten, she almost ran. And since childhood, I got used to this rhythm and do everything very quickly, in large numbers, and with "fire". I consider myself as an impressionist — I use greasy strokes in my bouquets. I am not a fan of monotonous work. My mother also did not like such things as sewing and cooking. She did everything quickly, with large "strokes".