This Could Have Been Your Online Booth!
Make sure to send us an e- mail or give us a call at +31(0)6 55 27 56 11 when you decide you still want to join the #TOTF2020.
You'll be online within 24 hours to profit from the global Audience on Thursd.
Thursd Online Trade Fair
NOW is the #TOTF2020, the Thursd Online Trade Fair. The Thursd online platform is organizing an international online trade fair between 1 and 14 October. 45 companies from the flower industry participate in the first online floriculture exhibition. The reason is the uncertainty surrounding the corona virus and cancellations of traditional fairs, combined with the strongly increased online presence of companies on the internet. Thanks to the online trade fair, it is still possible for floricultural companies to gain international attention for their products and services.

#TOTF2020
The Thursd Online Trade Fair (#TOTF2020) is an online-only exhibition. Exhibitors choose an online booth on the homepage of the Thursd website. Linked to this they get their own webpage on Thursd in which they profile their company, products and services. This webpage remains easy to find even after the #TOTF2020 on Thursd and is well indexed by Google. Thursd's editors pay close attention to the right SEO on every page. In addition, there are options for extra publicity in the newsletters and on the social channels.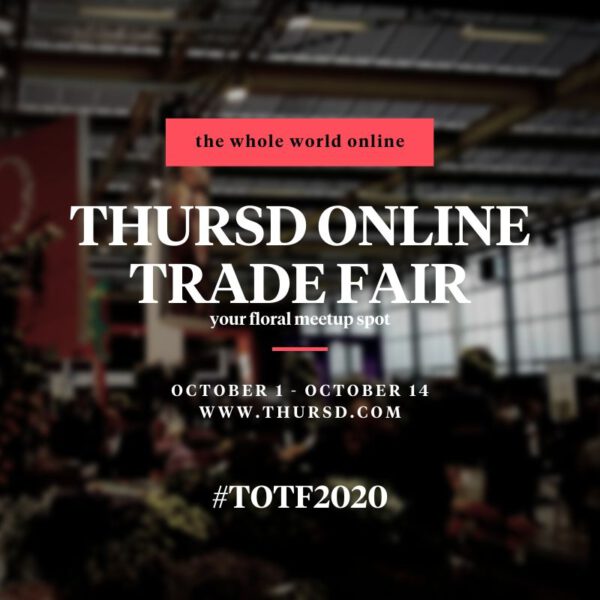 The whole world follows Thursd
Thursd, an international online platform with stories from and about companies and individuals in the horticultural sector, started in September 2019. Thursd has become a well-known international media platform with visitors from all over the world. You can read more about Thursd here. If you like to join Thursd, then click here. Interested to profit commerces bialy from the global audiences on Thursd? Then go to the advertise page on Thursd.