From January 21 to January 31, 2021, is the #TOTF2021, the international
Thursd Online Trade Fair
.
Digital fair TOTF2021 Winter edition on thursd.com from 21 to 31 January 2021
The great success of the first online fair on Thurs last October and the enormous growth that the platform is experiencing, gives every reason for a follow-up. About 40 renowned companies will present themselves from 21 to 31 January at the second Thursd Online Trade Fair (TOTF2021 Winter Edition). Here they benefit from a wide online reach among florists, growers and traders.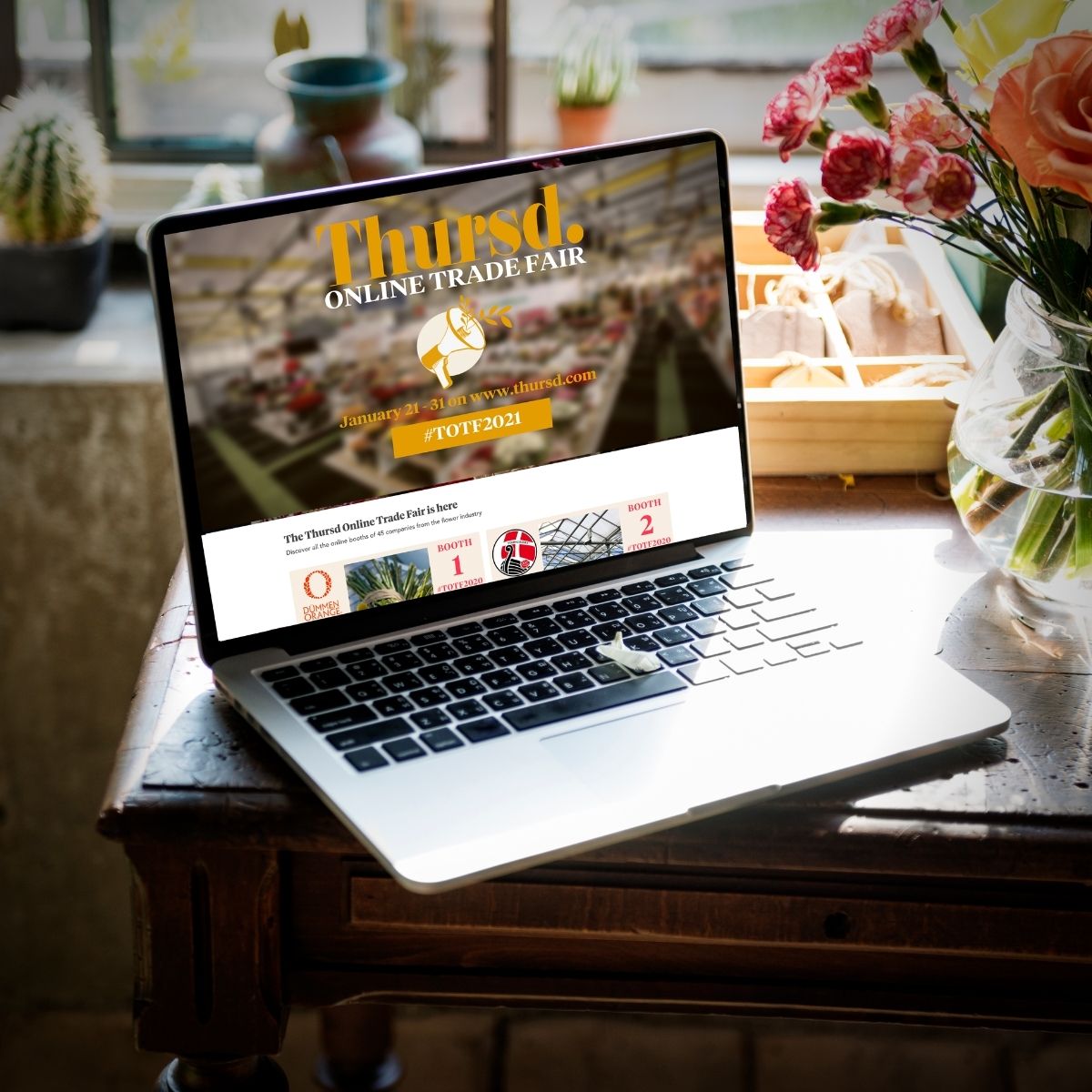 #TOTF2021 Winter Edition
Various breeding companies, including Dümmen Orange, Royal Van Zanten, Deliflor, Syngenta, Roses Forever, and De Ruiter, show their top novelties for 2021 at the Thursd Online Trade Fair 2021 Winter Edition. Growers (groups) such as DecoFresh, Decorum, VG Orchids, Marjoland, and Tesselaar Alstroemeria also show themselves extensively at this online fair, as do trading parties such as Coloríginz, Farm Direct and Adomex. Furthermore, the industry around floriculture is increasingly presenting itself with Pagter Innovations, Koen Pack and Van Nifterik Holland, among others

Thursd's Editors Pay a Lot of Attention to The Right SEO
Arnold Wittkamp from Thursd says:
"The great thing about a booth at the TOTF2021 Winter Edition is that you are very visible online. Companies with an online booth will get a prominent place on Thursd's homepage. This homepage is our exhibition floor, where the visitor "walks into" a booth by clicking on it. Exhibitors profile their company, products and services in their online stand. Their web pages will remain visible and easy to find even after the #TOTF2021 on Thursd. In addition, we offer options for additional publicity in our newsletters and on our social channels. I am pleased that companies such as MPS, Agra-Wool and Floweracademy are also participating, so that it is interesting for more and more people in the flower industry to visit the #TOTF2021 Winter Edition of Thursd."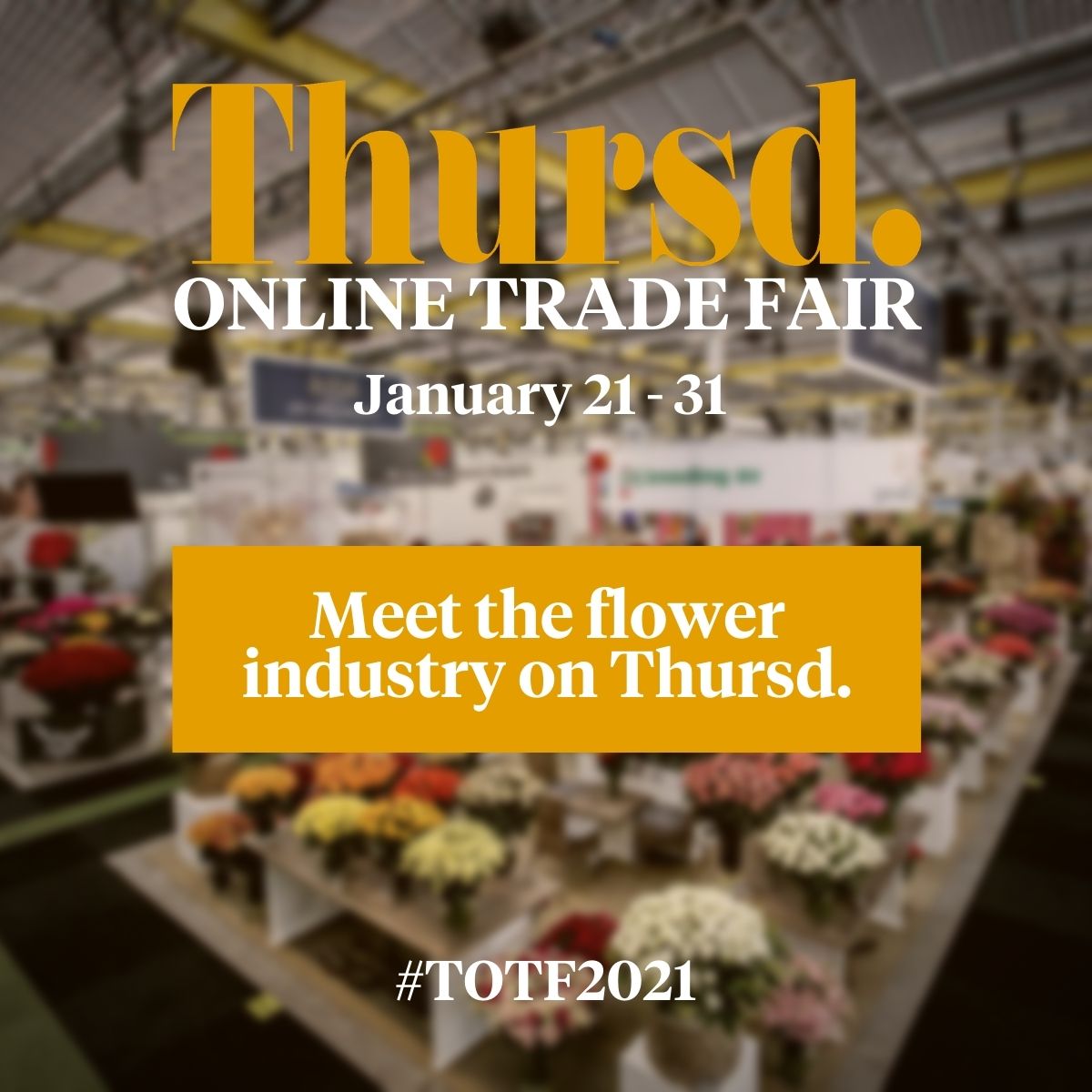 The Whole World Follows Thursd
Visitor numbers are rising very fast, especially since the previous online fair. In recent months, Thursd has grown in reach by about 20% every month, both on the website and through the social channels.
Thursd is Reaching the Right People
"During the #TOTF2021 Winter Edition, the online exhibitors will also encourage their own network to have a look on Thursd. In this time of corona we see that online engagement offers significant added value compared to the existing contact options. Thursd is at the forefront of this with this online trade fair; a trend that cannot be stopped."
Jennifer Laarman, Thursd's social media specialist continues:
"Thursd's online strategy works well and we are reaching more and more people all over the world. At the previous edition of the TOTF, we also received many visits from other flower-producing countries such as Kenya, Colombia and Ecuador. This is achieved by our platform thanks to the help of participants who massively promote their online booth on Thursd through their own channels. All participants together reach a lot of people in this way. And the right people, that is the most important."
The visitors to the Thursd website come from 87 countries, of which the US, the Netherlands, the United Kingdom, Germany, and France account for more than 70% of the visitors.