Alexandra Farms, the world's largest grower of fresh-cut garden roses, proudly announces the nine latest additions to their astounding roses assortment. Alongside three garden roses, they're introducing six varieties of spray roses from breeders in France, the Netherlands, and Japan. A real treat to the rose lovers amongst us. Let's find out which varieties it is all about this 2021, in the Alexandra Farms online booth at the Thursd Online Trade Fair.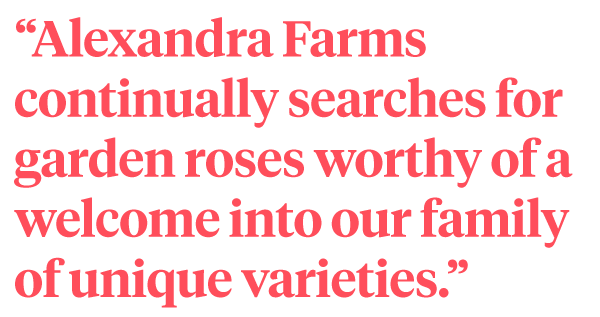 Wabara Garden Roses
Alexandra Farms states: "We're thrilled to bring three spray rose varieties to the market from Rose Farm Keiji, the renowned Japanese breeder. These three varieties are exclusively grown by and available from Alexandra Farms."
Rose Sola
Sola's wavy petals in luxurious lavender gain depth and dimension from touches of beige-pink in an airy, ruffled spray rose with an antique elegance. Her medium-size blooms can last for 12 days in the vase.
Rose Aoi Fuga
Aoi Fuga brings a rich shade of Persian pink with hints of lavender to the range of new options among spiral spray roses. Her medium-size blooms open wide and typically come three to a stem.
Rose Ioli
Ioli's undulating outer petals in dusty pink are touched here and there with bright, reddish-pink, and they enclose a sandy-toned center. Ioli pairs well with pink, peach, caramel, or any similar warm, earthy tone.
Deluxe Garden Roses
Alexandra Farms about the Deluxe Garden Rose Collection:
"In the six new varieties belonging to our diverse Deluxe Garden Rose Collection, we are pleased to introduce three garden roses and three spray roses."
Rose Special Bride
Special Bride is a classic wedding rose with large, cup-shaped blooms and more than 200 petals in pure white and soft pink. Her outer petals form starry points, while her center petals unfold in tender pleats to reveal a golden, almost hidden heart.
Rose White Ashley
White Ashley is the sister of the popular pink variety, Ashley. She has a large flat rosette shape and buttercream heart. Her sturdy petals open to starry points on the outside, with swirling folds in the interior of the rose.
Rose Westminster Abbey
With wavy petals of an extraordinary platinum color edged in pink lace, Westminster Abbey is a rose worthy of her regal and elegant name. She begins as a pinkish beige that quickly turns to light gray. With as many as 150 petals, her large flowers can last 12 days in the vase.
Rose Blanche
Our first pure white spray rose, the aptly named Blanche spreads her petals wide over about five days, forming a shallow cup with an expansive display. This beauty has a hint of cream in the center and the palest green tint in her outermost petals.
Rose Sahara Sensation
Sahara Sensation is a truly sensational spray rose, with colors like the first light of dawn, the golden sands of the desert, and pale peach. She opens halfway, then holds her shape to reveal inner petals forming an enclosed spiral.
Wedding Rosever
With about thirty petals to each flower, Wedding Rosever blooms into soft waves of blush pink and white as they open wide, forming airy, ruffled rosettes. She grows four or more medium-sized blossoms on a single stem.
Roses Worthy of a Welcome
Alexandra Farms continually searches for garden roses worthy of a welcome into our family of unique varieties. In addition to unique colors, shapes, and fragrances, roses must have at least a 10-day vase life after they've been nurtured, harvested, carefully packaged, and shipped under the expert care of our rose-loving team in Bogotá, Colombia.
Contact and Follow Alexandra Farms
Contact us for more information about our assortment of garden roses and spray roses: