Here's what to expect this fall and winter season from breeder Royal Van Zanten. Get your inspiration with our great assortment of cut flowers and pot plants.
Sneak Preview of Our Cut Flowers for 2022
Year after year, season after season, Royal Van Zanten develops new varieties and improves the existing ones. All to help growers get the best out of their production and to inspire traders, florists, and consumers with the most beautiful and long-lasting flowers and plants. Enjoy this online booth at Thursd Online Trade Fair, and don't forget to hop onto the Virtual Inspiration Events for more flowers and pot plants at the Royal Van Zanten 3D shows.
Alstroemeria
Our alstroemeria varieties are true eye-catchers: beautiful to look at and absolutely stand out in bouquets. With so many different color shades in our range, you can respond to seasons and trends all year round. With an outstanding vase life and all flowers fully opening, the consumer can go on enjoying a colorful, radiant bouquet of alstroemeria for a long time. In 2022 several new varieties will be added to our assortment:
alstroemeria Virgin Queen
, alstroemeria Shiny Purple, alstroemeria Mykonos, alstroemeria Ruby Velvet, and alstroemeria Dark Intenz Pink.
Statice
With our statice varieties, you'll brighten up every bouquet and add instant value. The flowers are vibrant, super strong, versatile, and have a very long vase life with no color fading, even after drying. The latest edition to our assortment is the unique peach-colored
statice Apricot Sun Birds
; a stylish, trendy newcomer that will take any floral creation to the next level.
Limonium China Series
Limonium has instant appeal. The delicate-looking yet super strong, versatile flowers in soft colors are superb in contemporary bouquets. But they're also perfect for use as dried flowers. Our colorful limonium China series invites you to create lush bouquets, giving free rein to your creativity.
Chrysanthemum
Our eye-catching and sparkling chrysanthemum varieties in spray, disbud, and santini are making the difference! Steady, reliable, and versatile varieties that will never disappoint you in any way and are therefore loved by everyone. Our latest disbud variety
chrysanthemum Cruella
surprises you with her quirky, amazing flower shape. The effect is further enhanced by the bright orange color that perfectly matches the latest trends.
Charmelia
The Charmelia series is being expanded again. Following the success of
Charmelia Pink
, Charmelia White, and
Charmelia Blush
, a new color is added to the series: sunny
Charmelia Yellow
. With this new Charmelia color, you can now create radiant yellow bouquets that perfectly match the latest trends, but also fill the need for happiness, friendliness, and optimism. This new yellow stunner also has the unique characteristics Charmelia is celebrated for: an enchanting appearance, rich flowering, and exceptionally long vase life. Charmelia stays fresh and radiant in the vase for up to 21 days.
Bouvardia
Trendy, unique, and versatile, that's bouvardia. This beauty is fantastic both solo and mixed. It makes little difference whether you choose her as the leading lady or give her a small supporting role. She will shine anyway and is suitable for every occasion!. New in 2022 is bouvardia Princie Dark.
Virtual Inspiration Event Flowers - A Colorful 3D Tour
There's a lot more to see and enjoy. Come and see our Virtual Inspiration Event Flowers. Check-in and take a colorful 3D tour; a tour you do not easily forget! Experience the impact of color and discover our complete collection of cut flowers in an endless array of colors – from luminous yellow to deep dark purple – in a playful way. Look out for the bouquets and flower sculptures in striking color combinations and DIYs that you can get going with straight away.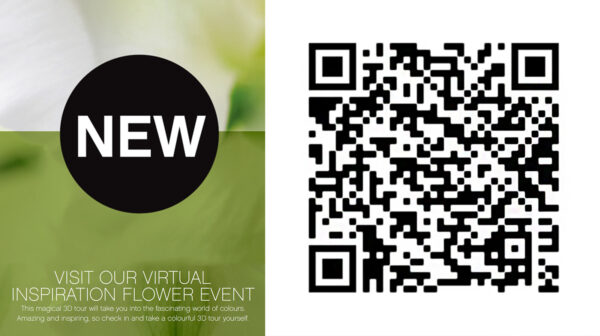 Scan de QR-code with your smartphone or click on
this link
to start the ride!
Sneak Preview of Our New Plants for 2022
Stay on the lookout for these new plant varieties coming to you from Royal Van Zanten. Some will be available in a limited amount this year.
Pot Chrysanthemum Series: Shine
Chrysanthemum Shine is a new series that is recognizable by its small, elegant flowers. Available in three main colors: chrysanthemum Shine White, chrysanthemum Shine Yellow, and chrysanthemum Shine Pink.
New Celosias: Hot Topic® Golden, Merida® Pink & Merida® Red
A true golden addition to our celosia assortment is celosia Hot Topic® Golden. The sun will start to shine when you see this ochre yellow cristata celosia. A very trendy color that will suit many of the Instagrammable homes of interior junkies. There is more than just the purple spicata celosias! We have also other colors. This year we brought back celosia Merida® Red and an improved version of the celosia Merida® Pink. Cool-looking plants usually are popular among the plant dads.
Bigger Is Better; These Are the New Chrysanthemum Disbuds in Pot
You'll probably know our
chrysanthemum Fireworks™
. Next year her new plant friend Firestone will become available. Chrysanthemum Firestone is a big and massive spider-type flower in a beautiful sophisticated pink shade. Chrysanthemum Nova Lime was already available as a regular pot chrysanthemum, but as a disbud, this plant truly catches your attention. Nova Lime has a sister called Nova Yellow! Chrysanthemum Nova Yellow has yellow decorative flowers with a unique green edge. During our recent flower trials, she was THE showstopper.
Like to See More Plants? Visit Our Digital Plant Journey!
Missed the trials this year? Perhaps you were not able to travel to our breeding greenhouses? No worries, visit our digital 7-days plant journey here:
https://royalvanzanten.digitaal-magazine.nl/virtual-tour
.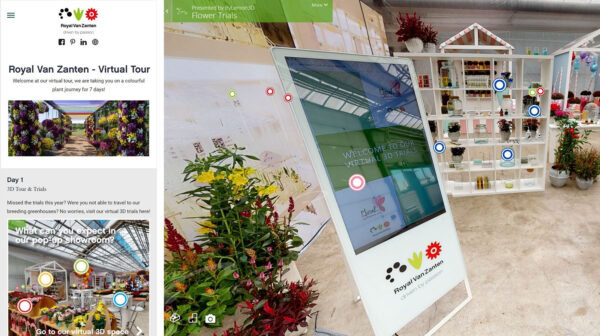 There is also a special retail section with inspiration for garden centers and florist/ plant shops. Here you'll find inspiration for Christmas, Mother's Day, and much more!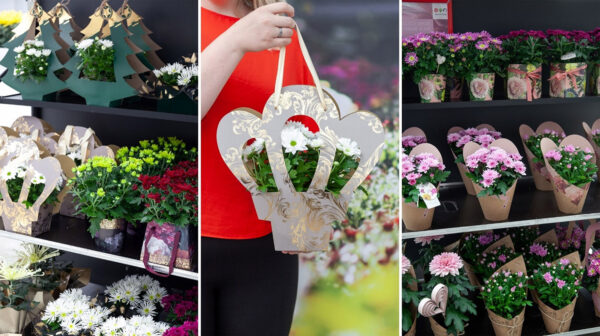 Contact and Follow Royal Van Zanten
Like to order? Please ask your supplier or grower for our products. You can contact us for more information or if you love to work together with us. Royal Van Zanten's Market Manager Wouter Jongkind Email:
[email protected]
Instagram:
https://www.instagram.com/youngchildwj/
Royal Van Zanten's Area Export Manager cut flowers and pot plants Egbert Bok Email:
[email protected]