How does the coronavirus affect this year's wedding season? Christopher Makomere of worldwide active rose breeder United Selections gives us their preview. Nice to know how they always test their novelties with florists.
Where is your business active?
We have an office in De Kwakel in Aalsmeer, Netherlands, where we collect feedback from florists, flower wholesalers, buyers, and general consumers about their flower preferences. We then incorporate this feedback into our breeding program which takes place in Kenya. This way we are able to come up with different varieties that suit special occasions such as Valentine's Day, Mother's Day, and those that predominantly sell better during the Wedding Season.
Please walk us through a schedule for your 'normal' wedding seasons. How does it differ in 2020, compared to other years?
As a breeding company, the wedding season does not affect us directly. But we play a major role in supporting the flower industry by breeding and selecting breeds that resonate well with the consumers. Generally, once we introduce new varieties to the market, and even the existing ones, the next thing we do is send some to the florists so that they can test the vase life, sensitivity to damages, theme, and general attractiveness. Some of the varieties that have always done well during wedding seasons include Adalonia, Tender Blossoms (see header image), Miss Mardi, Duchesse, and Capture. This year, however, we have not been able to send significant quantities due to restricted shipments across countries. Something that has always been the norm in the past. At a time like this, we'd have sent hundreds of bunches already.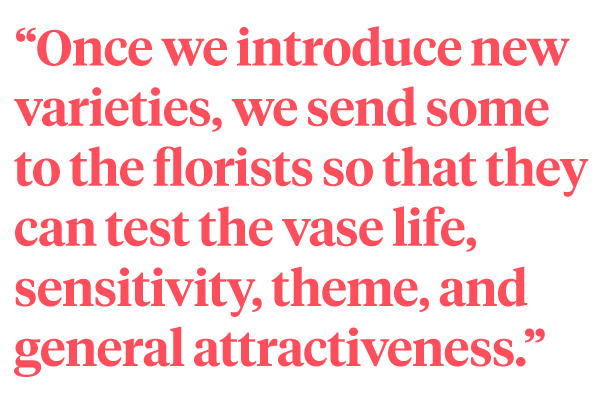 Have you been practicing your business since the (partial) lock-down in your country?
Most of our staff in Kenya, Holland, Ecuador and Colombia are still working but remotely in their homes. However, we've reduced operations to only essential activities. We have pruned our showrooms across the globe since we are not receiving any visitors. The biggest challenge for us and everyone in the industry is a lack of cash flow. As an indirect player, when our clients (flower growers, buyers, or even florists) go through a hard time, we have to also feel the impact. The only way to overcome these challenges is to remain lean and efficient as we wait for better days ahead.
Which inspiring new initiatives have you seen in your field of work since COVID-19?
During this period when the world is fighting the COVID-19 pandemic, we need to remain positive and encourage individuals to support each other. We are actively participating in several initiatives such as Flowers4oxygen where we spread creative and positive messages under the hashtag #flowers4oxygen. The other one is #buyflowersnottoiletpaper.
How important is it for you to lift each other up in these times and what does that mean for you and the bond with your colleague-professionals and business relations?
Every day we keep in touch with other businesses, staff, and other stakeholders just to exchange perceptions and check on one another. This is very important for us as a company.