Welcome to the
Syngenta Flowers
booth at Thursd Online Trade Fair 2021. This year marks both the 50th anniversary of the company and the 25th of the extensive Delta® Violas brand. That calls for a celebration!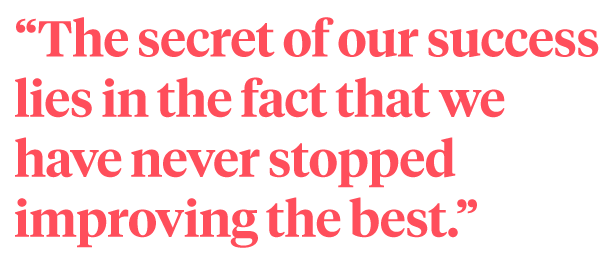 A New Look for Syngenta Flowers
Syngenta Flowers has updated its look to make a fresh new identity. We are proud of the work we do. We are game-changers and experts in our field. We create beauty and excitement while providing innovations that drive a passionate industry of doers. We are proud leaders who provide high product quality, the best technical expertise, and impactful marketing programs. We are
Syngenta Flowers
. We bring plants' potential to life.
Seeds, Cuttings, and Young Plants
Syngenta Flowers is a leading global company in the pot- and bedding plants market. We produce seeds, cuttings, and young plants that fulfill grower's and retailer's needs. 2,300 passionate people bring color to the world with innovative varieties in a broad range of crops. As part of Syngenta, a global company with a strong focus on the seeds business and breeding, we have access to leading breeding technologies. We create value for our customers through creative collaborations with strong partners.




Syngenta Flowers' Identity
Rock-solid – Stable, Certain
Syngenta Flowers has over 100 years of experience, which we gladly share with our customers by providing them with outstanding technical advice and support. Our innovations fit well in today's floricultural business and grant us a great position for years to come.
Game changer – Innovative, Fresh
Our unique assortment of seeds, cuttings, and young plants shows that we add value to the flower market. Our innovations in the fields of improvement of shelf life, resistances, limiting PGR use, and more resilience, proves that our plants are easy to grow, to care for, and to enjoy.
Power – Optimistic, Energetic
Flowers feed the soul. And with that quality in mind, we connect to our breeders. Not thinking in issues, but in sustainable solutions brings us, and our customers further in the horticulture business and in life. We highly value team spirit and the energy that it brings, powers our business.
Together – Equal, Partnerships
Growth must never be at the expense of people or nature. That is why all our produce is Fairtrade and endorsed with sustainability. We share our expertise but are also eager to learn from others. That's why we value our partnerships dearly. Partnerships bring opportunities to bundle knowledge and innovation to contribute to a sustainable future.
Syngenta Flowers' Values
Excellent Genetics
Syngenta Flowers stands for innovative breeding. We believe that the long-term value of our industry is best served with state-of-the-art genetics that performs outstandingly at the consumer level. We need to make the gardener successful.
Obsessive with Quality
To be able to bring the best out of our genetics, we need to make sure to provide the customers with the best material to start their crops. This means top quality cuttings and young plant material. We need to make sure that we deliver top product from our genetics, that growers can bring to the finish as easily as possible.
Excellent Technical Support
We have a lot of knowledge and experience about how our genetics perform in the greenhouse and what circumstances they like best. All this knowledge and experience should be available to the customer. Therefore, we have our technical specialists that support the growers in getting the best out of our genetics. Their knowledge and experience can help our customers in getting the best results.
People – Our Team
Horticulture is a people's business. It is the people that make the difference. Therefore, we invest in developing our people to make use of their full potential. If you are good to your people, they will be good for our customers. That is why 'How matters' is at the core of our company's values. Knowledgeable, experienced, talented, and committed people ultimately bring the best result for our customers. They want to see a company that is confident, reliable, and close to them. That is what being Syngenta Flowers is all about.
Contact and Follow Syngenta Flowers Europe
Visit our website:
www.syngentaflowers.eu
Subscribe to our
newsletter
Find a
sales rep
Follow us on social media: