In 2017 we started with FloraPodium. In a separate room at our offices from Barendsen, located in the FloraHolland Aalsmeer, are continuously nine vases with flowers that are new or special. Every Saturday at 10:00 am there are nine new products put down. Products often come very rawly. We let them develop indoors and at the end of the week when they are at their best. Always under the eyes for a week we literally give the products a stage. And we try to show these rare products on our socials and through our newsletter. Jan de Boer:
When special and rare products become a success, we have great opportunities for diversity in the future. Breeders will also move ahead with the misfits, not only with their strongest products.

FloraPodium
FloraPodium has been created to connect floral specialists, to inspire and surprise them by showcasing exclusive and extraordinary floral products. By selecting these exclusive and special products, we hope FloraPodium will inspire floral specialists to connect both digitally and personally. The FloraPodium is meant to be a meeting place for all parties involved and will serve as a shopping window for as many special products as we can find.
The Menu
When having dinner at a quality restaurant you may often be offered a specialty of the day apart from the regular menu. This dish has been carefully selected by the chef and is often accompanied by a wonderful story about the origins of that particular dish, thus adding value and making the experience even more gratifying. FloraPodium is the addition of the general menu. On the stage, you have 'day dishes' that can surprise you. Exclusive and special products with a story. There are products that you might not choose in the first instance but which can still be attractive. FloraPodium puts products in the spotlight that are different, innovative, or special.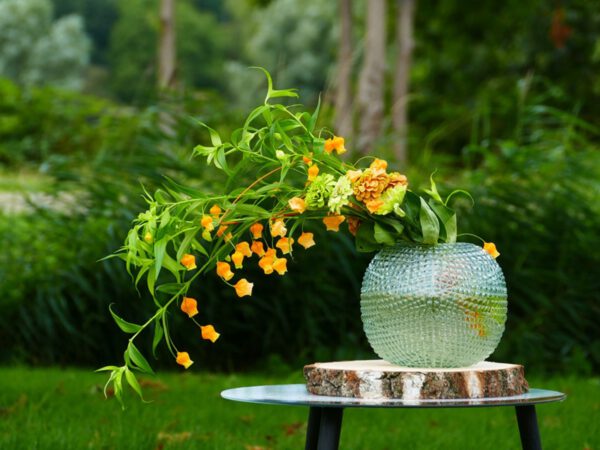 The Colored Sheep
The colored sheep on the stage symbolize the growers with a special product. These are not always visible in the crowd, but maybe an interesting addition to the general menu. FloraPodium likes to give these growers a distinctive color by putting their product and company in the limelight.
This Is FloraPodium, This Is Us
FloraPodium belongs to everyone. Every week other people work on the development of all videos, flower arrangements, and information. Everyone is welcome to contribute to this platform so that we can inspire each other!
FloraPodium Seeks Cooperation With (floral) Specialists
Every week, the FloraPodium team is busy making new creations with FloraPodium products to inspire floral specialists, and naturally, this is done using our own taste and insights. FloraPodium however wants to cater to a bigger audience all over the world. With this partner group, we hope to inspire more floral specialists with flower arrangements. Diversity is the code word for this group. Are you a florist, are you always challenging yourself and would you like to contribute to the FloraPodium partner group? Sign up now at
[email protected]
! In addition to flower specialists, other interested parties are also very welcome! Our collaboration with Visions is a good example of this. They photograph the beautiful flower arrangements that are made for FloraPodium so that we can work with top material!