Get ready for the
World Floral Expo 2020
that will be held at the end of March. In New York.
HPP Exhibitions
The World Floral Expo is yearly organized by
HPP exhibitions
.
With years of experience of floricultural trade show exhibitions around the world, this year's edition is set to be another great one. From the 25th to the 27th of March you are welcome in the Jacob K. Javits Convention Center in New York, NY, USA.  This world floral trade show in horticulture, floriculture, and landscape will give you new insights into international fresh cut flowers, and the businesses within.
This time it's new York
The World Floral Expo is being held each year in a different city around the United States. Last year it was held in Dallas, the year before in Las Vegas. This coming March, from 25 to 27 March, it is held in New York, NY. A show absolutely not to miss.
Many businesses to see
The show's exhibitors are growers, wholesalers, and other trading companies from the industry, mainly from South and North America and a few from Europe. With exhibitor names such as
Alexandra Farms
, Jet Fresh Flowers,
RosaPrima
, FleuraMetz,
Hannah Gardens
, BellaFlor, Hilverda de Boer USA,
Holex
, Naranjo Roses Group, a Kenyan flower grower Pavilion, and a Thursd. booth -yes Thursd. is coming to the States-, this is a show you just want to attend.
Much to see
Over the years, this leading floricultural trade show has offered growers, traders, and other floral suppliers an exciting opportunity for displaying their best products, novelties and new services. The exhibitors keep visitors wondering what's happening now, and what's coming next.
Visitors of the World Flower Expo are larger retailers, wholesalers, traders, floral designer, and e-commerce platforms. Joey Azout, CEO of
Alexandra Farms
, one of the booth holders (booth 5002) at the Expo:
We hope to promote our garden rose varieties to our customers' customers. The show gives us a unique opportunity to talk to them directly about our new products and about care and handling of our garden roses. For us it is refreshing to talk to the people who actually use our product for designs and weddings and events and to see their work. It is also very valuable for us to get their feedback about shapes and colors
Holex
will attend the show with a booth (2020). Also to showcase and talk about their
HLX Direct program
. Fleur Cornelissen, marketing manager of Holex:
For Holex it is very important to be visible in the market, and to meet our customers, of which some also are exhibitors at the show. A fantastic time to meet, greet and talk to all our contacts at the other side of the ocean. We really believe in our HLX direct program and we kindly invite you to visit us at the show!
Meet Thursd. at the World Floral Expo
The show is a must see for everyone related to the industry. Thursd. attends the show as well! At the show you will have the opportunity to learn more about the connections Thursd. makes in the floral industry. Thursd. welcomes you at booth 1011. You can
download the floorplan here
.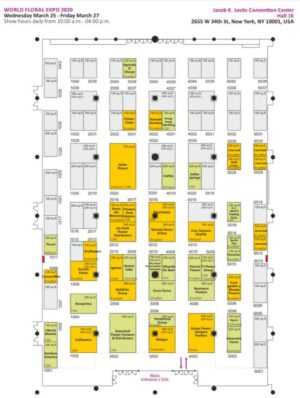 Want to visit this show?
You can register here.
Want to exhibit this year's World Floral Expo 2020 in New York? You might find some open spaces left to exhibit your business, products, and services. Be quick, and register! To do this, go to the
HPP Exhibitions website here.