From Head Florist at a large wedding and event business in Bahrain to going back home living a freelance florist life in Mexico. Yamile Bulos opens up to Thursd on how COVID-19 drastically changed her career path. She provides insights into how the Corona outbreak changed things for her as a starter in the industry with a global pandemic affecting her idea on how to grow. With her previous Thursd. feature "Dreaming big and taking risks" we already got a glimpse of the exciting path to become the woman who she is today. Being an inspiring international woman in the floral business, her positive and proactive mindset is what helps her to keep busy and hopeful in the current COVID-19 situation.
How is Yamile Bulos from Mexico coping with the current Corona outbreak?
An interview with Yamile Bulos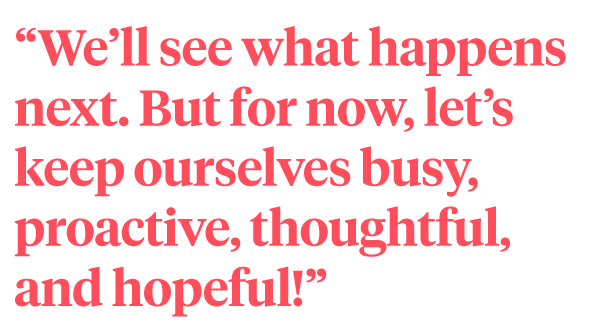 In which country/city/region is your business active? Where is your office or shop located?
I was working at YQ Art in Bahrain (Middle East) until a month ago where we worked with flowers from Heemskerk Flowers. Due to the COVID-19 situation I had to return to Mexico, my native country. So now I'm freelancing and making arrangements and bouquets for special occasions because evidently weddings here got cancelled too. I'll explain it and go deeper into that, further on in the interview.
Can you describe your business in general? How was the situation for you at YG Art and how did COVID-19 change your path?
Well, I started working at YQ Art in October 2019, I was hired at the beginning of the high season of events and weddings. Now I can tell that in the Middle East the events' high seasons are quite different than, for example, Mexico. January is a quiet month, February and March are very busy months because they choose to get married before "Ramadan", which is the ninth month of the Islamic calendar. It is a holy holiday for Muslims that lasts a month, it takes place approximately around the months of April-May, and it is forbidden to have this type of events, because they are fasting during the daylight hours from dawn to sunset But when they can eat they usually have huge dinners and gatherings where there is also a great opportunity for us to hold events and to flower them. After the Ramadan month, everything is very quiet until August-September, when the season of events and great weddings begins again. When I arrived in Bahrain and until the end of February and the beginning of March, we had many weddings and events of all kinds, sometimes even in the same weekend we had 2-3 weddings, it was crazy! It should be noted that in December and January the work did drop a bit.
And how did the wedding schedule at YQ Art differ in 2020, compared to other years?
In 2019 in YQ Art the high season was as I described previously, February, March and days before Ramadan were full of events and from June-July it began to drop; but for this 2020 the whole forecast changed ... Since everything started with COVID-19 and it reached the Middle East, in the GCC countries' borders began to close, even at the beginning of March we had a wedding in Saudi Arabia and only a part of the staff managed to go. By the time my bosses and I were going to take the flight, it was canceled and we couldn't make it. We had to work and manage the staff remotely. So that's how I experienced and lived what was going to be my last wedding, without even seeing it! Honestly those were very stressful times, full of uncertainty! Thus it continued, the cases increased as well as the preventive measures, until more borders were closed and at the same time, the events that we had booked for the end of March and April were cancelled or postponed. For this reason and before getting stuck in Bahrain, I had to return to Mexico earlier than planned. It was a very big shock in all aspects!
Have you been practicing your business since the (partial) lock-down in your country? What barriers do you face at the moment of running a successful business? How do you plan to overcome them?
It is true that my path in this industry has been very short - just over a year- and for this reason I felt terrified by this situation. Summing up; I had to leave Bahrain and stop working at YQ Art due to this issue and return to my country without having any plan at all! Because we don't know when it will end, when the events can happen again, when we can go back to our normal lives. Yes, I arrived in shock and without plans. But as time has passed, I have tried to be productive, to keep learning about this industry, to continue practicing and playing with flowers and honestly I feel very lucky to be able to freelance and keep following my passion here in Mexico. Thanks to the people who trust me and like my work. I have been asked to make some arrangements and bouquets for special occasions and that has kept me busy, happy and doing what I love the most: flowering and giving smiles, love and hope through my floral art! I would love to be able to keep flowering weddings and events because it is what I want to do for the rest of my life, I feel this is my true passion! But it is nice to know that even in difficult times - when we are all living in a situation that is too awkward and uncertain - people still want to give flowers to their beloved and special ones. The fact that I can be a part of that, is deeply gratifying to me! In addition, I feel very excited because now is time for me to be able to share my floral art and get people to know me better here in Mexico. Since after I finished my studies at London Flower School, I went directly to work as the Head Florist for YQ Art. Therefore I have not had the opportunity to fully experience the events and flowers industry in my country. We'll see what happens next but for now let's keep ourselves busy, proactive, thoughtful and hopeful!
Which inspiring new initiatives have you seen in your field of work (or related industries) - or are started by you - since COVID-19?
Once I arrived in Mexico, I knew that I would find myself in the same situation. Preventive measures and businesses that were closing, were starting in my country. Needless to say, one of the most affected is the events industry. In fact, talking with friends from this field I knew also their weddings were either cancelled or postponed and we are all facing tough times as the quarantine was being extended. Something interesting that happens in Mexico during this time of year is the graduation/prom parties (June-July), which were also affected by the COVID-19 situation. Despite not knowing when all this is going to end, many florists, planners and people from this industry joined the initiative on social media that talks about not canceling the event but postponing it (the famous hashtag #dontcancelpostpone) so that none of the involved parties is affected in economic matters.
On the other hand, I have seen colleagues from all over the world taking advantage of these crucial moments, especially using technology and social networks to promote their products and services, live streaming for teaching people how to do something (a flower arrangement, how to plan a wedding, among others), inviting us to buy local, to support people who need it the most, challenging each other to make the most of our creativity doing all kinds of activities. I even participated in a table setting challenge using anything we had at home because #stayathome! I also saw that in Holland some flower suppliers (e.g. Hoek Flowers) instead of throwing away all the leftovers because there is no mass consumption, they are giving them to charity… But one of my favorites so far it's been the #LETHOPEBLOOM initiative that invites us to share and spread this beautiful message: "Flowers are full of powerful symbolism. They speak an international language of love, friendship, gratitude, comfort, support — and hope. Our flower message goes out to the world. With its enormous lettering, made with hundreds and thousands of individual stems, the giant arrangement lets us know that flowers will always be there to lift our spirits and bring us hope." An initiative that you can also find in the Thursd. article from a few weeks back.
How important is it for you to lift each other up in these times and what does that mean for you and the bond with your colleague-professionals and business relations?
All those initiatives have been incredibly usefull and encouraging! They keep us busy, motivated, creative and above all invite us to lift each other up. To make ourselves known into this industry and to keep being motivated despite everything. As I do believe "this too shall pass" and when we are going to get out of it, we will be stronger and will have much more desire to work. In difficult times like these the best thing to do is to support, to teach, to motivate and to encourage each other. It's the perfect time to share experiences, knowledge and good vibes. Also, as it has been done lately, we must not forget the people who are most vulnerable to these situations and try to help in any way we can. For example, in Mexico City there is a very famous flower market called "Mercado de Jamaica" where people keep working because they need it to survive. So many of us who are still working with flowers prefer to buy directly from them or from local suppliers to support the entire community. Of course it is not that I feel happy about this whole situation but I have quite enjoyed seeing so much support and initiatives to cope with this in the best way possible.
What do you think is the biggest issue in your segment of the wedding industry at the moment, from your perspective?
The lifeblood of the flower industry dried up as event after event evaporated from our calendar. State governments shrunk the number of people allowed to congregate. Schools canceled or postponed their proms. Couples are delaying their weddings. Businesses with regular flower orders are shuttering. The floral industry's obstacles ain't identical to other struggling sectors such as tourism, food service and entertainment. But small businesses worldwide will face similar questions as they struggle with revenue and fixed expenses since they will not have incomes during this situation. As I mentioned before, amid the spread of COVID-19, many clients and of course companies are facing wedding-date uncertainty and some of them are deciding to postpone their weddings or events. On one hand this does affect the whole business, but it is much better to postpone than to cancel since all the people who are involved in the business (planners, photographers, florists, production, DJ's, among many others) had already considered an agenda and that money in our pockets. Now everything is changing. On the other hand, supply chain issues plagued us, the florists, as well. Those who used to order flowers from all over the world, from the Netherlands to the Middle East, Europe or any other country are now facing the breaks in the chain since flowers are no longer arriving. We try to get flowers from local suppliers which is something good because we're helping people who need it most! The pandemic and the accompanying economic issues came at a particularly bad time for the flower industry. Spring is one of the busiest times of the year for florists, and we do depend on the revenue coming in from Valentine's Day, Easter, weddings and evidently Mother's Day to cushion the slower summer months that follow. As the quarantine extends longer and longer, weddings and Prom parties here in Mexico will most likely be pushed to December while many other events probably to August dates. A month which was previously a low-key month for us florists, will now be our busiest - if this ever happens, as we are all expecting. Thus, the biggest problem we face and will be is the change of the events dates which also leads to financial issues. Such as how to maintain the entire team without firing anyone, how to pay their salaries, how to keep paying fixed expenses, among many other things.
Do you notice any interesting change of plans and choices of customers, with the events and weddings that are influenced by COVID-19? E.g. in the type of flowers, themes, venues, group sizes.
As I've talked before, among those financially affected by the coronavirus pandemic is the event organization industry. Against this background, the wedding planning business will have to reinvent itself and adapt to changes once the health emergency ends. Talking about my specific situation, once the quarantine in Mexico ends, I have read and heard that the reactivation of this sector for sure will be slow. There will be some important things we all have to take into account within this industry such as the training of personnel because it will be important to carry out the next events with the corresponding sanitary measures. The staff will have to learn new skills to comply with the sanitary requirements that the authorities have indicated, such as food handling and keeping a healthy distance among the guests. Also I think it's important to know about, and be aware of, health or psychological issues to better manage the groups as well as to know the personality of the bride and groom and guests. I don't really think something could change about the wedding setting and styling although it could be influenced by some other reasons. For example when choosing the place where weddings are planned in tourist destinations, the reactivation of this will depend on the airlines and the willingness of people to move to another place to carry out the event. I believe that once the health emergency is over, measures such as capacity and group sizes restriction, social distancing, choosing clients that are closer to our workplace, among others will surely continue. So we will need to think about and emerge with some creative alternatives to celebrate these events in the best way possible; probably for some of the big events that are planned we will have to reduce the number of guests or so.
Can you describe to us your ideal wedding setting? If you and your clients would go all in, what would that be like?
Since we all have been locked up for a long time, the first thing that comes to my mind is to choose outdoors and airy places or with large spaces such as spacy gardens, beaches, forests, farms, among others. Personally I would love to have weddings with different styles with which we can be very creative, free and go wild with the whole setting style. My favorite ones are beachy, bohemian, tropical, modern rustic and vintage. Thus, thinking not only of flowers but of the entire wedding setting, I could use very bright colors, beautiful flowers with different shapes and radiant colors, fresh fruit accents, geometric details for an ultra-trendy spin and unique accessories and even handmade. I'd like to combine multiple patterns and color palettes and textures. For example, if I'm choosing the Bohemian style I would surely use Iridescent details with a psychedelic twist, gold flatware, dark purple or maroon linens, and votive candles. What I mean is that I would love to use everything that brings us again joy, hope and something to cheer us up, to bring us back to real life! Being in large and green spaces (outdoors) and being in contact with nature is always very healing! I would dare to use different colors to give that touch of happiness and re-paint smiles on people's faces, because I consider that it would be a must after having lived through such difficult times, full of uncertainty, darkness and confinement.
Yamile Bulos