Based in South Africa's Gardenroute is the flower import company
Yes! exclusive flowers
and the event company
Yes!exclusive weddings and events,
 selling on a "fresh from the farm concept" directly to their clients. Yes! exclusive flowers is the main importer for fine flowers from farms from all over the world, with weekly flights arriving from eg. Kenya, Italy, Holland, Ethiopia, Ecuador and Columbia. Clients are regional wholesaler and event florist (in South Africa there is no flower shop culture like in other countries - flowers are mostly sold in ready-made bunches in shopping centers and rarely in customized bunches in shops – but due to a huge wedding industry the company has, therefore, a lot of event florists). Customers do buy in a physical shop - Yes! exclusive operates via an online shop for florists and wholesale  - the first of its kind on the African continent.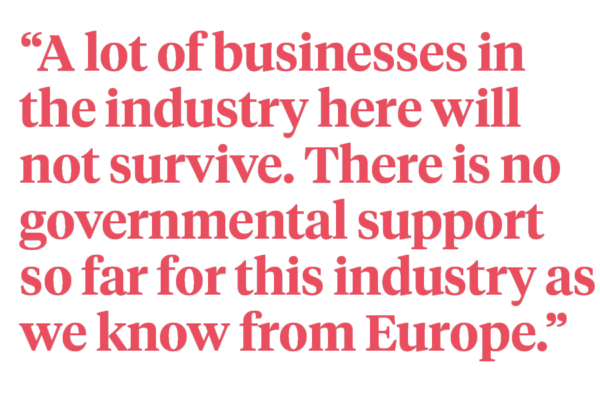 Yes! exclusive company owner Sylvia Bösinger is interviewed.
Have you been open or closed since the (partial) lockdown in your country?
In South Africa we are under one of the most strict lock downs in the world since 27th March, when the lockdown started for 21 days first, that means nobody is allowed to go out of the house anymore except to buy food or for medical reasons. No company is allowed to operate, except for food/health and security - the lockdown last week was extended for an additional 2 more weeks (in total for now 5 weeks until the beginning of May). That means our only flower market in Johannesburg had to close down completely almost 3 weeks ago - no farm, wholesaler or florist is permitted to work, weddings not allowed and funerals are limited to only a handful closed family members. We last week applied for one of the rare permits for supplying funeral services of the preserved flowers we have in our local storage, just to be able to offer our clients maybe a solution, as we got many requests for funerals (not in connection with the virus, as we until now have a very low mortality rate of luckily 25 persons) but even if we have this permit we have to find a courier with such permit too and the florist also has to apply for one. Luckily today I made also contact with some local farms who also have applied for those permits and we can offer to our clients some local sunflowers, lissy and chrysanthemums. The obstacles we are facing additionally in this regard is the transport - almost no flights are operating and if, they charge an extremely high price which is 5x higher than usually eg 55 Rand per kg instead of 11 Rand and 700 Rand for documents instead of 150 Rand, just to give an idea. Overnight road transportation is possible but not cooled and also quite pricy. However for now this is the only possibility of transportation.
How do you get information these days about the floral industry?
From the internet, only as our flower market management is failing to inform people in the flower business about what's going on in the world or even our country. I sent a request to the manager of the market last week, asking for information about farms to contact them - I have not even received an answer until now - so I had to find out myself by searching on the internet and asking colleagues.  However we try to keep our own clients up to date and send out still newsletter every week, informing them of what's happening.
What barriers do you face at the moment in running a successful business?
A total shutdown is the biggest barrier you can ever have, as no single stem can be imported and local farms throwing flowers away as they can not be distributed / s
How do you plan to overcome it?
As yet explained we made effort to get the permit to offer for now at least funeral flowers during lock down, but for the long term after lock down (we might even expect another extension after this) we are using the time now to work on our new Webshop for florists, wholesaler and certain offers eg bunches, also for public.
Which inspiring new initiatives have you seen in the industry - or are started by you - since COVID-19?
We started thinking not only for wedding and happy events, we eg. never focused before on such as funerals, some DIY flower kits, offers of flower bunches to local food shops and we will definitely extend our teaching program, maybe with even more online sessions.
How important is it for you to lift each other up in these times and what does that mean for you and the bond with your colleague-professionals and business relations?
Very important, as we from our site started calling last week all our clients to hear how they are and what's their current situation and concern. To also give them the feeling not to be alone and they are important to us and we are there for them. This will still keep us busy for a couple of days and we can even gain of this essential information that helps us with setting up the new web shop and make it easier for our clients to access and handle the  new shop in the future - as South Africans are not used so much to online shopping as other parts of the world - there is still a lot of fear and concerns buying online as there is also a lot of fraud going along with some online businesses here in Africa - so people need to be convinced that it's safe and easy to use. Same way we make contact on internet to florists, farms and colleagues across the globe to get the feedback on their situation and also to ensure the farms to support them again, as soon as we are be able again to do so.
What do you think is the biggest issue in your segment of our sector (being a florist, grower, trader or breeder) at the moment, from your perspective?
That we see that our entire industry has been crashed, as our wholesale clients as well as a florist mostly working for the event industry - even after lockdown no one will celebrate instantly and lots of planned events have been moved to next year - as we are going into winter season now, not a lot will happen until end of the year when season starts again. A lot of businesses in the event industry here will not survive this and there is no governmental support so far for this industry as we know from Europe.
What is the story behind your business and how will COVID-19 affect your future storyline?
Our story is interesting and a bit unique I guess  - as we both Elfi - my daughter and business partner-  and I worked for some years in the corporate world for companies in Europe, before we started our own venue with a special concept of a huge floral decor part - we then extended the business to the Middle East doing events there as Elfi was working there in hospitality before studying international business management – so it was a huge step but also a natural decision. Karen Tran (American floral designer) to host her first ever African Masterclass - which we happily but also blindly accepted - just because we loved lots of flowers to work with. While planning the event we faced huge obstacles and massive challenges in many ways, as we completely underestimated, that our industry and market just wasn't ready for such an event and one of the challenges was. There were almost just no flowers in South Africa available that would fit to Karen's requirements in terms of style and quality as well as variety of flowers and instead of cancelling the event, we decided to move forward and organise to import the flowers for the event ourself. We have imported lots of flowers first time to South Africa at that time, like parrot tulips or garden roses from David Austin Roses which we sourced from Tambuzi. Some of our contacts from Europe but also new contacts in Africa helped us pulling this event together and as things very often in life come together unexpectedly, we somehow by accident met at the time the Tambuzi representative in Dubai and luckily we even received their support (also thanks to Arnold Wittkamp that we also got to know at that time when he was still working for Parfum Flower Company / Tambuzi). The organization of the event was very challenging and instead of financial success it turned out that we had to spend a huge amount from our own pocket to make it even happen -  as South Africa was just not ready for such an event and the fees requested too high to afford for most of our florists (as there is no need for qualifications at all here in Africa to be a florist, everyone here can become a florist overnight). We however wanted at least to get out some nice pictures and asked a local TV program to broadcast the gala night of the event. And the unexpected happened, we got a request from a local florist that had watched the reportage, asking where he could get the flowers that we'd been using and that he saw on TV. As it's everything than easy to import flowers into SA, as everyone needs a permit that contains special requirements for every flower that shall be imported and need to be fulfilled by the exporter, we offered to import for this florist on our permits. To say from the distance - that was the actual hour of birth to our flower import (without even knowing as we thought it would be that one event only) however after 4 weeks we organized flower transports from a garden rose farm in Kenya (Tambuzi) to 10 florists but only very small orders as the flowers where about 5- 7 times more expensive as prices known for standard roses at the time, so we e.g. often organized a box of 72 stems to be shared by 2 or even 3 clients, just to let them feel and smell the new type of roses. One day after 4 weeks from the first delivery, we decided to check if it would not be a possibility to extend our event business. 4 years later and after a very very rock road so far we are on the way to became Africa's number one for fine flowers – we started a new chapter in the South African flower industry and as one client mentioned a little while ago we have with our engagement revolutionised the African flower industry. We now not only import flowers, but also created a concept to export flowers directly from the farms (incl. flowers from Holland) to other African countries like Zambia, Zimbabwe, Namibia, Ghana, Malawi, Botswana, Congo, Mauritius...  where very often flowers are unbelievable but true, transported by road on busses or taxis, even over a period of some days to their final destinations, because there is no structure of local flower markets existing in almost every African country. Our passion for flowers has made us to who we are and what we achieved and there is so much we have as Vidion for our company but also for our country and our continent. Additionally to using new ways of distribution, we decided to use our event company Yes! exclusive weddings and events to promote all new flowers in very special ways, like special events, photoshoots, product launches, to showcase what is possible and available and we very often hear compliments from our clients, such, that those flowers we import never have seen before in the country - this makes us happy and let's move on to grow Yes! exclusive flowers business to a next level. We have learned a lot of lessons since our first import, we have also seen a huge positive move in our industry after starting our new chapter in this industry, but also faced a lot of bitter experiences, jalousy, unfaithfulness and even absolute unprofessional behaviour, this all has not stopped us and let us move away from our vision to become Africa's Nr. 1 for fine flowers – obviously we are not known as the cheapest (this is not even our goal) but as those with the best quality and service and this hopefully will help us to survive COVID 19 and to re-build our business afterwards to come out even stronger. It is easy to just sell flowers, but this will not be enough anymore in the future, our clients need solutions and service (as do we) and only those who can provide this will have a chance in the new world. So we are also expecting a lot more farms in Holland to open their channels directly to importers and not only to the auction again as a service to their, and all importers clients, worldwide.
When we had a break and stepped out of the corporate world, some months later we got a request from
Can you walk us through the immediate and expected (long-term) consequences of the products you use in your portfolio? Will they still be available?
As said above, currently no imports are allowed and local flowers only available partly with huge effort and costs and only for funeral services. Long term consequences might be: - A request for smaller box sizes to be offered by farms to meet the maybe smaller budgets available for events in the future, so that we are still be able to supply them with the "fresh from the farm" concept; - Buying more directly from farms as the Dollar/Euro exchange-rate has always been a big effect on our local prices even more now that the rate went sky high – means we in any case have to increase our prices after lockdown of about at least 20% just because of that; - We might have to change the main focus of our target market and diversify more by selling easy to decide products to public or selling smaller boxes for smaller budgets to florists and offering same time special farm boxes to our wholesaler With the latter we have had a good experience in the past with roses but maybe this is a good idea to be offered by Dutch farms with other flowers too. It basically means the farm puts together a box that has a flower varity chosen by the farm, therefore the farm offers a special lower price. This is helping buyers like us and others, to offer good deals to their clients as well as farms to get a faster turnaround of their over- or high production at a time.
Sylvia ends with:
Thank you for your time and contribution to this global topic that affects our industry. I hope this all is interesting enough and helpful and sorry it went a bit long. :-)