Aside from looking gorgeous, some flowers actually taste pretty great too. Some are even remarkably rich in nutrients and can be a perfect standalone meal, whether you're camping, hiking, or simply want to try something other than the cuisine you're accustomed to.
Edible Flowers
Today we'll talk about sixteen types of flowers you can actually eat, so without any further ado, let's dig in.
Asparagus
Asparagus is a fairly common vegetable often that can be found in pretty much any store. However, wild asparagus is thinner and a bit bitter in comparison to its home-grown counterpart. Both are tasty and rich in Vitamin C and Potassium. It's crunchy and edible raw, although it tastes much better when boiled. If you're stuck outdoors and opt for wild asparagus, consider boiling it to get rid of potentially harmful bacteria that may have latched onto it.
Clovers
The symbols of luck and good fortune, clovers are edible and unsurprisingly bland taste-wise. Although they may not be particularly nutritious, they can be boiled or eaten raw, and the best thing about them is that they naturally grow in large numbers when the conditions are favorable.
Chickweed
One of the few edible plants that can survive harsh winters is Chickweed. During spring its flowers grow, which are the tastiest part of the plant. The leaves are edible and rich in minerals, although it's not particularly easy to find due to its small size.
Field Pennycress
Field Pennycress - or Thalspi Vulgaris - is a very unique kind of plant. Its edibility and taste largely depend on what kind of soil it grows on. It lives off of minerals that surround it, and if the soil is in any way contaminated, it can quickly become toxic. Wild Field Pennycress can be fairly tasty and eaten both raw or boiled.
Fireweed
The purplish buds of the Fireweed are their most distinguishable characteristics. It's very rich in vitamins, although you'll need a handful to feel partially full. Fireweed has a very strong taste, which becomes more bitter as the plant matures. It's most commonly found in North America, although you may see it in certain parts of Central Europe as well.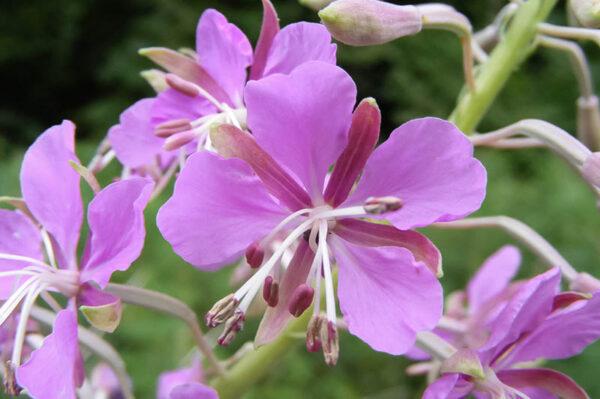 Kelp
Like most types of seaweeds, kelp is edible and a common ingredient in meals of scuba divers and fishermen who forgot to bring enough supplies on their trip. It's easy to find in most watery areas of North America near shorelines. They typically grow in very dense groupings, which offers a quick full-course meal to those who don't mind its bitter taste.
Plantain
Plantains grow near swampy areas, ignoring the rough terrain and weather, unlike most smaller plants. Rich in vitamins and with a particularly bitter aftertaste, their big leaves are an excellent afternoon snack for campers and hikers.
Opuntia
The prickly-pear cactus is among the tastiest plants in North American deserts. Its only drawback is that its spines are very sharp, but its fruit is more than enough of a reward.
Purslane
In contrast to Opuntia, Purslane may not appeal to the taste of most people. Its sourness is redeemed by its crunchy texture. Consider eating Purslane boiled if you can't stomach its taste.
White Mustard
The Synapis Alba is a very common plant in the majority of forests and foothills. Its characteristics are dark yellow flowers and remarkably small leaves, all of which are edible.
Nasturtium
Nasturtium's flower is absolutely gorgeous, and its unique taste complements its beautiful outlook perfectly. Many people grow this plant simply because of its looks, although it's an excellent addition to any salad when properly prepared. Its taste resembles mustard to some degree, and it's actually fairly rich in vitamins.
Amaranth
The main reason why you should try eating Amaranth is that it's fairly rich in protein and Vitamins B2, B3, and C. Most of its parts are edible, although its leaves should be left out if you intend to eat it raw. Amaranth's leaves contain nitrates and smaller quantities of oxalic acid, which can cause gastritis and vomiting. Either boil or cook the plant, and you'll be good to go.
Burdock
Burdock is easy to recognize by its big, dark green leaves, fairly tall stem, and purple flower heads. It mainly grows in areas with a moderate climate, although it can survive in more tropical spots as well. Eating its leaves is the easiest way to get a nice bump in protein, although they're very bitter when raw. Boiling them will improve their taste, as well as make them safer to eat. Burdock's root is also edible, but it needs to be peeled and thoroughly boiled.
Chicory
Chicory is a common European plant that also grows in certain parts of Australia. It favors mild climates and can be rarely seen in stormy or rainy regions as its stalk is very flimsy. You can easily recognize it by its beautiful bluish flowers, which are its tastiest part. The entirety of this plant is edible either raw or once boiled while the roots taste the best when boiled. Chicory blossoms in late spring and keeps its flowers throughout the summer. It's almost indistinguishable from surrounding vegetation once the flowers retreat.
Curled Dock
Although they may be a rare sight in Asia and Africa, Curled Dock is one of the most common European and American plants. They're very noticeable due to their remarkably tall stalks and uniquely-looking leaves. The stalk can be eaten raw if properly peeled while the leaves should be boiled several times as they can be extremely bitter.
Cattail
Thin stems with large heads are the main characteristics of cattail plants. They typically grow near rivers and lakes, and they bud pretty fast, so if you notice a good spot, you'll be able to prepare a decently nutritious meal out of them. Most of its parts are quite tasty and edible, although its root should be cleaned and boiled. You may want to avoid them during springtime, as they produce a hefty amount of pollen during this period. They're rich in protein and taste surprisingly great when seasoned with regular spices. We hope you had fun reading this list as much as we did making it - and that you've learned something new today about edible flowers. Make sure you are staying safe in these times we are all going through and have a good one, guys!