Rosa 'Loves Me With Fatal Attraction'
When these roses came to the Flower Bureau, I had a lot of work to do. I asked the guys to put them in water and put them away in the refrigerator so I could come back to them a little later... And I only remembered about them 15 days later.
Is This the End?
I was sure it was the end: either wilted or rotted. But in the meantime, the roses had only grown more beautiful. They were half-opened, full of air and strength. I stood and admired the thick branches, covered with large, weighty flowers.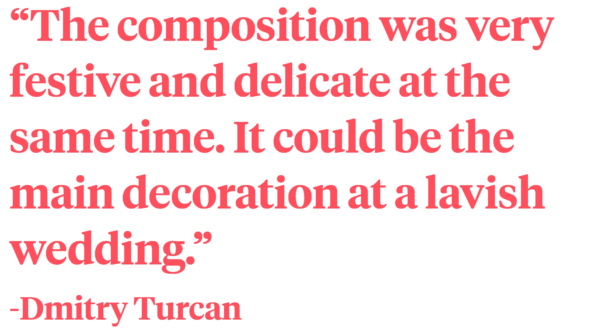 Roses for a Lavish Wedding
There was something pompous and yet incredibly delicate about them. I wanted to express their character in my work. I came up with the idea of using a champagne bucket as a vase to emphasize the solemnity and beauty of these flowers. Roses, garden lilacs, lily of the valley, and blossoming raspberry branches. The composition was very festive and delicate at the same time. It could be the main decoration at a lavish wedding.
A Great Option
But at this point, the roses did not stop surprising me. They kept their appearance in the refrigerator for more than two weeks and then in the composition they also proved their resilience.
So if you want a beautiful bush rose that can be used in both bouquets and oasis compositions, then roses 'Loves Me With Fatal Attraction' are a great option.