Aaltje van Giessen-Hijma represents two growers from the Van Wijk family in the south of the Netherlands, Kwekerij Waalzicht and Kwekerij Chrywijk. Waalzicht is known for the 'Premium Collection' lisianthus, while Chrywijk has specialized in santini chrysanthemums. Both companies are top-notch when it comes to quality. Van Giessen-Hijma is happy to explain their point of view and how they look at the 'visual maturity stage' for their lisianthus.
What is generally the ideal stage of ripeness for flowers that are not yet in full bloom?
Aaltje van Giessen-Hijma:
"We consider for lisianthus cutting stage 2-3 as ideal. This means the flowers are best when slightly open. Only varieties like Celebrich and Alissa are auctioned somewhat riper at stage 3-4. Single-flowered varieties of lisianthus open faster than the double-flowered.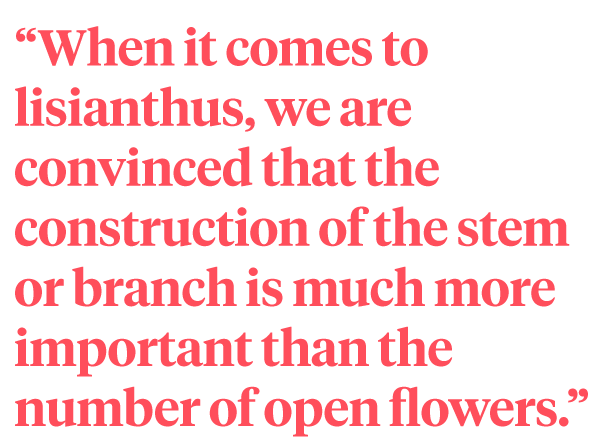 Are you satisfied with the maturity with which you have to deliver those flowers now to your customers and to the auction?
Yes, we are quite happy with the way we are able to deliver all our flowers right now. It is sometimes difficult on weekends. Sometimes you come into the greenhouse on Monday and then you think, oh, we should have picked more from that field on Saturday, but they were still too raw then. Usually, you manage to do this correctly.
Do your flowers gain added value if they can be harvested slightly riper?
No, this counts for both our lisianthus and our santinis. Things are going right the way we do it now. We do not expect extra value when we do this in another way.
How should the market look at your flowers in general when it comes to raw vs. ripe?
When it comes to lisianthus, we are convinced that the construction of the stem or branch is much more important than the number of open flowers. We call this 'visual maturity stage'. For example, lisianthus with a short branch structure - with the flowers all at the top - you harvest rawer than a longer branch structure.